SweetSpot:

Tom Gorzelanny
December, 1, 2012
12/01/12
12:30
PM ET
By
Chris Quick
| ESPN.com
This time of year baseball news is very sluggish. Scratch that -- extremely sluggish. Outside of a few early signings, there isn't much happening in the game. However, with the non-tender deadline passing on Friday night, baseball gets a brief jolt of activity before we head to the winter meetings.
Non-tender means just that -- a team chooses not to tender a player a contract and, in turn, the player becomes a free agent, able to sign with any team. Teams will non-tender players for a multitude of reasons -- injury, cost, and roster crunches are among the most popular -- but savvy teams will be able to cruise this new pool of free agents to find value. And make no mistake, there is value to be had among the recent crop of non-tendered players.
Let's take a look:
[+] Enlarge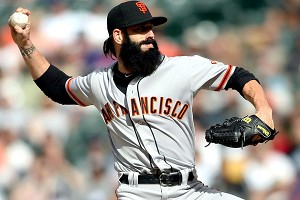 Chris Humphreys/US PresswireIf Brian Wilson wants to close again, it likely won't be in San Francisco.
Brian Wilson, P --
Probably the biggest and most widely recognized non-tender, Wilson's days as a Giant appear to be all but over. The team can still negotiate a contract with the bearded Wilson, but most reports indicate that Wilson is unlikely to remain. Wilson -- rehabbing from his second Tommy John surgery -- looks to find a new team to call home. As a two-time TJ survivor, Wilson carries significant risk, but if there was anyone who could overcome those odds, it would be Wilson. From 2009-2011, Wilson ranked as the fourth-best reliever in the majors by FanGraphs' WAR (5.6), throwing 202 innings with a 2.50 ERA. He'll most likely have to settle for a lower base salary with performance incentives. The talent is there. The big question is: Is the health?
Mark Reynolds, 1B/DH --
Rather than paying him about $9 million through arbitration, the Orioles decided to let the home run masher and strikeout accumulator walk. Over the past three years, Reynolds ranks 14th in the majors in home runs at 92. (That's more than
Matt Kemp
,
Robinson Cano
or
David Ortiz
.) But while Reynolds' power is prodigious, it comes at a great cost: strikeouts. Piles and piles of strikeouts. Only
Adam Dunn
has whiffed more over the past three seasons, and while Reynolds is still an asset with the bat, he's a complete liability at third base (although he was acceptable at first when the Orioles moved him there). He'll find work -- guys that can launch 30 home runs annually almost always do -- but he should stick in the American League where his defensive issues can be minimized.
Nate Schierholtz, RF --
This might seem to be Giants-centric, but Schierholtz, another ex-Giant, profiles as a fringe starter on lower-tiered teams and a fine fourth outfielder on higher-tiered teams. You can boil Schierholtz down to the following: slightly below average bat, great glove, good baserunner. Schierholtz owns a career batting line of .270/.319/.409 while playing half his games in a park (AT&T Park) that's mighty tough on left-handed batters. The advanced fielding metrics, such as Ultimate Zone Rating, peg him as about a half-win net on defense each year, and it's hard to imagine anyone playing a better right field. And he's shown himself to be an adept baserunner. When you add everything up, it's a nice package that will attract a few teams needing outfield depth.
Tom Gorzelanny, P --
Pitching his first year as purely a reliever, Gorzelanny found success in Washington in 2012. Gorzelanny tossed 72 innings with adequate peripherals (20.1 percent strikeout rate; 9.8 walk rate) to pair with a 2.88 ERA. Being a left-handed pitcher, he's naturally been tough on left-handed batters, holding them to a career line of .227/.295/.367. He profiles as a middle reliever, or lefty specialist. It's possible that a team hurting for starting depth might take a look at him as a starter.
Jeff Karstens, P --
Jeff Karstens was limited to just 15 starts in 2012 because of shoulder inflammation. He doesn't throw exceptionally hard, strike out scads of batters, or look like an ace pitcher. What he does, however, is throw strikes (career 6.1 walk percentage). He'd be great filler for a rotation that might need a little extra time for prospects to develop, or for a rotation (or bullpen) that needs more depth. Over the past two seasons, Karstens has posted the following numbers: 3.59 ERA, 253 IP, 252 H, 101 ER, 48 BB, 162 SO. That's pretty much the definition of a fungible starter.
Andres Torres, OF --
Torres is clearly no longer the batter that he was with the Giants from 2009-2010 when he hit .269/.343/.492 over 740 plate appearances; since then, Torres has batted a meager .226/.320/.334 in 832 PAs. The decline in Torres' bat moves him from a starting role to a bench role. The good news for Torres is that despite some health issues, he still profiles as an above-average defender in center field and an above-average baserunner. Every team needs a guy like Torres on its bench.
None of the players listed above -- outside of Brian Wilson, maybe -- will draw the sort of attention that the marquee free agents will receive. And rightfully so. However, teams looking to fill certain needs would be smart to check in on some of the recently non-tendered players. If used properly, there's value to be had in this year's crop of non-tendered players.
April, 26, 2012
4/26/12
8:00
AM ET
By
Christina Kahrl
| ESPN.com
First base:
If you're in Chicago, it's hard to think of first base and not think of
Paul Konerko
, so let's give the White Sox slugger his due for his 400th career home run. That game-tying shot off Oakland's
Grant Balfour
may not have delivered a win, but it also wasn't his 400th career home run for the White Sox. Lest we forget, the Hammer of the South Side was a highly touted Dodgers prospect back in the day, only to get swapped (or more properly stolen) in a deal that sent
Jeff Shaw
to Los Angeles and briefly put Konerko in a Reds uni. Just four months later, Paulie was traded again, this time to the White Sox for
Mike Cameron
, which was more of a straightforward win-win deal. (We can keep all that went wrong later, when Cameron was dealt in the package for
Ken Griffey Jr.
, aside as a pretty major unusual circumstance, including how unanticipated Griffey's injuries were.) As a Dodger and Red, Konerko hit seven homers, so he'll get a second pass at this particular mark -- just as a White Sock.
Second base:
While all of the focus is on
Matt Kemp
hitting his 10th home run on Wednesday night for Don Mattingly's Dodgers, and the 85-tater pace it puts him on, it's worth a brief mention that teammate
Dee Gordon
stole his 10th base as well, putting him on a pace for, well, 85 steals. In this bit of ham-fisted fun with early-season stats, that would be the highest single-season steals total since
Rickey Henderson
swiped 93 bags back in 1988. Those 10 steals -- and his four times caught -- have all been from his going after second base. Keeping in mind he's only been on first base 22 times (14 singles, five walks, and three times reached on error), he's running two-thirds of the time, a clip even Rickey -- Mattingly's former Yankee teammate -- might respect. Now, imagine how many bases Gordon might steal if his OBP was above .300.
Third base:
Who went for three and got his just reward? Not a baserunner. No, Wednesday it was none other than Gorzo the Magnificent for the Nationals. That's lefty long man
Tom Gorzelanny
, a utility pitcher who has to live with a lot that involves soaking up innings to give bombed starters or tired pen men a break. But Davey Johnson let Gorzelanny go three innings to notch the save in Washington's 7-2 win. He entered with a one-run lead in the top of the seventh -- a save situation -- and the Nats tore up the Pad 'pen, so Johnson elected to leave his man out there and give the rest of the relief crew the night off. No need to delay, pursue the situational advantage, or anything, just let it ride, call it a ballgame ... and assign the glory stat to the guy who helped make a 2:39 game time possible.
Home plate:
In the world of impassioned Rangers fans, few are more deeply committed than Jamey Newberg -- or his supporters.
Swisher?? Me? Never! @holly_holl @kevinjaldridge I think Newberg suggested that he should be acquired & I nearly punched my computer.

— Jamey Newberg (@NewbergReport) April 26, 2012
February, 2, 2012
2/02/12
4:34
PM ET
Well,
Edwin Jackson
didn't get the big deal he was looking for. In the end, he's still a pitcher who allowed a .342 on-base percentage in 2011; among 94 qualified starting pitchers (162 innings), that ranked 84th.

For all the offseason speculation (I don't think "hype" is quite the right word), Jackson is basically a No. 4-caliber starter, albeit one who has made 30-plus starts five seasons in a row. He comes with little risk but little chance for upside. Anyway, the
Washington Nationals
swooped in and
signed him to a one-year deal
.
The signing apparently would push
Chien-Ming Wang
out of the No. 5 spot. Actually, however, the Nationals had several candidates for the final rotation spot. Their rotation would now line up something like this:
1.
Stephen Strasburg
2.
Gio Gonzalez
(L)
3.
Jordan Zimmermann
4.
John Lannan
(L)
5. Edwin Jackson
6.
Chien-Ming Wang
7.
Ross Detwiler
(L)
8.
Tom Gorzelanny
(L)
Here are the 2011 statistics for the bottom five guys:
Detwiler and Gorzelanny did spend time in the bullpen; Gorzelanny in particular pitched well from there and held lefties to a .157 average. Let's take him out of the equation and put him in the bullpen as a middle-innings lefty-killer. Obviously, Jackson will be in the rotation. That leaves Lannan, Wang and Detwiler for one spot. While there's never such a thing as having too much pitching -- especially considering the injury issues in the past for Strasburg and Zimmermann (not to mention Wang) -- as Jerry Crasnick hinted in his story, this opens up the possibility of trading Lannan.
The veteran left-hander was just awarded $5 million in arbitration and has two years of team control before free agency. As you can see by the numbers, I don't think he brings much more to the table than Detwiler or Wang. His peripherals don't suggest a pitcher with a 3.70 ERA, although he has managed a career 4.00 ERA despite unimpressive walk and strikeout rates.
But there are teams out there that could benefit from a solid, back-of-the-rotation starter such as Lannan, especially at a somewhat affordable $5 million. The Nationals could use an outfielder, either to bide time for
Bryce Harper
or allow the team to keep
Mike Morse
at first base instead of left field, where he's stretched defensively (yes,
Adam LaRoche
is still around as well). Here are some possibilities:
Blue Jays:
Toronto currently has
Brett Cecil
,
Henderson Alvarez
and
Dustin McGowan
in its rotation. The Jays have an
Eric Thames
/
Ben Francisco
platoon in left. The Nats could go after Thames (a left-handed bat they could use) or maybe former top prospect
Travis Snider
.
Royals:
Maybe the $5 million is too steep for the Royals, but let's face it: If they want to consider themselves sleeper playoff contenders this year, they need to upgrade the rotation.
Jarrod Dyson
is an all-speed, no-power center fielder who might be a slight upgrade over
Roger Bernadina
if he can get on base enough.
Tigers:
Detroit might want to keep top prospect
Jacob Turner
in Triple-A, but it lacks a lefty in the rotation. Lannan for
Delmon Young
or
Andy Dirks
?
Red Sox:
Boston could certainly use another arm, but not sure there's a good fit here.
Cubs:
Marlon Byrd
is a free agent after the season and would be a nice one-year fill-in for the Nats in center. Not sure Lannan is Theo Epstein's type of pitcher, however.
What do you think?
May, 13, 2010
5/13/10
2:52
PM ET
By
Joe Aiello, View from the Bleachers
| ESPN.com
When the decision was made to move
Carlos Zambrano
and his $91.5M contract to the bullpen to "shore up the late inning issues," it was clear to Cub fans that something has gone seriously wrong with this team.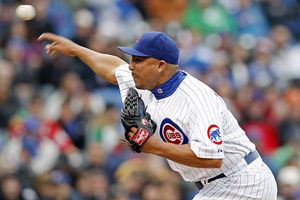 Jerry Lai-US PRESSWIREThe Cubs can't keep Carlos Zambrano in the pen forever.
Since the move, Zambrano has pitched to the tune of a 3.86 ERA in seven innings and has seemingly brought a presence to the pen that was sorely lacking. The problem comes when you look long term for the team.
You can make the argument the money has already been allocated for Zambrano, regardless of where he pitches.
But leaving Zambrano in the pen permanently means general manager Jim Hendry looks completely incompetent for the contract given to Z after the 2007 season that has ultimately resulted in a very expensive 8th inning guy. Couple that colossal blunder with the offseason moves that blew up in his face all last year -- and a two year deal to
John Grabow
this past offseason -- and you've got a GM that has spent an awful amount of cash with very little results. There is no question in my mind that Hendry must get Zambrano pitching and pitching effectively out of the starting rotation again to avoid massive amounts of criticism from the new ownership that could ultimately cost him his job should this team go south.
Zambrano said he expects the move to the pen to be a temporary one. A putrid pen forces the Cubs to figure things out sooner rather than later or risk Zambrano going ape over the fact that he's still in the pen come August. He's known to have a volatile temper, and you can only imagine what might happen should his patience run out while he's sitting on a bench with a bunch of kids that can't get people out. Should he be left in the pen as the long term solution, there is a definite chance of him approaching the Cubs to seek employment elsewhere. He has a full no-trade clause in his contract, but that could be waived in an effort to find someone who will let him start.
The longer the Cubs leave Zambrano in the bullpen, the longer it will take to get his arm in shape to work deep in a ballgame. If Zambrano is going to be an effective starter, especially down the stretch and into the playoffs (No I'm not smoking anything), he's going to need to build his arm strength back up and get that sharpness back as a starter. If not, do you really think the Cubs have a chance at advancing in the playoffs with either
Carlos Silva
or
Tom Gorzelanny
as the fourth starter? I'll bet no.
The Cubs have a move to make and it's a move to bring in enough help to get Zambrano back into the rotation. Perhaps the move involves a trade of Gorzelanny or Silva. Perhaps it means looking closer at guys like
Kyle Farnsworth
or
Jason Frasor
again. Whatever the move, it needs to be made sooner rather than later. The ball is in your court Mr. Hendry, where do we go from here?
April, 21, 2010
4/21/10
6:34
PM ET
Carlos Zambrano is
heading to the bullpen
? So Carlos Silva can remain in the rotation? Has there been a weirder story this spring? Or a sillier story? FanGraphs' Jack Moore -- who doubles as
a Disciple of Uecker
, finds
all sorts of fail
in this move. Yes, Zambrano is demonstrably
better
than Silva ...

Not only that, but a move to the bullpen for Zambrano eliminates his greatest asset – his durability. Last season was the only year since 2003 in which Zambrano didn't throw 200 innings, and he still made 30 starts and threw 188.2 innings. Zambrano's been worth at least 2.8 wins per season in that time frame, and that's in spite of his second-tier peripherals. Simply put, there aren't many pitchers, regardless of their skill, who can throw that many innings year-in and year-out.

Silva, on the other hand, is fresh off an injury in 2009 and also missed time due to injury in 2008. He threw as many innings in 2008 and 2009 combined as Zambrano did in 2009 alone. Not only that, but even in his two excellent starts as a Cub, Silva's fastball velocity is still 1.4 MPH lower than it was in his 3.3 WAR 2007 with Minnesota.

Carlos Zambrano is simply a better pitcher than Carlos Silva. Carlos Zambrano is simply a more durable pitcher than Carlos Silva. Instead of getting 180-200 innings out of one of his top pitchers, Lou Piniella is instead opting for about 40 to 50 innings from him and then 100 to 150 out of a pitcher who projected as average at best coming into the season. The Cubs' chances at the division were low coming into the season. If Piniella's rash and irrational decision stays in place, they become virtually nil.

Speaking of virtually nil, that's about where I would peg the chance of Zambrano making fewer starts than Tom Gorzelanny this season.
Zambrano's given up four home runs in four starts, which is too many. The other things he can control, though? He's walked 10 batters in 19 innings, which is also too many but is roughly no more than he usually walks. Meanwhile, Zambrano's third in the league with 26 strikeouts.
I'll bet this is less about Zambrano's performance than about his attitude (according to Piniella). Call it reality therapy or a mental karate chop or whatever you like, but this strikes me as a momentary expression of annoyance more than anything else. Jack's right: Silva's not going to keep pitching brilliantly, and he's highly unlikely to pitch as well as Zambrano.
But there's room for both of them in the rotation. At the moment, Big Z's ERA is 7.45; his rotation mates go 0.69 (Silva), 1.93 (Gorzelanny), Randy Wells (2.45) and Ryan Dempster (3.15). It's hard to sit a guy with a 0.69 ERA, or even a guy with a 1.93 ERA. Those numbers will change, though, and probably quite soon. When they get where they're supposed to, Zambrano will take his rightful place in the rotation. You just have to wonder if his heart will come along for the ride.
March, 27, 2010
3/27/10
1:09
AM ET
Hey, somebody has to care about
this stuff
, right?
Chicago Cubs manager Lou Piniella announced his rotation Friday to begin the 2010 season, and as expected, Tom Gorzelanny and Carlos Silva will fill out the starting spots.

--snip--

Jeff Samardzija and Sean Marshall will go to the bullpen as long relievers or potential starters in case of injury.

"The thing I'm happiest about is we sent nobody to the minor leagues," Piniella said. "They went from the rotation to the bullpen.

"Remember, when we set this competition up, we didn't know [Angel] Guzman would be out for a whole year and [Jeff] Gray would be hurt."

Piniella said Samardzija was hoping for a starting spot.

"He was a little disappointed," Piniella said. "He thought he had pitched well enough in spring training to stay in the rotation. I agreed with him. But unfortunately, we only have two spots.

"And then remember, [Ted] Lilly is ahead of schedule. In three weeks from now, we're going to have to make a decision again. With that in mind, let's put Marshall and Samardizja in places where they can help our baseball team."

Perfect example of how unimportant the No. 5 starter -- as designated in late March -- can be (not that this stops me from obsessing over them). Sure, it's Silva and Gorzelanny ... but only until
Ted Lilly
's ready to take his turn.
Gorzelanny and Marshall are both 27. Tom's got a 4.78 ERA; Sean, 4.86. Tom's got a 1.55 strikeout-to-walk ratio; Sean, 1.79. Neither of them throws particularly hard, though Marshall's a bit more of a junkballer, specializing in a big curveball. Oddly, it's Gorzelanny who's shown the much larger platoon split, which does argue against his case as a starting pitcher.
My guess is that Marshall will get his chance to start, as he has in each of the last four seasons. But between Marshall and Gorzelanny and Silva, it's not likely that a pennant will be won or lost.
March, 17, 2010
3/17/10
4:56
PM ET
Sorry, I haven't been able to really follow any of today's breaking news, too busy trying to figure out who's going to be the Cubs' No. 5 starter this spring.
Carlos Silva
, anyone?
Silva, who has put himself in the driver's seat for a rotation spot, gave up just two singles and hit a batter, commanding three pitches and putting together his second consecutive strong outing after a miserable debut.

"You can't throw the ball better than he did today," said manager Lou Piniella, adding he was impressed with the way Silva threw the ball inside, changed speeds and changed eye levels on his pitches. "He's been working on some things with our pitching coach [Larry Rothschild], and they're starting to bear some fruit for him."

Between his mom and his pitching coach, Silva said he's feeling as close to that former 14-game winner as he has in years.
It's not exactly a spirited competition; the other candidates for the last rotation slot are
Tom Gorzelanny
,
Jeff Samardzija
, and
Sean Marshall
. Gorzelanny's got a 6.32 ERA over the last two seasons. Samardzija has done well as a starter in the minors, thrived as a reliever in the majors in 2008 but got knocked around in 2009. Marshall's good enough to start for some teams, but he's got a 4.86 ERA in 59 major league starts.
Meanwhile, the math seems simple for Carlos Silva. When he pitched for the Twins, Silva typically threw his fastball around 92 miles an hour. It wasn't a
great
fastball, but it was good enough because Silva essentially always knew exactly where it was going. When he pitched for the Twins, he still knew where it was going, but he lost a couple of miles an hour and so the hitters had time to figure out where it was going, too.
I think if Silva's back to throwing in the low 90s, he can be effective and might actually be the Cubs' best No. 5 starter, at least in the short term. If he's still throwin in the high 80s, though, I would choose Marshall or Samardzija.
April, 8, 2009
4/08/09
10:41
AM ET
Tom Verducci on who should be worried this year about
this year's Year After Effect
:
Mike Pelfrey was ready for me in the Mets spring training clubhouse, as if he knew I was coming.

"Look at me," the Mets right-hander said one day last month. "I'm a pretty big guy." Yes, sir. Pelfrey is 6-foot-7. Thankfully, he is a rather pleasant, mild-mannered guy.

I didn't feel threatened, but my theory about young pitchers getting overworked was precisely in Pelfrey's crosshairs. Pelfrey was familiar with my rule of thumb that pitchers 25 and under are at risk of injury or significant regression in the year after their clubs boost their workload by 30 or more innings.

--snip--

So I agreed with some of what Pelfrey presented. He turned 25 in January and is a big guy, so maybe he withstands his 48-inning jump better than someone younger and smaller. That said, I'm still not taking him off my list of the most at-risk young pitchers of 2009 based on the Year After Effect. There is a reason why the Mets had an innings threshold in mind for Pelfrey, a reason why the Yankees have treated Joba Chamberlain with kid gloves and a reason, going further back, why Oakland was very careful to manage the innings growth of its young starters almost a decade ago when I first learned about this growing trend: Too much too soon is risky stuff.

This year I red-flagged 10 pitchers -- and the list includes some of the greatest young arms in the game. Here are those pitchers and the innings jumps that put them on the list ...
The list:
Jon Lester
,
Cole Hamels
,
Chad Billingsley
,
Tim Lincecum
,
Clayton Kershaw
,
Dana Eveland
, Mike Pelfrey,
John Danks
,
Jair Jurrjens
, Jon Niese.
Verducci:
How much should those guys be worried? Over the previous three years I red-flagged a total of 24 young pitchers at the start of those seasons. Of those 24 at-risk pitchers, 16 were hurt in that same season. Only one of the 24 pitchers managed to stay healthy and lower his ERA: Ubaldo Jimenez of Colorado, a guy I said would be less at risk because of his powerful body type.

In the early years of my tracking the Year After Effect, the Royals notoriously pushed young pitchers to awful results (Jose Rosado, Chris George, Runelvys Hernandez, Mac Suzuki, etc.). The Pirates have supplanted the Royals as the worst offenders (Zach Duke, Paul Maholm, Tom Gorzelanny). It's one thing for the Mets to push Pelfrey with a playoff spot at stake, but it's hard to explain why a rebuilding franchise would put young starters at risk in meaningless games in September.

Last year I red-flagged seven pitchers: Jimenez, Gorzelanny, Ian Kennedy (Yankees), Dustin McGowan (Blue Jays), Chad Gaudin (Cubs), Yovani Gallardo (Brewers) and Fausto Carmona (Indians). Except for Jimenez all of them broke down with injuries -- some of them serious, not all arm-related -- and combined to go 29-32. None won 10 games. Previous blowouts that were red-flagged included Francisco Liriano, Gustavo Chacin, Anibal Sanchez, Adam Loewen and Scott Mathieson.
I'm sure you see the gap in this analysis ... Where's the control group? We know -- we've known for a long, long time -- that young pitchers who pile up innings are susceptible to injuries. The Holy Grail of baseball is something that will keep young pitchers from ruining those oh-so-valuable gears and levers and pulleys that allow them to somehow perform their superhuman feats. But are young pitchers who boost their workload by 30 innings more injury-prone than pitchers who boost their workload by 20 innings? Is a 24-year-old pitcher who goes from 120 innings to 150 innings more likely to get hurt than a 22-year-old pitcher who goes from 175 innings to 190 innings? Do pitch counts matter, at all?
Verducci's method strikes me as terribly arbitrary. That doesn't mean it doesn't work. But without a control group -- without some basis for comparison -- we can't really know if pasting the photos of a bunch of young pitchers on the wall and throwing darts wouldn't work just about as well. And one thing I'm sure about: the Red Sox and Rays and Cardinals and Indians and Padres and another half-dozen (at least) teams aren't throwing darts.
Not exactly.