Tampa Bay Buccaneers:

New York Jets
April, 21, 2014
4/21/14
9:00
AM ET
Good morning,
New York Jets
fans. One year ago, your favorite team traded its best player.
[+] Enlarge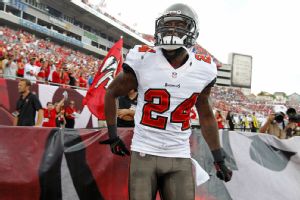 Kim Klement/USA TODAY SportsThe Jets appear to have made the right move in trading cornerback Darrelle Revis to Tampa Bay.
Yes, April 21 is the first anniversary of the
Darrelle Revis
trade, a highly controversial move in which John Idzik -- in his first significant decision as the general manager -- sent the then-injured cornerback to the
Tampa Bay Buccaneers
because owner Woody Johnson refused to meet the player's asking price on a new contract, $16 million per year.
After months of speculation, fans awoke on a Sunday morning to the news that
Revis was en route to Tampa
to take a physical. Within a couple of hours, it was a done deal, one that will be debated for years. One year later, our take on the winners and losers from the trade:
Winner
-- The Jets. Philosophically, it was the right move because no cornerback is worth $16 million a year, but the right move doesn't always work out. In this case, it did. They used the 2013 draft-pick compensation (13th overall) to select defensive tackle
Sheldon Richardson
, the NFL Defensive Rookie of the Year. They also landed a fourth-round choice in the upcoming draft. To grade the trade mainly on Richardson's performance, however, isn't fair. If the Jets had kept Revis, they wouldn't have needed a cornerback, so they probably would've picked Richardson with their own choice (ninth overall) instead of
Dee Milliner
. So, when evaluating the trade, Milliner has to be included -- and he was shaky as a rookie.
Loser
-- The Bucs. You can bet they're not celebrating the anniversary in Tampa. It was an ill-advised trade when they made it, and it turned into an all-time bust. The Bucs, under new leadership, decided to cut Revis after only one season. After all the hype, he was just a one-year rental. In the end, the trade cost them a mid-first-round pick and $16 million, and the result was a 4-12 record and pink slips for coach Greg Schiano and GM Mark Dominik.
Wealthy loser
-- Revis. Financially, he made out nicely, making $10 million more from the Bucs than he would've received from the Jets in 2013 -- not a bad raise for a guy coming off ACL surgery. His unexpected trip to free agency allowed him to make another score, landing $12 million from the
New England Patriots
. Despite a two-year, $28 million haul, Revis has become a hired gun, a well-to-do journeyman who probably will spend the rest of his career going year to year and team to team. It's too bad because he could've gone down as one of the best and most beloved players in Jets history.
Winners
-- The quarterbacks and pass-catchers who faced the Jets. Even though the Jets will benefit from the trade over the long haul, they suffered in the short term, missing Revis' presence in the secondary. The Jets allowed a staggering 3,947 passing yards, a 900-yard increase from the previous year and the most allowed by the franchise since 1986. It was a stain on Rex Ryan's sterling record as a defensive mastermind.
Loser
--
Antonio Cromartie
. Without Revis, Cromartie became the No. 1 cornerback and was often responsible for covering the opponents' top wideout. He was torched on a fairly regular basis, contributing to his release at the end of the season. He had to settle for a one-year, $3.5 million contract from the
Arizona Cardinals
.
September, 8, 2013
9/08/13
10:00
AM ET
By
ESPN.com staff
| ESPN.com
Join our ESPN.com NFL experts as they break down the Tampa Bay Buccaneers' visit to the New York Jets. Contribute your thoughts and questions beginning at 1:00 p.m. ET. See you there.
September, 6, 2013
9/06/13
11:04
AM ET
FLORHAM PARK, N.J. -- Bucs quarterback
Josh Freeman
shrugged off less-than-flattering comments from Jets defensive end
Muhammad Wilkerson
, who suggested that Freeman is prone to self-inflicted mistakes.
"I'm no more motivated by somebody on the Jets saying something than somebody in the media saying something," Freeman told the Tampa Bay Times. "It comes from within, the work we do, the coaches. You've got to hold it tight because you can't let somebody else saying something the way you go about your business, otherwise you're going to change and you're going to be off base in that regard."
On Wednesday, Wilkerson told ESPNNewYork.com that "we feel like we have a great game plan to get him off his mark and get him uncomfortable." Asked if Freeman is vulnerable, Wilkerson nodded his head.
"You see it on film," he said. "You get him off his mark and get him kind of rattled, and he kind of just makes mistakes on his own. It's not even so much the defense, it's just him not being comfortable. If we do that, we should definitely be fine and come out with a victory on Sunday."
September, 5, 2013
9/05/13
12:15
PM ET
The world is gaga over Geno, but believe it or not, half the Jets' team is focused on the
other
quarterback in Sunday's game at MetLife Stadium -- the Bucs'
Josh Freeman
.
Freeman
Wilkerson
Freeman is a talented, but interception-prone quarterback entering a contract year, and at least one prominent member of the Jets' defense --
Muhammad Wilkerson
-- believes they can "rattle" him into a poor start in 2013.
"We feel like we have a great game plan to get him off his mark and get him uncomfortable," the veteran defensive end said Wednesday.
Asked if Freeman is vulnerable, Wilkerson nodded his head.
"You see it on film," he said. "You get him off his mark and get him kind of rattled, and he kind of just makes mistakes on his own. It's not even so much the defense, it's just him not being comfortable. If we do that, we should definitely be fine and come out with a victory on Sunday."
Freeman, the Bucs' first-round pick in 2009, has thrown 39 interceptions over the past two seasons -- three more than
Mark Sanchez
. Instead of locking up Freeman with a long-term extension, Bucs management decided to let him play out his contract, creating a "prove it to us" situation.
Interesting back story on Freeman: Before the '09 draft, the Jets' scouts rated him higher than Sanchez. The Jets changed the grades after personal workouts and interviews with each player, deciding Sanchez had better intangibles than Freeman.
September, 5, 2013
9/05/13
12:00
PM ET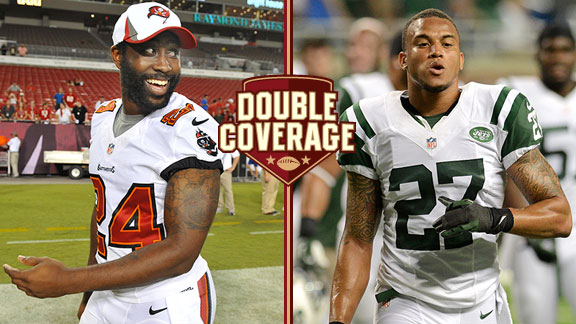 Getty ImagesDarrelle Revis is now with the Buccaneers and rookie Dee Milliner is helping to take his place.
The NFL knows how to create a dramatic storyline, and it created a dandy for opening day -- the Tampa Bay Buccaneers at the New York Jets, meaning the return of star cornerback
Darrelle Revis
.
For the Jets, Revis symbolizes good times from the past. They enjoyed a lot of success together, everything but a Super Bowl, before the ugly divorce last April. Things aren't looking so good for the Jets anymore. For the Bucs, Revis represents hope, perhaps the final piece in an expensive championship puzzle.
Rich Cimini and Pat Yasinskas, the Jets and Bucs team reporters, respectively, discuss Sunday's matchup at MetLife Stadium:
Cimini
: There will be a lot of "24" jerseys in the crowd, as Revis was an enormously popular player in New York. The success-starved fan base embraced the "Revis Island" concept, convinced he was theirs forever. Forever ended when owner Woody Johnson refused to pay $16 million a year and traded him. New Yorkers know what Revis can do when healthy, but that's the question: Is his surgically repaired knee all the way back? No one has seen Revis in a game for nearly a year, so there's a natural curiosity. Will he be the Revis of old? Will he play his customary role, covering the No. 1 receiver? Do tell, Pat.
Yasinskas
: Rich, the Bucs are fully convinced Revis can be what he used to be. He's had nearly a full year to rehab after surgery and there have been no setbacks. It's true the Bucs have brought him along slowly. He was limited at the start of camp and didn't appear at all in the preseason games. But the Bucs were deliberate in increasing his workload throughout the summer and it was clear all along that the goal was to have him ready for the season opener. The Bucs have high hopes for Revis and believe he'll help fix a pass defense that ranked No. 32 in the league last season. The belief is that Revis can shut down the other team's No. 1 receiver and also allow linebackers and defensive backs to blitz quarterbacks. The Bucs would have drafted a cornerback if they had stayed put at No. 13 in the draft. But they felt Revis was better than any corner they could have selected. They used their second-round pick on cornerback
Johnthan Banks
, who may be in the starting lineup Sunday. If he is, both the Bucs and the Jets will be starting a rookie cornerback. How has
Dee Milliner
been doing so far in New York?
Cimini
: I'd love to tell you how he's doing, Pat, but I haven't seen a whole lot of him lately. Milliner missed the last two preseason games with a strained calf, although he told us Monday he'll definitely be ready to play. Obviously, he'll be rusty and his conditioning could be an issue as well. In his last game, nearly three weeks ago, he appeared tentative in coverage. Maybe he was concerned about the calf, I don't know, but he gave way too much cushion. Rex Ryan wants his corners to be aggressive in man-to-man coverage, and Milliner was anything but that. In fact, he received an earful from fellow corner
Antonio Cromartie
during the game. Obviously, the Jets think Milliner has a ton of talent or else they wouldn't have drafted him ninth overall, basically handing him a starting job even though he showed up a few days late because of his contract. But he has a lot to learn. I think he'll have problems with
Mike Williams
, assuming Cromartie covers
Vincent Jackson
. But I wonder, can the Bucs get consistent quarterback play out of
Josh Freeman
to exploit the Revis-less defense?
Yasinskas
: Consistency is the big issue when it comes to Freeman. He got off to a great start last year and had the Bucs at 6-4. At that time, it looked like the Bucs certainly wold lock up Freeman with a long-term contract. But Freeman cooled off late last season. He had 10 interceptions over three disastrous games. That convinced the Bucs to hold off on signing him for the long term. They're letting him go into a contract year and it's a "prove it" situation, especially after the Bucs used a third-round pick on
Mike Glennon
. But Freeman's the starter for now and I think he's ready to become a good quarterback. He has good talent at the skill positions and needs to rely on those players instead of trying to carry the team by himself. In the past, that's when Freeman has gotten himself in trouble. Speaking of quarterbacks, how ready is
Geno Smith
to lead the Jets?
Cimini
: First, a quick story about Freeman. The Jets' scouts actually had him graded higher than
Mark Sanchez
before the '09 draft, but they adjusted the grades after Sanchez's personal workout and interviews. I wonder how things would've played out if the Jets had picked Freeman. As for Smith, he's not ready, no way, but the Jets have no choice because Sanchez's throwing shoulder is banged up. Smith played less than four quarters in the preseason (69 snaps, to be exact) and he played poorly in his only extended outing -- three interceptions and a safety. He could've benefited from a few weeks on the bench, learning his craft. He has no experience in a pro-style offense. At West Virginia, he played in the "Air Raid" attack, working exclusively out of shotgun. The coaches will simplify the game plan, but he'll still be seeing a lot of stuff for the first time. He has an electric arm, but there will be growing pains.