Tampa Bay Buccaneers:

2013 Week 13 TB at CAR
December, 1, 2013
12/01/13
7:17
PM ET
CHARLOTTE, N.C. -- There were moments in the past few weeks when it looked like the
Tampa Bay Buccaneers
might have something special in rookie quarterback
Mike Glennon
.
Glennon
He was playing efficiently and with poise, especially during a three-game winning streak. Then, along came Sunday and a matchup with the
Carolina Panthers
. For one of the few times since he took over as the starter in Week 4, Glennon looked like he belonged back up the road in Raleigh, where he went to college at NC State. In a
27-6 loss
to the Carolina Panthers, Glennon looked vulnerable.
"I don't know 'step back' as much as he maybe looked a little more like a rookie than he's looked," coach Greg Schiano said.
For the first time in his career, Glennon went through an entire game without a touchdown pass. And Glennon had two costly turnovers.
The first came with Tampa Bay trailing 7-6 with 12:38 left in the second quarter. After Glennon hit
Vincent Jackson
with a 60-yard pass, the Bucs had a first-and-goal at the 4-yard line. But, on third down, a scrambling Glennon lost his grip on the ball. Carolina defensive tackle
Dwan Edwards
pounced on the fumble and that started the onslaught.
"The first one wasn't really a careless mistake," Glennon said. "Just the ball slipped out of my hand and it really hurt us because we would have gotten at least three points in that situation."
Glennon also looked bad on a third-quarter interception. His pass, intended for Jackson was woefully underthrown.
"I tried to make a play and I should have just thrown it away," Glennon said.
Glennon finished with 14 completions on 21 attempts for 180 yards. He was sacked five times and had a 73.5 passer rating.
"I think it is always a learning moment," Glennon said. "Like I always say, you can learn from the good; you learn from the bad. And there was some bad today that I will learn from. We will go back and watch the film and we will make the corrections."
December, 1, 2013
12/01/13
5:54
PM ET
CHARLOTTE, N.C. -- To all those people who like to blame coach Greg Schiano for everything that goes wrong with the
Tampa Bay Buccaneers
, get in line.
Schiano's going first this time, and his critique is harsh but appropriate. After Sunday's
27-6 loss
to the
Carolina Panthers
at Bank of America Stadium, Schiano repeatedly pointed the finger straight at himself.
"We didn't do enough to help them as coaches and we didn't execute well enough on the field," Schiano said.
[+] Enlarge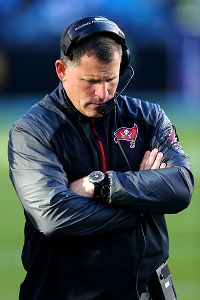 Streeter Lecka/Getty Images"I look at some of the stuff," coach Greg Schiano said after the Bucs' loss, "and it's on me."
Yes, the three-week dynasty that was the Bucs is over. The criticism of Schiano and speculation about his job security are flowing again, and they should be. After winning their previous three games, the Bucs took about six steps back with their worst performance of the season.
"This is a sick feeling going three in a row and then coming here and not playing your best football," left tackle
Donald Penn
said.
All the momentum that came with the wins is gone now. Give plenty of credit to Carolina, which won its eighth straight and continued to look like one of the league's best teams. But this was as much about the Bucs as it was about the Panthers.
The running game never got going, rookie quarterback
Mike Glennon
had his worst game and the defense couldn't stop
Cam Newton
on the ground or through the air.
Who's to blame?
"It just didn't feel like we gave them enough good opportunities," Schiano said. "I look at some of the stuff and it's on me. We've got to figure a way to put them in better situations. It's easy to say play calling -- when play calls work, they're great. When they don't, they're not. I just mean, overall, why did we show up today and not perform the way we're capable of? All the reasons, guys missing ... that's the way it's been. It's no different than it's been. We needed to play better. I did not see it coming. I thought we had an excellent week of practice."
Schiano even blamed himself for his team's poor tackling.
"We didn't tackle," Schiano said. "That wasn't the way we play defense. We didn't tackle, and I don't know why. That's another reason that, somehow as the head coach, I didn't get us to tackle the way that we're capable of."
It's admirable that Schiano is taking the blame for everything. Ultimately, the head coach has to take the blame when things don't go well, and it really doesn't matter if that's fair. I'm not saying that taking the blame rings hollow after a while. But, if you got your hopes up after three big Sundays in November, the reality is that the calendar has turned to December. That's the
month
of reality in the NFL.
Now that the three-week joyride is over, Schiano may be running short on time. Let's face the facts. The Bucs are 3-9 after going 7-9 last season.
There was a time when an NFL coach was reasonably certain to get three years to show what he could do. But those days are gone because owners no longer can afford to wait to win. Schiano isn't even done with his second season, but he already is down to crunch time.
The Glazer family, which owns the team, likes a lot of things about Schiano (starting with the fact he cleaned up a locker room that was a laughingstock under his predecessor, Raheem Morris). But the Glazers also like to win, and they don't like to be embarrassed.
That's why Schiano is at a critical moment in his tenure. There are four games left in the season and he can't afford for the rest of them to go the way the Carolina contest did.
"We just didn't play well today," Schiano said. "That's all I know. When you live in the one-game-season mode like we do, you have to [play well]. It is really hard to win an NFL football game. If you put everything into it and it doesn't work, then you've got to evaluate what you did. Did you not do the right things? Did you not give your guys the best chance to win?"
I'm not saying Schiano has to run the table to keep his job, although that certainly would help. But I think he needs to finish on some sort of upswing, something like winning three out of the last four.
If he doesn't finish strong and generate some hope for the future, the fans aren't going to be the only ones blaming Schiano. And Schiano's not going to be the only one blaming Schiano.
There are four games left and the Glazers need to use them to evaluate everything. When it comes right down to it, the opinions of the Glazers are the only ones that really matter.
If Schiano's postgame critique ends up being similar in three or four of these remaining games, it's pretty obvious the Glazers will end up agreeing with their coach.
December, 1, 2013
12/01/13
3:53
PM ET
CHARLOTTE, N.C. – A few thoughts on the
Tampa Bay Buccaneers
'
27-6 loss
to the
Carolina Panthers
on Sunday.

What it means:
The winning streak ends at three games, and it does so with a thud. The Bucs simply were outclassed by the Panthers in every way. Now, reality can set back in. The Bucs are 3-9, and coach Greg Schiano might have moved back to the hot seat. The loss also keeps the Bucs in the running for a very early draft pick.
Stock watch:
A couple of weeks ago, running back
Bobby Rainey
looked like a phenomenon. The past two weeks, he's been bottled up. The blame for that doesn't fall on Rainey. Opposing defenses are loading up against the run and challenging rookie quarterback
Mike Glennon
to beat them. Until Glennon shows he can consistently throw the deep ball, there will not be a lot of room for Rainey to run.
Rocky outing:
Glennon had played mistake-free football during the winning streak, but that ended Sunday. Glennon lost a fumble, threw an interception and wasn't able to get the offense to do much of anything. For the first time this season, Glennon didn't throw a touchdown pass.
Revis injured again:
Cornerback
Darrelle Revis
was questionable for this game with a groin injury. He played into the third quarter but suffered a shoulder and chest injury while attempting to make an interception. Revis did not return.
What's next:
The Buccaneers host the
Buffalo Bills
on Sunday.