Tampa Bay Buccaneers:

Bill Sheridan
November, 22, 2013
Nov 22
8:00
AM ET
TAMPA, Fla. – The
Tampa Bay Buccaneers
will be without suspended safety
Dashon Goldson
for Sunday's game against the
Detroit Lions
. But they still will hear Goldson.
"He's always in your ear,''
Keith Tandy
said.
That's a good thing because Tandy will be the man to replace Goldson, who is serving a one-game suspension for an illegal hit, in the starting lineup. Tandy said Goldson has taught him a lot about playing safety.
"The main thing Dashon has taught me about being vocal is that you see guys that the guys in front of you don't see, so you can call out stuff about routes and different plays to the linebackers and the defensive line,'' Tandy said.
The position still is somewhat new for Tandy, who played cornerback in college. But the Bucs are happy with Tandy's transition.
"He's the kind of a guy that I would describe as he's really good at everything, maybe not a 'wow,' spectacular, dynamic player at any one particular part of his game,'' defensive coordinator Bill Sheridan said. "But he's good in run support, he can tackle, he's athletic, he can play man-to-man coverage, he understands zone coverage, he can play different components of zone coverage, can make checks off of formations. He's done an outstanding job. I told him that a couple weeks ago. He has really come around.''
Tandy made two starts at safety when Goldson was injured earlier in the year.
"I think every game I get a little more confident as far as getting the reps out there,'' Tandy said. "You go out and make a couple plays and your confidence builds. We try to make sure we build on that every day in practice and I'm starting to see plays before they happen, so it's helping out.''
October, 25, 2013
Oct 25
12:00
PM ET
An examination of four hot issues from the
Tampa Bay Buccaneers
' 31-13 loss to the
Carolina Panthers
.
[+] Enlarge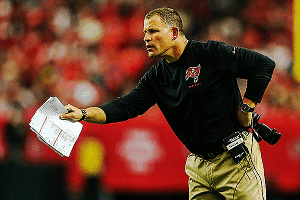 Daniel Shirey/USA TODAY SportsThe Bucs' Thursday night performance surely didn't help the job security of coach Greg Schiano.
Greg Schiano's status.
Although fans have been calling for his firing for several weeks and the noise is getting louder, Schiano still has a job -- at the moment. That still could change. But, with every minute that passes, it looks as if Schiano will be around for at least one more game.
Could there be a scapegoat?
If the Bucs don't fire Schiano, they still might feel they need to make a statement that they care. The other way to do that would be by firing a coordinator. Offensive coordinator Mike Sullivan's unit has struggled all season. Defensive coordinator Bill Sheridan's group has regressed in recent weeks.
The offensive line is a problem.
This group was supposed to be a point of strength, but it hasn't been. Sure, guard
Carl Nicks
is out with a staph infection, and that doesn't help. But this line can't open holes for the running game, and quarterback
Mike Glennon
was sacked three times.
The defense is regressing.
Look at the defense and you see some strong individual talent --
Gerald McCoy
,
Adrian Clayborn
,
Lavonte David
and
Darrelle Revis
. But this unit allowed 31 points for the second straight week. It's easy to point to the schemes as the problem, but the players deserve some blame as well.
October, 17, 2013
Oct 17
3:04
PM ET
TAMPA, Fla. -- Buccaneers defensive coordinator Bill Sheridan had some fun with the media when asked about how he's been using cornerback
Darrelle Revis
.
Revis
Fans have been saying the Bucs are using Revis in zone defense, instead of playing to his strength in man to man.
"What are [fans] chirping about?'' Sheridan said with a laugh. "Tell me what they're chirping about.''
Several media members explained the chirping, and Sheridan responded with a smile.
"Well, what I want to invite them to do is to join us. I get here about 5:20 every single morning and they're more than welcome to hang around until about 11 for the first four nights of the week,'' Sheridan said. "And they can help us put the whole game plan together. We've got all the free Cokes you could want in the building and we'll be happy to take their suggestions on how they can better use Darrelle. Trust me when I tell you we painstakingly game plan how best to use all of our personnel, not just Darrelle. But I appreciate the chirping.''
Revis also was asked about how he's being used, but he wasn't nearly as entertaining as Sheridan.
"I don't get into all of that,'' Revis said. "I don't get into the fans or press clippings or what people have to say. The only thing we can do is control what we're doing here. I've got to do a better job as well as a number of my teammates of executing the plays better.''
October, 11, 2013
Oct 11
11:25
AM ET
TAMPA, Fla. -- Since the start of the season, we've heard a ton about the Philadelphia Eagles' fast-paced offense. Now, let's hear from the man whose job it is to slow the Eagles on Sunday.

That's Tampa Bay defensive coordinator Bill Sheridan. He normally runs an attacking- style defense (filled with blitzes) and it doesn't sound like he has any plans to back away from that.
"You have to pick your spots because you don't want to play the whole game on your heels and let them run their offense and hope that you can defend it well enough'' Sheridan said. "You need to try to get them off balance and run second-level guys at the line of scrimmage and we will do that. But you want to be selective because they're potentially so explosive.''
Sheridan said the way the Eagles run the ball out of the shotgun formation makes Philadelphia coach Chip Kelly's offense particularly challenging.
"The thing that's most impressive is the play-action that it sets up off of it because you're so wound up in defending the gun run because of the possibility of the quarterback being a running back as well and then they have an outstanding play-action pass route concept and formation concepts,'' Sheridan said. "This stuff is well thought out. Chip's been doing it for years and has had tons and tons of mileage out of it and he's doing the same thing in our league right now. They're tearing it up statistically.''
Sheridan likes to rotate his defensive linemen extensively. But getting substitutes on and off the field could be difficult because Philadelphia runs plays so rapidly.
"That will be a challenge because they're on the ball all the time and yet they have different tempos,'' Sheridan said. "Sometimes they'll literally get on the ball and snap it and hope you don't have your hand down. Other times they're just going to be on the ball at a little bit more of a moderate pace, so you have to be selective on your subs. We try to simulate it in progress, but it's never going to be quite the same.''
September, 11, 2013
Sep 11
8:00
AM ET
It's very difficult to rattle New Orleans quarterback
Drew Brees
, but that's what the
Tampa Bay Buccaneers
will have to do if they're going to have a chance against the Saints on Sunday.

One of the few encouraging things that came out of the season-opening loss to the Jets was that the Bucs recorded five sacks. Four of them came from linebackers, which shows that defensive coordinator Bill Sheridan isn't afraid to blitz. He'll need to do some of that against the Saints.
But the Bucs really need to bring a pass rush from their front four. New Orleans builds its lines from the inside out, so I wouldn't count on defensive tackle
Gerald McCoy
having much success as a pass-rusher. But the Saints are a little shaky with
Zach Strief
starting at right tackle and
Charles Brown
at left tackle.
That means the door could be open for defensive ends
Adrian Clayborn
,
Daniel Te'o-Nesheim
and
Da'Quan Bowers
. If those guys can get near Brees, the Bucs might be able to slow the New Orleans offense.
September, 6, 2013
Sep 6
10:00
AM ET
Tampa Bay Buccaneers' fans have been asking consistently throughout the preseason about all the stunts the team has been using on the defensive line.
A lot of fans say they're confused by what the stunts are all about and if they have any value.

Well, we got an answer straight from defensive coordinator Bill Sheridan on Thursday.
"The main thing is you're trying to get misses in the line of scrimmage from a blocking standpoint,'' Sheridan said. "A lot of teams are zone blocking or man blocking plays and when we move our guys horizontally; left to right, off an offensive linemen, you're hoping you get some misses and penetration the line of scrimmage. For the most part, it's really called for run downs, especially on first and second downs. We're doing that with the intention of disrupting the run.''
But Sheridan said the stunts also can help against the pass.
"The way we do it, because our second level players -- even though they have coverage on people -- if those guys stay in and block, they end up becoming additional rushers,'' Sheridan said. "So a lot of times, especially on first and second down, when those quarterbacks are hanging on to the ball off the play action, we actually end up having additional guys rush in there, you can see that on the film . It's normally called for a run down. Again, we're trying to disrupt the blocking patterns and -- not just be stationary where they know where we're going to line up and this is how they're going to block us. We might be moving inside or outside off the different shades we play. But, again, if they hang onto the ball, -- the more guys they keep in, a lot of times we get additional rushers coming in."