Tampa Bay Buccaneers:

Charles Tillman
November, 19, 2014
11/19/14
2:49
PM ET
TAMPA, Fla. -- It's more than a little ironic that
Tampa Bay Buccaneers
quarterback
Josh McCown
is finally feeling like he did last year.
That's because he's about to visit Chicago to face the team he played for last season. McCown played the best football of his career for the
Bears
: Filling in for an injured
Jay Cutler
, he threw for 13 touchdowns with just one interception. That performance was enough to get McCown a two-year, $10 million contract and a starting job in Tampa Bay.
[+] Enlarge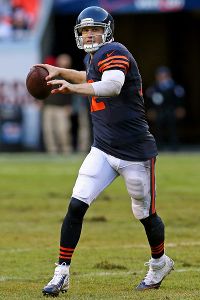 Jonathan Daniel/Getty ImagesJosh McCown parlayed a strong 2013 in Chicago into a two-year, $10 million deal with the Bucs.
McCown said his momentum from last year went away at the beginning of this season. He has said he was pressing too hard in the first three weeks, throwing two touchdown passes and four interceptions before suffering a thumb injury that kept him on the sideline for five games. But since returning to the lineup two games ago, McCown said he feels like he did during his run as Chicago's starter.
That was especially evident on Sunday in Washington. McCown completed 15 of 23 passes for 288 yards and two touchdowns as the Bucs (2-8) snapped a five-game skid.
"I don't know that I felt that way the first few games," McCown said. "That's how I envisioned it. That's how I felt when I was playing last year. I felt more calm, and [quarterbacks coach] Marcus [Arroyo] and I are on the same page with the plan and just where he's at as a playcaller. That brought me a lot of peace. That's more what everybody envisioned."
Sunday's performance was exactly what the Bucs envisioned when they signed McCown.
"If you look at what he did last year and his body of work when he was given a chance, he was very impressive," Arroyo said. "I think he's capable of doing that game, and that was a great game last weekend. We've got to try to find a way to do it again and again."
McCown said the
arrival of coach Marc Trestman in Chicago
last year helped elevate his game.
"Just from the standpoint of having someone on the offensive side of the ball bring his kind of expertise," McCown said. "You get different things from different people in your career, and I've had tons of coordinators, some really good ones. But every now and then, you click with somebody that sees it the way you see it. As a player, the way they call a game or the way they see the game, it kind of hits your brain the same way. For me, I think that's what allowed me to play at the level I played at for Marc."
Bonding with a coach wasn't the only positive McCown took from his three seasons in Chicago, which included two years playing for current Bucs coach Lovie Smith.
"Especially when I first got there in 2011, I liked how that locker room was," McCown said. [Linebacker Brian] Urlacher was still there. You could just feel the closeness of that group of guys. It's very rare that you get to be in those kind of locker rooms when you have groups that have been together like they have. I mean, you're talking about
Lance Briggs
and
Peanut Tillman
have been teammates for 10 years plus. That's unheard of. It just doesn't happen very much in this league.
"When you get in a locker room like that where you have guys that have been teammates that long and observe their relationships and how much they appreciate each other and their friendship and watch how it plays out on the field, I think that's what I look back on my time there the most -- how important those relationships are in that locker room."
October, 31, 2014
10/31/14
8:00
AM ET
TAMPA, Fla. -- One of the reasons the
Tampa Bay Buccaneers
have the 32nd-ranked defense in the league has been a failure to come up with takeaways.
The Bucs have only 10 (four interceptions and six fumble) recoveries.
"We've got to take the ball away," defensive tackle
Gerald McCoy
said. "Simple as that. We have to take the ball away."
Sunday's loss to Minnesota was a good example of how the Bucs have come up short on takeaways. They didn't have any while the Vikings had two.
"You have to lead the charge for taking the ball away," McCoy said. "You give up 13 points. They give up 13 points. The difference is they took the ball away and we didn't. You give up 13 points and have two or three takeaways and your chances of winning skyrocket. We just have to be better at taking the ball away."
So how do the Bucs get better at taking the ball away?
"There's ways to do it, but it's definitely a mindset as well," McCoy said. "You go for the tackle, don't just try to get him on the ground, try to get the ball out. Simple as that. You have to be thinking of that all the time. Even at the beginning of some of our defensive calls we put "strip" at the beginning of them just to remind you. You've got to constantly remind that we've got to get the ball out. You can't always depend on the offense to make a mistake. You have to force it. You have to be thinking of it at all times."
Safety Major Harris played for coach Lovie Smith in Chicago when the Bears had plenty of success with takeaways. Harris said Smith has been emphasizing takeaways as much as ever.
"Each and every week, we focus on taking away the ball," Harris said. "I think we have to home in to it and go for more strips when the running back is holding the ball. The first guy comes in and makes the sure tackle and the second guy comes in and punches the ball out. That's been the emphasis this week.
"It has to happen in practice. If it doesn't happen in practice it's not going to happen in the game because you're not thinking about it. When I was in Chicago, Charles (Tillman) was the best at it. Every day at practice he'd get at least two and that carried over to games."
March, 12, 2014
3/12/14
3:11
PM ET
TAMPA, Fla. -- I'm out at One Buccaneer Place for a news conference later Wednesday in which the Bucs will introduce some of their free-agent acquisitions.
It's a good thing there's a separate entrance for the media because the main entrance seems to be getting overrun with visitors. In addition to the four players that agreed to terms Tuesday and quarterback
Josh McCown
, who agreed to terms Wednesday afternoon, the Bucs have confirmed five other players have made – or are in the process of making – visits.
Some of these have been reported before and some are new, so let's run through the whole list. The free agents the Bucs confirmed as visitors are Chicago cornerback
Charles Tillman
, Green Bay center
Evan Dietrich-Smith
, New England linebacker
Dane Fletcher
, Cincinnati offensive lineman
Anthony Collins
and Carolina wide receiver
Ted Ginn
Jr.
Stay tuned. We'll let you know if the Bucs agree to terms with any of those five or anyone else.
March, 7, 2014
3/07/14
11:00
AM ET
»
AFC Free-Agency Primer
:
East
|
West
|
North
|
South
»
NFC
:
East
|
West
|
North
|
South
Key free agents:
LB
Adam Hayward
, FB
Erik Lorig
, LB
Jonathan Casillas
and WR
Tiquan Underwood
.

Where they stand
: The Buccaneers don't have any huge names among their own free agents, but they'd like to keep some of them as role players. Hayward is a key special-teams player and Lorig is important as the lead blocker for
Doug Martin
in the running game. If Casillas returns, he's a candidate to start at strongside linebacker. The major need on defense is for a pass-rusher. On offense, the team may look to overhaul its offensive line. Tight end and depth at wide receiver also are big needs.
What to expect:
The Bucs were 4-12 last season and they have a new coaching staff and general manager. That means there will be significant changes. The Bucs have $18 million in cap room, so they're going to be active in free agency, even though they've stated their goal is to build through the draft. Look for connections to the new regime to play into free-agent signings. Return man
Devin Hester
and cornerback
Charles Tillman
played for coach Lovie Smith in Chicago and defensive coordinator Leslie Frazier worked with defensive end
Jared Allen
in Minnesota. All of those players could be prime targets. A veteran quarterback also could be added to the mix, with
Josh McCown
and
Michael Vick
as possibilities.
March, 3, 2014
3/03/14
8:00
AM ET
Before I head off to Bristol, Conn., for a couple days of meetings, let's reach into the mailbag for our question of the day.
Alex in San Angelo, Texas, asks if the Bucs keep
Darrelle Revis
, will they still be able to pursue free agents like
Jared Allen
and
Charles Tillman
.
The Bucs can keep Revis (and his $16 million cap figure) and still have plenty of room to target the two veteran free agents and others. At the moment, the Bucs have $114.2 million committed toward a cap that's expected to be $133 million. And I think the cap position will only get better. I suspect you'll see a few high-priced offensive linemen get released or have their contracts restructured.
Age should keep the price for Allen and Tillman relatively low. The Bucs don't want to overhaul their team with veteran free agents, but Allen and Tillman are likely exceptions to the rule. The Bucs have needs at defensive end and cornerback. Allen has history with defensive coordinator Leslie Frazier and Tillman played for coach Lovie Smith in Chicago.
February, 10, 2014
2/10/14
9:02
AM ET
Let's start the day off with a question from mailbag.
Ryne in Chicago
asks if the Bucs should make a hard push for cornerback
Charles Tillman
in free agency.
I think that's at least a possibility because it's logical on many levels. Although the new regime says it will build through the draft, the plan is to use free agency for complementary players. Tillman obviously has deep ties to coach Lovie Smith and that could be enough to open the door.
Tillman turns 33 later this month, but he still has a year or two left in him. The Bucs have
Darrelle Revis
at one cornerback spot. But
Johnthan Banks
is still developing at the other spot. Tillman could help serve as a bridge until Banks is fully ready. Having Revis, Tillman and Banks as the top three cornerbacks would give the Bucs a nice trio.
The possibility of this scenario also is enhanced by the fact that a player of Tillman's age isn't going to command a large salary.