Tampa Bay Buccaneers:

Darren Sproles
September, 30, 2013
9/30/13
1:35
PM ET
TAMPA, Fla. -- Safety
Dashon Goldson
will not be suspended for his hit on
Jaron Brown
in Tampa Bay's 13-10 loss to the
Arizona Cardinals
.
An NFL spokesperson said Monday that NFL vice president of football operations Merton Hanks already has determined the hit doesn't warrant a suspension. But the league said Goldson could be fined for the hit, which came in the fourth quarter and drew a personal foul.
Goldson initially was supposed to be suspended for Week 3 for a hit on New Orleans'
Darren Sproles
. But Goldson appealed that and got his penalty reduced to a $100,000 fine. Goldson also was fined $30,000 for a hit in the season opener. Since 2009, Goldson has been flagged with a league-high 16 personal fouls.
September, 18, 2013
9/18/13
5:02
PM ET
On the same day
Dashon Goldson
's one-game suspension was
overturned
, the Tampa Bay safety took a verbal hit from across the Gulf of Mexico.
Goldson
Brees
Goldson originally was suspended for a helmet-to-helmet hit on New Orleans running back
Darren Sproles
. But, on appeal, the suspension was reduced to a $100,000 fine. Since 2010, Goldson has been called for a league-high 15 personal fouls. He also was fined $30,000 for an illegal hit in the season opener against the
New York Jets
.
"He's had a lot of those,'' Saints quarterback
Drew Brees
told the New Orleans media Wednesday. "He certainly has no regard for the rules in the middle. He's going after guys' heads. You can see it.
"So, obviously $100,000 is a pretty hefty fine. And I'm sure if it continues to happen it will be even greater punishment than that.''
In Tampa Bay, Goldson told reporters he's not trying to hurt opponents.
"I'm an aggressive player,'' Goldson said. "We all know that across the league. I've never tried to hurt anybody. I try to keep my hits within the rules. And that's what I'll do week in and week out. I have to make sure I get guys to the ground, but at the same time I have to be careful.''
Goldson acknowledged his hits will be under the microscope going forward.
"I know there are going to be a lot of eyes on me from now on,'' Goldson said. "And that's OK. I just have to be smart. I'm not trying to hurt my team and I'm definitely not trying to hurt myself with the way I play.
"I have to take my shots when they present themselves but I have to do it clean. No launching, of course, no hats on hats. Just make sure I get the body down on the ground and do it properly.''
September, 16, 2013
9/16/13
6:48
PM ET
TAMPA, Fla. -- As it turns out,
Dashon Goldson
's greatest strength might be his biggest weakness.
The
Tampa Bay Buccaneers
signed Goldson as a free agent largely because of his reputation as a big hitter. There's no doubt Tampa Bay needed to be a little more physical in the defensive backfield after ranking last in the league in pass defense last year.
But Goldson went a little too far. Goldson has been
suspended without pay
(that comes to $265,000) for one game for his helmet-to-helmet hit on New Orleans running back
Darren Sproles
, according to Adam Schefter.
There's no doubt that the fact that this is Goldson's 15
th
personal foul since 2010 had a lot to do with the severity of his discipline. Goldson was fined $30,000 for a similar hit in the season opener against the
New York Jets
.
There's a very fine line between being aggressive and going overboard with hits. This hit and the one against the Jets didn't seem intentional. But Goldson needs to realize the NFL is enforcing different rules in an era when concussions have been a major issue. Five or 10 years ago, Goldson wouldn't have been suspended or even fined. But times have changed and Goldson has to change.
His suspension is a big blow to the Bucs as they go up against New England quarterback
Tom Brady
.
Ahmad Black
is a competent backup, but he's not nearly on Goldson's level. When Goldson comes back, he needs to tone things down a bit because any more big hits could cost him a lot more than one game.
September, 16, 2013
9/16/13
4:07
PM ET
TAMPA, Fla. -- Since the start of the 2010 season,
Dashon Goldson
's 15 personal fouls are more than any player in the league.
Goldson
Thirteen of them came when Goldson played for
San Francisco 49ers
. The past two have come as a member of the
Tampa Bay Buccaneers
. A hit in the opener against the
New York Jets
earned Goldson a $30,000 fine. But his hit on
Darren Sproles
in Sunday's loss to New Orleans reportedly
could earn him a suspension
, according to Adam Schefter.
"When we made the decision to bring Dashon here, that was not a concern," Tampa Bay coach Greg Schiano said Monday. "Was I aware that he was a big hitter? Yes. Now, it's a concern that he may get suspended, but Dashon is trying to do the right thing. He's just got to lower his target point and sometimes the point moves, so that means you have to go lower still. He certainly is trying. It's not one of those, 'Oh, I don't care, I'm just going to do that.' He's very aware and trying."
Schiano said Monday afternoon that he hasn't heard anything from the league about a possible suspension. The Bucs have been penalized more than 100 yards in each of their first two games, and Schiano said that has to stop.
"As I tell the guys, whether you think it's a penalty or not, it's called, so it's a penalty," Schiano said. "That's really the issue. If something is going to be called, we have to avoid it. It's hurting the football team. By the same token, I want our guys to play hard. I don't think anybody is intentionally trying to do that. We just have to be more and more aware of that situation and make sure we avoid that as much as we can."
September, 13, 2013
9/13/13
12:00
PM ET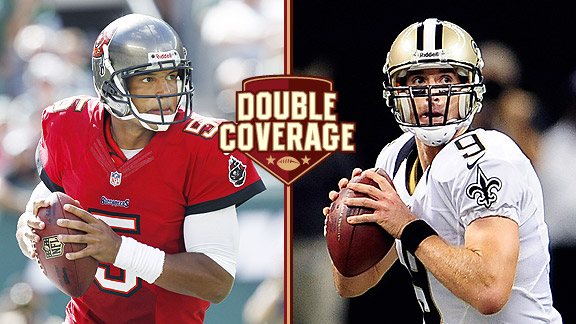 Getty ImagesBucs QB Josh Freeman faces off against Saints QB Drew Brees in a Week 2 division rivalry game.
Two of the biggest stories in the NFC South in Week 1 were that New Orleans played good defense and Tampa Bay never was able to get into an offensive rhythm.
Will that continue as the Saints and Buccaneers play one another?
ESPN's Matt Williamson and Buccaneers team reporter Pat Yasinskas discuss the matchup.
Yasinskas:
Matt, I have to admit I was stunned by the Saints holding the Falcons to just 17 points in the opener. I saw the Saints in training camp and had serious doubts about whether they had the personnel to run the 3-4 defense successfully, and they have endured several major injuries since then. Yet, the Saints kept one of the league's best offenses in check. Was this just a fluke or is the New Orleans defense actually for real?
Williamson:
If I were an optimistic Saints fan, I would take this stand: The Saints' young, talented three-man defensive line, led by
Cameron Jordan
, looks simply exceptional and fits the new scheme very well. Their secondary is also clearly improved from a year ago -- which isn't saying much. If I were taking a more pessimistic view on New Orleans' defense, I would say that
Roddy White
was a shell of himself and completely ineffectual, and the Falcons' offensive line might be among the worst in the NFL right now. The truth is probably somewhere in between, but I also believe that as long as the Saints' defense isn't among the very worst in the league, that this is the team to beat in the NFC South. So, in return, here is my question: Even if the Saints' defense isn't noticeably improved and is closer to the 2012 version than what we saw last week, is
Josh Freeman
capable of exploiting it?
Vincent Jackson
played a great game in New York, but Freeman has looked terrible throughout the preseason and now into regular-season action.
Yasinskas:
After watching Freeman in the New York game, I'm not so sure he's capable of exploiting any defense right now. He never got into any sort of rhythm in the passing game and, at times, look flustered. Over the past few years I've been steadfast in my belief Freeman has what it takes to turn into an elite quarterback. But that hasn't happened yet, and I'm starting to doubt if it ever will. He has plenty of weapons at the skill positions, but it seems like Freeman is regressing, instead of progressing. Speaking of regressing, what's your take on the Saints' running game? Coach Sean Payton has said he wants to run more, but the Saints got very little out of the running game in the opener. Now, they'll play a defense that was No. 1 against the run last season. Can
Mark Ingram
,
Darren Sproles
and
Pierre Thomas
move the ball against the Buccaneers?
Williamson:
That's a great question and I know it is extremely early, but I have forecasted Ingram to have a breakout season in 2013. But I am having second thoughts on that, as he is a volume runner who needs to be fed the ball to be most effective, and I just don't know if that will ever be the case here, as Thomas is such an effective all-around player and Sproles needs to be on the field. I do think Payton believes in balance and he wants to have a physical offense with a very good interior offensive line paving the way, but running against Tampa Bay doesn't seem to be the prudent move. Of course, the Tampa secondary is also vastly improved, but
Drew Brees
is the type of elite passer who just produces no matter the competition ... and can the Buccaneers match up to Sproles and
Jimmy Graham
? I have my doubts they can. Therefore, I say this is a game Payton puts on Brees' shoulders -- which is never a terrible idea. Along those lines, the Buccaneers clearly made a concerted effort to improve their pass defense by using numerous valuable resources to improve their secondary. Mission accomplished there. But this pass rush still has to be a concern, and if Brees is given time, he is going to find someone to his liking to eventually distribute the ball to. Brees is a tough guy to sack, but can the Bucs at least disrupt him in the pocket with some consistency?
Yasinskas:
One of the few encouraging things to come out of the loss to the Jets was that the Bucs recorded five sacks. Four of them came from the linebackers, which shows a willingness to blitz. But the front four can be more productive and several guys have the ability to bring some heat on Brees. End
Adrian Clayborn
and defensive tackle
Gerald McCoy
both have the talent to get to the quarterback. But the real wild card could be
Da'Quan Bowers
. The team wanted him to start, but he didn't play well enough to earn the job in the preseason. For the moment, Bowers is being used as a situational player. But he has more upside as a pass-rusher than anyone on this team, and this game would be a good time for him to start showing. Brees is tough to slow down under any circumstances, but you absolutely have to have a strong pass rush to have any chance. Speaking of Tampa Bay's pass rush, that brings up another question. The Saints let left tackle
Jermon Bushrod
depart as a free agent and they've replaced him with
Charles Brown
. Can Brown be an effective left tackle?
Williamson:
Because of their strengths on the interior and the need for the shorter Brees to have a clean pocket up the middle, the Saints construct their protections schemes from the inside out, which makes life for their offensive tackles easier. And, of course, Brees has a great feel for the rush to go along with underrated, but highly effective pocket movement and athletic ability to elude the rush, particularly from the edges. Bushrod never impressed me much, considering some viewed him as a Pro Bowl caliber left tackle. In fact, I think Brown has more natural ability when it comes to movement skills and length for the position. Brown played quite well in the preseason and that carried over to Week 1. It appears the Saints just might have found their starting left tackle for the foreseeable future.