Tampa Bay Buccaneers:

Dave Wannstedt
December, 16, 2013
Dec 16
8:00
AM ET
TAMPA, Fla. -- A review of four hot issues from the
Tampa Bay Buccaneers
' 33-14
loss
to the
San Francisco 49ers
:
[+] Enlarge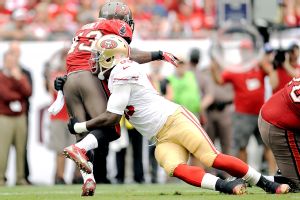 Photo by Stacy Revere/Getty ImagesThe 49ers held Bobby Rainey and the Bucs to just 39 net rushing yards.
The Schiano Watch.
The Bucs had won four of their previous five heading into Sunday. That created some reason for optimism that coach Greg Schiano might return for a third season. But this loss was a big hit to Schiano's chances. The Bucs very possibly could go 4-12, and not many coaches survive 4-12 seasons.
The reverse that didn't work.
Schiano and special-teams coordinator Dave Wannstedt left themselves open to criticism when they called for a reverse on a kickoff return in the fourth quarter.
Eric Page
and
Russell Shepard
botched the handoff, and the 49ers took the fumble in for a touchdown. After the game, Schiano said one of the players made a mistake by following the wrong option on the play. That happens. But maybe the reverse shouldn't have been called in the first place.
Not following the plan:
The first thing Schiano prides his offensive system on is the running game. Well, that wasn't working at all Sunday. The Bucs managed just 39 net rushing yards.
Glennon's regression.
There's no question rookie quarterback
Mike Glennon
has taken a step back in the past three games. That may have a lot to do with the fact that he's faced good defenses from Carolina, Buffalo and San Francisco. But Glennon fared well when allowed to run the two-minute offense against the 49ers. Makes you wonder why the Bucs don't go with the no-huddle system more often.
November, 3, 2013
Nov 3
8:20
PM ET
The
Tampa Bay Buccaneers
played their best football game of the season Sunday.
Naturally, they still lost. Even die-hard Bucs fans could see this one coming from 3,000 miles away.
The Bucs lost
27-24
in overtime to the
Seattle Seahawks
. And this wasn't anything close to a moral victory. Instead, it was a morale loss. The Bucs are 0-8 and this one was far worse than the previous seven put together.
As the Bucs fly back across the continent Sunday night, do you think morale could be any lower?
I don't. The Bucs led 21-0 at one point in the first half and 24-7 early in the third quarter. They could have (temporarily) silenced all of their critics by beating one of the NFL's best teams in one of the league's toughest road stadiums. Fans even would have backed off coach Greg Schiano -- until his next loss.
[+] Enlarge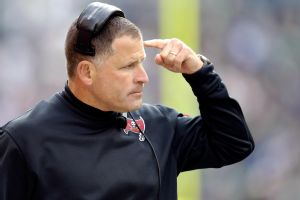 Joe Nicholson/USA TODAY SportsWould the Glazer family think about replacing Greg Schiano before the Bucanneers' Monday night game against the Dolphins?
But the Bucs blew that big lead in disastrous fashion and you have to wonder if ownership is thinking about replacing Schiano with an interim coach.
Perhaps you've noted that I've yet to call for Schiano's firing. My logic has been two-fold. First, going with an interim coach never solves anything. Second, the general rule of thumb is that you don't pull the plug until the players stop playing hard for the coach.
The effort still was there Sunday and that's something that should be considered. But I'm starting to wonder if the Glazer family, which owns the team, might go ahead and fire Schiano at the midpoint of his second NFL season.
It wouldn't even be a small surprise at this point. Schiano has lost 13 of his past 14 games. Those are the kind of embarrassing numbers that got predecessor Raheem Morris fired. And, before you go saying the Glazers will stick with Schiano because he has three years remaining on his contract, think about something else.
The Glazers don't like losing money. But, more importantly, they care deeply about how they and the Bucs are perceived. More than anything, the Glazers hate to be embarrassed.
Schiano was brought in to do two things. First, he was supposed to change the culture of a locker room that had run amok under Morris. He accomplished that by getting rid of the likes of
Aqib Talib
,
Kellen Winslow
and
LeGarrette Blount
. Give Schiano credit for filling the locker room with Boy Scouts (and former Rutgers players).
But the other thing Schiano was hired to do was win. He clearly hasn't done that. Just like he did in some early-season close losses, Schiano got conservative against Seattle. His staff also didn't seem to make any successful halftime adjustments.
Could things really get worse if the Bucs fired Schiano and elevated special teams coach Dave Wannstedt to interim coach? Probably not. But things probably couldn't get much worse.
The Bucs hit their lowest point in Seattle. They squandered a chance for Schiano to say, "Hey, look at what my system can do if it's run right."
But that didn't happen and the Glazers might be at a point where they need to make a big choice. Remember what I said about them not liking being embarrassed. I can't emphasize that enough.
The next game on the schedule is a Monday night contest (Nov. 11) against the
Miami Dolphins
. It will be on national television in a sold-out stadium that rarely sells out.
The Glazers have to decide what's worse -- going the interim route or run the risk of letting a national audience see Schiano get booed out of Raymond James Stadium.
October, 20, 2013
Oct 20
6:35
PM ET
ATLANTA -- The evidence and a lot of Tampa Bay fans say coach Greg Schiano should be fired immediately.
I say it's not that time. At least not yet.
Yes, Sunday's
31-23 loss
to the
Atlanta Falcons
was the same story it's been all season. Schiano's Bucs were inept. They squandered opportunities and committed 11 penalties for 103 yards.
"It's been a long time since a team I coached had that same issue," Schiano said. "Put it on me to get that fixed. We had 11 penalties, six of them in Atlanta territory and four in the red zone. I think we do all the right things and it's worked over the years, yet it's not working right now. We've got to re-examine that."
There's a lot the Bucs need to re-examine and there's no doubt Schiano is running short on time. The Bucs are 0-6 and they've lost 11 of their last 12 games, dating back to last season.
[+] Enlarge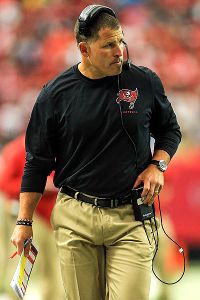 Daniel Shirey/USA TODAY SportsGreg Schiano's Tampa Bay Buccaneers have lost 11 of their past 12 games.
"When teams are having penalties, that's a collective coaching and playing issue," Schiano said. "We've got to get it fixed. I'm frustrated because I've said that standing at this [microphone] before."
The Bucs are making the same mistakes over and over. That doesn't bode well for any coach and this season is on the verge of spiraling out of control. Quarterback
Josh Freeman
is gone, so Schiano is left to take all of the blame.
And he deserves every bit of it. I'm not giving Schiano a ringing endorsement, because that simply is not possible at this time.
But the alternative that so many fans want -- an interim coach -- isn't the answer. Sure, the Bucs could make special teams coordinator Dave Wannstedt their interim coach. He has been an NFL head coach before. Or the Bucs could turn to Butch Davis, who is a special adviser to Schiano. Davis also has been an NFL head coach.
What good would either of those moves do the Bucs, who have to turn around and play a Thursday night game against Carolina? Firing Schiano and replacing him with Wannstedt or Davis would only throw this team into more disarray -- and, yes, that is possible.
Going the interim route never is the answer. You only do that when things are totally out of control and you're only prolonging the inevitable -- the arrival of a new coach.
Things are dangerously close to being totally out of control for the Bucs, but they're not completely there yet.
Give Schiano, who ironically had a reputation as a builder and perfectionist at Rutgers, just a little more time to try to get things straightened out. He's had only three games with
his
quarterback, rookie
Mike Glennon
. Amid the rubble of three losses, Glennon has shown some improvement.
Get the penalties to stop and get the defensive backfield to stop watching balls go over its head. Maybe the Bucs can win five or six games down the stretch. If that happens, maybe Schiano, who has three more years on his contract, sticks around and maybe the Bucs turn the corner next season.
Yeah, all that's a long shot. But there really is one reason why I don't think the time has come to fire Schiano.
The Bucs aren't playing well, but they still are playing hard. Tampa Bay has seen teams quit before. (Remember 2011 under Raheem Morris or the end of the Sam Wyche days?)
From the time Schiano first arrived, there have been rumblings that the players don't like his methods. I think there's some truth to that, but the fact is the Bucs haven't packed it in -- yet.
Maybe that happens in Thursday night's nationally televised game. Or maybe it happens the following week when the Bucs go across the country to play Seattle.
If there ever are signs that this team has quit, then go ahead and fire Schiano immediately. But, as long as there is effort, don't make any moves this season.
Things aren't good under Schiano, but he still has the attention of his team. If you fire him and go with an interim coach, that's the equivalent of bringing in a substitute teacher, who will get plowed over by a class that's out of control.