Tampa Bay Buccaneers:

Double Coverage
March, 14, 2014
Mar 14
11:00
AM ET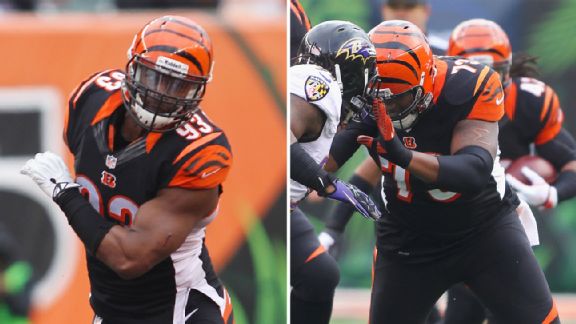 Getty ImagesFormer Bengals Michael Johnson and Anthony Collins have both landed with the Buccaneers.
Each week during the regular season you saw ESPN's NFL Nation reporters team up for "Double Coverage," a back-and-forth midweek banter about the biggest storylines going on ahead of that weekend's games.
There may not be any games right now, but teams have made all kinds of moves during this opening week of free agency. Few moves have been as big as the one that brought defensive end
Michael Johnson
to the
Tampa Bay Buccaneers
on Tuesday, officially putting an end to his five-year stint with the
Cincinnati Bengals
. He wasn't the only former Bengal to start calling Tampa Bay home this week. Offensive tackle
Anthony Collins
also left Cincinnati to sign with the Bucs.
Clinton McDonald
, a 2009 Bengals draft pick who spent the last three seasons in Seattle, also arrived in Tampa Bay.
Bengals reporter Coley Harvey and Bucs reporter Pat Yasinskas decided to check in with each another to put the moves in perspective for you:
Coley Harvey:
Of course we still don't know the date yet, Pat, but the Bengals will be scheduled to visit Tampa Bay this fall as part of the AFC North/NFC South scheduling crossover. Did any of the former Bengals address playing their old team in their news conferences? Whether they did or didn't, what did they say about the ways their careers in Cincinnati ended?
Pat Yasinskas:
None of them really talked about Cincinnati. They all seemed focused on a new start with Tampa Bay. But I'm sure the Cincinnati game will carry extra meaning for them. Playing against your old team always means a little more.
Michael Johnson was the crown jewel of Tampa Bay's free-agent class. He had only 3.5 sacks last season, but 11.5 the year before. Which season is a better indicator of what Johnson brings to the table?
Harvey:
You know, Pat, I'd say the latter. If you look at his stats since the start of his career in 2009, you'll see that the 11.5 number was a bit of an aberration. He had 6.0 in 2011, but 5.5 combined in 2009 and 2010. That said, he can be a good pass-rusher, but I have to imagine Lovie Smith saw something else, too. Johnson has been noted for being a good run-stopper and his insanely long arms are a benefit, too. Why do I bring up his arms? Johnson was a basketball player growing up, and by most accounts a really good one. That skill must have translated to football because he's become known for his ability to swat passes at the line of scrimmage. He tied for the league lead with eight batted balls last year. Two of them tipped into his teammates' hands for momentum-changing interceptions. Another helped negate a potential Packers touchdown pass on their final play of a
34-30 Bengals win
.
Part of the reason there wasn't much pressure on Johnson to collect sacks last season was because of left end
Carlos Dunlap
's success. Dunlap had 7.5 sacks in 2013, tying for the team lead. Now that he's teaming up with another good end in
Gerald McCoy
, what are the Bucs expecting from Johnson?
Yasinskas:
The Bucs envision Johnson as a strong outside pass-rusher. That's something the Bucs sorely lacked last season. McCoy was a force in the middle, but there was almost no outside pass rush. The Bucs are hoping Johnson can be a double-digit sack guy. I think he can do that and I think his presence will only make McCoy better.
On offense, the Bucs invested a lot in Anthony Collins to be their left tackle. Is he capable of keeping the league's best pass-rushers off quarterback
Josh McCown
?
Harvey:
Absolutely. According to Pro Football Focus, we're talking about a guy who hasn't allowed a sack since 2009. Granted, he didn't play much until last season. He was a pure backup from 2008 to 2012. In 2013, injuries forced him into a greater role. He earned seven starts between the playoffs and regular season last year and he didn't disappoint. Called upon to fill in for Pro Bowl veteran
Andrew Whitworth
at Chicago in the season opener, Collins completely shut down sack king
Julius Peppers
. He did the same against
Elvis Dumervil
late in the year and kept outside linebacker
Robert Mathis
silent when the Colts visited Cincinnati. Bengals quarterback
Andy Dalton
has to be pleased with how clean Collins kept him.
Now, it was becoming clear in Cincinnati that Collins was ready to be a starting left tackle, but what was it about his play off the bench that impressed the Bucs so much?
Yasinskas:
General manager Jason Licht said he studied the seven games Collins started very closely and he came away very impressed. Licht said Collins' footwork and athleticism stood out. The Bucs obviously believe strongly that Collins can be a solid starter. They're
paying him $6 million a season
and they released veteran
Donald Penn
to open up the spot for Collins.
Defensive tackle Clinton McDonald is kind of the wild card of Tampa Bay's class of free agents. He had a big impact for Seattle last year. But McDonald was with Cincinnati in 2010 and did very little. The Bucs are planning on having him as a starter. Is he ready for it?
Harvey:
Based off what I saw in Seattle last year, I'd say yes. We talked a lot earlier about sacks. It's not easy for a defensive tackle in constant rotation with others to pick up 5.5 sacks, particularly on a defense like Seattle's that had so many playmakers at every level. That's a dedication to McDonald's blue-collar work ethic and team-focused mentality. He may not have been a great player in Cincinnati, but he was a respected teammate. If he keeps grinding the way he clearly has since he left the Bengals, he should be just fine for the Bucs.
October, 24, 2013
10/24/13
12:00
PM ET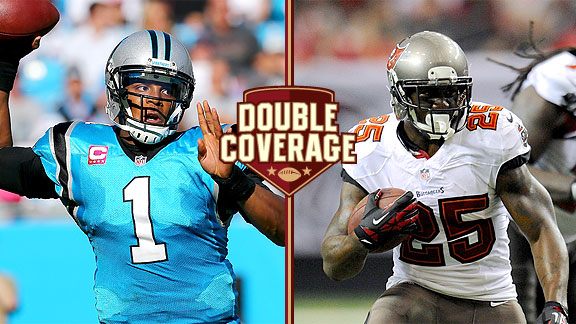 Getty Images, USA Today SportsCam Newton and Mike James will compete in a Week 8 NFC South matchup on Thursday.
The
Carolina Panthers
and
Tampa Bay Buccaneers
haven't been relevant on a national basis in a long time.
But, at least for one night, that will change. The winless Bucs host the Panthers (3-3) in a Thursday night prime-time game.
ESPN.com Buccaneers writer Pat Yasinskas and Panthers writer David Newton review the matchup:
Yasinskas:
David, Carolina coach Ron Rivera got off to 2-8 starts in each of his first two seasons before finishing strong. The Panthers have strung together a couple of wins. Are they coming together faster this year and do they have what it takes to make a playoff run?
Newton:
Not sure if it has to do with coming together faster as much as having more pieces to put it all together, combined with the understanding of what it takes. The addition of first- and second-round picks
Star Lotulelei
and
Kawann Short
at tackle has improved the defense substantially. The Rams tried to keep middle linebacker
Luke Kuechly
from being a factor last week with a special scheme, and the two rookies responded with a combined four tackles for loss and nine tackles overall.
Offensively, quarterback
Cam Newton
finally has gotten comfortable spreading the ball around to players such as
Ted Ginn Jr.
and
Brandon LaFell
, instead of relying heavily on wide receiver
Steve Smith
and tight end
Greg Olsen
. And Newton is playing at a level of consistency and confidence he hasn't had since his days playing at Auburn. The Panthers finally seem to have an identity on both sides of the ball, whereas the past two years they've been searching for one. That has raised confidence and created an attitude -- a belief -- that they can compete with anyone. It was there after they lost 12-7 to Seattle in the opener, but it took getting a few wins in a row for it to completely take hold.
Speaking of confidence, it can't be very high for the Bucs, who released franchise quarterback
Josh Freeman
a few weeks ago, and now apparently are without running back
Doug Martin
. Is this team in danger of besting -- if that's the way to put it -- the 1976 Bucs that went 0-14?
Yasinskas:
That's not out of the realm of possibility. It's tough to go winless. But, right now, I have a hard time envisioning the Bucs getting a win, because they appear to be in such disarray -- on and off the field. The Freeman saga and the repeated cases of MRSA have been a distraction; it seems like something new and weird is popping up every day. On the field, the Bucs are doing things such as committing 11 penalties in Sunday's loss to Atlanta. I've covered some bad football and some craziness through the years. But the Bucs are combining bad football with strange, off-the-field stuff more than I've ever seen, and there's no end in sight with speculation running rampant about the future of coach Greg Schiano.
The injury to Martin is just the latest stroke of bad luck, and it forces rookie
Mike James
into the starting lineup. Martin had been one of the few bright spots, and had the ability to take some of the pressure off rookie quarterback
Mike Glennon
.
Speaking of Glennon and pressure, I think Carolina's front seven is as good as any in the league. Do the Panthers even need to blitz or can they generate enough pressure with their front four?
Newton:
They'll blitz occasionally, but it'll be in strategic spots as you saw on the first play against St. Louis. Strong safety
Quintin Mikell
came in and tipped the pass as it left the arm of
Sam Bradford
, resulting in a pick-six for cornerback
Captain Munnerlyn
. The week before, linebacker
Thomas Davis
blitzed twice and went in basically untouched for sacks. They're aggressive, but smart with it.
You're right, though, the front four is playing extremely well. They're stuffing the run and forcing quarterbacks to throw faster than they want, which is allowing a secondary that was suspect two games into the season to make big plays.
Greg Hardy
has been a big part of that playing tackle, as well as his natural end position. He's way off the 50-sack goal he mentioned to you this summer, but opposing quarterbacks know he's there.
While we're on this topic, the Panthers have been particularly strong against quarterbacks who aren't mobile. That seems to be the case this week with Glennon. Is this a nightmare matchup for him, and how has he handled the pressure of starting so far?
Yasinskas:
Glennon has handled the pressure as well as you could hope for, under the circumstances. He has shown improvement each week, and he's a composed guy. But I think the matchup with Carolina could be his biggest test yet. He hasn't seen a pass rush such as Carolina's, and it doesn't help that the Bucs likely will be without injured guard
Carl Nicks
. Tampa Bay's offensive line hasn't played very well this season and that's a concern. Although Glennon has shown a bit more mobility than I thought he had, he still is pretty slow. That makes Carolina's pass rush scary.
Speaking of offensive lines, when I was still covering the whole NFC South back in the preseason, Carolina's offensive line was one of the team's biggest question marks. How has that unit performed?
Newton:
Amazingly, the O-line has held together pretty well, considering the loss of starting left guard
Amini Silatolu
. Sure, they've had their bad moments. The seven sacks surrendered against Arizona was the low point, but several of those you can blame on Newton for holding the ball too long. And they played well enough in the first half for Carolina to be up by two touchdowns, were it not for the dropped passes before everything fell apart.
If I'm the Panthers, I would be concerned with Tampa tackle
Gerald McCoy
. The Panthers have struggled against a couple of premier pass-rushers. Buffalo's
Mario Williams
and his 4.5 sacks in Week 2 come to mind. But it's hard to be too tough on this group since the running game has been one of the best in the league.
.
September, 13, 2013
9/13/13
12:00
PM ET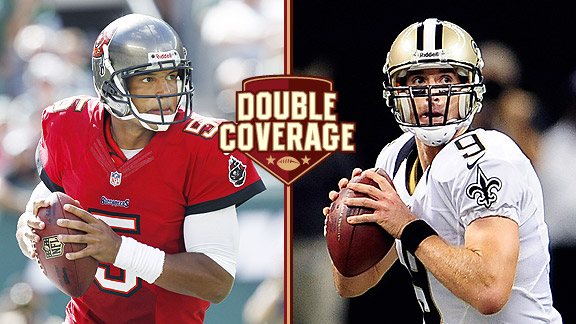 Getty ImagesBucs QB Josh Freeman faces off against Saints QB Drew Brees in a Week 2 division rivalry game.
Two of the biggest stories in the NFC South in Week 1 were that New Orleans played good defense and Tampa Bay never was able to get into an offensive rhythm.
Will that continue as the Saints and Buccaneers play one another?
ESPN's Matt Williamson and Buccaneers team reporter Pat Yasinskas discuss the matchup.
Yasinskas:
Matt, I have to admit I was stunned by the Saints holding the Falcons to just 17 points in the opener. I saw the Saints in training camp and had serious doubts about whether they had the personnel to run the 3-4 defense successfully, and they have endured several major injuries since then. Yet, the Saints kept one of the league's best offenses in check. Was this just a fluke or is the New Orleans defense actually for real?
Williamson:
If I were an optimistic Saints fan, I would take this stand: The Saints' young, talented three-man defensive line, led by
Cameron Jordan
, looks simply exceptional and fits the new scheme very well. Their secondary is also clearly improved from a year ago -- which isn't saying much. If I were taking a more pessimistic view on New Orleans' defense, I would say that
Roddy White
was a shell of himself and completely ineffectual, and the Falcons' offensive line might be among the worst in the NFL right now. The truth is probably somewhere in between, but I also believe that as long as the Saints' defense isn't among the very worst in the league, that this is the team to beat in the NFC South. So, in return, here is my question: Even if the Saints' defense isn't noticeably improved and is closer to the 2012 version than what we saw last week, is
Josh Freeman
capable of exploiting it?
Vincent Jackson
played a great game in New York, but Freeman has looked terrible throughout the preseason and now into regular-season action.
Yasinskas:
After watching Freeman in the New York game, I'm not so sure he's capable of exploiting any defense right now. He never got into any sort of rhythm in the passing game and, at times, look flustered. Over the past few years I've been steadfast in my belief Freeman has what it takes to turn into an elite quarterback. But that hasn't happened yet, and I'm starting to doubt if it ever will. He has plenty of weapons at the skill positions, but it seems like Freeman is regressing, instead of progressing. Speaking of regressing, what's your take on the Saints' running game? Coach Sean Payton has said he wants to run more, but the Saints got very little out of the running game in the opener. Now, they'll play a defense that was No. 1 against the run last season. Can
Mark Ingram
,
Darren Sproles
and
Pierre Thomas
move the ball against the Buccaneers?
Williamson:
That's a great question and I know it is extremely early, but I have forecasted Ingram to have a breakout season in 2013. But I am having second thoughts on that, as he is a volume runner who needs to be fed the ball to be most effective, and I just don't know if that will ever be the case here, as Thomas is such an effective all-around player and Sproles needs to be on the field. I do think Payton believes in balance and he wants to have a physical offense with a very good interior offensive line paving the way, but running against Tampa Bay doesn't seem to be the prudent move. Of course, the Tampa secondary is also vastly improved, but
Drew Brees
is the type of elite passer who just produces no matter the competition ... and can the Buccaneers match up to Sproles and
Jimmy Graham
? I have my doubts they can. Therefore, I say this is a game Payton puts on Brees' shoulders -- which is never a terrible idea. Along those lines, the Buccaneers clearly made a concerted effort to improve their pass defense by using numerous valuable resources to improve their secondary. Mission accomplished there. But this pass rush still has to be a concern, and if Brees is given time, he is going to find someone to his liking to eventually distribute the ball to. Brees is a tough guy to sack, but can the Bucs at least disrupt him in the pocket with some consistency?
Yasinskas:
One of the few encouraging things to come out of the loss to the Jets was that the Bucs recorded five sacks. Four of them came from the linebackers, which shows a willingness to blitz. But the front four can be more productive and several guys have the ability to bring some heat on Brees. End
Adrian Clayborn
and defensive tackle
Gerald McCoy
both have the talent to get to the quarterback. But the real wild card could be
Da'Quan Bowers
. The team wanted him to start, but he didn't play well enough to earn the job in the preseason. For the moment, Bowers is being used as a situational player. But he has more upside as a pass-rusher than anyone on this team, and this game would be a good time for him to start showing. Brees is tough to slow down under any circumstances, but you absolutely have to have a strong pass rush to have any chance. Speaking of Tampa Bay's pass rush, that brings up another question. The Saints let left tackle
Jermon Bushrod
depart as a free agent and they've replaced him with
Charles Brown
. Can Brown be an effective left tackle?
Williamson:
Because of their strengths on the interior and the need for the shorter Brees to have a clean pocket up the middle, the Saints construct their protections schemes from the inside out, which makes life for their offensive tackles easier. And, of course, Brees has a great feel for the rush to go along with underrated, but highly effective pocket movement and athletic ability to elude the rush, particularly from the edges. Bushrod never impressed me much, considering some viewed him as a Pro Bowl caliber left tackle. In fact, I think Brown has more natural ability when it comes to movement skills and length for the position. Brown played quite well in the preseason and that carried over to Week 1. It appears the Saints just might have found their starting left tackle for the foreseeable future.