Tampa Bay Buccaneers:

Greg Robinson
May, 7, 2014
May 7
11:42
AM ET
It's possible the
Tampa Bay Buccaneers
could take an offensive lineman with their first-round draft pick. So let's take a look at the top three linemen in the draft.
You can make a numerical case that Michigan's
Taylor Lewan
is the draft's best pass blocker. The Wolverines had 371 pass plays last year and Lewan allowed just two sacks, according to STATS. Lewan also allowed 10 pressures.
Auburn's
Greg Robinson
allowed four sacks and eight pressures on 273 pass plays. Texas A&M's
Jake Matthews
allowed six sacks and 21 pressures. But it's important to note the Aggies passed on 52.7 percent (473) of their offensive plays.
I don't think there's much difference among Robinson, Matthews and Lewan, and the Bucs would be happy if they end up with any of the three. The Bucs could use the rookie at guard to start off with. Or they could move left tackle
Anthony Collins
to guard and start a rookie on the outside.
It's hard to find statistics on offensive linemen. But, thanks to STATS, we've got some.
May, 6, 2014
May 6
8:00
AM ET
The NFL Nation mock draft starts at 1 p.m. ET on Tuesday and I'll be picking for the
Tampa Bay Buccaneers
.
Much is going to depend on what happens with the six picks ahead of me, but I'm confident one of the scenarios listed below will play out.
If quarterback
Johnny Manziel
is there, I'm taking him. The Bucs need a quarterback for the long term and
Josh McCown
is only a short-term answer. Manziel might be a franchise quarterback and Johnny Football would create some excitement for a fan base that needs something to get excited about.
If Manziel is gone before Tampa Bay's pick, I probably will go with his college teammate, wide receiver
Mike Evans
. The Bucs have a glaring need opposite
Vincent Jackson
. I'd prefer
Sammy Watkins
because he's more of a speed receiver than Evans, but it's likely Watkins will be gone. Evans is a clone of Jackson in a lot of ways. That's not a bad thing. Jackson already is over 30 and Evans eventually can replace him as the No. 1 receiver.
What if Manziel and Evans both are gone? I've got a plan for that. I'd take an offensive lineman.
Greg Robinson
,
Jake Matthews
and
Taylor Lewan
-- in that order -- would be my fallback options. They're all tackles, but the Bucs' big need is at guard. Maybe a rookie could slide inside or maybe
Anthony Collins
, who has played some guard in the past, can make the move from left tackles.
Please join us for the mock draft.
May, 2, 2014
May 2
10:54
AM ET
Time to start our position-by-position look at the
Tampa Bay Buccaneers
as the NFL draft nears. Let's start with the offensive line.
Where things stand:
This position group underwent a major offseason overhaul. Former starters
Davin Joseph
,
Donald Penn
and
Jeremy Zuttah
are gone. The team signed free-agent center
Evan Dietrich-Smith
and left tackle
Anthony Collins
. But there's uncertainty at guard with no clear-cut starter on the right side and questions about the health of
Carl Nicks
.
What to watch for:
The uncertainty at guard makes it very possible the Bucs will draft an offensive lineman early, perhaps even in the first round. They might have a shot at tackles
Greg Robinson
,
Jake Matthews
or
Taylor Lewan
. They could ask a rookie to slide to the interior or move Collins inside. Even if nothing happens in the first round, look for Tampa Bay to draft at least one offensive lineman.
April, 30, 2014
Apr 30
1:02
PM ET
Virtually every mock draft I've seen recently has the
Tampa Bay Buccaneers
taking either a wide receiver or a quarterback.
Texas A&M's
Mike Evans
is the popular pick among receivers, and his college teammate, quarterback
Johnny Manziel
, has been frequently tied to the Bucs.
Matthews

Lewan
But let's turn hypothetical here. Let's say that Evans and Manziel are drafted before Tampa Bay picks at No. 7. Or let's say the hidden reality is that the Bucs don't like Evans or Manziel as much as everyone seems to think.
Is there a Plan B in place?
Coach Lovie Smith and general manager Jason Licht are bright guys, and you can bet they have contingency plans ready. Licht has made it abundantly clear that the Bucs would be
willing to trade down
, which I think is a real possibility.
But let's stick with our hypothetical here and say the Bucs stay at No. 7 and either can't or don't want to draft Manziel or Evans. What direction does Tampa Bay go in that scenario?
This is just a hunch, but I wouldn't rule out the offensive line. Yeah, the Bucs spent good money to get left tackle
Anthony Collins
and center
Evan Dietrich-Smith
. But there still is uncertainty on the offensive line.
The job at right guard is wide open, and it's unclear if guard
Carl Nicks
can fully recover from a toe injury. Nicks has said there is nerve damage and he might have to play in pain for the rest of his career.
That is why I'm thinking there is a real chance the Bucs select an offensive lineman at No. 7. There aren't any true guards worthy of that pick. But there are three tackles that could be available, and none of them would be a bad choice.
Greg Robinson
,
Jake Matthews
and
Taylor Lewan
all could be available when Tampa Bay picks. The consensus is that Robinson is slightly ahead of Matthews and Lewan, but some mocks have all three going in the top 10 picks.
I can see the Bucs taking any one of the three. They could plug that player in at guard for the short term and eventually move him to tackle. That would give Tampa Bay's offensive line a big boost and firm up one of the few glaring weaknesses.
It's just a thought, but going with an offensive lineman might not be a bad option for the Bucs.
March, 13, 2014
Mar 13
2:00
PM ET
Mel Kiper Jr.'s latest mock draft is out and he has the
Tampa Bay Buccaneers
taking Clemson wide receiver
Sammy Watkins
.

I like the pick and I think the chances of it happening are better than they were a few days ago. The Bucs added defensive end
Michael Johnson
and cornerback
Alterraun Verner
in free agency, so they have narrowed their needs. I still think the Bucs might consider an offensive lineman (
Greg Robinson
or
Jake Matthews
) with the No. 7 overall pick.
But Watkins, who might be the most dynamic offensive player in the draft, is starting to make more and more sense to me. The Bucs could use another playmaker on offense. They have
Vincent Jackson
and
Mike Williams
as their starting receivers. Williams might be in some hot water with the coaching staff and front office because of some off-field trouble.
Even if Williams is going to stick around, I still think Watkins makes sense. The Bucs have very little depth after Jackson and Williams. In the modern game, a third receiver can play as much as a starter.
The Bucs have to get deeper and better at receiver, and Watkins would bring more speed to a passing game that needs some spicing up.
March, 13, 2014
Mar 13
10:30
AM ET
After a 4-12 season, the
Tampa Bay Buccaneers
hold the seventh overall pick in the draft.

It's hard to predict what the new regime of general manager Jason Licht and coach Lovie Smith will do with that pick. But the Bucs definitely have options as they start a new era.
Even after signing veteran quarterback
Josh McCown
, Smith said it remains possible the Bucs could use their first-round pick on the position. That could come into play if
Blake Bortles
,
Johnny Manziel
,
Teddy Bridgewater
and
Derek Carr
remain on the board when the Bucs pick.
If the Bucs don't go with a quarterback, there are other options on offense. Tampa Bay is overhauling its offensive line and tackles
Jake Matthews
and
Greg Robinson
could be options. If the Bucs really want to spice up their offense, wide receiver
Sammy Watkins
could be a possibility.
But Smith is a defensive coach and he might go with what he knows best. Outside linebackers
Khalil Mack
and
Anthony Barr
have been tied to the Bucs in some mock drafts.
Check out ESPN draft analyst Mel Kiper's
latest mock draft
to see which players he thinks Buccaneers should target with their first pick.
February, 18, 2014
Feb 18
9:00
AM ET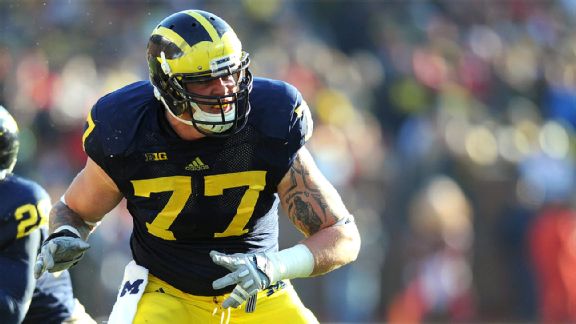 David Dermer/Diamond Images/Getty ImagesMichigan's Taylor Lewan is one of the top offensive linemen in the upcoming NFL draft.
BRADENTON, Fla. -- Michigan offensive tackle
Taylor Lewan
is a guy with a sense of humor.
That's a good thing because Lewan can laugh at himself as he reflects on the journey that brought him from a high school nose tackle to a likely first-round draft pick as a left tackle.
"Go to YouTube and call up my high school video," Lewan said with a laugh. "It was awful. It was probably one of the worst things you've ever seen in your life."
But no one is laughing at Lewan these days. According to most draft gurus, he's ranked as the third offensive tackle in this year's draft behind
Jake Matthews
and
Greg Robinson
. But Lewan could pull ahead of them with a strong showing at the scouting combine.
Not bad for a guy who didn't start playing left tackle until he gladly gave up playing nose tackle at the start of his senior year of high school.
"At the time, I was probably 6-7 and 250 pounds, a leaner guy," Lewan said during a break in training at IMG Academy, where he has been preparing for the combine since early January. "I was going to be a much better left tackle than a nose guard. I would have been lucky to walk on if I kept playing nose guard. I was terrible. I was real bad."
Lewan made the switch and the rest is history. He went to Michigan and became one of the best linemen in the country. He could be a possible consideration for the
Tampa Bay Buccaneers
at No. 7 overall if he can raise his stock with a good showing at the combine. The Bucs may be looking to overhaul their offensive line after it underachieved last season and Lewan could be a nice fit.
"Taylor is similar to some guys that were top draft picks at the tackle position that I've seen in the past," IMG director of football operations Chris Weinke said. "He's probably one of the most athletic guys. I think he's going to surprise some people at the combine with his running times. He's a technician. As we look at how the game continues to change with the emergence of all these pass-rushers, you need to be solid on the inside but you need athletes on the outside. I think the tackle position is looking for that more athletic big guy and I think Taylor fits that mold perfectly."
Lewan considered coming out last year when some said he would be the top tackle prospect in the draft, but decided against it.
"I was projected to be in the first round," Lewan said. "I thought, if I can get one more year of college, I wanted to be a captain and I wanted to be with my friends for one more year. I have no regrets at all."
Lewan knows he needs a strong showing at the combine to solidify his draft stock. That's why he has been preparing for the event at IMG.
"I think I've really improved my technical running form, my start and my 40," Lewan said. "It's amazing how much science there is. I'm not here to understand science. I'm here to get it done. I think I'm several tenths of a second faster than I was before I got here. I know what's at stake at the combine and I've been taking it very seriously. Anybody that doesn't take it seriously is dumb."
February, 6, 2014
Feb 6
3:00
PM ET
TAMPA, Fla. --
Mel Kiper Jr.

and
Todd McShay

have their latest mock drafts out, and they're in agreement on who the
Tampa Bay Buccaneers
will take at No. 7.

Kiper and McShay have the Bucs choosing Buffalo outside linebacker
Khalil Mack
. But unless the Bucs are planning to convert Mack into a defensive end, I don't think this would be a good move. The Bucs already have one star at outside linebacker in
Lavonte David
, and it wouldn't make a lot of sense to invest a lot more in this area.
Personally, I think the Bucs should go with Missouri defensive end
Kony Ealy
. He'd be a natural fit opposite
Adrian Clayborn
. The addition of a pass-rushing defensive end might be all that separates the Bucs from having an elite defense.
If Ealy isn't there or the Bucs want to go in another direction, I easily can see them taking Auburn offensive tackle
Greg Robinson
. The offensive line wasn't very good last season and needs some new talent.
Of course, there's another scenario that's at least a possibility. The new regime has been saying nice things so far about quarterback
Mike Glennon
. But it remains to be seen if the Bucs are content to go with Glennon. If they have a shot at
Teddy Bridgewater
,
Blake Bortles
,
Johnny Manziel
or
Derek Carr
, they might not be able to pass on a quarterback.
January, 15, 2014
Jan 15
3:00
PM ET
Mel Kiper Jr. revealed
his first mock draft
,

and his pick for the
Tampa Bay Buccaneers
isn't a real shock.

Kiper has the Bucs taking Buffalo outside linebacker
Khalil Mack
with the No. 7 overall pick. A traditional outside linebacker isn't Tampa Bay's biggest need, but there's plenty of logic there because the Bucs desperately need an edge rusher and Mack has freakish athletic skills. He may be too small to move to defensive end permanently, but he has great pass-rush skills and that's reason enough why I could see the Bucs taking him.
I also could see them taking UCLA linebacker
Anthony Barr
, who Kiper has going one pick sooner to Atlanta.
But that doesn't mean the Bucs are locked in on a pass-rusher. The new regime has to decide whether
Mike Glennon
can be the starting quarterback. If the answer is no, Louisville's
Teddy Bridgewater
would be available in Kiper's scenario.
The Bucs could decide to stick with Glennon and that could lead them to use this pick on an offensive lineman. Auburn tackle
Greg Robinson
and Michigan tackle
Taylor Lewan
are available in Kiper's mock.