Tampa Bay Buccaneers:

Hardy Nickerson
December, 9, 2014
Dec 9
8:00
AM ET
TAMPA, Fla. -- In an otherwise dismal season, linebacker
Danny Lansanah
has been a bright spot for the Buccaneers. He could be an even brighter spot in the future.
Coach Lovie Smith said Monday that Lansanah, who has played all three linebacker spots, could have a future as a middle linebacker.
Lansanah
"He won't be our Will linebacker (All-Pro
Lavonte David
holds that spot), from there I think his talents are suited probably better at the Mike or the Sam linebacker position and he's had success at both of those,'' Smith said. "Again, we'll find out more these next three weeks, like we found out more about him each week he's played. I'll just say he's a player that's a part of the foundation we're building."
Lansanah has spent most of the season at strong-side linebacker. His play was good enough for the Bucs to decide to trade away former starter
Jonathan Casillas
. But Lansanah got work in the middle in Sunday's loss to Detroit as
Mason Foster
was out with an injury.
Foster hasn't been a great fit in the Tampa 2 scheme and it's possible he might not be back next season. That's where Lansanah could factor in. He has good quickness and cover skills and might be able to take over at middle linebacker. The Bucs need to make a decision about Lansanah's future position in the offseason.
"I'll just say this, it's hard -- contrary to public opinion -- you can't just move anywhere in our system and it's real easy to pick up; that's not the case,'' Smith said. "Linebacker-wise, the position has as much responsibility and it's hard when you move. All three linebacker positions are different. Again, Derrick Brooks played the same exact position his entire career, Hardy Nickerson did, it's hard doing that (changing positions) and for a guy to have to do that at all three positions is pretty much -- almost series-to-series a little bit -- it's just unheard of. Looking at it that way, Danny has done a good job, but by doing that there are a couple of plays that we would like to have back and that really kind of cost us a little bit."
August, 2, 2014
Aug 2
8:36
PM ET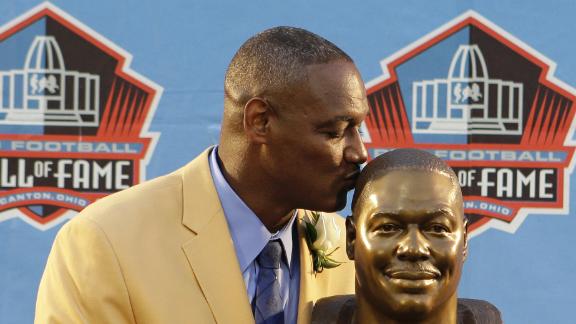 In his 24-minute Pro Football Hall of Fame induction speech, Derrick Brooks thanked dozens of people from every stage of his career.
There were plenty of emotional moments, but one stood out to me: when Brooks thanked the late Lee Roy Selmon, the first draft pick and the first Hall of Famer in the history of the
Tampa Bay Buccaneers
.
"Lee Roy set the standard, and we're just trying to walk the path he set for us," Brooks said.
Selmon was much more than a football player. He was elegant, classy and heavily involved in the Tampa Bay community long after his playing days were over. Selmon left this world too soon, and he left a void in Tampa Bay.
But now that void is being filled. Brooks is as close to Selmon as you can get. Of course, Brooks was a tremendous football player. But, like Selmon, Brooks is so much more. Brooks now is the biggest icon in the Tampa Bay region, but he wouldn't like hearing that. That's because Brooks is especially humble.
That was best demonstrated when Brooks asked all his Buccaneers teammates who made the trip to Canton, Ohio, to stand and be recognized.
"Please stand up and let me bow and salute you guys," Brooks said.
Brooks had plenty of help. But, perhaps more than anyone, Brooks was responsible for turning around a dismal franchise.
"The Tampa Bay Buccaneers [were] the team that invented losing," said ESPN's Chris Berman, who served as the master of ceremonies.
Brooks was drafted in 1995 by a team that hadn't had a winning season since 1982. Joining forces with coach Tony Dungy and teammates such as Warren Sapp, Hardy Nickerson, John Lynch and Ronde Barber, Brooks ushered in the most successful era in franchise history. The Bucs became regular playoff contenders and, eventually, Super Bowl champions.
Brooks last played in 2008, but he's more visible than ever. Brooks founded a high school in Tampa, does all sorts of charity work and works as the president of the Tampa Bay Storm.
"As a servant leader, I just want to do the best I can to make something better when I come into touch with it," Brooks said.
Brooks always has made the things he comes into contact with better. Selmon started that path, but now it's Brooks' turn to follow in the footsteps.
July, 30, 2014
Jul 30
8:32
PM ET
TAMPA, Fla. -- A daily review of the hot topics coming out of
Tampa Bay Buccaneers
training camp:
The defense dominated the first few days of camp, but Wednesday was the best showing by the offense so far. There were two players in particular that stood out. Quarterback Josh McCown and wide receiver Vincent Jackson showed they've developed some chemistry. They hooked up on a pass play of about 50 yards and connected for back-to-back touchdowns in red-zone drills. "They have to have good chemistry," coach Lovie Smith said. "Vincent's our No. 1 receiver. We're banking on him making a lot of plays. The chemistry or whatever you want to call it between he and Josh has to be good. Vince is a playmaker. You get down there, you have to get the ball into your playmaker's hands. We did that today on more than one occasion, which is great." McCown had his best practice by far. I only saw him make one bad throw, and that was intercepted in the end zone by strong safety Mark Barron.
Wednesday was the most physical practice of camp so far. There were at least four minor altercations. "We don't want a lot of fights," Smith said. "In a game, they throw you out of the game and that's not good. Getting ready for the season, we want it to be as game like as possible. If you do feel you have to mix it up with a guy, fight him the way you would fight your brother. No cheap shots or anything like that."
There's been some concern among fans about whether or not Mason Foster can handle the increased amount of pass coverage the Bucs are going to ask out of their middle linebacker in the Cover Two defense. Foster dropped some weight in the offseason to increase his quickness and has made a good early impression on Smith. "He's growing into the position," Smith said. "He couldn't have a better tutor than (linebackers coach and former Bucs middle linebacker) Hardy Nickerson."
Starter Doug Martin has looked very good at running back, but he's not the only one. Third-round draft pick Charles Sims has made some nice cuts in the last few practices and also has shown he can catch the ball out of the backfield. I think Sims might have a shot to be the top backup to Martin. "He's a scholarship player, looking at it in college terms," Smith said. "He's not a walk-on. He got his scholarship for a reason."
There hasn't been much talk about the fullback position. For the record, Jorvorskie Lane has been running with the first team.
The Bucs signed cornerback Kip Edwards to fill the roster spot that was created when guard Carl Nicks departed from the team. The team officially released Nicks on Wednesday.
Cornerback Alterraun Verner missed another day of practice with a hamstring injury, but Smith said Verner is getting closer to being able to return.
July, 27, 2014
Jul 27
10:07
AM ET
TAMPA, Fla. -- The Bucs are going slowly with one player who normally goes all out.

That's safety
Dashon Goldson
. He had ankle surgery after last season and was forced to sit out the entire offseason program. Goldson is healthy now, but the Bucs don't want to rush him.
"We want to get him incorporated into everything, but we limited his reps,'' coach Lovie Smith said. "We had him start off and that was pretty much it. We'll be able to progress a little bit with his reps. But I was impressed with his movement.''
Backup
Major Wright
took a lot of reps with the first team Saturday. But the Bucs have big plans for Goldson.
"He's a very smart football player,'' Smith said. "We're going to ask an awful lot [of him]. It's our Mike linebacker and our free safety -- they make most of the checks, most of the calls. They're our Hardy Nickerson and John Lynch.''
Goldson ran into problems last year with illegal hits and was suspended for one game. Smith said he's confident that won't be an issue this season.
"He has great knowledge, and we know he'll hit," Smith said. "We'll get him to lower that target."
June, 27, 2014
Jun 27
8:00
AM ET
We continue our list of the top 15 Buccaneers with No. 11:
Mason Foster, middle linebacker
What he did in 2013:
Foster started 13 games at middle linebacker for Tampa Bay. He produced 92 tackles, one forced fumble and three interceptions.
Why he's No. 11 in 2014:
Foster's first three seasons in the NFL have been productive, but far from spectacular. In coach Lovie Smith's defense, Foster will get a chance to shine.
Hardy Nickerson
and
Brian Urlacher
previously were stars in the middle of Smith's defense. Foster will call the defensive plays, something he last did as a rookie. He also will be asked to drop into pass coverage more frequently than he has in the past. But the Bucs believe Foster is ready to match up with tight ends and running backs in coverage.
April, 14, 2014
Apr 14
8:00
AM ET
I'm taking a little time off. But, while I do, I wanted to leave you with something to keep you entertained.

Starting today and continuing through the rest of this week, I'm going to share with you my ranking of the top five players in Tampa Bay history.

I'm going to start with Doug Williams at No. 5. Williams wasn't a slam dunk like the first four (although the order on them was a challenge). As I attempted to come up with No. 5, I considered players like John Lynch, Jimmie Giles, Mike Alstott, Paul Gruber and Hardy Nickerson.

After a lot of thought, I chose Williams. My reasoning was simple. Williams and Lee Roy Selmon, who will be a little higher up in the top five, were the two players who first brought respectability to a franchise that began its existence with an 0-26 record.

Williams led the Bucs to the NFC Championship Game in just their fourth year of existence. Williams never put up spectacular numbers, but he had a knack for producing in the clutch. I have no doubt that Williams would have ranked higher on this list if he had stayed with the Bucs longer.

But Williams spent only five years in Tampa Bay. He left for the United States Football League after an ugly salary dispute. The Bucs went into a tailspin after Williams' departure and some suggested it was karma for the way the team treated Williams.

Things were smoothed over for a while as Williams came to work in the team's personnel office in the 2000s. But Williams and former general manager Mark Dominik clashed and Williams left the team. It's a shame that one of the best players in franchise history has an icy relationship with the team.
April, 10, 2014
Apr 10
3:00
PM ET
While I take some time off next week, I'm going to leave you with a daily countdown of the five best players in
Tampa Bay Buccaneers
history.
I'll be going by my opinion. I'm still making up my mind on the final rankings, but the list of candidates (in no particular order) includes Lee Roy Selmon,
Warren Sapp
,
Derrick Brooks
,
John Lynch
,
Ronde Barber
,
Mike Alstott
,
Paul Gruber
,
Hardy Nickerson
, Jimmie Giles and Doug Williams.
Let's have a little fun. Let's hear your top five Bucs of all time in the comments section below and you'll see mine over the course of next week.
January, 9, 2014
Jan 9
5:11
PM ET
TAMPA, Fla. -- Very quickly, Lovie Smith is putting together his coaching staff for the Buccaneers.
We already knew Jeff Tedford was the offensive coordinator and Leslie Frazier the defensive coordinator. But the Bucs announced 11 more hires Thursday evening. In some cases, the names have already been reported. But let's run through the complete list.
The Bucs hired Marcus Arroyo as quarterbacks coach, Joe Cullen as defensive line coach, Andrew Hayes-Stoker as wide receivers coach, Dave Kennedy as strength and conditioning coach, Larry Marmie as a senior defensive assistant,
Hardy Nickerson
as linebackers coach, Kevin O'Dea as special teams coordinator, Mikal Smith as safeties coach, Tim Spencer as running backs coach,
Ben Steele
as an offensive quality control coach and Matt Wiegand as assistant offensive line coach.
The most interesting names on the list are Nickerson, Marmie and Mikal Smith. Nickerson was a linebacker for the Buccaneers when Lovie Smith was the linebackers coach in the 1990s. Marmie coached Lovie Smith when he was a college player at Tulsa. Mikal Smith is Lovie Smith's son.
January, 8, 2014
Jan 8
8:00
AM ET
TAMPA, Fla. -- Back in the days when I was doing the NFC South blog, one of the most popular features we had was the mailbag.
That was where you asked questions and I answered. For a variety of reasons (mainly time constraints), I got away from doing mailbags. But it's time to change that.
There's a lot going on when it comes to the Buccaneers, including the reported
addition
of former star Hardy Nickerson as the linebackers coach. Let's talk about that and anything else that comes with the hiring of head coach Lovie Smith.
Here's the
link to the mailbag
. Send your questions and I'll answer them over the next few days.
January, 6, 2014
Jan 6
6:15
PM ET
TAMPA, Fla. -- There's a bizarre story that sums up the Greg Schiano era with the
Tampa Bay Buccaneers
.
The short version of the Schiano story goes like this: Retired safety
Dexter Jackson
, the most valuable player of the team's only Super Bowl, told a Tampa radio station in October that Schiano tried to run him out of practice when he visited the facility.
Nothing like that's ever going to happen now that Lovie Smith is the coach.
"I'm going to reach out to all of our former Buccaneers," Smith said Monday as he formally was introduced as the 10th head coach in franchise history. "They'll always be welcome here. We want them around. We want our current players to feel that pressure of how they're supposed to perform each week. Some places don't have the tradition that we have and we're going to try to draw on that as much as we can."
The Bucs, who haven't been to the playoffs since the 2007 season, haven't won a postseason game since the Super Bowl more than a decade ago and have struggled at the box office, have a tradition?
[+] Enlarge
Kim Klement/USA TODAY Sports"The Tampa Bay Buccaneers should be a relevant football team," said Lovie Smith, who was part of the coaching staff when the Bucs were contenders.
They really do and that's why the hiring of Smith was the best possible move the Bucs could have made at this point in time. Smith represents a bridge from the proudest era in franchise history to the future.
Smith was the linebackers coach under Tony Dungy from 1996 through 2000 before going on to be the defensive coordinator of the
St. Louis Rams
and, later, the head coach of the
Chicago Bears
.
Smith was around when guys like
Derrick Brooks
,
Warren Sapp
,
John Lynch
,
Hardy Nickerson
,
Warrick Dunn
and
Mike Alstott
were playing for the Buccaneers. Smith was around when Raymond James Stadium was the place to be and be seen.
Schiano and predecessor Raheem Morris weren't able to return the Bucs to the level where Dungy and Jon Gruden took them. Morris was too friendly and his players took advantage of him. Schiano wasn't friendly enough and his players didn't embrace him.
Smith is somewhere in the middle and that might be just right for a franchise that needs to get something right. And, in Smith's eyes, it's not just about the players.
"Day to day, [it's] just keeping a positive building where everybody feels good about coming here," Smith said. "And everybody in the building feeling like they were a part of it."
That's another way that Smith will be starkly different from Schiano. As the Bucs were losing so frequently last season, I had numerous staff members asking what I was hearing on the possibility of Schiano being fired. It was wishful thinking on their part and there weren't a lot of people in the building upset when Schiano finally was fired. Schiano was good at cleaning out some of the troubled players that Morris put up with, but there never was much warmth from Schiano.
That chill, from a man who controlled the thermostats at One Buccaneer Place, was felt by players, staff members and the fan base. Happy staff members and happy fans are an important part of the equation. Schiano never understood that.
Just by walking into his news conference, Smith brought a sudden warmth. He told a funny story about he and his wife having to flee from wild monkeys during a trip to Costa Rica after he was fired by the Bears. But, more than that, the warmth was rooted in nostalgia that brings hope for the future.
"We did lay a foundation for Tampa Bay Buccaneer football," Smith said. "There's a certain brand of football that you expected from us. That would be relentless, you play hard, physical, but there was a brand of football that you did get from us each week at Raymond James Stadium. It was hard for opponents to come in and win. We have gotten away from that a little bit. And it is time, as we go to the future, for us to become a relevant team again."
It's well past the time for the Bucs to be relevant again. Smith's return to Tampa Bay brings a hope that simply wasn't there when Morris and Schiano were coaching. That alone brings higher expectations and pressure than Schiano and Morris had to deal with. But Smith said he's ready for the pressure.
"When I was here, I had a great job as a linebacker coach, coaching a great group of men," Smith said. "But my plan, though, was to advance. And then when you advance and get to that top level where you're a head football coach and I have an opportunity to be a head football coach at the place I started, there is pressure -- pressure that we're putting on ourselves. The Tampa Bay Buccaneers should be a relevant football team. I am going to take that pressure and it will be what drives all of us, our staff, our players and all."
With Smith driving -- and knowing the right roads so well -- there's no reason the Bucs can't get back to respectability.