Tampa Bay Buccaneers:

Jace Daniels
August, 17, 2014
Aug 17
4:45
PM ET
TAMPA, Fla. --
Tampa Bay Buccaneers
coach Lovie Smith was trying hard not to say too much Sunday about his plans for the offensive line. But the look on his face provided some clues.
"Last week, I think I had a frown on my face as I was talking,'' Smith said. "I'm not frowning right now.''
That's because Smith was much happier with what he saw out of his offensive line in Saturday's preseason game with Miami than he was the previous week against Jacksonville. The play of the offensive line, particularly the guards, was horrible against the Jaguars.
Guard has been a position of concern all along. Former All-Pro
Carl Nicks
left the team at the start of training camp after he was unable to recover from a toe injury. The Bucs have experimented with a combination of guards throughout training camp and the preseason.
Oniel Cousins
and
Patrick Omameh
started on Saturday night.
Cousins
"I thought the group held their own,'' Smith said. "We saw improvement. But, as I've said all along, our plan was to let everybody have an opportunity one way or another. When you get to the third preseason game, you're getting ready for the season and the group we put out there right now, they've earned that right to get the majority of the plays this week. It will all be fairly clear on what we're thinking.''
Although
Kadeem Edwards
,
Jace Daniels
and
Jamon Meredith
also have been in the mix at guard, it appears as if Cousins is on his way to winning one starting job.
"For Oneil to be in there two weeks, that's kind of telling you we think we know what he is for the most part,'' Smith said. "He played solid ball.''
Smith said Omameh also graded out well but wouldn't say if he would get the start in the third preseason game at Buffalo. But teams generally like to have their starters set by the third preseason game.
"I think [Omameh] held up,'' Smith said. "When I say he played well, I'm talking about all the things we ask him to do. Inside, you've got to be able to one-on-one block versus run, versus the pass. Our quarterbacks for the most part the protection gave them time to hit the receivers. Patrick was a part of that. Last week, the guards were at the top of our minds because of that constant quick pressure inside. He didn't really allow that and that's his first time out. If he's in there this week, we'll see how he does.''
In other news, Smith said defensive end
William Gholston
and running back
Mike James
, who were injured Saturday night, likely will sit out the Buffalo game.
August, 16, 2014
Aug 16
12:00
PM ET
The
Tampa Bay Buccaneers
(0-1) host the
Miami Dolphins
(0-1) on Saturday night at Raymond James Stadium.
Three things to watch:
The revolving guards.
The Bucs still don't know who their starting guards will be. Time is running short to select the starters and allow them to build some chemistry with the rest of the line.
Oniel Cousins
,
Patrick Omameh
,
Kadeem Edwards
,
Jace Daniels
and
Jamon Meredith
each have had some work with the first team and no one has stood out in a good way. That needs to change or else the Bucs might get desperate and make a trade.
Josh McCown.
The veteran quarterback didn't have a good outing in the preseason opener against Jacksonville. But most of that can be blamed on the offensive line woes. Still, McCown needs a better performance for this offense to build some confidence as it heads for the regular season.
The pass rush
. The key to a Lovie Smith defense is the pass rush. There were some signs against Jacksonville that this can be a good pass rush with
Michael Johnson
and
Adrian Clayborn
on the outside and
Gerald McCoy
and
Clinton McDonald
on the inside.
August, 14, 2014
Aug 14
12:00
PM ET
TAMPA, Fla. -- Some unanswered questions as training camp ends:
Who are the starting guards?
That's the biggest question of all. The Bucs have been rotating
Oniel Cousins
,
Patrick Omameh
,
Kadeem Edwards
,
Jace Daniels
and
Jamon Meredith
. None of them have much experience. The Bucs are hoping two of them can step up enough to claim starting jobs. But they may have to look to the outside for help.
Who's the slot receiver?
There are several options here and the Bucs could use them all. Tight end Tim Wright has been lining up in the slot a lot. Receiver
Chris Owusu
could end up there. The Bucs drafted Patrick Herron mainly to play the slot. He got off to a slow start in camp, but has come on strong lately. Herron could get more playing time as the season goes on.
Who's the nickelback?
The answer to this one is pretty clear.
Leonard Johnson
has been getting all the first-team work. He's set as the nickelback.
Who are the starting cornerbacks?
Alterraun Verner
's a lock at one spot. But the other one remains a bit of a question mark.
Mike Jenkins
has been dealing with a hamstring injury. That's created more reps for
Johnthan Banks
and he's made the most of them. Banks appears to have the edge.
Who's the starting tight end?
This is not a one-person answer. The Bucs are going to play three tight ends extensively. Wright will line up in the slot and at H-Back as well as tight end.
Brandon Myers
and rookie Austin Seferian-Jenkins also are going to get plenty of work with the first team and there will be a good amount of two tight end sets. All three tight ends are going to get a lot of playing time.
August, 13, 2014
Aug 13
11:00
AM ET
TAMPA, Fla. – On a day near the middle of training camp,
Tampa Bay Buccaneers
coach Lovie Smith walked into his post-practice news conference and delivered a message.
"There's nothing really I can give you today," Smith said.
Smith wasn't being condescending or rude to the media. He simply was being truthful. Tampa Bay's camp hasn't had any major news or controversies. It has been downright boring at times -- but it beats the alternative.
We saw the other side of things last year, and it wasn't pretty. There was plenty of news and a ton of distractions. Former coach Greg Schiano and quarterback
Josh Freeman
were in the early stages of a feud that would end in divorce one month into the season. And it wasn't just Freeman who was having issues with Schiano's style. Numerous players had problems with Schiano's rigid ways and never fully bought into the coach.
That quickly caught up to Schiano, who was fired after two lackluster seasons. Enter Smith, who is the anti-Schiano in just about every way. Smith is calm and treats his players like adults, and you already can see the results of that. There have been no controversies.
Amid the tranquility, players are singing the praises of Smith. The coach brings back memories of Tony Dungy, who guided the Bucs to their first era of sustained success. That's no coincidence. Smith was the linebackers coach in Dungy's early years in Tampa Bay and has an approach similar to Dungy's.
People already are comparing defensive tackle
Gerald McCoy
to Warren Sapp and linebacker
Lavonte David
to Derrick Brooks. Smith's hiring has brought enthusiasm to a fan base that hasn't had much to be excited about in recent years. But that fan base has pleasant memories of what things were like in the Bucs' glory days.
On several occasions, Smith has said that one of his goals is to make the Bucs relevant again. If things go according to Smith's plans, the Bucs might be boring, but they'll be good.
THREE REASONS FOR OPTIMISM
1. Smith is known for being a defensive coach, and he has some good ingredients to start with. McCoy and David were All-Pros last year, and they play two of the most important positions in the Tampa 2 defense Smith is bringing back to the Bucs. McCoy and David give Tampa Bay a nice start, but some other players are going to have to come through. The coaching staff believes strong safety
Mark Barron
is ready to be a star. If some role players come through, this could be a very good defense.
[+] Enlarge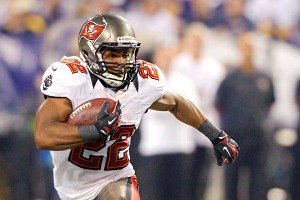 Hannah Foslien/Getty ImagesDoug Martin is back from a shoulder injury, but he shouldn't have to shoulder all of the load in a deep backfield.
2.
Doug Martin
is back from a shoulder injury that kept him out for about half of last season. That should provide a huge lift for the offense. Martin rushed for more than 1,400 yards as a rookie in 2012, and he has looked sharp in training camp. Under Schiano, the Bucs often overused Martin. That's not going to be the case with Smith. The Bucs have made it clear that Martin will remain as the feature back but that they'll rotate in some other backs to keep him fresh. Rookie
Charles Sims
,
Bobby Rainey
and
Mike James
could be in the mix for playing time.
3. After using their first two draft picks on wide receiver
Mike Evans
and tight end
Austin Seferian-Jenkins
, the Bucs have one of the biggest receiving corps in the league. Williams, Seferian-Jenkins and
Vincent Jackson
each are at least 6-foot-5. They're going to present coverage challenges for defensive backs.
THREE REASONS FOR PESSIMISM
1. The offensive line hasn't looked very good in the preseason, and that's a huge cause for concern. The Bucs are especially thin at guard. All-Pro
Carl Nicks
left the team after not being able to recover from a toe injury. That leaves four guys without a lot of experience vying for two starting spots.
Oniel Cousins
,
Jace Daniels
,
Patrick Omameh
and rookie
Kadeem Edwards
have been rotating at the guard spots, and two of them will emerge as starters, unless the Bucs bring in some help from the outside.
2. Smith went out on a limb when he signed quarterback
Josh McCown
as a free agent and immediately named him the starter. McCown, 35, has been a backup most of his career, but he did play well in Chicago last year when
Jay Cutler
went out with an injury. McCown threw 13 touchdowns with just one interception. It's too much to expect him to keep up that kind of pace, especially with an unsteady offensive line. Smith, who coached McCown in Chicago, believes he can be successful over the course of a full season. But that's something McCown has never done.
3. Smith's philosophy is to play great defense and be efficient on offense. That worked well enough to get Smith to a Super Bowl with the
Chicago Bears
. But that philosophy might be antiquated. The league has become quarterback-driven. The Bucs are in the same division as New Orleans'
Drew Brees
, Carolina's
Cam Newton
and Atlanta's
Matt Ryan
. McCown and this offense might not have enough firepower to stay competitive in the division.
OBSERVATION DECK
McCoy has had an outstanding training camp. He consistently has gotten into the backfield as a pass-rusher and has been stuffing running plays. But it remains to be seen whether McCoy's excellent play is simply the byproduct of the weakness at the guard spots.
[+] Enlarge

AP Photo/Bill KostrounVincent Jackson, in his third season with the Bucs, will have a third starting QB throwing to him.

The chemistry between McCown and Jackson has been noticeable. In addition to the offseason program, the two spent a lot of time in the spring and summer working out at a local high school.
The Bucs have gotten almost nothing out of defensive end Da'Quan Bowers since taking him in the second round in 2011. But they are trying something new with Bowers this year. They're going to use him inside at defensive tackle in obvious passing situations.
The Bucs have high hopes for sixth-round draft pick Robert Herron. But don't look for the receiver/return man to get a lot of playing time early on. Herron has had ball-security issues in camp. He needs to hold on to the ball if he's going to earn playing time.
Herron will make the 53-man roster. So will Jackson, Evans and Chris Owusu. Eric Page also probably will stick thanks to his return skills. That probably leaves one spot to be filled from a group of receivers who have shown promise in training camp. Tommy Streeter, Louis Murphy, Lavelle Hawkins and Solomon Patton all have shown flashes, but at least a couple of them won't make the roster.
Hamstring injuries have kept cornerbacks Alterraun Verner and Mike Jenkins out for a big chunk of training camp. But there's a flip side to that, and it's positive. Second-year pro Johnthan Banks has gotten a ton of work with the first team and has looked good. Banks didn't have a great rookie year. But his performance in camp probably will keep him in the starting lineup.
September, 1, 2013
9/01/13
5:47
PM ET
TAMPA, Fla. – The
Tampa Bay Buccaneers
initially appeared to be going thin at defensive tackle. But that changed Sunday afternoon.

The team announced it has claimed defensive tackle
Chris Jones
off waivers from Houston. The Bucs also claimed wide receiver
Russell Shepard
off waivers from Philadelphia. To make room for those two players, the Bucs released receiver
Tiquan Underwood
and waived linebacker
Najee Goode
.
The Bucs had been carrying just three defensive tackles on their original 53-man roster. But Jones gives the team some depth behind
Gerald McCoy
,
Akeem Spence
and
Derek Landri
. Jones was drafted in the sixth round by Houston this year out of Bowling Green.
Shepard was an undrafted free agent. He played college ball at Louisiana State, where he spent time as a receiver, running back and quarterback.
The Bucs also announced they signed cornerback Deveron Carr, offensive lineman Jace Daniels, linebacker Ka'lial Glaud, defensive tackle Matthew Masifilo, tight end
Danny Noble
, receiver
Chris Owusu
and tackle Mike Remmers to the practice squad.
August, 31, 2013
8/31/13
6:30
PM ET

Most significant move:
The fact the Bucs didn't put guard
Carl Nicks
on injured reserve or the physically unable to perform list is a strong sign that the veteran should be able to return early in the season. Nicks has been battling a staph infection. If Nicks can get healthy, Tampa Bay has the potential to have one of the league's top offensive lines.
Paying the kickers:
Although it appears as though
Rian Lindell
will be the kicker on opening day, the Bucs apparently will be paying three kickers this season. Technically, teams don't have to pay players on the non-football-injury list. But the team reportedly will pay
Lawrence Tynes
, who is dealing with a staph infection, his $840,000 base salary. That's probably a smart move because there could be legal implications if Tynes isn't paid. The Bucs also are believed to be paying the $2.3 million base salary of
Connor Barth
, who was injured in a charity basketball game during the offseason. Lindell is scheduled to make $940,000 in base salary and he has a $65,000 roster bonus.
What's next:
With
Tom Crabtree
dealing with a high-ankle sprain that could keep him out of some regular-season action, the Buccaneers might look to the waiver wire to see if there is a pass-catching tight end they can pair with
Luke Stocker
.
Buccaneers moves:
Waived S
Sean Baker
, CB
Deveron Carr
, T
Jace Daniels
, LB
Dom DeCicco
, LS
Andrew DePaola
, K
Derek Dimke
, WR
David Douglas
, LB Ka'lial Glaud, S
Cody Grimm
, P
Chas Henry
, DT
Lazarius Levingston
, DT
Matthew Masifilo
, DT Andre Neblett, TE
Danny Noble
, WR
Chris Owusu
, T
Mike Remmers
, CB
Mason Robinson
and C/G
Cody Wallace
. Terminated the contracts of G
Roger Allen
, DT
Gary Gibson
and WR
Jordan Norwood
. Placed K
Lawrence Tynes
on non-football injury llist.