Tampa Bay Buccaneers:

Jimmy Graham
October, 2, 2014
10/02/14
4:07
PM ET
TAMPA, Fla. -- One of the traits I admire most about
Tampa Bay Buccaneers
defensive tackle
Gerald McCoy
is his honesty.
Even if something isn't positive, McCoy's not afraid to say it.
"One of our Achilles heels right now is covering the tight end," McCoy said Thursday. "We have to be better at that."
McCoy simply was stating the obvious. The Bucs are coming off a game in which Pittsburgh tight end
Heath Miller
caught 10 passes. Now, the Bucs have to face New Orleans'
Jimmy Graham
, who just might be the best tight end in the business -- if you even consider him a tight end.
"There are going to be times when we look at (Graham) as a receiver because they do move him around a lot," defensive coordinator Leslie Frazier said. "It's not often that he's a point-of-attack blocker. You see that on tape. He's an outstanding tight end with great pass-receiving skills. You've got to respect that and the way they move him around you have to recognize that he's not always at the tight end position. There are times we're going to treat him as a receiver."
The Bucs likely will use a combination of linebackers and defensive backs to try to slow Graham and quarterback
Drew Brees
. But there is one other way to prevent Graham from getting the ball.
"The (pass) rush can help that," McCoy said. "Somebody has to win early and we can make the quarterback make a bad throw. Or if the tight end is open, somebody is getting his hands up and getting the quarterback off his spot and making him make a bad throw. And, then, on the back end, guys being in the right spot covering the tight end. What better week to do it than this week. No. 9 and No. 80 over the past five years, that's been a huge combo."
McCoy said the key is to put pressure on Brees.
"Drew Brees is a Hall of Famer, but obviously different defenses get to him and rattle him and make him have a bad day," McCoy said. "You have to do that. It's going to start with us in the middle. He's a shorter guy, so we have to get in his face. We have different packages where we'll have taller guys in the middle and try to get our hands up and pressure him.
"Really, the big thing is to get him off his spot and it's a rush and coverage combo after that. But we definitely have to get him off his spot. He likes to throw from a certain spot. He has a certain step-up spot he likes. We have to get him off of that and get him uncomfortable."
Frazier was quick to point out the Saints have plenty of other offensive weapons besides Graham.
"You have to make a decision on what you've got to take away," Frazier said. "We have a plan for this week and hopefully we can execute it."
July, 8, 2014
7/08/14
3:30
PM ET
The
Tampa Bay Buccaneers
drafted safety
Mark Barron
specifically to help them defend
New Orleans Saints
tight end
Jimmy Graham
, according to testimony from former Buccaneers assistant coach Butch Davis.
ProFootballTalk
unearthed that interesting nugget
after obtaining a portion of the testimony from Graham's recent franchise-tag grievance hearing.
"We took Mark Barron in the first round simply because of Jimmy Graham," said Davis, who served as a special assistant to the head coach.
Davis was testifying on behalf of the position that Graham was a wide receiver. But as PFT pointed out, the testimony was actually turned against Davis on cross examination by the NFL, when Davis admitted that the Buccaneers didn't draft a cornerback to cover Graham and that they would never have drafted a safety to cover
Detroit Lions
receiver
Calvin Johnson
.
March, 10, 2014
3/10/14
10:00
AM ET
The top two free agents (
Jimmy Graham
and
Greg Hardy
) in the NFC South have been hit with the franchise tag. But plenty of division talent is on the market -- and that doesn't even include
Darren Sproles
, who will be either traded or released by the Saints. The four writers who cover the NFC South (Pat Yasinskas in Tampa Bay, Mike Triplett in New Orleans, David Newton in Carolina and Vaughn McClure in Atlanta) got together and picked the top 15 free agents in the division.
1. Jimmy Graham, Saints TE:
Whether he's a tight end or receiver, he has been one of the most dynamic playmakers in the NFL, leading the league with 36 TD catches over the past three years.
2. Greg Hardy, Panthers DE:
The Panthers had no choice but to place the franchise tag on Hardy. He played both defensive end spots, tackle and dropped into coverage. He led the team in sacks and quarterback hurries.
3. Jonathan Babineaux, Falcons DT:
Aging veteran Babineaux still has a knack for getting in the backfield, although he would admit his sack numbers need to be better.
[+] Enlarge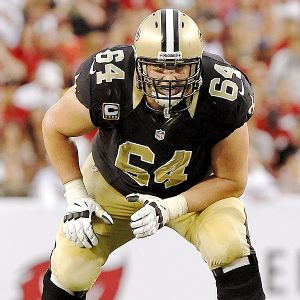 Kim Klement/USA TODAY SportsZach Strief, a seventh-round pick in 2006, has spent his entire eight-year career in New Orleans.
4. Mike Mitchell, Panthers S:
He brought an attitude to the league's second-ranked defense with his aggressiveness.
5. Zach Strief, Saints OT:
Strief is a solid veteran starter coming off his best season to date. He's not a dominator, but versatile and experienced enough to start for just about any NFL team.
6. Brian de la Puente, Saints C:
He has been another solid starter over the past three years and finished strong in 2013 after a slow start.
7. Lance Moore, Saints WR:
Moore's role diminished in the Saints' offense last year, but the sure-handed slot receiver is one year removed from a 1,000-yard season and can still be an asset at age 30.
8. Malcolm Jenkins, Saints S:
He is a full-time starter who shows flashes of big-play potential every year, but the former first-round pick has never consistently met lofty expectations.
9. Captain Munnerlyn, Panthers CB:
He may be undersized at 5-foot-9, but he proved he could be an every-down corner for the first time in his career.
10. Ted Ginn Jr., Panthers WR:
Not only did he give quarterback
Cam Newton
the deep threat that he needed, he led the team in kickoff and punt returns.
11. Jabari Greer, Saints CB:
Greer was one of the most underrated corners in the NFL over the past five years, but now he's 32 and recovering from a major knee injury.
12. Peria Jerry, Falcons DT:
The former first-round pick hasn't lived up to expectations in part due to injury, but he has shown a few flashes.
13. Erik Lorig, Buccaneers FB:
Lorig is a versatile fullback who can make an impact as a lead blocker in the running game and also has some ability as a receiver out of the backfield.
14. Bruce Campbell, Panthers OT:
With the retirement of left tackle
Jordan Gross
there's at least an opportunity for Campbell to be in the mix for a starting position.
15. Adam Hayward, Buccaneers LB:
Hayward is one of the league's better players on special teams. He also has value as a backup because he can play inside and outside linebacker.
January, 18, 2014
1/18/14
8:00
AM ET
TAMPA, Fla. -- Let's take a plunge into the mailbag.
Glennon
Marc in Nashville, Tenn.
wants to know when offensive coordinator Jeff Tedford and quarterback
Mike Glennon
can start working together.
Pat Yasinskas:
Excellent question. The most recent collective bargaining agreement limits the amount of time players can spend at a team facility for work purposes. Glennon and Tedford aren't officially allowed to start working together until the offseason program starts in April. The Bucs do have the advantage of having one extra minicamp because they have a new coaching staff.
---
Jean Paul in Jersey City, N.J.
asks about the possibility of the Buccaneers pursuing tight end
Jimmy Graham
in free agency.
PY:
I'd be all for it. Graham's a rare talent and would be a big boost for any offense he plays for. The Bucs have the salary-cap room to pull off a signing like that. But I don't know that Graham ever will hit the market. The Saints are likely to do everything in their power to keep Graham and that includes the use of the franchise tag.
---
Barry in Silsbee, Texas
wonders if the Bucs might try to bring back defensive end
Michael Bennett
in free agency.
PY:
That's one I wouldn't rule out. The Bucs clearly need a pass-rushing defensive end. For reasons I can't put my finger on, the old coaching staff wasn't sold on Bennett. But the new regime realizes it needs to improve the pass rush and adding Bennett might be one of the best ways to accomplish that.
---
Luke in San Jose, Calif.
wants to know if the Bucs ever have considered moving wide receiver
Vincent Jackson
to tight end.
PY:
I never heard any talk about it from the previous coaching staff and the new staff is getting settled in. Although Jackson has the size for such a move, my best guess is that it's very unlikely. Jackson's very good as a wide receiver and you don't need to mess with something that's working.
December, 28, 2013
12/28/13
8:00
AM ET
Three things to watch in Sunday's game between the
Tampa Bay Buccaneers
and
New Orleans Saints
.


Tampa Bay's effort.
The game means a lot for the Saints and nothing for the Buccaneers. A lot of times in the past, teams without a lot to play for haven't put forth a great effort because they just want the season to be over. It's worth keeping an eye on how the Bucs handle the situation. To date, there haven't been any signs that this team has quit on coach Greg Schiano. If that changes in the finale, it's not going to help Schiano's chances of keeping his job.
The running game.
Tampa Bay's running game has been non-existent for the past month. That has to change for the Bucs to have any chance of winning at the Mercedes-Benz Superdome. It's going to be loud and the Saints have a prolific offense. If the Bucs can't keep things close in time of possession, they're going to be in big trouble.
Jimmy Graham.
When the Bucs and Saints played in Week 2, the New Orleans tight end had 10 catches for 179 yards and a touchdown. Graham is a matchup nightmare for any defense. The Bucs, who could be without injured strong safety
Mark Barron
, need to at least slow Graham a little bit.
September, 13, 2013
9/13/13
12:00
PM ET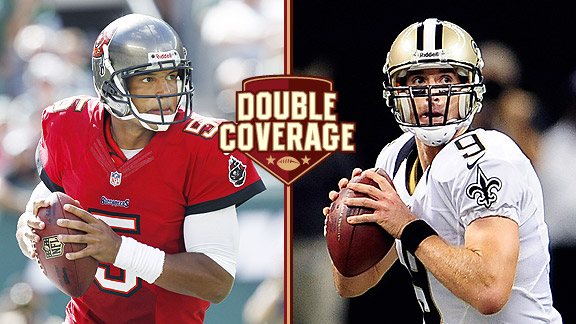 Getty ImagesBucs QB Josh Freeman faces off against Saints QB Drew Brees in a Week 2 division rivalry game.
Two of the biggest stories in the NFC South in Week 1 were that New Orleans played good defense and Tampa Bay never was able to get into an offensive rhythm.
Will that continue as the Saints and Buccaneers play one another?
ESPN's Matt Williamson and Buccaneers team reporter Pat Yasinskas discuss the matchup.
Yasinskas:
Matt, I have to admit I was stunned by the Saints holding the Falcons to just 17 points in the opener. I saw the Saints in training camp and had serious doubts about whether they had the personnel to run the 3-4 defense successfully, and they have endured several major injuries since then. Yet, the Saints kept one of the league's best offenses in check. Was this just a fluke or is the New Orleans defense actually for real?
Williamson:
If I were an optimistic Saints fan, I would take this stand: The Saints' young, talented three-man defensive line, led by
Cameron Jordan
, looks simply exceptional and fits the new scheme very well. Their secondary is also clearly improved from a year ago -- which isn't saying much. If I were taking a more pessimistic view on New Orleans' defense, I would say that
Roddy White
was a shell of himself and completely ineffectual, and the Falcons' offensive line might be among the worst in the NFL right now. The truth is probably somewhere in between, but I also believe that as long as the Saints' defense isn't among the very worst in the league, that this is the team to beat in the NFC South. So, in return, here is my question: Even if the Saints' defense isn't noticeably improved and is closer to the 2012 version than what we saw last week, is
Josh Freeman
capable of exploiting it?
Vincent Jackson
played a great game in New York, but Freeman has looked terrible throughout the preseason and now into regular-season action.
Yasinskas:
After watching Freeman in the New York game, I'm not so sure he's capable of exploiting any defense right now. He never got into any sort of rhythm in the passing game and, at times, look flustered. Over the past few years I've been steadfast in my belief Freeman has what it takes to turn into an elite quarterback. But that hasn't happened yet, and I'm starting to doubt if it ever will. He has plenty of weapons at the skill positions, but it seems like Freeman is regressing, instead of progressing. Speaking of regressing, what's your take on the Saints' running game? Coach Sean Payton has said he wants to run more, but the Saints got very little out of the running game in the opener. Now, they'll play a defense that was No. 1 against the run last season. Can
Mark Ingram
,
Darren Sproles
and
Pierre Thomas
move the ball against the Buccaneers?
Williamson:
That's a great question and I know it is extremely early, but I have forecasted Ingram to have a breakout season in 2013. But I am having second thoughts on that, as he is a volume runner who needs to be fed the ball to be most effective, and I just don't know if that will ever be the case here, as Thomas is such an effective all-around player and Sproles needs to be on the field. I do think Payton believes in balance and he wants to have a physical offense with a very good interior offensive line paving the way, but running against Tampa Bay doesn't seem to be the prudent move. Of course, the Tampa secondary is also vastly improved, but
Drew Brees
is the type of elite passer who just produces no matter the competition ... and can the Buccaneers match up to Sproles and
Jimmy Graham
? I have my doubts they can. Therefore, I say this is a game Payton puts on Brees' shoulders -- which is never a terrible idea. Along those lines, the Buccaneers clearly made a concerted effort to improve their pass defense by using numerous valuable resources to improve their secondary. Mission accomplished there. But this pass rush still has to be a concern, and if Brees is given time, he is going to find someone to his liking to eventually distribute the ball to. Brees is a tough guy to sack, but can the Bucs at least disrupt him in the pocket with some consistency?
Yasinskas:
One of the few encouraging things to come out of the loss to the Jets was that the Bucs recorded five sacks. Four of them came from the linebackers, which shows a willingness to blitz. But the front four can be more productive and several guys have the ability to bring some heat on Brees. End
Adrian Clayborn
and defensive tackle
Gerald McCoy
both have the talent to get to the quarterback. But the real wild card could be
Da'Quan Bowers
. The team wanted him to start, but he didn't play well enough to earn the job in the preseason. For the moment, Bowers is being used as a situational player. But he has more upside as a pass-rusher than anyone on this team, and this game would be a good time for him to start showing. Brees is tough to slow down under any circumstances, but you absolutely have to have a strong pass rush to have any chance. Speaking of Tampa Bay's pass rush, that brings up another question. The Saints let left tackle
Jermon Bushrod
depart as a free agent and they've replaced him with
Charles Brown
. Can Brown be an effective left tackle?
Williamson:
Because of their strengths on the interior and the need for the shorter Brees to have a clean pocket up the middle, the Saints construct their protections schemes from the inside out, which makes life for their offensive tackles easier. And, of course, Brees has a great feel for the rush to go along with underrated, but highly effective pocket movement and athletic ability to elude the rush, particularly from the edges. Bushrod never impressed me much, considering some viewed him as a Pro Bowl caliber left tackle. In fact, I think Brown has more natural ability when it comes to movement skills and length for the position. Brown played quite well in the preseason and that carried over to Week 1. It appears the Saints just might have found their starting left tackle for the foreseeable future.