Tampa Bay Buccaneers:

John McKay
February, 13, 2014
2/13/14
8:00
AM ET
Basketball's
LeBron James
caused a stir when he said
he should be on the NBA's Mount Rushmore
. With that in mind, let's have a little fun.
Let's talk about a Mount Rushmore for the
Tampa Bay Buccaneers
.
There are only four slots available and I'm not seeing anyone on the current roster who deserves that status. There are some current players who can get there, but they're not there yet. That's why I think you have to go back into Tampa Bay's past to determine who deserves to be included.
At least in my eyes, the first three spots are easy. Then, there's a tough call for the fourth spot.
Here are my four choices for a Buccaneers' Mount Rushmore. Feel free to add your thoughts in the accompanying comments section.
Lee Roy Selmon:
You have to start with Selmon because he was Tampa Bay's first superstar. He brought respectability to the franchise in its early years and had a Hall of Fame career.
Derrick Brooks:
For years, Selmon was unquestionably the best player in franchise history. Selmon's greatness hasn't diminished, but I'd give Brooks the nod as the best player in franchise history now.
Warren Sapp:
Like him or not -- and many don't -- you have to give Sapp his props as a player. He was the first Tampa Bay player to make the Pro Football Hall of Fame on the first ballot.
Tony Dungy:
This one's a tough call and I had a tough time choosing Dungy over
Ronde Barber
,
John Lynch
,
Mike Alstott
, Doug Williams, Jon Gruden and John McKay for the final spot. But I'm going with Dungy because he was the first coach to make this franchise consistently respectable. By the way, I'm giving retired tight end
Tyji Armstrong
special honorable mention for his many contributions.
December, 30, 2013
12/30/13
3:17
PM ET
TAMPA, Fla. -- The
Tampa Bay Buccaneers
could reach back into their past to hire a new coach and general manager.
Chris Mortensen reported that the Bucs
could pursue
Lovie Smith as head coach and Rich McKay as general manager. Both make sense because both have a history with the Bucs.
Smith was an assistant in Tampa Bay in the 1990s and went on to become head coach of the
Chicago Bears
. Smith reportedly already has interviewed for the vacancy in Houston and could be a candidate for several other jobs.
McKay was Tampa Bay's general manager from 1993 until 2003. He also is the son of the first coach in Tampa Bay history, John McKay. But luring McKay might be challenging. He currently is employed as the team president of the
Atlanta Falcons
.
McKay's latest task has been to lead the effort to get the Falcons a new stadium. But some league sources who know McKay well said he might be tempted to get out of the business side and back into football.
McKay's top two assistants -- Jerry Angelo and Tim Ruskell -- from his Tampa Bay days also could be candidates. Angelo was general manager of the Bears when Smith was the coach.
If the Bucs look beyond their past, they could consider Baltimore assistant general manager Eric DeCosta as general manager and Penn State coach Bill O'Brien and Denver offensive coordinator Adam Gase for head coach.
October, 13, 2013
10/13/13
6:40
PM ET
TAMPA, Fla. -- They cheered, ever so slightly, as running back
Doug Martin
and wide receiver
Vincent Jackson
walked off the field at Raymond James Stadium on Sunday. They did the same as defensive tackle
Gerald McCoy
walked into the tunnel to the locker room.
And, then, there was coach Greg Schiano.
The venom directed at him by a large group of fans in the southeast corner of the stadium was loud. The language was so vicious, the only way to summarize it was that the crowd was telling Schiano he needs to go back to being a college coach.
[+] Enlarge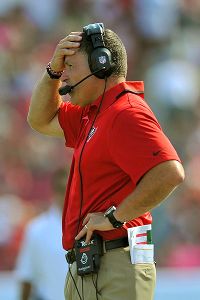 Steve Mitchell/USA TODAY SportsGreg Schiano's Buccaneers have lost 10 of their past 11 games going back to last season.
"I didn't hear anything," Schiano said a few moments after his team lost, 31-20, to the
Philadelphia Eagles
.
It's a good thing Schiano has thick skin because patience is running thing among the fans. And it's time to start wondering whether ownership's patience is wearing thin as well.
The Bucs have lost their first five games of this season and 10 of 11 dating back to last year. There were no real signs of progress against the Eagles. In fact, you could make a case that the Bucs' revamped defensive secondary regressed. Rookie quarterback
Mike Glennon
played well enough to lead the Bucs to a 17-14 halftime lead, but didn't do much of anything positive in the second half.
Glennon wasn't alone. Instead of blowing a late lead as they've done several times already this season, the Bucs took a shortcut and simply got blown out.
"We need to get it figured out quickly," Schiano said.
That's a huge understatement. On top of the losing, the Bucs seem to be in disarray in every way. Former franchise quarterback
Josh Freeman
was run out of town after a public feud with the team. According to a USA Today report, the NFL Players Association pointed to Schiano as the culprit for leaking a story that Freeman was in the league's drug program.
Then, there's the whole MRSA situation. Three players (guard
Carl Nicks
, kicker
Lawrence Tynes
and cornerback
Johnthan Banks
) have been diagnosed with MRSA since the preseason started. Nicks recovered enough to play in two games before he was diagnosed with a recurrence last week.
Has there ever been a crazier time for this franchise? The expansion days of John McKay come to mind. So do the Sam Wyche days and the final days of Raheem Morris.
But I'll make the case that what's happening now deserves more of a big top than anything in franchise history. Unlike McKay, Wyche and Morris, Schiano has plenty of talent with which to work. (The Bucs have eight guys who have been to the Pro Bowl.)
Unlike McKay, Wyche and Morris, circus acts weren't expected from Schiano. The guy came from Rutgers, where he had a reputation as a builder and disciplinarian.
Yet, even with all that discipline, the Bucs seem to be running amok. How does Schiano reverse the fortunes of this team?
"You stand to your convictions without being stubborn and you move forward," Schiano said. "We've got a good group of people in that locker room and coaches and they're going to stick together and we're going to get it turned. As long as you know that, you're going to do it."
The part about sticking to your convictions makes me think of that scene in "Hoosiers" when Gene Hackman's character, coach Norman Dale, says "My team is on the court" as a way of sending a message to his team. That stuff works in movies.
Real life can be another story. I'm not sure that continuing to play cornerback
Darrelle Revis
in zone coverage is going to lead to a turnaround for the Bucs.
The next three weeks or so are critical for Schiano and the Bucs. They play division rivals Atlanta and Carolina and travel to Seattle. An 0-8 start is looking possible.
Again, I have no idea if ownership is growing as impatient as the fans. But I do know that the Glazer family, which owns the team, does not like to be embarrassed.
The Bucs have been an embarrassment recently. If that doesn't change, the Glazers also might have some unkind words for Schiano.