Tampa Bay Buccaneers:

Jon Gruden
March, 26, 2014
Mar 26
11:00
AM ET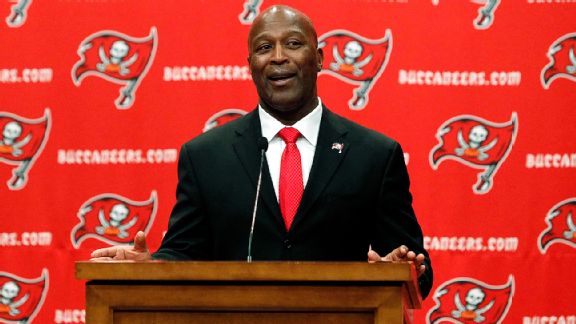 Kim Klement/USA TODAY SportsCoach Lovie Smith and the Bucs expect to compete for championships starting this season.
ORLANDO, Fla. -- There is a very good reason why the
Tampa Bay Buccaneers
have been one of the NFL's most active teams in free agency.
"We thought it would be unfair to ask the fans to be patient with us," general manager Jason Licht said at the NFL owners meetings.
Fire those cannons at Raymond James Stadium and start the parade down Dale Mabry Highway. So far, Licht and coach Lovie Smith, both hired in January, are doing and saying all of the right things. They have signed 11 free agents, highlighted by defensive end
Michael Johnson
, cornerback
Alterraun Verner
and quarterback
Josh McCown
.
"We wanted to go out and sign as many good players as we could this year to help our football team and make it competitive this year, and strive to win a championship this year," Licht said. "Not go with, 'Hey, give us a couple years.' We want to do it as soon as we can. The fans deserve it. I found out in a two-month period that these fans are so passionate in Tampa. So we want players that are just as passionate as the fans."
Those fans should be ecstatic to hear Licht's comments. This is a franchise that hasn't been to the playoffs since the 2007 season, and hasn't won a postseason game since its Super Bowl victory more than a decade ago. The franchise had good intentions in the interim, but the results weren't pretty.
Plans were put in place at various times from the days when Jon Gruden and Bruce Allen tried to win with veterans, to the time when Mark Dominik and Raheem Morris decided to build through the draft, to the days when it looked like Greg Schiano didn't have a plan.
[+] Enlarge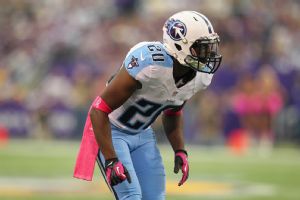 Brace Hemmelgarn/USA TODAY SportsLanding cornerback Alterraun Verner was part of an aggressive free-agent push by the Bucs this month.
But you can look at what Licht and Smith are doing and you see a firm plan that has a chance to work -- and work quickly.
"As you saw last year with Kansas City, sometimes a little change is healthy and successful," Bucs co-chairman Joel Glazer said.
The Chiefs indeed are a good example of a team that turned around its fortunes rapidly. Kansas City was dreadful in 2012, but made the playoffs last season.
For any doubters who say McCown, a career backup, doesn't have what it takes to lead a team to the playoffs, let me remind you that
Alex Smith
was Kansas City's quarterback last season. I don't see a big difference between Smith and McCown.
Yeah, people can talk all they want about how this is a quarterback-driven league and you need a star at the position to be any good. There is some truth to that. But was
Russell Wilson
really the best quarterback in the NFL last season?
Of course not. Wilson did some very nice things, but there were bigger reasons why the
Seattle Seahawks
won the Super Bowl. The defense and the running game had a lot to do with their success.
It's pretty obvious Licht and Lovie Smith are following a plan similar to Seattle's. Smith comes with a defensive background, and he inherited some good talent on that side of the ball. Linebacker
Lavonte David
and defensive tackle
Gerald McCoy
already are in place, and you could make an argument that a pass-rusher was the only thing Tampa Bay needed to be a dominant defense. That is why the Bucs signed Johnson, who had 11.5 sacks for Cincinnati in 2012.
On offense, the Bucs have overhauled their line. They parted ways with
Donald Penn
,
Davin Joseph
and
Jeremy Zuttah
, and replaced them with
Anthony Collins
,
Oniel Cousins
and
Evan Dietrich-Smith
. The running game should be in good shape, assuming
Doug Martin
is fully recovered from an injury that cut short last season.
I look at that and I see a team that might be ready to win now. I see a team with a plan that seems to make a lot of sense.
"Jason and Lovie have a plan, and that plan is that they want to win," Glazer said. "That's why we brought them in. We're all in the same boat. We want to win. They have a clear plan to get there, and that's why they were hired. We believe in the plan. We buy into the plan, and we're going to be supportive of the plan."
A few years back, the Glazers were often accused of not spending enough money to bring success. But recently, they have spent big money in free agency. This offseason, the Bucs went on another spending spree.
Licht and Smith frequently are being declared winners in free agency by the national media. They are also winning the news conferences by saying the right things.
Now, if they can go win some games in the fall, their plan could be a masterpiece.
March, 17, 2014
Mar 17
12:39
PM ET
Back in 2008, a lot of Tampa Bay fans wanted the Buccaneers to draft cornerback
Mike Jenkins
.
Jenkins
He was a local product, coming out of nearby Bradenton and playing at the University of South Florida. The Bucs had a need at cornerback that year.
But the team of coach Jon Gruden and GM Bruce Allen had their eyes on another cornerback and used their first-round draft pick on
Aqib Talib
. Jenkins wound up getting drafted by Dallas.
Now, there is again the possibility that Jenkins could join the Buccaneers. He's making a free-agent visit to the team Monday. Tampa Bay has
Alterraun Verner
and
Johnthan Banks
, but could use a strong third corner.
Jenkins, who spent five years in Dallas before going to Oakland last season, hasn't had the kind of career many expected. But Jenkins could be a nice role player as the third cornerback in Tampa Bay.
February, 28, 2014
Feb 28
1:28
PM ET
Another thought just came to me as I continue to ponder the speculation that the
Tampa Bay Buccaneers
will trade cornerback
Darrelle Revis
.
Any final decision on such a move would have to be approved by ownership. The Glazer brothers (Joel, Bryan and Ed) aren't like Jerry Jones and Dan Snyder, but they're more involved than many people realize. That's why it's important to think about how the Glazers would feel about trading Revis.
That's where my thought plays in. In the most simple terms, the Glazers like star power. They previously have gone out and brought in Jon Gruden and
Keyshawn Johnson
. They also bought the Manchester United soccer team -- one of the most popular sports franchises in the world.
The Glazers leave football decisions up to football people and coach Lovie Smith and general manager Jason Licht will have a lot to say about what -- if anything -- the Bucs do with Revis. But the Glazers also have some say, and I have a hard time picturing them wanting to trade Revis.
As far as star power goes with the Buccaneers, it pretty much starts (and stops) with Revis. With apologies to rising stars
Gerald McCoy
and
Lavonte David
, Revis is the only household name on the Buccaneers.
This is a franchise that needs household names because it has struggled to fill Raymond James Stadium in recent years. The Glazers have dispelled the myth that they don't spend enough money on players in the last couple of years and Revis, who is scheduled to make $16 million this year, is a big part of that.
If the Bucs trade Revis, the old complaints about the Glazers being cheap would resurface and the team would lose its most recognizable face.
The Glazers can't afford to let either of those things happen.
February, 13, 2014
Feb 13
8:00
AM ET
Basketball's
LeBron James
caused a stir when he said
he should be on the NBA's Mount Rushmore
. With that in mind, let's have a little fun.
Let's talk about a Mount Rushmore for the
Tampa Bay Buccaneers
.
There are only four slots available and I'm not seeing anyone on the current roster who deserves that status. There are some current players who can get there, but they're not there yet. That's why I think you have to go back into Tampa Bay's past to determine who deserves to be included.
At least in my eyes, the first three spots are easy. Then, there's a tough call for the fourth spot.
Here are my four choices for a Buccaneers' Mount Rushmore. Feel free to add your thoughts in the accompanying comments section.
Lee Roy Selmon:
You have to start with Selmon because he was Tampa Bay's first superstar. He brought respectability to the franchise in its early years and had a Hall of Fame career.
Derrick Brooks:
For years, Selmon was unquestionably the best player in franchise history. Selmon's greatness hasn't diminished, but I'd give Brooks the nod as the best player in franchise history now.
Warren Sapp:
Like him or not -- and many don't -- you have to give Sapp his props as a player. He was the first Tampa Bay player to make the Pro Football Hall of Fame on the first ballot.
Tony Dungy:
This one's a tough call and I had a tough time choosing Dungy over
Ronde Barber
,
John Lynch
,
Mike Alstott
, Doug Williams, Jon Gruden and John McKay for the final spot. But I'm going with Dungy because he was the first coach to make this franchise consistently respectable. By the way, I'm giving retired tight end
Tyji Armstrong
special honorable mention for his many contributions.
January, 6, 2014
Jan 6
6:15
PM ET
TAMPA, Fla. -- There's a bizarre story that sums up the Greg Schiano era with the
Tampa Bay Buccaneers
.
The short version of the Schiano story goes like this: Retired safety
Dexter Jackson
, the most valuable player of the team's only Super Bowl, told a Tampa radio station in October that Schiano tried to run him out of practice when he visited the facility.
Nothing like that's ever going to happen now that Lovie Smith is the coach.
"I'm going to reach out to all of our former Buccaneers," Smith said Monday as he formally was introduced as the 10th head coach in franchise history. "They'll always be welcome here. We want them around. We want our current players to feel that pressure of how they're supposed to perform each week. Some places don't have the tradition that we have and we're going to try to draw on that as much as we can."
The Bucs, who haven't been to the playoffs since the 2007 season, haven't won a postseason game since the Super Bowl more than a decade ago and have struggled at the box office, have a tradition?
[+] Enlarge
Kim Klement/USA TODAY Sports"The Tampa Bay Buccaneers should be a relevant football team," said Lovie Smith, who was part of the coaching staff when the Bucs were contenders.
They really do and that's why the hiring of Smith was the best possible move the Bucs could have made at this point in time. Smith represents a bridge from the proudest era in franchise history to the future.
Smith was the linebackers coach under Tony Dungy from 1996 through 2000 before going on to be the defensive coordinator of the
St. Louis Rams
and, later, the head coach of the
Chicago Bears
.
Smith was around when guys like
Derrick Brooks
,
Warren Sapp
,
John Lynch
,
Hardy Nickerson
,
Warrick Dunn
and
Mike Alstott
were playing for the Buccaneers. Smith was around when Raymond James Stadium was the place to be and be seen.
Schiano and predecessor Raheem Morris weren't able to return the Bucs to the level where Dungy and Jon Gruden took them. Morris was too friendly and his players took advantage of him. Schiano wasn't friendly enough and his players didn't embrace him.
Smith is somewhere in the middle and that might be just right for a franchise that needs to get something right. And, in Smith's eyes, it's not just about the players.
"Day to day, [it's] just keeping a positive building where everybody feels good about coming here," Smith said. "And everybody in the building feeling like they were a part of it."
That's another way that Smith will be starkly different from Schiano. As the Bucs were losing so frequently last season, I had numerous staff members asking what I was hearing on the possibility of Schiano being fired. It was wishful thinking on their part and there weren't a lot of people in the building upset when Schiano finally was fired. Schiano was good at cleaning out some of the troubled players that Morris put up with, but there never was much warmth from Schiano.
That chill, from a man who controlled the thermostats at One Buccaneer Place, was felt by players, staff members and the fan base. Happy staff members and happy fans are an important part of the equation. Schiano never understood that.
Just by walking into his news conference, Smith brought a sudden warmth. He told a funny story about he and his wife having to flee from wild monkeys during a trip to Costa Rica after he was fired by the Bears. But, more than that, the warmth was rooted in nostalgia that brings hope for the future.
"We did lay a foundation for Tampa Bay Buccaneer football," Smith said. "There's a certain brand of football that you expected from us. That would be relentless, you play hard, physical, but there was a brand of football that you did get from us each week at Raymond James Stadium. It was hard for opponents to come in and win. We have gotten away from that a little bit. And it is time, as we go to the future, for us to become a relevant team again."
It's well past the time for the Bucs to be relevant again. Smith's return to Tampa Bay brings a hope that simply wasn't there when Morris and Schiano were coaching. That alone brings higher expectations and pressure than Schiano and Morris had to deal with. But Smith said he's ready for the pressure.
"When I was here, I had a great job as a linebacker coach, coaching a great group of men," Smith said. "But my plan, though, was to advance. And then when you advance and get to that top level where you're a head football coach and I have an opportunity to be a head football coach at the place I started, there is pressure -- pressure that we're putting on ourselves. The Tampa Bay Buccaneers should be a relevant football team. I am going to take that pressure and it will be what drives all of us, our staff, our players and all."
With Smith driving -- and knowing the right roads so well -- there's no reason the Bucs can't get back to respectability.
December, 8, 2013
12/08/13
6:19
PM ET
TAMPA, Fla. -- Take a look at the stat sheet from the
Tampa Bay Buccaneers
' 27-6
victory
against the
Buffalo Bills
on Sunday at Raymond James Stadium.
It will show you that the Bucs had seven sacks, four interceptions, nine tackles for loss and 13 quarterback hurries. It will show you that the Bucs played a dominant defensive game.
It might even have made you flash back to the Tony Dungy or Jon Gruden years, when Monte Kiffin still was running the defense. But this wasn't Dungy, Gruden or Kiffin football.
[+] Enlarge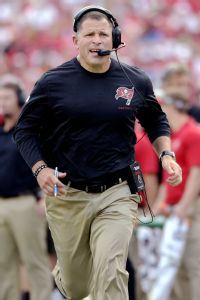 AP Photo/Phelan M. EbenhackGreg Schiano said the Bucs "invented ways to lose some games" early in the season. They've now won four of five.
This, believe it or not, is what Greg Schiano football is supposed to be like.
"This game is really what the Bucs are about," rookie cornerback
Johnthan Banks
said.
Maybe, without knowing it, Tampa Bay fans would like to see a lot more Schiano-coached football games. Schiano is down to three games left to determine if he'll be back for a third season. When the Bucs were 0-8 at midseason, it seemed a certainty Schiano would be fired.
Now, and I'm just reading the tea leaves here, it seems like Schiano has at least a chance to stick around. He has won four of his past five games. Another win or two and maybe the Glazer family, which owns the team, will decide it wants to see more Schiano football.
By definition, Schiano football is supposed to be about playing aggressive defense, running the ball on offense and taking some deep shots in the passing game. The Bucs only had a few flashes of running and passing against the Bills, but the defense carried the day.
Go ahead and rain on the parade and point out that the Bills are pretty mediocre and this was a game the Bucs should have won. The difference is this is precisely the kind of game the Bucs would have lost early in the season. Why have things been going differently the second half of the season?
"I don't know if it's that much of a difference really," Schiano said. "I think we're finding ways to win the game. Against good football teams, we were in games and found ways to lose games. Literally, you look at it and you say we invented ways to lose some games."
There's no doubt about that. Just think about linebacker
Lavonte David
's late hit on
Geno Smith
in the season opener as one quick example. Maybe, in the end, the Glazers will decide that Schiano already has invented too many ways to lose.
Or maybe the Glazers, who also might factor in that
Josh Freeman
's repeated tardiness prompted his benching and eventual release, will keep their coach. For that to happen, the Bucs have to finish the season playing the way they did Sunday.
"We challenged each other, coaches and players alike, to really make sure that we had the details," Schiano said.
The Bucs host the 49ers next Sunday. Then they close the season by going on the road to St. Louis and New Orleans.
Play like they did against the Bills and the Bucs can finish this season with some positive momentum and, more importantly, some hope for the future.
"This week was just go play our game," safety
Dashon Goldson
said. "Make them one-dimensional. Stop the run and make them beat us with the pass and we knew we weren't going to do that."
The Bucs held Buffalo to 67 rushing yards and they harassed rookie quarterback
EJ Manuel
into a bunch of mistakes.
"I think it all comes down to making the quarterback just a little uncomfortable," Schiano said. "It's not always sacks. Sometimes it's just getting that hand in the quarterback's face so he has to alter his release just a little bit."
The Bucs did more than just make Manuel uncomfortable. They held the Bills to two field goals. And they got an 80-yard touchdown run from
Bobby Rainey
on the second play of the game and two touchdown passes from rookie quarterback
Mike Glennon
.
Rainey and Glennon didn't do much besides that. But each has had bright moments in recent weeks. Get Rainey and Glennon back to that and keep the defense playing the way it did against Buffalo, and Schiano's version of football could be enough for him to keep his job.
November, 15, 2013
11/15/13
10:00
AM ET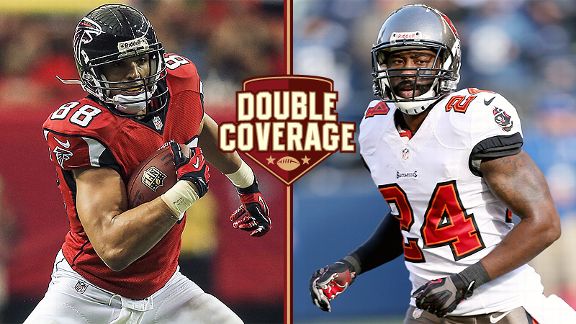 AP PhotoIt has been a disappointing season for Tony Gonzalez's Falcons and Darrelle Revis' Bucs.
When the season started, the
Atlanta Falcons
were a trendy Super Bowl pick and a lot of people thought the
Tampa Bay Buccaneers
could make the playoffs. As it turns out, both NFC South squads are floundering. They've combined for only three wins.
But these two teams are rivals and that means Sunday's meeting will be about pride.
Falcons reporter Vaughn McClure and Buccaneers reporter Pat Yasinskas examine the matchup.
Yasinskas:
Vaughn, I was one of those people who picked the Falcons to win the Super Bowl. Obviously, I was way off base. I know injuries have played a big role, but what else has gone wrong for this team?
McClure:
Pat, I talked to
Tony Gonzalez
extensively after the last game and he was adamant about this all being about the injuries. I agree with him to a certain extent because you just can't lose a receiver as dynamic as
Julio Jones
and expect the offense to click in the same manner. It drastically changes the way defensive coordinators attack and allows them to focus more on shutting down guys such as Gonzalez.
The other injury I thought was significant was linebacker
Sean Weatherspoon
, who is expected back this weekend after being sidelined since Week 2 because of a Lisfranc sprain. The defensive intensity hasn't been there throughout the season, and Weatherspoon would have provided a spark just from his fiery speeches alone. Not saying that he would have totally helped the Falcons avoid giving up 14 plays of 40-plus yards, but they would have been better with a healthy Weatherspoon.
Speaking of injuries, it looks as if both top running backs are out for Tampa Bay. Can
Brian Leonard
step in and run the ball effectively?
Yasinskas:
I agree that getting Weatherspoon back should be a big boost for the Atlanta defense and the first priority whenever you play Tampa Bay is stopping the running game. Even with
Doug Martin
and
Mike James
lost to season-ending injuries, the Bucs still will be a run-first team. Leonard is going to be a big part of the offense now. He's a dependable veteran, who can do a little bit of everything. But I think the Bucs will try to use a combination of Leonard and second-year pro
Bobby Rainey
. The Bucs want to get Rainey a fair amount of touches because he's more of a home-run threat than Leonard.
Speaking of home-run threats, even without Jones, the Falcons still have some playmakers. Are
Roddy White
and
Steven Jackson
now healthy enough to make a significant impact?
McClure:
Jackson said he was 100 percent now coming off a hamstring injury, and White continues to have his snaps monitored coming off a hamstring pull and high-ankle sprain. I thought Jackson showed signs of his old self with some tough runs against the
Carolina Panthers
. He then regressed against the
Seattle Seahawks
, but head coach Mike Smith blamed that on poor blocking. Jackson has a lot of pride and wants to show Falcons fans he was no fluke. But he can only do so much if the holes aren't there for him. He's averaging a mere 3.2 yards per carry.
As for White, he had one catch for 20 yards in his return against the Seahawks. More than anything, he wants to establish a rhythm so he can be back to his old self. The Falcons just need him to be the same type of playmaker when Jones returns next year. Shouldn't the Buccaneers have a new head coach by then?
Yasinskas:
It's pretty obvious that Greg Schiano is on the hot seat. He has won only one game this season and two of his past 15 dating to last year. Ownership does like the way Schiano cleaned up the culture of the locker room that was established under predecessor, Raheem Morris. Schiano, who has three more seasons remaining on his contract, might have bought himself a bit more time by benching
Josh Freeman
and going with rookie quarterback
Mike Glennon
. But ownership also wants to see some wins. I don't know that there's a magic number, but my guess is Schiano needs to win more than half of his remaining games if he's going to stick around for next season.
I know Smith has had five straight winning seasons since taking over as head coach in Atlanta, but this year hasn't gone as planned. Since expectations were so high, is owner Arthur Blank's patience wearing thin?
McClure:
I've watched Blank's reaction after the past two losses and he has been very supportive of Smith. He even embraced Smith like a long-lost son after a road loss to the Carolina Panthers.
Smith has been a winner since taking over in 2008 (58-31 record) and guided his team to the NFC Championship Game last season, although he's 1-4 in postseason games. I talked to general manager Thomas Dimitroff after last Sunday's game and he said Smith's going "nowhere" in reaction to speculation about maybe Jon Gruden being the team's next head coach.
Smith should get a pass on this season because of the injuries alone. But there are bound to be some staff changes in the offseason to correct some of the on-field problems plaguing the team.
September, 25, 2013
9/25/13
12:05
PM ET
With Wednesday's news that the Buccaneers are benching quarterback
Josh Freeman
in favor of
Mike Glennon
, it's time for a scouting report on the rookie.
Glennon
Let's turn back to this
Insider item
I did with ESPN's Jon Gruden during Gruden's QB Camp in the spring. Gruden spent more than four hours with Glennon and, prior to that, spent a lot of time preparing for the session by watching college tape.
Let's see some of Gruden's thoughts on Glennon:
"When I worked with Glennon, I told him there are some things he did better than anyone else in college football last year,'' Gruden said. "Specifically, he can flat-out drive the football. The guy can absolutely hum it. Glennon can throw the ball to the wide side of the field effortlessly. In college, with the wider hashmarks, when you throw the ball to the wide side of the field, it's a big-time throw. In fact, there are some programs that don't even attempt it -- they don't even bother asking a QB to attempt a wide-side throw down the field. That's not the case with Glennon.
"This guy can make some really difficult down-the-field throws. If you watch the camp session with Glennon, you'll see we went through a "Fox Two XY Hook." I coached that pattern for 18 years. I'm not sure I've ever seen a QB at any level throw it with the ease Glennon can.
Brett Favre
threw a certain second-reaction post, by my count, about four times in his career. I saw Glennon throw it four times last season.
Gruden also gave a flattering answer when asked to compare Glennon to a current NFL quarterback.
"If you want a recent comparison, I don't think the similarities to
Joe Flacco
are unfair,'' Gruden said. "They're both 6-foot-6, they both have really nice throwing motions and they both have a nice, compact stroke that just looks effortless. If you watch end-zone film of Flacco, there are times when you go, 'Wow!' when he snaps one off. I found myself saying the same with Glennon a few times."
September, 12, 2013
9/12/13
11:07
AM ET
The Pro Football Hall of Fame has put out its list of 126 nominees from the modern era eligible for the Class of 2014. It contains four first-time-eligible candidates with ties to the glory days of the
Tampa Bay Buccaneers
.
Linebacker
Derrick Brooks
and running back
Warrick Dunn
are nominees. So are coaches Jon Gruden and Tony Dungy.
I think Brooks is the only slam dunk among this group. There's no question in my mind that Brooks is a first-ballot Hall of Famer. Along with
Warren Sapp
, he was the anchor of a dominant defense. You can argue over whether Brooks or Sapp was more important to the Tampa Bay defense, but I think they were equally important.
Dunn was a very nice player, but I don't think his numbers are quite Hall of Fame material.
I think Dungy will get in, but maybe not in his first year. He won a lot of games and produced a nice coaching tree. But the knock on Dungy will be that he won only one Super Bowl despite having a dominant defense in Tampa Bay and quarterback
Peyton Manning
in Indianapolis.
Gruden did win a Super Bowl in Tampa Bay. But I think voters will be hesitant to put him into the Hall of Fame immediately. Call it the Bill Parcells Syndrome, but there are a lot of people that think Gruden might return to coaching at some point.
The list of nominees will be reduced to 25 in November and final voting will take place in February.
August, 29, 2013
8/29/13
5:53
PM ET
TAMPA, Fla. – I just got settled into the press box at Raymond James Stadium and got a transcript of the conference call Jon Gruden took part in with the national media Thursday.
Gruden, the ESPN analyst and former Tampa Bay coach, predicted big things for the Buccaneers.

"I think this is the year for Tampa to win the division and return to the playoffs," Gruden said. "I have a lot of confidence Tampa is going to be a very good football team this year."
For the record, the Bucs haven't been to the playoffs since 2007, when Gruden was coaching the team. Gruden was fired after the 2008 season.
Gruden also had some kind words for Tampa Bay quarterback
Josh Freeman
, who recently took some public criticism from former NFL quarterback Fran Tarkenton.
"I've got a lot of respect for Fran Tarkenton," Gruden said, "but I don't necessarily agree with his comment on Josh Freeman. I've lived in Tampa 13 years, and I have studied Tampa Bay carefully for a lot of reasons. If you don't think Josh Freeman can play, I think you're making a huge mistake.
"He broke franchise records [for passing yards and touchdown passes], and I've seen him do it at a high level. That means he can do it again. Not everyone agrees. I'm accused of being too positive and liking everybody, but I do like Freeman. I wish I had Josh Freeman, I'll just say it like that."
August, 28, 2013
8/28/13
10:15
AM ET
When it comes to predictions, I think a lot of people are selling the
Tampa Bay Buccaneers
short.

I've looked at their schedule and I've looked at their roster multiple times. These aren't the Buccaneers of the Raheem Morris era or even the later stages of the Jon Gruden era. This team has talent. Eight players have been to the Pro Bowl. Besides that, there is a lot of other young talent. I see linebacker
Lavonte David
and safety
Mark Barron
as guys who could get to the Pro Bowl.
Every time I look at the schedule, I keep coming up with one record for the Bucs. I say they'll go 9-7. I think quarterback
Josh Freeman
will play just well enough in a contract year that the Bucs will want to keep him around for the long term.
A 9-7 record would put the Bucs in a tie with the
New Orleans Saints
, according to my predictions. But I think only one of those two teams will get a wild-card berth. I'm saying the Saints will win the tiebreaker and go to the playoffs.
The Bucs just barely will miss out.
Predicted finish in NFC South:
third