Tampa Bay Buccaneers:

LeGarrette Blount
November, 3, 2013
Nov 3
8:20
PM ET
The
Tampa Bay Buccaneers
played their best football game of the season Sunday.
Naturally, they still lost. Even die-hard Bucs fans could see this one coming from 3,000 miles away.
The Bucs lost
27-24
in overtime to the
Seattle Seahawks
. And this wasn't anything close to a moral victory. Instead, it was a morale loss. The Bucs are 0-8 and this one was far worse than the previous seven put together.
As the Bucs fly back across the continent Sunday night, do you think morale could be any lower?
I don't. The Bucs led 21-0 at one point in the first half and 24-7 early in the third quarter. They could have (temporarily) silenced all of their critics by beating one of the NFL's best teams in one of the league's toughest road stadiums. Fans even would have backed off coach Greg Schiano -- until his next loss.
[+] Enlarge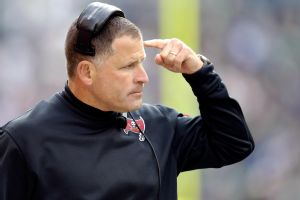 Joe Nicholson/USA TODAY SportsWould the Glazer family think about replacing Greg Schiano before the Bucanneers' Monday night game against the Dolphins?
But the Bucs blew that big lead in disastrous fashion and you have to wonder if ownership is thinking about replacing Schiano with an interim coach.
Perhaps you've noted that I've yet to call for Schiano's firing. My logic has been two-fold. First, going with an interim coach never solves anything. Second, the general rule of thumb is that you don't pull the plug until the players stop playing hard for the coach.
The effort still was there Sunday and that's something that should be considered. But I'm starting to wonder if the Glazer family, which owns the team, might go ahead and fire Schiano at the midpoint of his second NFL season.
It wouldn't even be a small surprise at this point. Schiano has lost 13 of his past 14 games. Those are the kind of embarrassing numbers that got predecessor Raheem Morris fired. And, before you go saying the Glazers will stick with Schiano because he has three years remaining on his contract, think about something else.
The Glazers don't like losing money. But, more importantly, they care deeply about how they and the Bucs are perceived. More than anything, the Glazers hate to be embarrassed.
Schiano was brought in to do two things. First, he was supposed to change the culture of a locker room that had run amok under Morris. He accomplished that by getting rid of the likes of
Aqib Talib
,
Kellen Winslow
and
LeGarrette Blount
. Give Schiano credit for filling the locker room with Boy Scouts (and former Rutgers players).
But the other thing Schiano was hired to do was win. He clearly hasn't done that. Just like he did in some early-season close losses, Schiano got conservative against Seattle. His staff also didn't seem to make any successful halftime adjustments.
Could things really get worse if the Bucs fired Schiano and elevated special teams coach Dave Wannstedt to interim coach? Probably not. But things probably couldn't get much worse.
The Bucs hit their lowest point in Seattle. They squandered a chance for Schiano to say, "Hey, look at what my system can do if it's run right."
But that didn't happen and the Glazers might be at a point where they need to make a big choice. Remember what I said about them not liking being embarrassed. I can't emphasize that enough.
The next game on the schedule is a Monday night contest (Nov. 11) against the
Miami Dolphins
. It will be on national television in a sold-out stadium that rarely sells out.
The Glazers have to decide what's worse -- going the interim route or run the risk of letting a national audience see Schiano get booed out of Raymond James Stadium.
September, 12, 2013
Sep 12
5:23
PM ET
TAMPA, Fla. -- On a sweltering May afternoon in 2011,
Josh Freeman
stood on a field at the University of South Florida and seemingly
never broke a sweat
.
This was during the NFL lockout, and I couldn't help but admire how firmly the 23-year-old quarterback had the
Tampa Bay Buccaneers
in his grasp. He was throwing passes with one hand and arranging the next day's practice with his cell phone in his other hand.
Freeman even fielded a phone call from
LeGarrette Blount
, who was having trouble finding USF. Blount, then a Buccaneers running back, was headed for the Howard Frankland Bridge, which is about as far away as you can get from USF and still be in Tampa. Freeman ordered Blount to stop before getting on the bridge and firmly told him to try using Interstate 275 North to Fowler Avenue the next day.
At the time, Freeman was coming off a 2010 season in which he threw for 25 touchdowns and six interceptions and led the Bucs to a 10-6 record. It appeared the Buccaneers had a franchise quarterback for the first time in franchise history.
That's why I can't help but wonder where
that
Freeman has gone.
[+] Enlarge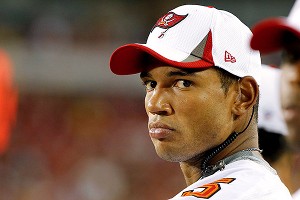 Kim Klement/USA TODAY SportsJosh Freeman enjoyed a breakthrough season in 2010. Since then, he has thrown almost as many interceptions (40) and TD passes (44).
Let's flash forward to Thursday. Reports were flying that Freeman missed the team's annual photo; other players suspected coach Greg Schiano had manipulated the vote to keep the quarterback from being a captain; and the team had a players-only meeting to discuss the voting.
Two out of three were (somewhat) wrong. Schiano emphatically denied rigging the vote, and multiple players said topic did not come up in a meeting. But the players did have a meeting, which veteran long-snapper
Andrew Economos
said was basically a pep rally to start the season.
So the only smoke that came with fire was that Freeman missed the team photo. He said he overslept, which makes you wonder if the Bucs need to bring back the guy they used to pay to make sure Blount got to practice on time.
The Bucs and Freeman did their best to throw water on the situation.
They need more water, because not everything looks right with this picture.
"The position of quarterback is a position of leadership," Freeman said. "Obviously, missing the team photo is a big deal. ... It's something I feel badly about and it's obviously upsetting. But, at the same time, you've got to put it behind you and continue to play because, like it or not, the Saints are coming to town."
You can't ignore all the other signs that something is off kilter with a guy who once seemed to be the most balanced individual inside One Buccaneer Place. And I'm not just talking about Freeman's dismal performance in the season-opening loss to the
New York Jets
.
I'm talking about the fact that Freeman looked equally dismal throughout the preseason and late last season, when he had consecutive four-interception games in December. I'm talking about the fact the Bucs decided not to sign Freeman to a long-term contract extension. I'm talking about the repeated rumblings that Freeman and Schiano don't see eye to eye.
"I do trust Josh," Schiano said. "Josh and I share a lot of things together."
"I really like playing for Coach Schiano," Freeman said.
Yeah, that all sounds nice. But I couldn't help but notice the painting on the Himes Avenue corner of Raymond James Stadium as I drove by earlier in the day and pondered the irony.
The painting featured an action shot of Freeman, flanked by action shots of defensive linemen
Adrian Clayborn
and
Gerald McCoy
with a message on top: "Fear No Enemy."
Are Freeman and Schiano enemies? Are they at odds?
They say they're not.
"It may be an issue outside this building," Schiano said. "It's not an issue inside this building."
Freeman said basically the same thing.
But still I wonder what happened to that calm, cool quarterback from that day back at the University of South Florida.
As Freeman stood at a podium on Thursday and went through an interview session that was more like an interrogation, he, seemingly, was sweating.
Maybe Freeman puts it all together against the
New Orleans Saints
on Sunday and Freeman, Schiano and the Bucs live happily ever after.
Or maybe Freeman has another lackluster game and the smoke just continues to get thicker.
September, 9, 2013
Sep 9
9:21
AM ET
At long last, the
Tampa Bay Buccaneers
are going to get a good look at Jeff Demps.
The track and field star reportedly will join the Bucs on Monday,
according to Scott Reynolds
. The Bucs picked up Demps as part of the
LeGarrette Blount
trade in the offseason. But Demps spent the summer running track.
Now, he's ready to play football. Demps, who played running back in college at the University of Florida, might be a project. But he has world-class speed.
The Bucs will look at Demps as a return man and a backup running back.