Tampa Bay Buccaneers:

Major Wright
July, 31, 2014
Jul 31
8:00
PM ET
TAMPA, Fla. -- If you're looking for an under-the-radar player with a chance to make Tampa Bay's roster, you might want to consider wide receiver
Tommy Streeter
. But look quickly because Streeter might not be an unknown for much longer.
Streeter already is catching the eyes of his teammates and coaches.
"We kind of have a running joke, 'Man, that dude is catching the ball right and left, over and over,'" quarterback
Josh McCown
said after Thursday's practice. "It's like one of the better camps I've been around for a receiver. He's just got so many dang catches. And he's just doing his job. He's just a humble, hard-working guy that comes out here every day and gets after it. He catches the ball when it's thrown to him and that's all you can ask for as a player."
[+] Enlarge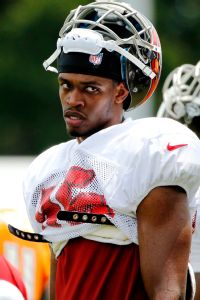 Kim Klement/USA TODAY SportsTampa Bay quarterback Josh McCown said Tommy Streeter's performance this summer is "one of the better camps I've been around for a receiver."
Streeter's talent flashed again in Thursday's practice when he made a nice catch when matched up against veteran safety
Major Wright
.
"He's another guy with good size, good height, good speed and he's been catching the football," coach Lovie Smith said. "You talk to him and he doesn't want a whole lot of complements, he's just 'Hey, I'm just trying to do my job, trying to get better very day,' saying all the right things, just making plays. That's all you have to do as a player. You don't have to worry about, am I going to make the roster, am I going to get enough plays. If you get one play, you do something, you'll continue to get more. We've noticed him. When we initially came to camp he's wasn't one of the guys we were talking a lot about. But he's been pretty steady every day."
Streeter seems to be putting himself in line for a roster spot in a receiving corps in which the only sure things are starters
Vincent Jackson
and
Mike Evans
.
A sixth-round draft pick by Baltimore in 2012, Streeter has been unable to make an impact in the NFL so far. But he's not a stranger to the big stage. Streeter played at the University of Miami.
"No, I'm not afraid," Streeter said. "I've been doing this since age 7. I don't see any difference at any level. It all comes down to, at this level, how much goes into the preparation before the dance."
Streeter has been preparing for the dance by paying close attention to Jackson. That's a wise choice because Streeter is the same size (6-foot-5) as Jackson.
"I talk to him every day," Streeter said. "I ask him different questions on how do you run this route based on different leverages and techniques. Basically, what little tricks and crafty moves he has that he uses to get open. I try to incorporate that in my game as well."
Streeter said he already has learned a lot from Jackson.
"His ability to drop his weight and get in and out of his cuts," Streeter said. "He comes downhill and he's aggressive to the ball. That's something I always continuously try to improve on. At the University of Miami, I was always the deep ball guy. When you come here in this offense there's a lot of route running involved. That's something I continuously work on and something I always try to get better at."
Streeter may not have the NFL pedigree, but he came out of one of the nation's top high school programs. That's Miami Northwestern.
"They used to call us the University of Northwestern," Streeter said.
Streeter's high school team also featured two other Buccaneers, linebacker
Lavonte David
and cornerback
Anthony Gaitor
. Streeter wore the same jersey (No. 5) as previously worn by
Kenbrell Thompkins
, who now is with the
New England Patriots
, and later worn by
Minnesota Vikings
quarterback
Teddy Bridgewater
.
"My coach, when he gave it to me, he was like 'Son, I'm going to give you No. 5. You might have to do a little history to understand the importance of this number and the guys who wore it before you and what they did,'" Streeter said. "I was kind of nervous, like 'Does the No. 5 jersey glow or something? Is everybody watching me?' But nonetheless, I thrived in that environment."
If Streeter can continue doing what he has been doing in practice, he might be able to thrive with the Buccaneers.
July, 23, 2014
Jul 23
12:13
PM ET
The next stop on our pre-camp position-by-position analysis of the
Tampa Bay Buccaneers
is the defensive backfield.
The new regime quickly decided that
Darrelle Revis
wasn't an economic or schematic fit and released the cornerback. The Bucs are switching to the Cover 2, and Revis' talents might have gone to waste in that system.
Verner
The Bucs signed free-agent
Alterraun Verner
to be their No. 1 cornerback. He came at a much better price than Revis, and he's a natural fit in the Cover 2. The second cornerback spot still is murky.
Johnthan Banks
started there last year as a rookie, but the Bucs brought in
Mike Jenkins
to compete with him.
Logic says the loser of that battle becomes the nickelback. But coach Lovie Smith takes a different approach with nickelbacks. He treats it as an individual position and has a coach (Larry Marmie) responsible just for coaching the nickelbacks.
Leonard Johnson
and
Danny Gorrer
got work at nickelback in the offseason program.
The safety spots are a little more certain. Barring injury,
Mark Barron
will start on the strong side and
Dashon Goldson
will be at free safety. There's solid depth behind them with
Major Wright
and
Keith Tandy
.
May, 5, 2014
May 5
3:15
PM ET
We conclude our pre-draft position-by-position look at the
Tampa Bay Buccaneers
with the defensive backfield.
Where things stand:
The team parted ways with
Darrelle Revis
because his skills weren't going to be showcased in the Cover 2 scheme and his salary could be used for a lot of other things. But the team filled Revis' place nicely by signing
Alterraun Verner
. He's a natural fit in the Cover 2 and he came at a reasonable price. Verner instantly becomes the No. 1 cornerback.
Johnthan Banks
and free-agent pickup
Mike Jenkins
will compete for the second and third spots. Safeties
Dashon Goldson
and
Mark Barron
have plenty of talent and could thrive if they can adjust to the Cover 2. The Bucs also brought in safety
Major Wright
, who played for coach Lovie Smith in Chicago, for depth.
What to watch for:
This defensive backfield is very well stocked and it's unlikely the team will use any early draft picks on the secondary. The Bucs could use a late-round pick on a defensive back, but depth at this position is not a huge priority.
April, 9, 2014
Apr 9
12:46
PM ET
Although the
Tampa Bay Buccaneers
are about $13 million under the salary cap, general manager Jason Licht has been maximizing the team's position by taking advantage of the veteran minimum benefit.
Wright
I just got a look at the details of the contracts for the two most recent signings by the Bucs -- safety
Major Wright
and wide receiver
Lavelle Hawkins
. In both cases, Licht used the veteran minimum benefit, which allows a player to count less against the salary cap than he actually makes.
Some people were wondering how Wright, who was a starter in Chicago, fit into the safety situation with
Dashon Goldson
and
Mark Barron
. Wright's one-year contract makes it very clear the Bucs view him as a backup.
Wright's deal includes a $730,000 base salary and a $65,000 signing bonus. But the minimum benefit allows Wright to cost only $570,000 against the cap.
Hawkins signed a similar deal. His one-year contract features a $730,000 base salary. Hawkins will receive a $65,000 bonus if he's on the 53-man roster for the opening game. But Hawkins will only count $570,000 against the cap.
April, 4, 2014
Apr 4
5:32
PM ET
Tampa Bay coach Lovie Smith has reached back into his past to add some more depth for the secondary.
Former Chicago safety
Major Wright
agreed to terms with the Buccaneers on Friday evening.
The move is somewhat curious because the Bucs appear to have starters at both safety positions with
Dashon Goldson
and
Mark Barron
. But Goldson has had issues with being fined for illegal hits.
At best, Wright could challenge Goldson for a starting job. But it's more likely that Wright will play in sub packages and on special teams.
April, 2, 2014
Apr 2
8:00
AM ET
The
Tampa Bay Buccaneers
could be adding some depth to their defensive backfield with a player who has strong ties to coach Lovie Smith.
Safety
Major Wright
arrived in Tampa on Tuesday night and will visit with the Bucs on Wednesday. Wright previously played for Smith in Chicago. But the interest in Wright is somewhat surprising because the Bucs appear to be in good shape at safety.
They have
Mark Barron
at strong safety and
Dashon Goldson
at free safety. Although Wright was a starter during most of his time in Chicago, the Bucs could be looking to use him in sub packages and on special teams.