Tampa Bay Buccaneers:

Michael Vick
March, 7, 2014
Mar 7
11:00
AM ET
»
AFC Free-Agency Primer
:
East
|
West
|
North
|
South
»
NFC
:
East
|
West
|
North
|
South
Key free agents:
LB
Adam Hayward
, FB
Erik Lorig
, LB
Jonathan Casillas
and WR
Tiquan Underwood
.

Where they stand
: The Buccaneers don't have any huge names among their own free agents, but they'd like to keep some of them as role players. Hayward is a key special-teams player and Lorig is important as the lead blocker for
Doug Martin
in the running game. If Casillas returns, he's a candidate to start at strongside linebacker. The major need on defense is for a pass-rusher. On offense, the team may look to overhaul its offensive line. Tight end and depth at wide receiver also are big needs.
What to expect:
The Bucs were 4-12 last season and they have a new coaching staff and general manager. That means there will be significant changes. The Bucs have $18 million in cap room, so they're going to be active in free agency, even though they've stated their goal is to build through the draft. Look for connections to the new regime to play into free-agent signings. Return man
Devin Hester
and cornerback
Charles Tillman
played for coach Lovie Smith in Chicago and defensive coordinator Leslie Frazier worked with defensive end
Jared Allen
in Minnesota. All of those players could be prime targets. A veteran quarterback also could be added to the mix, with
Josh McCown
and
Michael Vick
as possibilities.
March, 7, 2014
Mar 7
8:00
AM ET
Tampa Bay coach Lovie Smith has said he would like to bring in a veteran to add to the quarterback mix. The team wants to add competition for
Mike Glennon
, who started 13 games last season.
The Bucs also may draft a quarterback, but it's important to Smith to have some experience. With free agency starting next week, let's look at three available quarterbacks who could be targets for the Bucs.
Michael Vick:
He's the biggest name in this year's group of free-agent quarterbacks. Vick has plenty of experience and has played at high levels at previous times in his career. But Vick's age and injury history could work against him.
Josh McCown:
He might be the hottest name on the market after playing well in place of the injured
Jay Cutler
in Chicago last season. McCown might be a better long-term option than Vick. He also might be a better fit in Tampa Bay's offensive scheme.
Rex Grossman:
His career has fizzled in recent years. But let's not overlook the fact that Grossman and Smith went to a Super Bowl together in Chicago.
February, 3, 2014
Feb 3
11:41
AM ET
TAMPA, Fla. -- It's just one day after the Super Bowl and the
Tampa Bay Buccaneers
may already be facing a quarterback controversy.
ESPN's Adam Schefter reported that the Bucs are one of two teams (the Jets are the other) to
potentially have interest
in Philadelphia quarterback
Michael Vick
, who is expected to become a free agent in March. That report is likely to cause a stir because it involves a big-name quarterback.
But I'm not convinced bringing in Vick would be the right move for the Buccaneers. My main reason for skepticism is that I don't believe Vick is a long-term answer and this franchise needs one. Vick is 33 and has a history of injuries.
If the Bucs brought in Vick, it could be taken as a sign that they're giving up on
Mike Glennon
. I don't think the Bucs are ready to give up on Glennon, who did some good things as a rookie.
The new coaching staff still is evaluating what it has in Glennon. Although bringing in some competition may be a possibility, I'm getting indications the Bucs are starting to think Glennon can be their quarterback.
January, 7, 2014
Jan 7
8:00
AM ET
TAMPA, Fla. -- In his first public comments as coach of the
Tampa Bay Buccaneers
, Lovie Smith wasn't about to name
Mike Glennon
his starting quarterback. But he also wasn't about to rule out Glennon, who started 13 games as a rookie.
"I had a chance to watch growth from Mike from the time he started until the end of the season,'' Smith said.
Glennon was drafted by former coach Greg Schiano, who unsuccessfully tried to recruit the quarterback to Rutgers out of high school. One of the knocks on Glennon is that he's not very mobile, but Smith indicated that might not be a problem.
"If you look in the league right now, there are quarterbacks leading their team that aren't as mobile as others,'' Smith said. "[Philadelphia's]
Michael Vick
was on the sideline, a mobile guy, where the starting quarterback
Nick Foles
was different. You can win with different [styles of quarterbacks]. If we have other things around, we'll be able to win with whatever gifts our quarterback has.''
The Bucs hold the No. 7 overall pick in the NFL draft and have room under the salary cap to pursue a free agent. But Smith wasn't ready to say the Bucs will follow either of those routes.
"Do I believe in a franchise quarterback?'' Smith said. "Well, you're going to have to explain franchise. I believe you need to have a very good player at that position. Do I think you need to have a Hall of Fame guy to be able to win in the NFL? No, I don't think you need that. But the better the quarterback the more games you're going to win. I think you can still win with a good quarterback.''
Is Glennon good enough? That's something that will be sorted out by Smith and his staff -- once it's in place.
October, 13, 2013
10/13/13
4:06
PM ET
TAMPA, Fla. -- A few thoughts on the
Tampa Bay Buccaneers
' 31-20
loss
to the
Philadelphia Eagles
at Raymond James Stadium:

What it means:
The Bucs are 0-5 and going nowhere fast. They couldn't even beat a mediocre team at home. Coach Greg Schiano has lost 10 of his past 11 games, dating back to last season. Schiano is officially on the hot seat and the Bucs are officially in contention for the No. 1 overall pick in the 2014 draft. By late in the fourth quarter, much of the rare sellout crowd that remained in the stands was wearing Philadelphia green jerseys. The Bucs have looked to be in disarray all season and things aren't getting any better.
Still a rookie:
Making his second start, quarterback
Mike Glennon
looked good at times. But his third-quarter interception, which came on an apparent miscommunication with wide receiver
Tiquan Underwood
, helped set up a touchdown that put the Eagles ahead for good.
Stock Watch, rising:
Tight end
Tim Wright
quietly had a nice game. For the first time this season, the tight end was a factor in the passing game. Wright had seven catches for 91 yards.
Stock Watch, falling:
The zone defense. The Bucs need to scrap it because it's not working. Cornerback
Darrelle Revis
never should be asked to play zone defense.
History repeats itself:
Nick Foles
started at quarterback in place of an injured
Michael Vick
, for the second straight game, and led the Eagles to victory in Tampa.
What's next:
The Bucs play the
Atlanta Falcons
at the Georgia Dome next Sunday.
October, 11, 2013
10/11/13
8:00
AM ET
TAMPA, Fla. -- With some help from ESPN Stats & Information, let's take a by-the-numbers look at Sunday's matchup between the
Tampa Bay Buccaneers
and
Washington Redskins
.
The Bucs are 0-4 for the first time since 2009, when they started 0-7. If they start 0-5, it will be the eighth such start in franchise history. Since the Bucs came into existence in 1976, only the Bengals (nine) have more 0-5 starts.
Tampa Bay quarterback Mike Glennon was blitzed on 47 percent of his dropbacks in his starting debut against Arizona. Only Carolina's Cam Newton (48.6 percent) has been blitzed more frequently.
Glennon had trouble when throwing to Vincent Jackson in his debut. Glennon targeted Jackson 11 times, but only two of those wound up as receptions. Glennon's two interceptions came on passes intended for Jackson.
The Bucs are the only team in the NFL to not score more than 17 points in a game this year. The 2011 Rams are the last team to score 17 or fewer points in their first five games.
The Bucs are 5-1 in their last five games following bye.
Due to an injury to Michael Vick, it's not yet clear if he or Nick Foles will start at quarterback for Philadelphia. The two quarterbacks bring different skill sets. When Vick has been in the game, the Eagles have used the read option on 36.3 percent of their plays. With Foles in the game, the Eagles have used the read option 22.4 percent of the time.
Vick has been sacked on 8.6 percent of his dropbacks this season. That's due largely to the fact that he has held onto the ball for 4.2 seconds, the second-highest rate in the NFL. Foles has been sacked on 3.2 percent of his dropbacks and his average time in getting rid of the ball is a full second faster than Vick's.
Running back LeSean McCoy has averaged 3.3 yards with Foles at quarterback over the last two seasons. With Vick at quarterback, McCoy has averaged 4.8 yards per carry.
Philadelphia's defense ranks 31st in the league in average yards allowed per game (434). The 159 points allowed by the Eagles are the most by their franchise through five games since 1969 when they allowed 165 points.
October, 10, 2013
10/10/13
12:00
PM ET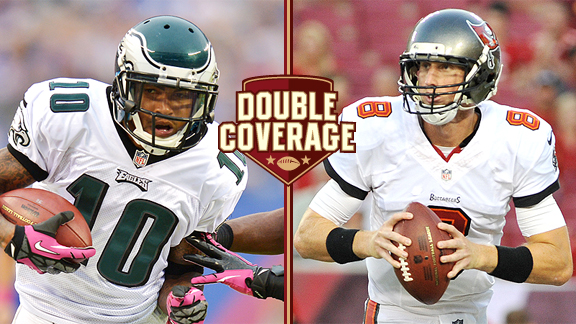 Getty ImagesDeSean Jackson is on pace for over 1,600 yards, while Mike Glennon is looking for his first win as an NFL starter.
TAMPA, Fla. -- Sunday's meeting between the
Philadelphia Eagles
and
Tampa Bay Buccaneers
represents a culture clash of offensive styles.
The Eagles have been making headlines with their fast-paced offense, while the Bucs have been plodding along with a passing offense that ranks No. 32.
ESPN.com Eagles team reporter Phil Sheridan and Bucs team reporter Pat Yasinskas discuss the matchup.
Phil Sheridan:
Eagles fans are familiar with Bucs coach Greg Schiano through his Rutgers and Penn State connections. Has he been able to hold the locker room together through this
Josh Freeman
episode?
Pat Yasinskas:
It has been a challenge and I guess you could say it remains a work in progress. There have been some reports that some veteran players aren't sold on Schiano's old-school ways. He might be a little overboard with his thoughts on order and discipline. But this was a team that was in disarray when he arrived. The Freeman episode was a major distraction, but it's over now. Schiano needs to take this team and move forward from all the Freeman stuff.
Speaking of coaches who have come from college backgrounds, Chip Kelly fits that profile and his offense has generated a lot of headlines. From a distance, it seems as though Kelly's offense has been up and down. What are your thoughts on whether this offense can be successful in the NFL over the long term?
Sheridan:
Talk about a work in progress. We all saw the Eagles burst out of the blocks in that Monday night opener in Washington. We really haven't seen much of the Kelly offense -- uptempo, innovative, aggressive -- since then. The Eagles have the NFL's top rushing offense, but that seems inflated by quarterback
Michael Vick
's rushing yards as well as defenses' willingness to let the Eagles amass yardage as long as it doesn't translate to a lot of points. Meanwhile, it does seem as though the offense wears down in games after trying to push the tempo early. I'm not sure that means Kelly's scheme won't work in the NFL or if he just doesn't have the personnel to run it.
On that note, it's especially tough on a team when one side of the ball is playing at a high level and the other is struggling. How has the Bucs' defense been able to hold opponents to such low-scoring totals?
Yasinskas:
Pitting the defense against the offense is another concern for the Bucs. Their defense has played well, overall, while the offense has struggled mightily. Although no one has griped publicly, I sense that the defensive players are frustrated with the lack of production from the offense. The secondary, the defensive line and the linebackers all have had some very bright moments. But the offense has been dismal. If things continue like they are, it's only a matter of time before there are some ill feelings from the defensive players.
Speaking of the defense, how has Philadelphia's been so far? It seems like all the talk has been about the offense, but we really don't know much about the defense.
Sheridan:
Talk about a work in progress -- oops, did I already say that? Kelly hired Bill Davis to install a 3-4 defense with a bunch of new starters (three quarters of the secondary, plus
Connor Barwin
), or old starters at new positions (
Trent Cole
, especially). The defense was OK in the opener, terrible for long stretches against San Diego, Kansas City and especially Denver, then OK again against the Giants on Sunday. There are no real playmakers, the kind who keep offensive coordinators up at night, but overall, this group seems to be jelling a bit better. The equation this year always had the offense producing enough points to carry a developing defense. So far, the offense has let down the defense.
Other than he's tall,
Mike Glennon
is an unknown to people around here. Can he play on this level or do you sense the bigger plan is to get through this season and find a quarterback in the draft?
Yasinskas:
The jury is very much out on Glennon. But Schiano has liked Glennon since he tried to recruit him out of high school and would like to make things work. Glennon is the kind of quarterback Schiano likes -- he's a rah-rah, fiery leader (something Freeman was not). Perhaps more importantly, Glennon has the big arm that Schiano covets. Schiano's core offensive philosophy is to run the ball well and take some deep shots with the passing game, so Glennon fits the profile of what Schiano is looking for in a quarterback.
Speaking of quarterbacks fitting in, how much different should we expect Philadelphia's offense to be with
Nick Foles
playing in place of Vick?
Sheridan:
I won't use the work-in-progress joke again because I'm better than that. Kelly swears it is the same offense regardless of who is playing quarterback. That is what we football insiders technically call balderdash. Kelly went with Vick because the veteran still represents a serious threat to run the ball, which in turn gives Kelly's read-option the edge it needs. Foles can move in the pocket and elude a pass rush, but his mobility doesn't translate to 20-yard read-option runs. But he does get the ball out more quickly in a rhythm passing game, so it will be interesting to see if the receivers who haven't been open for Vick -- talking
Riley Cooper
,
Jason Avant
and the tight ends -- are more involved if Foles plays.
.
October, 9, 2013
10/09/13
3:06
PM ET
TAMPA, Fla. -- When it comes to dealing with the media, defensive tackle
Gerald McCoy
might be the most gregarious and playful member of the
Tampa Bay Buccaneers
.
McCoy was at the top of his game Wednesday when asked about Philadelphia quarterbacks
Michael Vick
and
Nick Foles
. Vick has a hamstring injury and his status for Sunday's game at Tampa Bay is unclear.
"I hope Mike Vick hears this,'' McCoy said in a playful tone. "He's done this to me the past two years. He gets hurt the week before I finally get to play against a guy I've been wanting to play against since I was a kid. So, Vick, if you hear this, I don't like it. Not because I don't like you, but because you get hurt the week before I finally get to play against you. You're a great competitor and I would love to compete against you. But since you don't want to play, I'll talk about Nick Foles.''
McCoy then went on to talk about Foles in a more serious manner.
"He is an underrated passer and an underrated athlete,'' McCoy said. "He beat us a lot last year with his legs and scrambling ability. I think people underestimate his athletic ability because he plays next to a Mike Vick. But that guy is good. He beat us last year, so we know what he can do and we have a tough test ahead of us.''