Tampa Bay Buccaneers:

Mike Alstott
August, 3, 2014
Aug 3
8:00
AM ET
Now that Derrick Brooks is in, it's time to start wondering about who will be the next player with Tampa Bay ties to enter the Pro Football Hall of Fame.
The
Tampa Bay Buccaneers
have had a nice run with Warren Sapp and Brooks getting selected in back-to-back years. But it might be a while before they have some Tampa Bay company.
John Lynch is one candidate many Tampa Bay fans think belongs in the Hall of Fame. But Lynch already has come up short in two elections. Lynch has a very nice resume and might be able to slide in during a year when the competition isn't stiff.
But let's face reality here. Lynch might never get in. It's difficult for safeties to get into the Hall of Fame. Lynch made a history as a hitter, and safeties are measured mostly by interception totals. Lynch might keep getting passed over.
Cornerback Ronde Barber probably has a better shot than Lynch. But Barber, who isn't eligible for three more years, isn't the sure first-ballot Hall of Famer many Buccaneers fans assume he is. Barber at least is in the conversation, but it might take some time for him to get in.
Barber might need the stars to align properly in a given year to get elected.
There also are a lot of Tampa Bay fans that believe fullback Mike Alstott belongs in the Hall of Fame. Um, that's not going to happen. Alstott was a very nice player. But he didn't have big stats, and fullbacks don't make the Hall of Fame these days.
So who's the next Buccaneer to head to the Hall of Fame? It could be Barber. If not, it could take another generation.
Gerald McCoy
could be a candidate if he turns in another eight or so seasons similar to the past two.
July, 9, 2014
Jul 9
10:00
AM ET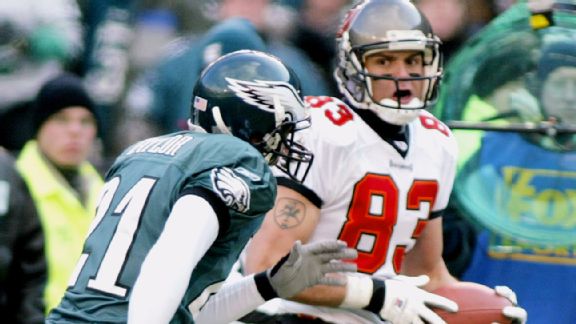 REUTERS/Jason Cohn
»
VOTE HERE
»
NFC Plays:
East
|
West
|
North
|
South
»
AFC:
East
|
West
|
North
|
South
This is one of three nominations for the most memorable play in team history. In the next two days we'll feature: Derrick Brooks' interception return for a touchdown in Super Bowl XXXVII, and Ronde Barber's interception return for a touchdown in the 2002 NFC Championship Game. Please vote for your choice as the Buccaneers' most memorable play.
Score:
Buccaneers 27, Eagles 10
Date:
Jan. 19, 2003
Site:
Veteran's Stadium

In the days leading up to the NFC Championship Game it looked like Tampa Bay receiver Joe Jurevicius might not play. His son had been born prematurely and was critically ill (he died two months later). Jurevicius did not practice that week. But at the last minute, he decided to make the trip.
This was the last game ever played by the Eagles at Veteran's Stadium, and Philadelphia held a four-game winning streak, including a pair of playoff victories, against the Buccaneers. Jurevicius would make only one catch that day, but it ended up being one of the most emotional and memorable in franchise history.
Late in the first quarter, Jurevicius ran a crossing route and got ahead of linebacker Barry Gardner. He caught Brad Johnson's pass in stride. Jurevicius was never known for his speed and he seemed to be running forever. He was
finally
stopped just short of the goal line, but he set up a short touchdown run by Mike Alstott.
"When you put ... a 96-yard touchdown drive together against this defense in Veterans Stadium," Tampa Bay coach Jon Gruden said at the time, "you're kind of like the Lone Ranger, like you're the only person that's done it."
The catch by Jurevicius gave the Bucs an emotional lift and helped them get on a path that led to their first Super Bowl.
@PatYazESPN Joe's play wins for the reasons Ive tweeted. Emotional & memorable in equal measure for what it meant on & off the field.

— Lee Bromfield (@LeeBrom) June 9, 2014
June, 6, 2014
Jun 6
1:01
PM ET
At NFL Nation, we're doing a special project that's scheduled for July.
The writers for all 32 teams are putting together a list of the most memorable plays in franchise history and, then, we'll ask readers to vote on the winner for each team. I've surveyed readers on Twitter and many of the responses are what I expected.
Derrick Brooks' interception in the Super Bowl and Ronde Barber's interception in the NFC Championship Game are on virtually every list. But we're going to present you with three memorable moments to vote on.
That third spot is where I'm seeing a lot of differing opinions. Joe Jurevicius' tip and catch against the
Philadelphia Eagles
is getting plenty of attention. But so is
Matt Bryant
's 62-yard field goal. So is Warren Sapp's sack of Steve Young and Mike Alstott's pinball run through the
Cleveland Browns
defense.
I'm sure there are some other memorable
Tampa Bay Buccaneers
plays that haven't been mentioned. And I'm sure some of you have plays that you would rank ahead of the ones by Barber and Brooks.
I'd like to hear as many opinions as possible before narrowing the list. Hit me on Twitter using #NFLNBuccaneersTopPlays or make your case in the comments section attached to this post.
May, 30, 2014
May 30
1:00
PM ET
The other day, I wrote about
future candidates
for the
Tampa Bay Buccaneers
' Ring of Honor.
We talked about Doug Williams, Ricky Bell,
Mike Alstott
,
John Lynch
, Monte Kiffin, Tony Dungy, James Wilder and
Ronde Barber
. I think all of them should get into the Ring of Honor at some point.
But they may have to take a spot in line. With the death Wednesday of owner Malcolm Glazer, there's another obvious candidate.
Glazer deserves a spot in the Ring of Honor as soon as possible. Although he wasn't always popular with fans, Glazer did more for this franchise than anyone.
When he paid a then-record $192 million for the Bucs in 1995, Glazer was taking over a franchise that was a laughingstock. The Bucs had been bad for most of their existence and there was even talk about the team moving out of Tampa Bay.
Glazer fought a hard battle to get taxpayers to fund a new, state-of-the-art stadium that kept the Bucs in town. He also started changing just about everything.
He put the Bucs in new red and pewter uniforms. He also hired Dungy, who turned the franchise into a consistent winner. When Dungy couldn't quite get the Bucs over the hump, Glazer made a tough decision. He fired Dungy and traded for Jon Gruden.
In Gruden's first season, the Bucs won the Super Bowl. Speaking of Super Bowls, Glazer was instrumental in bringing two of them to Tampa Bay.
There are a lot of candidates with qualifications that make them worthy of the Ring of Honor. But none of them have better qualifications than Glazer.
May, 29, 2014
May 29
8:00
AM ET
Scott Smith of the Buccaneers' official website took
a look into the future
, exploring possible 2015 inductees into the team's Ring of Honor.
That gave me a lot to think about. Smith lists James Wilder, Tony Dungy, Monte Kiffin, Mike Alstott and John Lynch as the top five candidates. I've got no problem with any of those possibilities and I also would include Ronde Barber after a little more time passes from his retirement. All of those guys belong in the Ring of Honor at some point.
But there are two players from deep in the team's history that I think belong in the Ring of Honor -- quarterback Doug Williams and running back Ricky Bell. This is where things get a little tricky.
Since starting the Ring of Honor, the Bucs pretty much have gone in chronological order. Derrick Brooks will be inducted in September and Warren Sapp got the honor last year. That makes plenty of sense because Sapp went into the Pro Football Hall of Fame last year and Brooks will go in this summer.
Brooks and Sapp were from the Dungy era, so it would make sense if Dungy, Kiffin, Alstott or Lynch was chosen in 2015. I'd put Lynch and Alstott as the early favorites.
But I'd like to offer a suggestion to the Bucs. The rules for the Ring of Honor don't limit the number of inductees to one per year. Next year would be the perfect year to break from tradition and induct two people. Reach deep into the past and make Williams or Bell one of the inductees along with one of the Dungy-era candidates.
Williams and Bell have been passed over before, but it's time to get one (or both) of them into the Ring of Honor. Bell's career and life were cut short by an illness. But, for a brief period, Bell was one of the best running backs in the league and a class act off the field.
Williams probably already should be in the Ring of Honor and he's partly to blame. Williams helped the Bucs go from an expansion team to respectability. But his spot in team history has been clouded a bit. Williams came to work in the team's personnel office, but that didn't last. Williams clashed with former general manager Mark Dominik and left the team on bad terms.
It's time for Williams to set aside his bitterness. And it's time for the Bucs to set aside memories of Williams' departure.
The Ring of Honor is a very special thing and it should fully represent the team's history.
April, 14, 2014
Apr 14
8:00
AM ET
I'm taking a little time off. But, while I do, I wanted to leave you with something to keep you entertained.

Starting today and continuing through the rest of this week, I'm going to share with you my ranking of the top five players in Tampa Bay history.

I'm going to start with Doug Williams at No. 5. Williams wasn't a slam dunk like the first four (although the order on them was a challenge). As I attempted to come up with No. 5, I considered players like John Lynch, Jimmie Giles, Mike Alstott, Paul Gruber and Hardy Nickerson.

After a lot of thought, I chose Williams. My reasoning was simple. Williams and Lee Roy Selmon, who will be a little higher up in the top five, were the two players who first brought respectability to a franchise that began its existence with an 0-26 record.

Williams led the Bucs to the NFC Championship Game in just their fourth year of existence. Williams never put up spectacular numbers, but he had a knack for producing in the clutch. I have no doubt that Williams would have ranked higher on this list if he had stayed with the Bucs longer.

But Williams spent only five years in Tampa Bay. He left for the United States Football League after an ugly salary dispute. The Bucs went into a tailspin after Williams' departure and some suggested it was karma for the way the team treated Williams.

Things were smoothed over for a while as Williams came to work in the team's personnel office in the 2000s. But Williams and former general manager Mark Dominik clashed and Williams left the team. It's a shame that one of the best players in franchise history has an icy relationship with the team.
April, 10, 2014
Apr 10
3:00
PM ET
While I take some time off next week, I'm going to leave you with a daily countdown of the five best players in
Tampa Bay Buccaneers
history.
I'll be going by my opinion. I'm still making up my mind on the final rankings, but the list of candidates (in no particular order) includes Lee Roy Selmon,
Warren Sapp
,
Derrick Brooks
,
John Lynch
,
Ronde Barber
,
Mike Alstott
,
Paul Gruber
,
Hardy Nickerson
, Jimmie Giles and Doug Williams.
Let's have a little fun. Let's hear your top five Bucs of all time in the comments section below and you'll see mine over the course of next week.
February, 13, 2014
Feb 13
8:00
AM ET
Basketball's
LeBron James
caused a stir when he said
he should be on the NBA's Mount Rushmore
. With that in mind, let's have a little fun.
Let's talk about a Mount Rushmore for the
Tampa Bay Buccaneers
.
There are only four slots available and I'm not seeing anyone on the current roster who deserves that status. There are some current players who can get there, but they're not there yet. That's why I think you have to go back into Tampa Bay's past to determine who deserves to be included.
At least in my eyes, the first three spots are easy. Then, there's a tough call for the fourth spot.
Here are my four choices for a Buccaneers' Mount Rushmore. Feel free to add your thoughts in the accompanying comments section.
Lee Roy Selmon:
You have to start with Selmon because he was Tampa Bay's first superstar. He brought respectability to the franchise in its early years and had a Hall of Fame career.
Derrick Brooks:
For years, Selmon was unquestionably the best player in franchise history. Selmon's greatness hasn't diminished, but I'd give Brooks the nod as the best player in franchise history now.
Warren Sapp:
Like him or not -- and many don't -- you have to give Sapp his props as a player. He was the first Tampa Bay player to make the Pro Football Hall of Fame on the first ballot.
Tony Dungy:
This one's a tough call and I had a tough time choosing Dungy over
Ronde Barber
,
John Lynch
,
Mike Alstott
, Doug Williams, Jon Gruden and John McKay for the final spot. But I'm going with Dungy because he was the first coach to make this franchise consistently respectable. By the way, I'm giving retired tight end
Tyji Armstrong
special honorable mention for his many contributions.
February, 3, 2014
Feb 3
9:31
AM ET
TAMPA, Fla. -- There's a lot of talk among Tampa Bay fans about how Tony Dungy and John Lynch got snubbed in the Pro Football Hall of Fame selection process over the weekend.
I think snubbed is way too strong of a term. Dungy and Lynch weren't slam-dunk candidates like former Tampa Bay linebacker Derrick Brooks, who was selected in the first year he was eligible. Dungy and Lynch made it to the final 15 modern-era candidates and that alone is an honor.
But Dungy and Lynch each had some holes in their résumés. For Dungy, it's the fact that he won only one Super Bowl despite having a great defense in Tampa Bay and
Peyton Manning
in Indianapolis. Lynch was hampered by the fact he played safety. It's hard to get a safety into the Hall of Fame unless his interception total is astronomical.
I think those who are talking about snubs got spoiled by the first-ballot selections of Brooks this year and Warren Sapp last year. They made the process look easy, but it's not. Brooks and Sapp had credentials that couldn't be questioned. The same can't be said for Dungy and Lynch.
Will Dungy and Lynch eventually get into the Hall of Fame? It's entirely possible, but they need a year in which the class isn't as strong as it was this year. I think cornerback Ronde Barber, who will be eligible in four years, is going to fall into a similar category. And let's not even get into the belief that many Tampa Bay fans have that Mike Alstott should be a Hall of Famer.
Then, there's one other factor to consider. How many guys from a team who won only one Super Bowl do you put in the Hall of Fame? It's not like the Bucs (in their prime) were the
Pittsburgh Steelers
of the 1970s.
Dungy, Lynch and Barber may end up in the Hall of Fame but it's not going to be nearly as easy as it was for Brooks and Sapp.
January, 11, 2014
Jan 11
8:00
AM ET
TAMPA, Fla. -- Time for the latest installment of the
Tampa Bay Buccaneers
' mailbag.
Matt in Tampa
asks if I think the Bucs will make a run at a "franchise quarterback" or go with
Mike Glennon
.
Pat Yasinskas:
Matt is one of many asking some variation of this question. My honest answer is I think Glennon can be a good quarterback with a good team around him. I'm not sure he can carry a mediocre supporting cast. At the very least, I think the Bucs have to bring in someone to compete with Glennon. At the most, I could see them using their first-round draft pick on a quarterback. After all, the other three teams in the NFC South all have franchise quarterbacks. If the Bucs want to compete with them, it would be nice to have a franchise quarterback.
---
Steven in Cheyenne, Wyoming
asks when I think the Bucs will win an NFC South title again.
P.Y.
The best thing the Bucs have going for them is history. No team ever has won the NFC South in back-to-back seasons. The Saints and Panthers both went 7-9 in 2012 and are in the playoffs this season. I think (with a few additions at the right spots) the Bucs have enough talent to turn things around pretty quickly.
---
Andrew in Ft. Rucker, Ala.
wonders how
Darrelle Revis
will fit in the new defense.
P.Y.
Lovie Smith was asked about that at his introductory news conference, and he made it clear the Bucs won't be playing Cover 2 every snap. Revis is a unique talent, and Smith will adjust his defense to allow for more man-to-man coverage.
---
Neil in Barnsley, U.K.
wants to know about the health status of
Carl Nicks
.
P.Y.
That's a great question, and I've been trying to get a straight and simple answer. I haven't had much luck. But it sounds like there is at least concern that Nicks' toe never will be 100 percent. I'll keep checking around on that one.
---
Eric in Florence, Ky.
asks why Mike Alstott isn't included in talks about the Pro Football Hall of Fame.
P.Y.
The problem is Alstott was a fullback, and fullbacks in the modern era simply don't get the chance to put up Hall of Fame statistics. But Alstott was a very good football player for a long time, and I think he at least deserves a spot in Tampa Bay's Ring of Honor.
January, 6, 2014
Jan 6
6:15
PM ET
TAMPA, Fla. -- There's a bizarre story that sums up the Greg Schiano era with the
Tampa Bay Buccaneers
.
The short version of the Schiano story goes like this: Retired safety
Dexter Jackson
, the most valuable player of the team's only Super Bowl, told a Tampa radio station in October that Schiano tried to run him out of practice when he visited the facility.
Nothing like that's ever going to happen now that Lovie Smith is the coach.
"I'm going to reach out to all of our former Buccaneers," Smith said Monday as he formally was introduced as the 10th head coach in franchise history. "They'll always be welcome here. We want them around. We want our current players to feel that pressure of how they're supposed to perform each week. Some places don't have the tradition that we have and we're going to try to draw on that as much as we can."
The Bucs, who haven't been to the playoffs since the 2007 season, haven't won a postseason game since the Super Bowl more than a decade ago and have struggled at the box office, have a tradition?
[+] Enlarge
Kim Klement/USA TODAY Sports"The Tampa Bay Buccaneers should be a relevant football team," said Lovie Smith, who was part of the coaching staff when the Bucs were contenders.
They really do and that's why the hiring of Smith was the best possible move the Bucs could have made at this point in time. Smith represents a bridge from the proudest era in franchise history to the future.
Smith was the linebackers coach under Tony Dungy from 1996 through 2000 before going on to be the defensive coordinator of the
St. Louis Rams
and, later, the head coach of the
Chicago Bears
.
Smith was around when guys like
Derrick Brooks
,
Warren Sapp
,
John Lynch
,
Hardy Nickerson
,
Warrick Dunn
and
Mike Alstott
were playing for the Buccaneers. Smith was around when Raymond James Stadium was the place to be and be seen.
Schiano and predecessor Raheem Morris weren't able to return the Bucs to the level where Dungy and Jon Gruden took them. Morris was too friendly and his players took advantage of him. Schiano wasn't friendly enough and his players didn't embrace him.
Smith is somewhere in the middle and that might be just right for a franchise that needs to get something right. And, in Smith's eyes, it's not just about the players.
"Day to day, [it's] just keeping a positive building where everybody feels good about coming here," Smith said. "And everybody in the building feeling like they were a part of it."
That's another way that Smith will be starkly different from Schiano. As the Bucs were losing so frequently last season, I had numerous staff members asking what I was hearing on the possibility of Schiano being fired. It was wishful thinking on their part and there weren't a lot of people in the building upset when Schiano finally was fired. Schiano was good at cleaning out some of the troubled players that Morris put up with, but there never was much warmth from Schiano.
That chill, from a man who controlled the thermostats at One Buccaneer Place, was felt by players, staff members and the fan base. Happy staff members and happy fans are an important part of the equation. Schiano never understood that.
Just by walking into his news conference, Smith brought a sudden warmth. He told a funny story about he and his wife having to flee from wild monkeys during a trip to Costa Rica after he was fired by the Bears. But, more than that, the warmth was rooted in nostalgia that brings hope for the future.
"We did lay a foundation for Tampa Bay Buccaneer football," Smith said. "There's a certain brand of football that you expected from us. That would be relentless, you play hard, physical, but there was a brand of football that you did get from us each week at Raymond James Stadium. It was hard for opponents to come in and win. We have gotten away from that a little bit. And it is time, as we go to the future, for us to become a relevant team again."
It's well past the time for the Bucs to be relevant again. Smith's return to Tampa Bay brings a hope that simply wasn't there when Morris and Schiano were coaching. That alone brings higher expectations and pressure than Schiano and Morris had to deal with. But Smith said he's ready for the pressure.
"When I was here, I had a great job as a linebacker coach, coaching a great group of men," Smith said. "But my plan, though, was to advance. And then when you advance and get to that top level where you're a head football coach and I have an opportunity to be a head football coach at the place I started, there is pressure -- pressure that we're putting on ourselves. The Tampa Bay Buccaneers should be a relevant football team. I am going to take that pressure and it will be what drives all of us, our staff, our players and all."
With Smith driving -- and knowing the right roads so well -- there's no reason the Bucs can't get back to respectability.