Tampa Bay Buccaneers:

Mike Sullivan
December, 26, 2013
12/26/13
8:00
AM ET
TAMPA, Fla. -- If there's one member of the Tampa Bay Buccaneers' offense with a shot at making the Pro Bowl, it's wide receiver
Vincent Jackson
.
The results of Pro Bowl voting will be announced Friday night, but Jackson received a big endorsement Wednesday.
Jackson
"I think Vincent has had a very, very good year," offensive coordinator Mike Sullivan said. 'With all the pressure that's been placed upon him and you look at the type of coverages that he's seen, the type of doubles that he's received and the type of rotation that he's received, and some of the plays that he's made despite all that. We're so fortunate that he's here. I think he's a heck of a player and a heck of a person. I certainly would be pleased to see him go to Hawaii."
Jackson has a career-high 74 catches for 1,189 yards and seven touchdowns. Those numbers alone present a nice case for the Pro Bowl. But Sullivan brings up a very good point with the talk about the coverages Jackson has faced.
Since losing No. 2 wide receiver
Mike Williams
to injury near the middle of the season, opposing defenses have devoted most of their attention to Jackson. But he still has been able to put up impressive numbers.
December, 23, 2013
12/23/13
8:00
AM ET
A review of four hot issues from the
Tampa Bay Buccaneers
' 23-13
loss
to the
St. Louis Rams
:

Schiano
The Schiano Watch.
After trending upward briefly, coach Greg Schiano has lost his past two games. His team is 4-11. If Schiano closes out the season by losing his final three games, it's hard to imagine the Bucs keeping him around.
Glennon's rough day.
It's easy to point at rookie quarterback
Mike Glennon
, who was sacked seven times, and direct blame. But Glennon got very little help from his offensive line and absolutely no help from a running game that's been terrible the past couple of weeks.
No imagination.
Tampa Bay fans are hoping the people responsible for hiring the next head coach at Army didn't watch this game. Offensive coordinator Mike Sullivan, who has interviewed for the West Point job, didn't have a good game plan. The Bucs weren't able to protect their quarterback or run the ball.
Something positive.
I had to look long and hard for this one. But
Gerald McCoy
has a chance to join some elite company. He now has nine sacks on the season. If he can add one more in the season finale at New Orleans, he'll join
Warren Sapp
(three times) and
Santana Dotson
as the only defensive tackles in franchise history to reach double-digit sacks in a season.
December, 20, 2013
12/20/13
2:23
PM ET
TAMPA, Fla. -- For the first time,
Tampa Bay Buccaneers
coach Greg Schiano addressed reports Friday that offensive coordinator Mike Sullivan is a candidate for the job as the head coach at Army.
Some reports said Sullivan was to interview Friday. But Schiano wasn't shedding a lot of light on the situation.
"That's part of the business," Schiano said. "I'm never going to comment when that stuff comes up or doesn't come up. I will comment on the fact that when you have good coaches, as happened last year and as happened that (the media) aren't ever made aware of because fellas tell them I'm not interested. That's part of the business. Mike is a heck of a football coach. If that's something that comes up and there's something to report, I will report it. But our focus is really on the
St. Louis Rams
and what we have to do to win the game. I'm just going to keep it at that.''
That's all you can really expect from Schiano at this point. But this situation is very fluid. I think Sullivan's candidacy is very strong, because he's a West Point graduate and has done two stints as an Army assistant. If Sullivan were to leave, quarterbacks coach John McNulty could be a candidate to take over as offensive coordinator.
December, 19, 2013
12/19/13
3:22
PM ET
TAMPA, Fla. -- This shouldn't come as a huge surprise. Tampa Bay offensive coordinator Mike Sullivan
reportedly will interview
for the job as head coach at Army on Friday.
Although Tampa Bay's offense ranks No. 32 in the NFL at the moment, Sullivan is a logical candidate for the Army vacancy. He's a West Point graduate and has done two stints as an assistant at Army.
Sullivan was interviewed for the head-coaching job with the Chicago Bears last offseason.
Sullivan declined to discuss the Army opening or any potential interest when he met with the media Wednesday.
December, 18, 2013
12/18/13
2:56
PM ET
TAMPA, Fla. -- One of the things that I've learned in covering the NFL is that where there is smoke, there often is fire.

That's why I think there might be something to the speculative reports that Tampa Bay offensive coordinator Mike Sullivan might be a candidate for the head coaching job at Army. Sullivan wouldn't even go near that topic when asked about it on Wednesday.

"There's an appropriate time and place for all those type of answers to those questions,'' Sullivan said. "I think right now, especially where we're at offensively and some of the challenges we have and what faces us this Sunday at St. Louis, I'd like if we could just focus the questions on the Rams.''

Sullivan's answer did not confirm or deny anything, but it certainly left the Army door open as a possibility. Although Tampa Bay currently has the league's No. 32 offense, there are a lot of other very logical reasons why Army could be looking at Sullivan.

He's a West Point grad and played football there. He also has done two stints as an Army assistant coach.
December, 13, 2013
12/13/13
8:00
AM ET
TAMPA, Fla. -- If you took film of all of Tampa Bay's screen passes this season, you'd have a very short show.
No team has used the screen pass less than the Buccaneers, according to ESPN Stats & Information. Since
Mike Glennon
took over from
Josh Freeman
at quarterback in Week 4, the Bucs have attempted precisely 10 screen passes. That's an NFL low. They've completed nine of them for an uninspiring 20 yards.
"You have to take what the defense gives you and it's risk-reward," coach Greg Schiano said. "If we feel like there's an opportunity to take shots where the reward outweighs the risk, then we're going to do that; even though we know that the completion percentage will be less. If we don't feel that, then we're going to take what the defense gives underneath and I think each week that's the challenge because people change up."
There are other reasons why the Bucs haven't been using the screen game. At heart, they're a vertical passing team. Coordinator Mike Sullivan came from the
New York Giants
, a team that only has attempted 20 screen passes this season. (For perspective, Pittsburgh's
Ben Roethlisberger
leads the league with 71 screen attempts.)
Then, you have to factor in that the Bucs lost running backs
Doug Martin
and
Mike James
to season-ending injuries. Back in training camp, it was obvious that the Bucs were giving Martin a lot of work in the screen game.
Bobby Rainey
has stepped in at running back and done a nice job as a rusher. But the Bucs haven't really tried to get him involved in the screen game.
December, 11, 2013
12/11/13
4:09
PM ET
TAMPA, Fla. -- The last Tampa Bay quarterback to sleep late was shown the door. That's not going to happen to
Mike Glennon
.
Former Tampa Bay quarterback
Josh Freeman
lost his starting job and eventually was released after repeatedly being late. That's why it's a little ironic that coach Greg Schiano ordered Glennon, the rookie who replaced Freeman, to sleep a little late on Tuesday. Normally, Glennon is in early on Tuesdays to start going through the game plan. But, this week, Schiano told Glennon to take the morning off and show up in the afternoon.
[+] Enlarge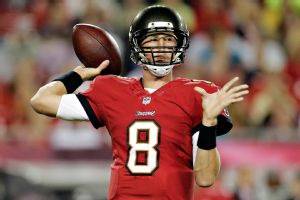 AP Photo/Chris O'MearaMike Glennon is coming off arguably his worst game as a pro, but his coaches spoke glowingly of his growth this week.
"We gave him off just because we wanted to make sure he got some rest," Schiano said. "He's been working so hard and he's been getting hit. He's been playing against some really good fronts and he's been taking shots. I liken it to being in a car accident. When you get hit by these 300-plus-pound defensive linemen, it's not very unlike being in a car accident, except we ask you to get up and play the next play. When it happens over and over again, you want to give the guy a little rest."
The other thing that jumped out of Schiano's session with the media Wednesday was how fondly he talked of Glennon. That seldom happened with Freeman. Schiano's reluctance to say Freeman was a franchise quarterback at the end of last season was a precursor to what happened early in the season.
But it's obvious Schiano feels warmly about Glennon, who he unsuccessfully tried to recruit to Rutgers. Even though Glennon hasn't put up big statistics the past two games, Schiano was singing the rookie's praises, something the coach rarely did with Freeman.
"I think he's doing a heck of a job of playing the quarterback position within this offense," Schiano said. "There's a lot to in this offense. I think he's progressing. I think he's understanding things better and better. We're playing better defenses each week. It's become more of a challenge for a rookie quarterback without a doubt. But I'm pleased with his progress and we just have to keep moving him on that trajectory."
Glennon had to face good Carolina and Buffalo defenses the past two weeks and he has to face a strong San Francisco unit this week.
"I think these games are helping to sharpen the saw, so to speak, and help him to get better and better," offensive coordinator Mike Sullivan said. "You wish there was a magic button you could push and instantly he's gotten it and he's grown and he has it all together. I think we're seeing, while there may be some setbacks and some decisions he'd like to have back, I think at the end of the day the arrow continues to go up with him."
October, 25, 2013
10/25/13
12:00
PM ET
An examination of four hot issues from the
Tampa Bay Buccaneers
' 31-13 loss to the
Carolina Panthers
.
[+] Enlarge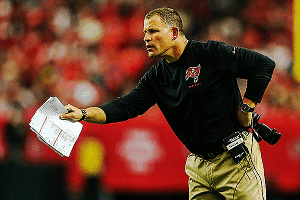 Daniel Shirey/USA TODAY SportsThe Bucs' Thursday night performance surely didn't help the job security of coach Greg Schiano.
Greg Schiano's status.
Although fans have been calling for his firing for several weeks and the noise is getting louder, Schiano still has a job -- at the moment. That still could change. But, with every minute that passes, it looks as if Schiano will be around for at least one more game.
Could there be a scapegoat?
If the Bucs don't fire Schiano, they still might feel they need to make a statement that they care. The other way to do that would be by firing a coordinator. Offensive coordinator Mike Sullivan's unit has struggled all season. Defensive coordinator Bill Sheridan's group has regressed in recent weeks.
The offensive line is a problem.
This group was supposed to be a point of strength, but it hasn't been. Sure, guard
Carl Nicks
is out with a staph infection, and that doesn't help. But this line can't open holes for the running game, and quarterback
Mike Glennon
was sacked three times.
The defense is regressing.
Look at the defense and you see some strong individual talent --
Gerald McCoy
,
Adrian Clayborn
,
Lavonte David
and
Darrelle Revis
. But this unit allowed 31 points for the second straight week. It's easy to point to the schemes as the problem, but the players deserve some blame as well.
October, 17, 2013
10/17/13
4:13
PM ET
TAMPA, Fla. -- Very quietly, the
Tampa Bay Buccaneers
have changed the vantage point of offensive coordinator
Mike Sullivan
.

Previously, Sullivan had worked from the field during games. But Sullivan moved to the press box for Sunday's loss to Philadelphia and apparently will stay there.
"In the bye week, we talked about everything,'' coach Greg Schiano said. "That was one of the subjects we talked about. I think the ability to be able to see everything was something that we thought would give us a chance to be better. I liked it.''
Sullivan said he worked out of the press box in previous stops with the
Jacksonville Jaguars
and
New York Giants
.
"I know from all those years being up in the press box, there's a perspective and a vantage point that you get that I felt that would be beneficial,'' Sullivan said. "I just switched with John McNulty who is the quarterback coach. He's now on the field so I was relaying the calls into him. It's something that gives an added vantage point that I think is helpful from the standpoint of not seeing it ground level but having that bird's eye view, so to speak.''
In other news, Schiano said that running back/return man
Jeff Demps
had surgery on his groin Thursday. Schiano said it's too early to tell how long Demps will be out for. Wide receiver
Mike Williams
(hamstring) and guard
Davin Joseph
(knee) took part in Thursday's practice.
October, 10, 2013
10/10/13
2:44
PM ET
TAMPA, Fla. -- Tight end has been the forgotten position in Tampa Bay's passing game so far this season. That could be on the verge of changing.
Crabtree
Tom Crabtree
, who missed the first four games with an ankle injury, participated fully in practice for the second straight day on Thursday and could make his debut Sunday against Philadelphia. That could be a big boost for an offense that's only thrown nine passes for 75 yards to its tight ends.
In training camp, the Bucs thought Crabtree and
Luke Stocker
would be the two main tight ends. But Stocker went down with a season-ending injury and Crabtree has been sidelined.
"Remember in the preseason, in the first three games, and then Crabtree gets hurt in that Redskins game, we thought things were progressing," coach Greg Schiano said. "Obviously, he's had a long gap between then and now. He's practiced. He's looked better each day. I think he's going to be a productive guy.''
In the preseason, the Bucs were thinking Crabtree would be their top receiving tight end. But, so far, Tampa Bay had to get by with
Tim Wright
and
Nate Byham
. But Crabtree could be the type of all-around tight end that the Bucs have been lacking.
"I think Tree has a versatility that I think presents some problems for defenses and helps us as an offense," offensive coordinator Mike Sullivan said. "I think he is strong enough and physical enough to do the things you want to do in the run game, pass protection if necessary, and yet still athletic enough and fast enough to win the one-on-ones to get separation, show the quickness that we want in our intermediate routes. (Versatility is) probably the biggest strength he has, we're hoping he gets back so we can take advantage of that."
September, 11, 2013
9/11/13
4:36
PM ET
TAMPA, Fla. -- Throughout the preseason and in the regular-season opener, the
Tampa Bay Buccaneers
' offense hasn't been able to get into any sort of rhythm.
Coordinator Mike Sullivan faced the media (and the music) on Wednesday and admitted there's disappointment with what he's seen so far. But Sullivan said he and the Bucs can't afford to sit around and feel sorry for themselves.
"How can we find answers and how can we find solutions?'' Sullivan said.
In the preseason, Tampa Bay's quarterbacks completed fewer than 50 percent of their passes. That string continued into the opener when
Josh Freeman
had an unproductive game against the
New York Jets
. The running game also was disappointing in the opener with
Doug Martin
averaging only 2.7 yards per carry.
Sullivan didn't want to get into technical reasons for the offense's struggles, but he did his best to put a positive spin on the situation.
"As you recall, last year the boat was sinking and, 'Oh my gosh, what's happening?' and we were able to pull it together despite having some guys go down [with injuries],'' Sullivan said. "We've got great confidence in our players and our system and our coaches. Rest assured that where there is disappointment, there is also resolve to fix the problems and move forward.''
The Bucs have a chance to show if that resolve works Sunday when they play a New Orleans defense that ranked No. 32 in the league last season.
September, 8, 2013
9/08/13
6:45
PM ET
EAST RUTHERFORD, N.J. -- It's only one loss and that doesn't make a season. But, goodness, when did Raheem Morris return as coach of the
Tampa Bay Buccaneers
?
The Bucs, of course, are coached by Greg Schiano, who often is compared to the likes of Bill Belichick and Tom Coughlin for his disciplined approach. The man made "toes on the line'' a catch phrase in his first season and seemed to clean up the mess of Morris' loosey-goosey regime.
[+] Enlarge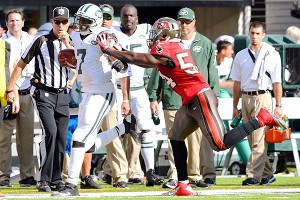 Rich Kane/Icon SMILavonte David's late hit on Geno Smith typified Tampa Bay's sloppy play in Week 1.
On Sunday, the Bucs played like it was 2011 all over again in an 18-17 loss to the
New York Jets
at MetLife Stadium.
One play summed up the day quite succinctly. It came with 15 seconds left and the Bucs holding onto a 17-15 lead. Jets quarterback
Geno Smith
scrambled for a 10-yard gain and linebacker
Lavonte David
, who had played an excellent game to that point, hit Smith after he went out of bounds.
The 15-yard penalty moved the Jets into position for
Nick Folk
to kick a 48-yard field goal to win the game.
"[David] made a lot of plays to keep us in the game,'' middle linebacker
Mason Foster
said.
"That wasn't the only penalty,'' Schiano said.
No, it wasn't. David's play was pretty much the norm for the Bucs. They were called for 13 penalties, which handed the Jets 102 yards. Safeties
Mark Barron
and
Dashon Goldson
also were called for 15-yard penalties. Some of the penalties were penalties of aggression, which aren't necessarily a bad thing. But some of them were just plain stupid, which is a terrible thing for a team that's supposed to be disciplined.
"We had nine penalties in the first nine minutes,'' Schiano said. "We could go two weeks and not have nine penalties.''
That might have been true last season. But, against the Jets, the Bucs were in disarray from the start. They were called for four penalties (one of them declined) and had to burn a timeout because of problems with the radio that carries offensive coordinator Mike Sullivan's play calls to the helmet of quarterback
Josh Freeman
on their first possession.
The technical difficulties were unfortunate. But guess what? Things like that happen. A truly disciplined and well-coached team falls back on hand signals. A truly well-coached and experienced quarterback knows how to get a play off under any circumstances.
Freeman wasn't able to do that and you can go ahead and start wondering about his future. It's fair game now because he lost. Smith was far from perfect, but he was better than Freeman. That doesn't bode well for Freeman, who is in a contract season and has third-round draft pick
Mike Glennon
looking over his shoulder.
"[Schiano] breaks the season down very simply -- 16 one-game seasons,'' said Freeman, who completed 15 of 31 passes for 210 yards with one touchdown and one interception.
What happened Sunday doesn't bode well for Schiano if the next 15 games look anything like this one. New York's Rex Ryan was supposed to be the coach entering the season on the hot seat with a team that's preseason made it look like things were in disarray.
Instead, it was the Bucs that looked totally off kilter. That cannot continue.
If the Bucs don't get things cleaned up in a hurry, Freeman, Schiano and a lot of other people are going to be on the hot seat in Tampa Bay.