Tampa Bay Buccaneers:

Ndamukong Suh
December, 8, 2014
Dec 8
11:00
AM ET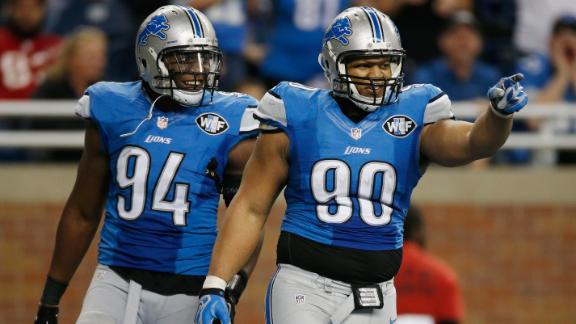 DETROIT -- After taking a bunch of hits from
Ndamukong Suh
in Sunday's 34-17 loss,
Tampa Bay Buccaneers
quarterback
Josh McCown
was singing the praises of the
Detroit Lions
defensive tackle.
Suh had a monstrous day, compiling six tackles, a sack, three tackles for loss and three quarterback hurries. He keyed a Detroit defense that sacked McCown six times and left the quarterback limping after the game.
Suh is a bit of a controversial figure due to his aggressive play. McCown acknowledged that, but said Suh's physical style is part of what makes him special.
"I love how that guy plays because he plays hard,'' McCown said. "He crosses the line sometimes. He needs to be careful. I'm not saying anything that hasn't been said. But I love to see guys playing this game hard, the way he plays it. He plays it tough. He's physical and he plays hard. When you play that way, sometimes those are going to be penalties that happen. But he's a dominant force, there's no question about it. It's part of who he is. If I'm his teammate, I just wouldn't want to see him cross the line and hurt your team. But, man, he plays hard.''
December, 4, 2014
Dec 4
2:01
PM ET
TAMPA, Fla. --
Gerald McCoy
had been talking for nearly seven minutes in his weekly session with the media. That's when the question he'd been anticipating came up, about seven minutes after he expected it.
At long last, McCoy was asked about his "rivalry" with Detroit's
Ndamukong Suh
. They're two of the NFL's top defensive tackles and they have a lot of other things in common. But McCoy said what he and Suh share is not a rivalry.
"The reality of things is there is no rivalry, but we're going to be linked because of the draft," McCoy said Thursday.
McCoy was chosen second in the 2010 draft. The Bucs took McCoy with the next pick and the comparisons never have stopped. McCoy said the comparisons started even before the draft.
"Even in college, we were in the same conference, both were up for the Lombardi [Award]," McCoy said.
McCoy said he and Suh enjoy a friendly relationship and they help make each other better.
"We're going to be linked for years to come," McCoy said. "But the reality of that is, if we push each other, it's to be the best that we can be. Every time we meet up at the Pro Bowl we say to each other, 'We said we were going to take this league over together, let's keep doing it.' That's really all it is. If I do something, he says 'Great job.' If he does something good, I'm like 'Hey, great job. Keep doing it.' We both respect each other. We're just going to be linked because of the draft. But there is no rivalry. We're just both trying to be the best for our teams."
January, 9, 2014
Jan 9
10:00
AM ET
Our NFL Nation poll asked players from every team to name
the most feared player in the NFL
. The winner was Detroit defensive tackle
Ndamukong Suh
with teammate
Calvin Johnson
finishing second.
But let's narrow the scope and ponder who is the most feared member of the Buccaneers.
Some might point to safety
Dashon Goldson
, who has a reputation for being one of the league's hardest hitters. I don't think that's a bad answer, but I think the word "feared'' is open to interpretation. NFL players don't like to admit to fear and, as I conducted my portion of the poll, I got the impression that most players took the question to mean which player they worried about most.
In that light, I think the choice for Tampa Bay is cornerback
Darrelle Revis
. He's capable of shutting down half the field. That alone causes matchup problems for offenses and makes him the biggest concern when opponents start looking at the Bucs.
November, 23, 2013
11/23/13
8:00
AM ET
Three things to watch in Sunday's game between the
Tampa Bay Buccaneers
and
Detroit Lions
:
Can Bobby Rainey do it again?
The running back ran for 163 yards last week against an Atlanta defense that ranks No. 30 against the run. But Detroit should provide a much stiffer challenge for Rainey. Led by
Ndamukong Suh
and
Nick Fairley
, Detroit is ranked No. 5 against the run.
Matchup of the year:
I don't think it can get any better than Detroit receiver
Calvin Johnson
and Tampa Bay cornerback
Darrelle Revis
. They're the best in the business at their respective positions. In their only previous matchup (in 2010), Johnson was held to one catch for 13 yards. A television camera should be on Revis and Johnson the whole game.
Air Glennon:
Tampa Bay quarterback
Mike Glennon
finally started connecting on a few deep balls last week. The Bucs want more of that. They might be able to get it against a Detroit defense that ranks No. 30 in the league.
November, 20, 2013
11/20/13
3:13
PM ET
TAMPA, Fla. --
Gerald McCoy
saw the question coming and treated it like a quarterback.
When asked about
Ndamukong Suh
, he firmly knocked the inquiry down.
"There is no comparison,'' McCoy said emphatically.
But it is only natural for Suh and McCoy to be lumped together. The two defensive tackles were taken at the top of the 2010 draft and that along will always link them. But don't tell that to McCoy.
"He plays for Detroit, I play for Tampa,'' McCoy said. "He's trying to help his team win, I'm trying to help mine. There's not going to be a face-off between me and Suh because we're both on defense. I will not face Suh this game or ever. I wish him the best and I'm sure he wishes me the best.''
Suh's career got off to a faster start because McCoy was hampered by injuries in his first two seasons. McCoy made the Pro Bowl last season and has six sacks this season. But McCoy said he's not focused on what Suh does.
"I don't look at what other people are doing and say, 'Man, I've got to do that,"' McCoy said. "All I've got to do is execute our game plan to the best of my ability, and the opportunities that present themselves, I've got to make the best of them.''
Although McCoy doesn't compare himself to Suh on the field, he said the two have a good relationship off it. McCoy even went to bat against the widespread claims that Suh is a dirty player.
"He's a good guy,'' McCoy said. "He's a cool cat and laid back. I just think he's just a real physical football player. How else is he supposed to play the game? I don't think he's dirty. I think he's just real physical. If this was 10 years ago, the way he tackles people, nobody would think anything of it. But as soon as you see a yellow flag now it's a big deal. If you never saw a yellow flag nobody would ever say anything. It's only because you see flags.''
November, 18, 2013
11/18/13
8:00
AM ET
TAMPA, Fla. -- A review of four hot issues from the
Tampa Bay Buccaneers
' 41-28
victory
against the
Atlanta Falcons
on Sunday:
The Schiano Watch:
A few weeks ago, it seemed like a foregone conclusion that coach Greg Schiano would be fired at the end of the season or maybe even sooner. But the Bucs have won two games in a row, so it might be time to re-think Schiano's future. He still may be facing an uphill battle to keep his job, but now there's at least a chance. If the Bucs can win more than they lose in the second half of the season, Schiano could have a chance to be back for 2014.
McCoy
McCoy or Suh?
Defensive tackle
Gerald McCoy
has picked the best possible time to start playing the best football of his career. McCoy had a three-sack game, one that comes as the Bucs get ready to face the
Detroit Lions
. You know what that means?
Ndamukong Suh
plays for the Lions. He and McCoy came out in the same draft. Early on, it looked like Suh clearly was ahead of McCoy. But McCoy now is playing as well as any defensive tackle in the NFL.
Rainey days:
Running back
Bobby Rainey
had 163 rushing yards, two rushing touchdowns and a receiving touchdown against the Falcons. Not bad for a guy who never was able to distinguish himself during stints with Baltimore and Cleveland.
Doug Martin
's starting job is safe when he comes back from injury next year, but Rainey has shown enough that he should have a roster spot next season.
Glennon's development:
Very quietly, rookie quarterback
Mike Glennon
had a strong day. He completed 20 of 23 passes for 231 yards and two touchdowns. I still don't know if Glennon can be a franchise quarterback. But I'm seeing signs that Glennon can be a solid quarterback when the rest of the team is playing well.