Tampa Bay Buccaneers:

Pro Football Hall of Fame
August, 3, 2014
Aug 3
8:00
AM ET
Now that Derrick Brooks is in, it's time to start wondering about who will be the next player with Tampa Bay ties to enter the Pro Football Hall of Fame.
The
Tampa Bay Buccaneers
have had a nice run with Warren Sapp and Brooks getting selected in back-to-back years. But it might be a while before they have some Tampa Bay company.
John Lynch is one candidate many Tampa Bay fans think belongs in the Hall of Fame. But Lynch already has come up short in two elections. Lynch has a very nice resume and might be able to slide in during a year when the competition isn't stiff.
But let's face reality here. Lynch might never get in. It's difficult for safeties to get into the Hall of Fame. Lynch made a history as a hitter, and safeties are measured mostly by interception totals. Lynch might keep getting passed over.
Cornerback Ronde Barber probably has a better shot than Lynch. But Barber, who isn't eligible for three more years, isn't the sure first-ballot Hall of Famer many Buccaneers fans assume he is. Barber at least is in the conversation, but it might take some time for him to get in.
Barber might need the stars to align properly in a given year to get elected.
There also are a lot of Tampa Bay fans that believe fullback Mike Alstott belongs in the Hall of Fame. Um, that's not going to happen. Alstott was a very nice player. But he didn't have big stats, and fullbacks don't make the Hall of Fame these days.
So who's the next Buccaneer to head to the Hall of Fame? It could be Barber. If not, it could take another generation.
Gerald McCoy
could be a candidate if he turns in another eight or so seasons similar to the past two.
August, 2, 2014
Aug 2
8:36
PM ET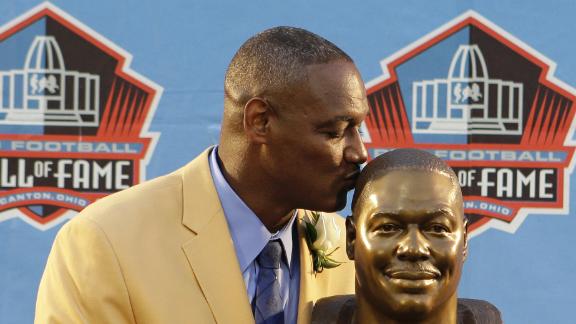 In his 24-minute Pro Football Hall of Fame induction speech, Derrick Brooks thanked dozens of people from every stage of his career.
There were plenty of emotional moments, but one stood out to me: when Brooks thanked the late Lee Roy Selmon, the first draft pick and the first Hall of Famer in the history of the
Tampa Bay Buccaneers
.
"Lee Roy set the standard, and we're just trying to walk the path he set for us," Brooks said.
Selmon was much more than a football player. He was elegant, classy and heavily involved in the Tampa Bay community long after his playing days were over. Selmon left this world too soon, and he left a void in Tampa Bay.
But now that void is being filled. Brooks is as close to Selmon as you can get. Of course, Brooks was a tremendous football player. But, like Selmon, Brooks is so much more. Brooks now is the biggest icon in the Tampa Bay region, but he wouldn't like hearing that. That's because Brooks is especially humble.
That was best demonstrated when Brooks asked all his Buccaneers teammates who made the trip to Canton, Ohio, to stand and be recognized.
"Please stand up and let me bow and salute you guys," Brooks said.
Brooks had plenty of help. But, perhaps more than anyone, Brooks was responsible for turning around a dismal franchise.
"The Tampa Bay Buccaneers [were] the team that invented losing," said ESPN's Chris Berman, who served as the master of ceremonies.
Brooks was drafted in 1995 by a team that hadn't had a winning season since 1982. Joining forces with coach Tony Dungy and teammates such as Warren Sapp, Hardy Nickerson, John Lynch and Ronde Barber, Brooks ushered in the most successful era in franchise history. The Bucs became regular playoff contenders and, eventually, Super Bowl champions.
Brooks last played in 2008, but he's more visible than ever. Brooks founded a high school in Tampa, does all sorts of charity work and works as the president of the Tampa Bay Storm.
"As a servant leader, I just want to do the best I can to make something better when I come into touch with it," Brooks said.
Brooks always has made the things he comes into contact with better. Selmon started that path, but now it's Brooks' turn to follow in the footsteps.
August, 1, 2014
Aug 1
10:38
PM ET
TAMPA, Fla. -- A daily review of the hot topics coming out of
Tampa Bay Buccaneers
training camp:
Early in camp, the defense clearly was ahead of the offense. That's not the case anymore. The offense had a good showing at Friday night's practice at Raymond James Stadium. The first- and second-team offenses each drove for successful field goals in the two-minute drill. "It's about scoring points, and that's what the offense was able to do," coach Lovie Smith said. "Somebody can't look good in that situation. Most games come down to that two-minute drive at the end of the game. (Quarterbacks) Josh [McCown] and Mike [Glennon] both did a great job with us."
Many fans had to be pleasantly surprised by their first look at coordinator Jeff Tedford's offense. It didn't look nearly as conservative as what the Bucs have run in recent years. The play of the night was a trick play. Running back Mike James took a pitchout and threw a touchdown pass to Vincent Jackson. The deep passing game also looked good, with Chris Owusu catching a long touchdown from Glennon in an 11-on-11 drill.
Center Evan Dietrich-Smith missed practice with a foot injury, and his absence was obvious. The one blemish for the offense was that three snaps between center and quarterback were botched. "One time on the ground is too many," Smith said.
The practice drew just under 15,000 fans, according team officials. "It's a fanbase that deserves to see a good football team on the field, and we plan on giving them that," Smith said.
The Buccaneers have the day off from practice Saturday. Smith and many team employees will travel to the Pro Football Hall of Fame in Canton, Ohio, to attend the induction ceremony for Derrick Brooks. The team will return to practice Sunday at 4:30 p.m. "All week, I've been thinking about Derrrick going in," Smith said. "I can't wait to get up there tomorrow. A special day for him. You know Derrick Brooks. Who deserves to be in the Hall more than him? It's a special time for his family, and we can't wait to get there.''
May, 2, 2014
May 2
8:00
AM ET
Get ready to see a lot of Derrick Brooks.

The retired Tampa Bay linebacker will announce the Bucs' second-round draft choice at Radio City Music Hall on May 9, the league said. Brooks will be one of 32 players leaguewide to announce picks in the second round.

But that won't be all that Tampa Bay fans see of Brooks in the coming months. He'll be inducted into the Pro Football Hall of Fame on Aug. 1.

There's also another likely honor for Brooks on the horizon that not many people are talking about. That's a spot in the team's Ring of Honor. Nothing has been announced yet.

But it's a safe bet that Brooks will go into the Ring of Honor. Last year, Warren Sapp was headed for the Hall of Fame and the Bucs chose him as their Ring of Honor inductee. They also retired Sapp's number.

I'd imagine Brooks will get similar treatment. The Ring of Honor announcement is expected in the next few weeks. Traditionally, the Bucs have had only one inductee a year. But there is no rule against having multiple inductees, so it's possible someone else could join Brooks.
April, 25, 2014
Apr 25
1:19
PM ET
TAMPA, Fla. -- On Pro Football Hall of Fame induction day in August,
Derrick Brooks
might not be the member of his family that's most in the spotlight.
Instead, it might be his 15-year-old son, Decalon. Brooks said Friday that he has chosen Decalon to give his introductory speech.
"I campaigned to get all four of my kids," Brooks said. "But unfortunately I couldn't pull it off. He's my oldest son. He's playing football now and it's a special time when you think about that relationship with him. He's not a young man that really steps up and strives for attention. He has to step out of his shell a little bit in order to do this. His brother and sisters are going to help him prepare for it. It's neat to see them all working on it."
The children aren't the only ones working toward August. Brooks was busy hosting a breakfast to raise money for athletic facilities at Brooks-DeBartolo Collegiate High School (the school he founded with former
San Francisco 49ers
owner Eddie DeBartolo) on Friday. But Brooks, who also works as president of the Arena League's Tampa Bay Storm, said he's soaking up as much of the prelude to his induction as possible.
"You only go through this once," Brooks said. "I want to learn about the city of Canton, how 3,000 to 5,000 people volunteer their time to make sure everybody is having the best possible time, how they embrace the city of football and how it started there. Just the Hall of Fame itself. I've learned so many things since February that I didn't know before. That's because I'm going through this process. I'm the type of guy to try to appreciate the trees despite the forest. I look forward to learning more. In between all this education, I've got to write a speech."
February, 3, 2014
Feb 3
9:31
AM ET
TAMPA, Fla. -- There's a lot of talk among Tampa Bay fans about how Tony Dungy and John Lynch got snubbed in the Pro Football Hall of Fame selection process over the weekend.
I think snubbed is way too strong of a term. Dungy and Lynch weren't slam-dunk candidates like former Tampa Bay linebacker Derrick Brooks, who was selected in the first year he was eligible. Dungy and Lynch made it to the final 15 modern-era candidates and that alone is an honor.
But Dungy and Lynch each had some holes in their résumés. For Dungy, it's the fact that he won only one Super Bowl despite having a great defense in Tampa Bay and
Peyton Manning
in Indianapolis. Lynch was hampered by the fact he played safety. It's hard to get a safety into the Hall of Fame unless his interception total is astronomical.
I think those who are talking about snubs got spoiled by the first-ballot selections of Brooks this year and Warren Sapp last year. They made the process look easy, but it's not. Brooks and Sapp had credentials that couldn't be questioned. The same can't be said for Dungy and Lynch.
Will Dungy and Lynch eventually get into the Hall of Fame? It's entirely possible, but they need a year in which the class isn't as strong as it was this year. I think cornerback Ronde Barber, who will be eligible in four years, is going to fall into a similar category. And let's not even get into the belief that many Tampa Bay fans have that Mike Alstott should be a Hall of Famer.
Then, there's one other factor to consider. How many guys from a team who won only one Super Bowl do you put in the Hall of Fame? It's not like the Bucs (in their prime) were the
Pittsburgh Steelers
of the 1970s.
Dungy, Lynch and Barber may end up in the Hall of Fame but it's not going to be nearly as easy as it was for Brooks and Sapp.
February, 1, 2014
Feb 1
7:12
PM ET
TAMPA, Fla. -- When I voted (as an alternate) for Warren Sapp as a candidate for the Professional Football Hall of Fame, I did so unenthusiastically.
Don't get me wrong -- I thought Sapp was a Hall of Fame football player. I just didn't think of him as a Hall of Fame person. I had covered Sapp in his early years with the
Tampa Bay Buccaneers
when I worked for The Tampa Tribune and had seen plenty of boorish behavior out of him. But the Hall of Fame rules state that the only thing that matters is what a player did on the field.
Sapp made the Hall of Fame and he deserved it, but I didn't feel any joy when he was elected. It's completely different this year with Derrick Brooks getting selected the first time he was on the ballot.
Brooks and Sapp were the cornerstones of Tampa Bay's turnaround from a doormat to a regular playoff contender. They were best friends. But they're as different as two people can be.
Brooks is a Hall of Fame person. Through his lengthy career and since then, Brooks always has carried himself with class and dignity. I'm genuinely happy for Brooks.
I would have been even happier if former Buccaneers coach Tony Dungy and safety John Lynch, two other guys who were great on and off the field, were selected along with Brooks. But Dungy and Lynch came up short in the balloting this year. I think both have a good shot to get in at some point.
But this is about Brooks. Following Sapp and the late Lee Roy Selmon, Brooks is only the third player who spend the majority of his career with the Bucs to make the Hall of Fame. He'll also join them in the team's Ring of Honor, and probably have his jersey (No. 55) retired.
For years, Selmon was the standard when it came to talking about the best player in franchise history. Plus, Selmon was as great off the field as he was on it. Sapp entered the argument for best player in franchise history when he went into the Hall of Fame last year. But even die-hard Tampa Bay fans were lukewarm with their feelings about Sapp -- the person -- because they'd seen or heard about his moodiness.
There are countless stories about Sapp blasting fans who had the nerve to approach him in public. There are almost as many stories about Brooks stepping in and preventing what could have been uglier scenes.
When Brooks and Sapp were in their heyday, they often went out to dinner together. Brooks knew how to read his friend's mood, which often was far from welcoming. On those occasions, Brooks would politely intercept fans and tell them, "This isn't a good time."
But Saturday's selection of Brooks to the Hall of Fame marks a great time for Tampa Bay and fans of the Bucs. There are no bittersweet feelings about Brooks in Tampa Bay. There's only adoration for a guy who firmly proved good things can happen to good people.
January, 29, 2014
Jan 29
1:33
PM ET
Of all the plays that former Tampa Bay safety
John Lynch
made during his lengthy NFL career, one stands out to me.
Lynch's signature moment came in a 1997 game against the
Chicago Bears
. Lynch already was developing a reputation as a fierce hitter, but that was forever cemented on that day.
Lynch put a vicious hit on
John Allred
and knocked the Chicago tight end out. It's important to note here that Allred is Lynch's brother-in-law. Lynch's wife, Linda, later would joke that if she was a receiver her husband wouldn't hesitate to tackle her. She might not have been exaggerating.
The thing that Lynch did best on a football field was tackle people. The strong safety was one of the hardest hitters of his generation and that's part of the reason he's a finalist for the Pro Football Hall of Fame (the voting will be conducted Saturday).
But there's irony in the fact that Lynch is best known for his vicious hits. He might have been a terror on the field. But, off it, Lynch quite possibly was the nicest and most refined player I've ever covered. He always had time for the media and gave insightful answers.
I remember asking Lynch at the Pro Bowl one year about the contradiction between his personality on the field and off it. Lynch basically said there was a switch he flipped when he walked onto the field.
That switch worked quite nicely as Lynch was a cornerstone of one of the best defenses of its era.
Is Lynch a Hall of Famer? I think he's got a chance to get there. It might be tough this year because the class is strong and it isn't easy for safeties to get in. But at some point down the road, I think voters will flip the switch and Lynch will be selected to the Hall of Fame.
January, 29, 2014
Jan 29
8:31
AM ET
When I first encountered Tony Dungy, I didn't think he was going to make it as an NFL head coach. Now, he's a finalist for the Pro Football Hall of Fame.
So what changed about Dungy? Absolutely nothing. He stuck to his philosophy, no matter what. At times, he bordered on being stubborn, but that turned out to be part of the key to his success.
Let's flash back to when Dungy first became the head coach of the
Tampa Bay Buccaneers
. It was the 1996 season and I was covering the Bucs for The Tampa Tribune.
The season started badly for Dungy and the Bucs. They went 0-5 and I remember thinking that Dungy was a very nice guy, but didn't know what he was doing. His defense wasn't clicking and his offense was terrible.
But Dungy stuck to his core beliefs and, all of the sudden, everything changed. The Bucs got a win against the
Minnesota Vikings
, the team Dungy previously had worked for as the defensive coordinator. You started to see signs of hope as the Bucs finished the season on an upswing.
The next season, Dungy had the Bucs in the playoffs for the first time in a generation. The rest is history. Dungy made the Bucs into a regular playoff contender and won a lot of games. Those were good days in Tampa Bay, but they didn't last forever.
Largely due to a stagnant offense, Dungy was fired after the 2001 season and Jon Gruden came in and won the Super Bowl. Dungy landed quickly on his feet with the
Indianapolis Colts
and eventually led that franchise to one Super Bowl.
As the Hall of Fame voters debate Dungy's candidacy, some detractors will point to the fact he won only one Super Bowl despite having a great defense in Tampa Bay and
Peyton Manning
in Indianapolis. Those are valid points.
I don't know if Dungy will get in during his first year of eligibility. But I still think he belongs in the Hall of Fame at some point. His record in Indianapolis speaks for itself. His time in Tampa Bay was long ago, but people should remember how Dungy turned around a franchise that had been having hard times for a long time.
January, 27, 2014
Jan 27
10:00
AM ET
TAMPA, Fla. -- In his office at the Tampa Bay Storm's headquarters last week,
Derrick Brooks
looked the part of a successful president of an Arena Football League team. He also looked as though he could still go out and play linebacker in the National Football League.
But something was different about the Brooks of past week and the one I've known since he entered the NFL in 1995. I couldn't quite put my finger on it until I asked Brooks if he was nervous about being a finalist for the Pro Football Hall of Fame. The Class of 2014 will be selected Saturday and Brooks, who played 14 seasons for the
Tampa Bay Buccaneers
, is on the ballot for the first time.
"I must admit I think about it every day," Brooks said. "There's a nervous energy about it. It's kind of like the feeling you get before you play a game. But here's the difference: If I'm playing a game, I know I can do something about it and I have a say in it. This situation here, you don't have any say in it.
"The résumé has been written. My career is what it is. If I could write the next chapter, I'd be going in with this class. But the nervousness about it is you just don't know. It's human beings making a vote and there's no guarantee of anything."
[+] Enlarge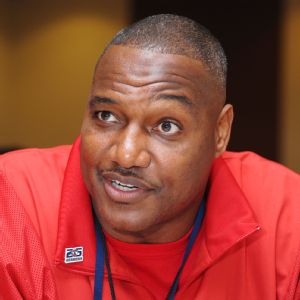 Kirby Lee/Image of Sport/USA TODAY SportsDerrick Brooks will find out on Saturday if he's a first-ballot Hall of Famer.
That's a stunning admission from a guy who always seemed to have supreme confidence. Brooks was ice to
Warren Sapp
's fire during the Buccaneers' glory years, which included a victory in Super Bowl XXXVII. Brooks, now 40, always seemed calm as he was earning 11 Pro Bowl berths, nine All-Pro honors, the 2002 Defensive Player of the Year award and the 2000 Walter Payton Man of the Year award.
But
now
Brooks is nervous?
Sure he is and it's understandable. That's largely because he always has been a student of the game and knows plenty about its history.
"You talk about the founders of football," Brooks said. "You talk about the history of the game. You talk about the first African-American players. You talk about greatness for centuries. You get a chance to have your bust sit in that room and share that history."
That's where the nervousness kicks in.
"I always watched the process," Brooks said. "But now I watch it with a different intent, like, 'Am I worthy of being in that company?' I guess it presented more questions for me about my career. 'Am I worthy of a bust?'"
Absolutely. Brooks deserves to be a first-ballot selection. He's the best player I've ever covered and that includes Sapp, who went in on the first ballot last year.
More than anyone -- with the possible exception of coach Tony Dungy, who also is a Hall of Fame finalist -- Brooks was responsible for one of the greatest turnarounds in NFL history. Prior to Brooks' arrival in Tampa Bay, the Bucs had been a laughingstock for a generation. That point was driven home in 1996 when Brooks and Sapp were sitting in a San Diego hotel room, getting ready to play the Chargers.
"Playing a late game, we got a chance to see the pregame shows," Brooks said. "Those guys were making jokes about the Yucks, the Yuckaneers, the quarterback rating for Trent [Dilfer]. They were making fun of us. It kind of resonated with us and Warren and I just looked at each other. I was upset. But he was pissed. He went to a new level with his anger.
"I internalized and said, 'I'm going to do something about this.' But he externalized it. We went to pregame and he just went off on how we were being so disrespected by everybody. We went out there and went down 14-0 before you could sneeze. But then we fought back and won that game. I think the confidence that we built on the road that day was the turning point. I don't think it's ironic or a coincidence that we came back a few years later and won a Super Bowl in that same stadium."
In 1997, the Bucs turned the corner and made the playoffs for the first time in a generation. It also was around that time that two wise men got in Brooks' ear and planted the first ideas that he could have a Hall of Fame career.
[+] Enlarge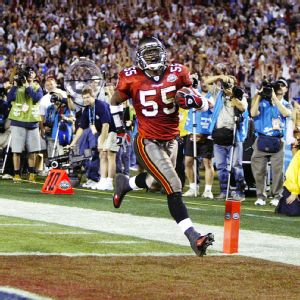 Al Bello/Getty ImagesBrooks returned an interception 44 yards for a touchdown in the Bucs' Super Bowl XXXVII victory.
Early in his tenure, Dungy, who had played for the
Pittsburgh Steelers
during their 1970s heyday, sat down Brooks and Sapp for a chat.
"He had a conversation with Warren and myself and said, 'You can be Joe Greene, Jack Ham or Jack Lambert,'" Brooks said. "It was intimidating. He laid it on the table what his expectations were for us."
Then, there was the late Tom McEwen. He was the legendary sports editor for the Tampa Tribune. McEwen was a grandfatherly figure who cared deeply about Tampa Bay sports. At the time, he also was Tampa Bay's voter for the Hall of Fame and he always was on the lookout for someone to join Lee Roy Selmon, the Bucs' first Hall of Famer.
"I had a ton of respect for Tom," Brooks said. "After the 1997 season, we started to have some pretty serious conversations. Tom kept telling me, 'Hey, you've started this turnaround. Keep it going and you can have a Hall of Fame career.'"
McEwen was a sage because Brooks only continued to become a greater player. He was a do-it-all linebacker, a leader and a model citizen. He also led the Bucs to their only Super Bowl championship and made the All-Decade Team for the 2000s.
Brooks played through 2008 and the Hall of Fame credentials are there. Still, the guy who seemed unflappable for so many years is nervous.
On Saturday, Brooks will make some appearances in New York and do a radio show. He knows the nerves will continue to grow as afternoon turns into evening.
"I'll just be sitting and waiting," Brooks said. "What's a couple hours more when you put up years of work to get to this position?"
Not much I guess. But Brooks shouldn't have to be nervous. He did his work. Now, it's time for the Hall of Fame voters to confirm him as what he made himself into -- a first-ballot Hall of Famer. With no reason to be nervous.
January, 9, 2014
Jan 9
9:18
PM ET
TAMPA, Fla. --
Derrick Brooks
, Tony Dungy and
John Lynch
were named among the 15 finalists for the Pro Football Hall of Fame's Class of 2014 on Thursday night.

It's fitting that all three have a chance to go into the Hall of Fame at the same time because the trio played a very big role in turning the Bucs from a laughingstock into a consistent winner in the 1990s.
Brooks, an outside linebacker, probably has the best chance of the three to get in this year. This is the first time Brooks has been eligible. Dungy coached the Bucs, but won his only Super Bowl with the
Indianapolis Colts
.
The one potential knock on Dungy is that he won only one Super Bowl, despite having a great defense in Tampa and quarterback
Peyton Manning
in Indianapolis.
Lynch was known as one of the hardest hitters of his era. But it's difficult for safeties to get into the Hall of Fame, and Lynch might have to wait until there is a class that's not as deep as this one.
The Class of 2014 will be selected Feb. 1, the day before the Super Bowl.
January, 8, 2014
Jan 8
12:03
PM ET
TAMPA, Fla. -- It's entirely possible three men with deep ties to the Tampa Bay Buccaneers could be semifinalists for the Pro Football Hall of Fame's Class of 2014.

The 15 semifinalists from the modern era will be announced Thursday night. I think Derrick Brooks, Tony Dungy and John Lynch will make that list.
But, more importantly, will those three be elected in February? There will be no more than five modern-era candidates selected and I think Brooks, Dungy and Lynch fall into three separate categories. Let's take a look at their chances.
The slam dunk.
I think Brooks is a legitimate candidate to go in on the first ballot. Along with defensive tackle Warren Sapp, who was elected to the Hall of Fame last year, Brooks made the Tampa Bay defense of the late 1990s and early 2000s the dominant defense of its time. Brooks was the best outside linebacker of his era and I think he'll have no trouble getting into the Hall of Fame on his first try.
On the fence.
I think it could go either way for Dungy, the coach who made the Bucs consistently respectable for the first time in franchise history and won a Super Bowl with Indianapolis. Critics will point to the fact Dungy won only one Super Bowl and claim he should have won more. That's a valid argument. But Dungy is universally respected and that fact could get him the necessary number of votes.
The long shot.
I think Lynch will get into the Hall of Fame one day, but probably not this year. This is a strong class and that means it will be hard for Lynch to get in. It's tough to get a safety into the Hall of Fame. Lynch was one of the biggest hitters the NFL has ever had. But it's likely he'll have to wait for a thinner class before he gets elected.
September, 12, 2013
9/12/13
11:07
AM ET
The Pro Football Hall of Fame has put out its list of 126 nominees from the modern era eligible for the Class of 2014. It contains four first-time-eligible candidates with ties to the glory days of the
Tampa Bay Buccaneers
.
Linebacker
Derrick Brooks
and running back
Warrick Dunn
are nominees. So are coaches Jon Gruden and Tony Dungy.
I think Brooks is the only slam dunk among this group. There's no question in my mind that Brooks is a first-ballot Hall of Famer. Along with
Warren Sapp
, he was the anchor of a dominant defense. You can argue over whether Brooks or Sapp was more important to the Tampa Bay defense, but I think they were equally important.
Dunn was a very nice player, but I don't think his numbers are quite Hall of Fame material.
I think Dungy will get in, but maybe not in his first year. He won a lot of games and produced a nice coaching tree. But the knock on Dungy will be that he won only one Super Bowl despite having a dominant defense in Tampa Bay and quarterback
Peyton Manning
in Indianapolis.
Gruden did win a Super Bowl in Tampa Bay. But I think voters will be hesitant to put him into the Hall of Fame immediately. Call it the Bill Parcells Syndrome, but there are a lot of people that think Gruden might return to coaching at some point.
The list of nominees will be reduced to 25 in November and final voting will take place in February.