January, 16, 2015
Jan 16
3:05
PM ET
TAMPA, Fla. -- The Tampa Tribune's Ira Kaufman did a
fine piece
Friday on the 20th anniversary of Malcolm Glazer's purchase of the
Tampa Bay Buccaneers
.
One quote jumped out at me. It came from
New England Patriots
owner Robert Kraft.
[+] Enlarge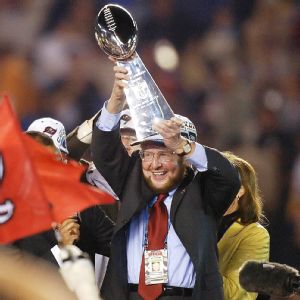 USA TODAY SportsThe 20 years of ownership under the late Malcolm Glazer and his family have seen their share of peeks -- such as the 2002 Super Bowl trophy -- but also valleys for the Tampa Bay Buccaneers.
"Those fans should remember what it was like 20 years ago, before the Glazer family took over," Kraft said.
That's an excellent point. Even coming off a 2-14 season, the Bucs are in much better shape than they were 20 years ago. I remember those days well, and they were absolute chaos.
After previous owner Hugh Culverhouse died, the team was operated by a three-man trust. The goal was to sell the team, and keeping it in Tampa Bay didn't seem to be a priority. There were rumblings that the Bucs would end up in Cleveland, Sacramento or Orlando.
Glazer's purchase didn't immediately stop the speculation. He played the game like the masterful businessman that he was. He flirted with a few other cities but ended up getting Hillsborough County voters to pass a tax to pay for a new stadium.
That coincided with the start of an era of prosperity the Bucs had never before enjoyed. Glazer hired coach Tony Dungy in 1996, and soon the Bucs became playoff regulars.
Raymond James Stadium was the place to be seen in Tampa Bay, and the Bucs boasted of having a waiting list of 100,000 for season tickets. A Super Bowl championship in the 2002 season highlighted it all.
There was star power with coach Jon Gruden, defensive tackle Warren Sapp, linebacker Derrick Brooks, safety John Lynch and wide receiver Keyshawn Johnson.
Glazer, who helped bring the Super Bowl to Tampa twice, suffered a series of strokes in 2006 and died in 2014. Even before his illness, his sons Bryan, Joel and Ed were heavily involved in the business side of things, and their roles only increased.
The ownership philosophy and style didn't change, but the results did soon after Glazer became ill. The Bucs haven't made the playoffs since the 2007 season and haven't won a postseason game since their Super Bowl victory.
Attendance has fallen, and the Bucs have bought up tickets to prevent local television blackouts the last two seasons.
But after the rocky tenures of coaches Raheem Morris and Greg Schiano, the Bucs seem to have found stability. They also hold the No. 1 pick in the draft.
Despite all the recent struggles, the Bucs still are better off than they were 20 years ago.