Tampa Bay Buccaneers:

Raymond James Stadium
January, 6, 2014
Jan 6
6:15
PM ET
TAMPA, Fla. -- There's a bizarre story that sums up the Greg Schiano era with the
Tampa Bay Buccaneers
.
The short version of the Schiano story goes like this: Retired safety
Dexter Jackson
, the most valuable player of the team's only Super Bowl, told a Tampa radio station in October that Schiano tried to run him out of practice when he visited the facility.
Nothing like that's ever going to happen now that Lovie Smith is the coach.
"I'm going to reach out to all of our former Buccaneers," Smith said Monday as he formally was introduced as the 10th head coach in franchise history. "They'll always be welcome here. We want them around. We want our current players to feel that pressure of how they're supposed to perform each week. Some places don't have the tradition that we have and we're going to try to draw on that as much as we can."
The Bucs, who haven't been to the playoffs since the 2007 season, haven't won a postseason game since the Super Bowl more than a decade ago and have struggled at the box office, have a tradition?
[+] Enlarge
Kim Klement/USA TODAY Sports"The Tampa Bay Buccaneers should be a relevant football team," said Lovie Smith, who was part of the coaching staff when the Bucs were contenders.
They really do and that's why the hiring of Smith was the best possible move the Bucs could have made at this point in time. Smith represents a bridge from the proudest era in franchise history to the future.
Smith was the linebackers coach under Tony Dungy from 1996 through 2000 before going on to be the defensive coordinator of the
St. Louis Rams
and, later, the head coach of the
Chicago Bears
.
Smith was around when guys like
Derrick Brooks
,
Warren Sapp
,
John Lynch
,
Hardy Nickerson
,
Warrick Dunn
and
Mike Alstott
were playing for the Buccaneers. Smith was around when Raymond James Stadium was the place to be and be seen.
Schiano and predecessor Raheem Morris weren't able to return the Bucs to the level where Dungy and Jon Gruden took them. Morris was too friendly and his players took advantage of him. Schiano wasn't friendly enough and his players didn't embrace him.
Smith is somewhere in the middle and that might be just right for a franchise that needs to get something right. And, in Smith's eyes, it's not just about the players.
"Day to day, [it's] just keeping a positive building where everybody feels good about coming here," Smith said. "And everybody in the building feeling like they were a part of it."
That's another way that Smith will be starkly different from Schiano. As the Bucs were losing so frequently last season, I had numerous staff members asking what I was hearing on the possibility of Schiano being fired. It was wishful thinking on their part and there weren't a lot of people in the building upset when Schiano finally was fired. Schiano was good at cleaning out some of the troubled players that Morris put up with, but there never was much warmth from Schiano.
That chill, from a man who controlled the thermostats at One Buccaneer Place, was felt by players, staff members and the fan base. Happy staff members and happy fans are an important part of the equation. Schiano never understood that.
Just by walking into his news conference, Smith brought a sudden warmth. He told a funny story about he and his wife having to flee from wild monkeys during a trip to Costa Rica after he was fired by the Bears. But, more than that, the warmth was rooted in nostalgia that brings hope for the future.
"We did lay a foundation for Tampa Bay Buccaneer football," Smith said. "There's a certain brand of football that you expected from us. That would be relentless, you play hard, physical, but there was a brand of football that you did get from us each week at Raymond James Stadium. It was hard for opponents to come in and win. We have gotten away from that a little bit. And it is time, as we go to the future, for us to become a relevant team again."
It's well past the time for the Bucs to be relevant again. Smith's return to Tampa Bay brings a hope that simply wasn't there when Morris and Schiano were coaching. That alone brings higher expectations and pressure than Schiano and Morris had to deal with. But Smith said he's ready for the pressure.
"When I was here, I had a great job as a linebacker coach, coaching a great group of men," Smith said. "But my plan, though, was to advance. And then when you advance and get to that top level where you're a head football coach and I have an opportunity to be a head football coach at the place I started, there is pressure -- pressure that we're putting on ourselves. The Tampa Bay Buccaneers should be a relevant football team. I am going to take that pressure and it will be what drives all of us, our staff, our players and all."
With Smith driving -- and knowing the right roads so well -- there's no reason the Bucs can't get back to respectability.
December, 8, 2013
12/08/13
6:19
PM ET
TAMPA, Fla. -- Take a look at the stat sheet from the
Tampa Bay Buccaneers
' 27-6
victory
against the
Buffalo Bills
on Sunday at Raymond James Stadium.
It will show you that the Bucs had seven sacks, four interceptions, nine tackles for loss and 13 quarterback hurries. It will show you that the Bucs played a dominant defensive game.
It might even have made you flash back to the Tony Dungy or Jon Gruden years, when Monte Kiffin still was running the defense. But this wasn't Dungy, Gruden or Kiffin football.
[+] Enlarge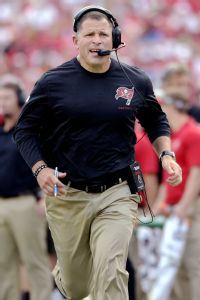 AP Photo/Phelan M. EbenhackGreg Schiano said the Bucs "invented ways to lose some games" early in the season. They've now won four of five.
This, believe it or not, is what Greg Schiano football is supposed to be like.
"This game is really what the Bucs are about," rookie cornerback
Johnthan Banks
said.
Maybe, without knowing it, Tampa Bay fans would like to see a lot more Schiano-coached football games. Schiano is down to three games left to determine if he'll be back for a third season. When the Bucs were 0-8 at midseason, it seemed a certainty Schiano would be fired.
Now, and I'm just reading the tea leaves here, it seems like Schiano has at least a chance to stick around. He has won four of his past five games. Another win or two and maybe the Glazer family, which owns the team, will decide it wants to see more Schiano football.
By definition, Schiano football is supposed to be about playing aggressive defense, running the ball on offense and taking some deep shots in the passing game. The Bucs only had a few flashes of running and passing against the Bills, but the defense carried the day.
Go ahead and rain on the parade and point out that the Bills are pretty mediocre and this was a game the Bucs should have won. The difference is this is precisely the kind of game the Bucs would have lost early in the season. Why have things been going differently the second half of the season?
"I don't know if it's that much of a difference really," Schiano said. "I think we're finding ways to win the game. Against good football teams, we were in games and found ways to lose games. Literally, you look at it and you say we invented ways to lose some games."
There's no doubt about that. Just think about linebacker
Lavonte David
's late hit on
Geno Smith
in the season opener as one quick example. Maybe, in the end, the Glazers will decide that Schiano already has invented too many ways to lose.
Or maybe the Glazers, who also might factor in that
Josh Freeman
's repeated tardiness prompted his benching and eventual release, will keep their coach. For that to happen, the Bucs have to finish the season playing the way they did Sunday.
"We challenged each other, coaches and players alike, to really make sure that we had the details," Schiano said.
The Bucs host the 49ers next Sunday. Then they close the season by going on the road to St. Louis and New Orleans.
Play like they did against the Bills and the Bucs can finish this season with some positive momentum and, more importantly, some hope for the future.
"This week was just go play our game," safety
Dashon Goldson
said. "Make them one-dimensional. Stop the run and make them beat us with the pass and we knew we weren't going to do that."
The Bucs held Buffalo to 67 rushing yards and they harassed rookie quarterback
EJ Manuel
into a bunch of mistakes.
"I think it all comes down to making the quarterback just a little uncomfortable," Schiano said. "It's not always sacks. Sometimes it's just getting that hand in the quarterback's face so he has to alter his release just a little bit."
The Bucs did more than just make Manuel uncomfortable. They held the Bills to two field goals. And they got an 80-yard touchdown run from
Bobby Rainey
on the second play of the game and two touchdown passes from rookie quarterback
Mike Glennon
.
Rainey and Glennon didn't do much besides that. But each has had bright moments in recent weeks. Get Rainey and Glennon back to that and keep the defense playing the way it did against Buffalo, and Schiano's version of football could be enough for him to keep his job.
November, 17, 2013
11/17/13
6:51
PM ET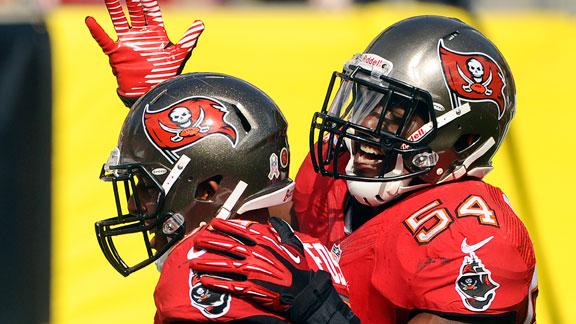 TAMPA, Fla. -- For weeks now, coach Greg Schiano steadfastly has said that once the
Tampa Bay Buccaneers
started winning football games, they wouldn't stop.
We all laughed.
As it turns out, maybe the man had a point. Maybe, just maybe, Schiano will have a job next year that many expected him to lose.
The Buccaneers defeated the
Atlanta Falcons
, 41-28, on Sunday at Raymond James Stadium. That came six days after the Bucs got a Monday night win against the
Miami Dolphins
for their first victory of the season.
"It's something that we can build on, for sure," Schiano said.
[+] Enlarge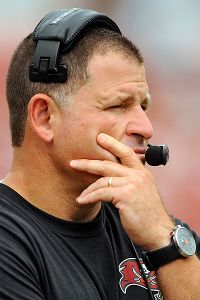 AP Photo/Brian BlancoGreg Schiano had the Buccaneers playing hard despite an 0-8 start. The result? Two straight victories.
Let's make no mistake: The Bucs are 2-8 and Schiano remains very much on the hot seat. But that seat is a little cooler than it was a few weeks ago. It might seem hard to imagine, but maybe the billboards calling for Schiano's firing will come down, maybe fans will jump off his back and onto his bandwagon, and maybe he still will be the coach in 2014.
"We've got a lot of pride," left tackle
Donald Penn
said. "We've got to play for our coach. Everybody's doubting our coach. We're behind him 120 percent."
That's the very reason I've held off on joining the masses in calling for Schiano's job. I'm not saying Schiano is a great coach, and I still don't know if his ways will work in the NFL. But the fact is, he never lost the locker room during an 0-8 start. His players never stopped playing hard.
I saw Tampa Bay teams totally pack it in at the end of the Raheem Morris and Sam Wyche eras. That, along with dismal records, is why Morris and Wyche were fired.
"A lot of people could have just folded," Penn said. "We're still fighting. Hopefully, we can keep building. I'm happy. For once, I can say I'm happy."
Let's not get too carried away with the sudden happiness. Schiano's record (9-17 overall) is dismal. Schiano has lost a lot of games, but he hasn't lost his players.
That counts for a lot, in my eyes.
Schiano is still facing an uphill battle. But I can see a scenario in which he could end up sticking around. I don't know if the Glazer family, which owns the team, has some magic number of wins in mind for Schiano to keep his job. Maybe Schiano needs to run the table, win the next six games and finish 8-8. Or maybe something like winning six of the final eight games will be enough to bring Schiano back.
He does have three more years left on his contract, and ownership likely won't be eager to pay the salaries for two head coaches at once. Or maybe the Bucs lose their next six and Schiano follows the route of Bobby Petrino, Steve Spurrier and Nick Saban and goes back to coaching a college program.
But the point is Schiano still has a shot in the NFL, if he can win some more games down the stretch. That no longer seems as unfathomable as it did a few weeks ago.
If the Bucs can play the rest of the way like they did Sunday, they could win more than they lose in their remaining games. It could happen.
It could happen because
Gerald McCoy
(three sacks on Sunday) suddenly is playing as well as any defensive tackle in the league. It could happen because the Bucs appear to have found a hidden gem in running back
Bobby Rainey
(163 rushing yards). It could happen because rookie quarterback
Mike Glennon
(only three incompletions against the Falcons) continues to get better each week.
And let's not overlook the possibility that Schiano might be starting to catch onto what the NFL is all about. Did you see the onside kick, the tailback pass and Glennon's two deep throws to
Vincent Jackson
? This team isn't playing nearly as conservatively as it did early in the season. Maybe Schiano is changing -- for the better.
In recent weeks, it hasn't taken too much observation to see a difference in Schiano. On the practice field, he has been joking around more with his players. When talking to the media, Schiano has seemed more relaxed, even approaching humor at times.
Maybe Schiano realized he needed to be less stubborn and stern. Maybe changing his personality and his play calling is Schiano's way of fighting for his job.
And, as long has his team keeps fighting, maybe he'll get to keep it.
September, 29, 2013
9/29/13
5:20
PM ET
TAMPA, Fla. -- Observed in the locker room after the
Tampa Bay Buccaneers
'
13-10 loss
to the
Arizona Cardinals
on Sunday at Raymond James Stadium.
McCoy

Coach Greg Schiano defended the two play calls on which rookie quarterback Mike Glennon threw fourth-quarter interceptions by saying the Bucs had to throw the ball because the running game wasn't working. It's true that Doug Martin was bottled up almost all day. But putting the ball into the hands of a guy making his first start with the game on the line isn't a great idea.
Schiano said it was a "mutual decision" to have former starting quarterback Josh Freeman sit in a suite instead of being on the sideline. I think the translation there is the Bucs didn't want to have Freeman as a possible distraction. With the bye week coming up, I think Freeman will be traded or released before the Bucs play another game.
Schiano gave his usual spiel about the team sticking together through tough times. But we might have seen the first crack. Defensive tackle Gerald McCoy, who had an outstanding day, said he didn't want to talk about the offense. I'm not saying the defense is pointing fingers at the offense, but that would be justified.
September, 12, 2013
9/12/13
5:23
PM ET
TAMPA, Fla. -- On a sweltering May afternoon in 2011,
Josh Freeman
stood on a field at the University of South Florida and seemingly
never broke a sweat
.
This was during the NFL lockout, and I couldn't help but admire how firmly the 23-year-old quarterback had the
Tampa Bay Buccaneers
in his grasp. He was throwing passes with one hand and arranging the next day's practice with his cell phone in his other hand.
Freeman even fielded a phone call from
LeGarrette Blount
, who was having trouble finding USF. Blount, then a Buccaneers running back, was headed for the Howard Frankland Bridge, which is about as far away as you can get from USF and still be in Tampa. Freeman ordered Blount to stop before getting on the bridge and firmly told him to try using Interstate 275 North to Fowler Avenue the next day.
At the time, Freeman was coming off a 2010 season in which he threw for 25 touchdowns and six interceptions and led the Bucs to a 10-6 record. It appeared the Buccaneers had a franchise quarterback for the first time in franchise history.
That's why I can't help but wonder where
that
Freeman has gone.
[+] Enlarge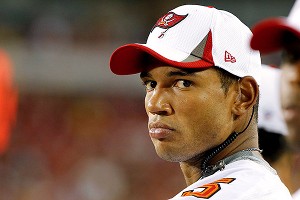 Kim Klement/USA TODAY SportsJosh Freeman enjoyed a breakthrough season in 2010. Since then, he has thrown almost as many interceptions (40) and TD passes (44).
Let's flash forward to Thursday. Reports were flying that Freeman missed the team's annual photo; other players suspected coach Greg Schiano had manipulated the vote to keep the quarterback from being a captain; and the team had a players-only meeting to discuss the voting.
Two out of three were (somewhat) wrong. Schiano emphatically denied rigging the vote, and multiple players said topic did not come up in a meeting. But the players did have a meeting, which veteran long-snapper
Andrew Economos
said was basically a pep rally to start the season.
So the only smoke that came with fire was that Freeman missed the team photo. He said he overslept, which makes you wonder if the Bucs need to bring back the guy they used to pay to make sure Blount got to practice on time.
The Bucs and Freeman did their best to throw water on the situation.
They need more water, because not everything looks right with this picture.
"The position of quarterback is a position of leadership," Freeman said. "Obviously, missing the team photo is a big deal. ... It's something I feel badly about and it's obviously upsetting. But, at the same time, you've got to put it behind you and continue to play because, like it or not, the Saints are coming to town."
You can't ignore all the other signs that something is off kilter with a guy who once seemed to be the most balanced individual inside One Buccaneer Place. And I'm not just talking about Freeman's dismal performance in the season-opening loss to the
New York Jets
.
I'm talking about the fact that Freeman looked equally dismal throughout the preseason and late last season, when he had consecutive four-interception games in December. I'm talking about the fact the Bucs decided not to sign Freeman to a long-term contract extension. I'm talking about the repeated rumblings that Freeman and Schiano don't see eye to eye.
"I do trust Josh," Schiano said. "Josh and I share a lot of things together."
"I really like playing for Coach Schiano," Freeman said.
Yeah, that all sounds nice. But I couldn't help but notice the painting on the Himes Avenue corner of Raymond James Stadium as I drove by earlier in the day and pondered the irony.
The painting featured an action shot of Freeman, flanked by action shots of defensive linemen
Adrian Clayborn
and
Gerald McCoy
with a message on top: "Fear No Enemy."
Are Freeman and Schiano enemies? Are they at odds?
They say they're not.
"It may be an issue outside this building," Schiano said. "It's not an issue inside this building."
Freeman said basically the same thing.
But still I wonder what happened to that calm, cool quarterback from that day back at the University of South Florida.
As Freeman stood at a podium on Thursday and went through an interview session that was more like an interrogation, he, seemingly, was sweating.
Maybe Freeman puts it all together against the
New Orleans Saints
on Sunday and Freeman, Schiano and the Bucs live happily ever after.
Or maybe Freeman has another lackluster game and the smoke just continues to get thicker.
August, 29, 2013
8/29/13
10:21
PM ET
TAMPA, Fla. – Observations on the
Tampa Bay Buccaneers
'
30-12 loss
to the
Washington Redskins
at Raymond James Stadium on Thursday night.

What it means:
Not all that much, really. I can't say it strongly enough that preseason games, especially the fourth one, have no meaning. I've seen teams go undefeated in the preseason and go on to struggle in the regular season, and I've seen teams go from dismal preseasons to great regular seasons. The Bucs finish with a 1-3 preseason record. It doesn't matter. But still, it would have been nice to see Tampa Bay look like it was in sync for just a few minutes of the preseason. That never happened.
Very Goode:
Tampa Bay's highlight of the night came early in the second quarter when linebacker
Najee Goode
picked off a
Pat White
pass and returned it 37 yards for a touchdown.
Very bad:
I think the Bucs would have preferred to go into the regular season with only two quarterbacks on the roster. But I no longer think they can afford to do that. After watching rookie
Mike Glennon
(7-of-16 for 63 yards with an interception and a lost fumble) struggle, I'm thinking the Bucs should keep veteran
Dan Orlovsky
around as insurance in case anything happens to
Josh Freeman
.
Not what they needed:
Tight end already looked like a potential weak spot, with
Luke Stocker
and
Tom Crabtree
expected to share most of the playing time. But this might be more of a problem area than ever. Crabtree had to be carted off the field with an ankle injury midway through the first quarter. If Crabtree is out for a significant period of time, it could mean more work for
Nate Byham
, or the Bucs may look for a tight end off the waiver wire.
Not so special:
Tampa Bay's special teams haven't had a great preseason, and the trend continued Thursday night. The Bucs allowed a punt to be returned 69 yards for a touchdown. Kicker
Derek Dimke
missed an extra-point attempt. And return man
Eric Page
had what would have been a 105-yard kickoff return nullified by a holding penalty.
What's next:
The Bucs will trim their roster to 53 players by Saturday evening and begin preparing for their Sept. 8 season opener on the road against the
New York Jets
.