Tampa Bay Buccaneers:

Robert Quinn
December, 21, 2013
12/21/13
8:00
AM ET
TAMPA, Fla. -- Three things to watch for in Sunday's game between the
Tampa Bay Buccaneers
and the
St. Louis Rams
.

The St. Louis pass rush:
Rookie quarterback
Mike Glennon
is going to face another challenging pass rush, which is led by defensive ends
Robert Quinn
and
Chris Long
. Quinn particularly has been having an outstanding season. He has 15 sacks and seven forced fumbles. Left tackle
Donald Penn
will be the primary guy responsible for blocking Quinn. But the Bucs need to give Penn a lot of help.
The Tampa Bay running game:
The Bucs have been very inconsistent in this area in recent weeks. That needs to change, because Tampa Bay's offensive philosophy starts with being able to run the ball. The offensive line needs to help running back
Bobby Rainey
establish the running game early, to help take the pressure off Glennon.
Tampa Bay's run defense:
With
Kellen Clemens
playing quarterback, St. Louis' offense depends heavily on the running game and
Zac Stacy
. Tampa Bay's run defense ranks No. 15, after ranking No. 1 last season. The Bucs need to bottle up Stacy and challenge Clemens and the passing game to beat them.
December, 19, 2013
12/19/13
10:00
AM ET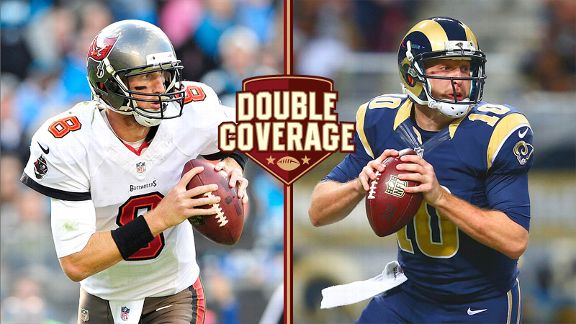 Getty ImagesMike Glennon's Bucs and Kellen Clemens' Rams have remained competitive down the stretch.
The
St. Louis Rams
will wear their throwback uniforms Sunday when they take on the
Tampa Bay Buccaneers
. The old school blue and yellow is intended to spark memories of the famous NFC Championship Game the two sides played after the 1999 season.
It's also going to serve as a reminder of how far both teams have to go to get back to a place where they're competing for Super Bowls. The Rams are 6-8 and Tampa Bay is 4-10, leaving both squads on the outside looking in for the postseason.
Despite the knowledge they'll be home in January, both teams have remained competitive which should make for an interesting matchup when they renew acquaintances at the Edward Jones Dome.
ESPN.com Rams reporter Nick Wagoner and Buccaneers reporter Pat Yasinskas discuss Sunday's game.
Wagoner:
After a rough start, it seems the Bucs have somewhat righted the ship here (pun unmercifully intended) toward the end of the season. How have they been able to do that, and do you think Greg Schiano has made a case to keep his job?
Yasinskas:
The amazing thing is, despite the 0-8 start, the Bucs never stopped playing hard. That's led to wins in four of their last six games. That's happened mostly because the defense has played very well and the offense has played just well enough. Still, it remains to be seen if Schiano has done enough to keep his job after this season. My personal opinion is the ownership likes him and likes how he's cleaned up the locker room, but I think he needs to win these final two games to have any chance of staying.
The Rams obviously aren't going to the playoffs either. What's left for them to play for?
Wagoner:
Nothing particularly tangible is out there save for a chance to finish .500 for the first time since 2006 and only the third time since 2004. In St. Louis, that does represent progress given the last decade has been such a disaster in terms of wins and losses. Since Jeff Fisher and general manager Les Snead arrived, they've quietly targeted 2014 as the breakout season for this young team. Any progress they can make toward that is a good thing. It would serve them well to engender confidence among the fan base that the 2013 team is better at the end of the year than the 2012 team was.
You mentioned the work of the defense in keeping the Bucs competitive this year. It seems linebacker
Lavonte David
is quietly having a huge year and defensive tackle
Gerald McCoy
is also enjoying a second straight big season. You see those guys every day. Are they receiving proper credit for the job they've done or is it lost in the mix of a losing season?
Yasinskas:
McCoy went to the Pro Bowl last year, so he's not a complete unknown. He should go to the Pro Bowl again this season. He already has eight sacks and is shooting for double digits. David isn't nearly as well known outside of Tampa Bay, where fans already are comparing him to
Derrick Brooks
. David is having a phenomenal season. He has six sacks and five interceptions. That makes him just the seventh player in NFL history to have at least five sacks and at least five interceptions in the same season. There even has been talk of David as a defensive player of the year candidate. I think his play makes that a legitimate possibility. But Tampa Bay's losing record probably will work against him.
Speaking of defensive player of the year candidates on non-playoff teams, St. Louis defensive end
Robert Quinn
deserves to be in the conversation. Do you think he's earned a chance?
Wagoner:
With two games to go, I think a legitimate argument can be made that he should not only be in the mix but also win the award. He's become the dominant and disruptive pass-rusher everyone expected him to be and he's drastically improved as a run defender, which allows him to stay on the field for all three downs. And he's not just doing it against bad teams. He is second in the league in sacks, first in forced fumbles and has countless quarterback pressures and hits. He's done a lot of that damage without the benefit of a lead and ample pass rush opportunities to boot. He's also two sacks from tying
Kevin Carter
for the most in a season in the history of the St. Louis version of the Rams.
I'm curious about the guy Quinn and Co. will be chasing Sunday. It looked like the Bucs had quite a quarterback conundrum on their hands earlier this year, but the switch to
Mike Glennon
has calmed things quite a bit. What does Glennon bring to the table and do you believe he's done enough to cement himself as the guy moving forward?
Yasinskas:
Glennon has been a pleasant surprise after the
Josh Freeman
mess early in the season. Glennon brings a big arm and is naturally poised. He's been slowed a bit recently as he ran into some good defenses (Carolina and San Francisco), but the Bucs still think his trajectory is pointing up. As for whether Glennon is the quarterback for the long term, a lot depends on what happens with Schiano. If there's a new coach, he might elect to bring in his own quarterback. But Glennon is Schiano's quarterback. Schiano tried (unsuccessfully) to recruit Glennon to Rutgers and has been infatuated with him ever since.
Speaking of rookies who are having a big impact, tell us what running back
Zac Stacy
has brought to the St. Louis offense.
Wagoner:
Simply put, Stacy's emergence in the run game has been the key to the Rams' turning it around after one of the worst rushing starts to a season in franchise history. He's not going to wow anyone with his speed or flashy moves in the open field. But he's physical, intelligent and extremely patient. When the Rams have success on offense, it's a direct result of the run game working, usually with Stacy as the centerpiece. He opens things up for backup quarterback
Kellen Clemens
in the pass game and helps keep defenses off-balance. He's been a revelation as a fifth-round draft choice.
December, 18, 2013
12/18/13
5:22
PM ET
TAMPA, Fla. -- Buccaneers coach Greg Schiano didn't need a stat sheet to know what St. Louis defensive end
Robert Quinn
has done this season. The numbers already are fixed in Schiano's mind.
Quinn
"He's got 15 sacks and seven forced fumbles, so that tells you something,'' Schiano said. "He's as good as tomahawk chopping the backside of the quarterback as there is. You haven't seen a guy do it with that effectiveness since L.T. (Lawrence Taylor). L.T. used to knock that ball out with a vicious tomahawk chop. He's bringing it that way. I mean, seven forced fumbles? Think about that. That's a lot of forced fumbles in 14 games.''
Quinn and fellow defensive end
Chris Long
present problems for any offense and the Buccaneers, who rank No. 32 in passing, undoubtedly will have their hands full.
"Are you going to stop him? No,'' Schiano said. "But you have to at least don't let him take over the game. He'll make his plays. Our quarterback needs to be aware that when you have a guy that is so adept at sack fumbling that you better have a nice tight grip on that football when you're in the pocket in case the protection does break down.''
Much of the responsibility for slowing Quinn will fall on left tackle
Donald Penn
, although the Bucs are likely to provide plenty of help. Quinn had 10.5 sacks last season, but Penn said the third-year pro has emerged at an elite level this season.
"I think he's become a way smarter player,'' Penn said. "Last year, I think he was just going out and playing. I can tell he's putting in a lot of film work, studying the guy he's going against and using what they do wrong to his advantage. He's playing consistent.''
Penn said he's ready for the challenge.
"It's good to go against this matchup after playing probably one of my worst games of the season last game against the 49ers,'' Penn said. "It's good to bounce back and try to redeem myself against a great pass-rusher.''