Tampa Bay Buccaneers:

Roddy White
November, 21, 2013
11/21/13
8:00
AM ET
TAMPA, Fla. -- Buccaneers coach Greg Schiano said Wednesday that he believes safety
Dashon Goldson
's one-game suspension was more about history than anything else.
Goldson was suspended for a helmet-to-helmet hit on
Roddy White
in Sunday's victory against Atlanta.
"History, I think, is the biggest culprit,'' Schiano said.
Schiano has a very good point. The hit on White alone probably wouldn't have drawn a suspension. But Goldson has a lengthy reputation for big -- and sometimes questionable -- hits. Goldson initially drew a one-game suspension early in the season, but that was overturned and reduced to a fine on appeal.
This time around, Goldson's appeal was shot down and that was disappointing to Schiano.
"I'm not angry at him,'' Schiano said. "I wish we had him. Dashon is a great guy to have on your football team. He's a great teammate. He's a great guy to coach. We've just got to get that fixed. We've got to get it adjusted.''
But Schiano said he thought Goldson already had made positive strides.
"I thought he did make huge adjustments to his game since the last fine and suspension,'' Schiano said.
The reality is that the adjustments came too late. Goldson's reputation preceded everything else in this instance. It's also important to note that the suspension comes at a time when the NFL is making player safety a bigger priority than ever before.
"The rules of the game are forever adjusting and they've adjusted in 2013 more than they have in the past,'' Schiano said. "That's fine. I understand. I get the big picture. We all want this game to keep moving forward. It's the best game in the world. We don't want it to get jeopardized by something that's going on. The adjustment by the league, I understand it. We have to play within those rules. We have done a good job in a lot of ways doing that, but not in this instance.''
November, 18, 2013
11/18/13
7:55
PM ET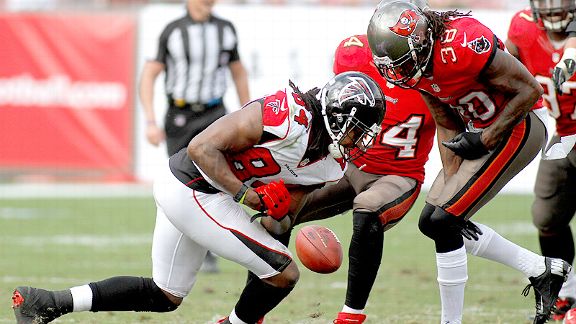 AP Photo/Reinhold MatayDashon Goldson (38) was suspended for a helmet-to-helmet hit on Roddy White (84).
TAMPA, Fla. -- The record will show that
Tampa Bay Buccaneers
safety
Dashon Goldson
was
suspended one game
for his helmet-to-helmet hit on
Atlanta Falcons
receiver
Roddy White
on Sunday.
The record doesn't come close to telling the whole story.
Goldson was suspended because he had an "X" on his back. He put it firmly there with his own actions early in the season. Goldson was an easy target for a league that's cracking down on player safety. Twice before, Goldson was fined for illegal hits. One of those times, he initially was suspended for a game. But that suspension was overturned on appeal.
That left Goldson very much on the league's radar and the hit on White merely was a final straw. Goldson's a smart guy, but he should have been smarter. He plays a position where it's a virtue to be physical. But Goldson carried that too far and now he has to pay the price.
The suspension will cost Goldson $264,705 (the equivalent of one weekly game check). But the suspension might cost Goldson and the Bucs a lot more than that.
The Bucs are on a two-game winning streak and they have to face the
Detroit Lions
and receiver
Calvin Johnson
this coming Sunday. They'll have to do that with reserve
Keith Tandy
filling in for Goldson, who is one of the defensive captains and leaders.
Goldson, who had a reputation for physical play when he was with San Francisco, could have avoided this mess if he had toned things down a bit. But he didn't, and that's going to hurt Goldson and the Bucs.
November, 16, 2013
11/16/13
8:00
AM ET
Three things to watch in Sunday's game between the
Tampa Bay Buccaneers
and
Atlanta Falcons
:


Tampa Bay's running game.
The Bucs are a run-first team. That's not going to change with running backs
Doug Martin
and
Mike James
lost for the season. The Bucs simply will plug in
Brian Leonard
and
Bobby Rainey
. There might be some drop-off in talent. But the offensive line, which has played very well lately, should be able to compensate for that.
Vincent Jackson.
The veteran wide receiver has been held to 10 catches over the past three games and the Bucs want the ball in his hands more often. The good news is that Jackson had his biggest game of the season in the last meeting with Atlanta, catching 10 passes for 138 yards and two touchdowns.
Steven Jackson and Roddy White.
The Atlanta running back and wide receiver sat out the previous meeting with injuries. They're back now and that should open new dimensions for the Atlanta offense. The Tampa Bay defense has been very good against the run. But the pass defense could be an issue. White and
Harry Douglas
, who had 149 receiving yards in the previous meeting, have the ability to make plays down the field.
November, 15, 2013
11/15/13
10:00
AM ET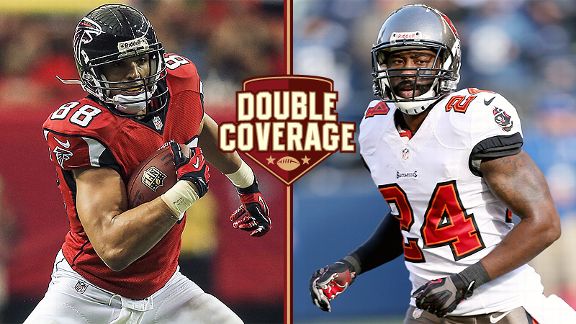 AP PhotoIt has been a disappointing season for Tony Gonzalez's Falcons and Darrelle Revis' Bucs.
When the season started, the
Atlanta Falcons
were a trendy Super Bowl pick and a lot of people thought the
Tampa Bay Buccaneers
could make the playoffs. As it turns out, both NFC South squads are floundering. They've combined for only three wins.
But these two teams are rivals and that means Sunday's meeting will be about pride.
Falcons reporter Vaughn McClure and Buccaneers reporter Pat Yasinskas examine the matchup.
Yasinskas:
Vaughn, I was one of those people who picked the Falcons to win the Super Bowl. Obviously, I was way off base. I know injuries have played a big role, but what else has gone wrong for this team?
McClure:
Pat, I talked to
Tony Gonzalez
extensively after the last game and he was adamant about this all being about the injuries. I agree with him to a certain extent because you just can't lose a receiver as dynamic as
Julio Jones
and expect the offense to click in the same manner. It drastically changes the way defensive coordinators attack and allows them to focus more on shutting down guys such as Gonzalez.
The other injury I thought was significant was linebacker
Sean Weatherspoon
, who is expected back this weekend after being sidelined since Week 2 because of a Lisfranc sprain. The defensive intensity hasn't been there throughout the season, and Weatherspoon would have provided a spark just from his fiery speeches alone. Not saying that he would have totally helped the Falcons avoid giving up 14 plays of 40-plus yards, but they would have been better with a healthy Weatherspoon.
Speaking of injuries, it looks as if both top running backs are out for Tampa Bay. Can
Brian Leonard
step in and run the ball effectively?
Yasinskas:
I agree that getting Weatherspoon back should be a big boost for the Atlanta defense and the first priority whenever you play Tampa Bay is stopping the running game. Even with
Doug Martin
and
Mike James
lost to season-ending injuries, the Bucs still will be a run-first team. Leonard is going to be a big part of the offense now. He's a dependable veteran, who can do a little bit of everything. But I think the Bucs will try to use a combination of Leonard and second-year pro
Bobby Rainey
. The Bucs want to get Rainey a fair amount of touches because he's more of a home-run threat than Leonard.
Speaking of home-run threats, even without Jones, the Falcons still have some playmakers. Are
Roddy White
and
Steven Jackson
now healthy enough to make a significant impact?
McClure:
Jackson said he was 100 percent now coming off a hamstring injury, and White continues to have his snaps monitored coming off a hamstring pull and high-ankle sprain. I thought Jackson showed signs of his old self with some tough runs against the
Carolina Panthers
. He then regressed against the
Seattle Seahawks
, but head coach Mike Smith blamed that on poor blocking. Jackson has a lot of pride and wants to show Falcons fans he was no fluke. But he can only do so much if the holes aren't there for him. He's averaging a mere 3.2 yards per carry.
As for White, he had one catch for 20 yards in his return against the Seahawks. More than anything, he wants to establish a rhythm so he can be back to his old self. The Falcons just need him to be the same type of playmaker when Jones returns next year. Shouldn't the Buccaneers have a new head coach by then?
Yasinskas:
It's pretty obvious that Greg Schiano is on the hot seat. He has won only one game this season and two of his past 15 dating to last year. Ownership does like the way Schiano cleaned up the culture of the locker room that was established under predecessor, Raheem Morris. Schiano, who has three more seasons remaining on his contract, might have bought himself a bit more time by benching
Josh Freeman
and going with rookie quarterback
Mike Glennon
. But ownership also wants to see some wins. I don't know that there's a magic number, but my guess is Schiano needs to win more than half of his remaining games if he's going to stick around for next season.
I know Smith has had five straight winning seasons since taking over as head coach in Atlanta, but this year hasn't gone as planned. Since expectations were so high, is owner Arthur Blank's patience wearing thin?
McClure:
I've watched Blank's reaction after the past two losses and he has been very supportive of Smith. He even embraced Smith like a long-lost son after a road loss to the Carolina Panthers.
Smith has been a winner since taking over in 2008 (58-31 record) and guided his team to the NFC Championship Game last season, although he's 1-4 in postseason games. I talked to general manager Thomas Dimitroff after last Sunday's game and he said Smith's going "nowhere" in reaction to speculation about maybe Jon Gruden being the team's next head coach.
Smith should get a pass on this season because of the injuries alone. But there are bound to be some staff changes in the offseason to correct some of the on-field problems plaguing the team.
October, 20, 2013
10/20/13
4:06
PM ET
ATLANTA -- A few thoughts on the
Tampa Bay Buccaneers
'
31-23 loss
to the
Atlanta Falcons
at the Georgia Dome:

What it means:
The Bucs are 0-6, and they've lost 11 of their last 12 dating to last season. This loss was similar to the first five of this season. The Bucs were in the game but never able to take control. That storyline is getting old. The lack of progress doesn't bode well for coach Greg Schiano, who clearly is on the hot seat. About the only thing Tampa Bay fans have to look forward to is an early draft pick next year.
Stock falling:
On a play in which the Bucs had seemed to force a punt near the end of the first quarter, reserve defensive end
Trevor Scott
was called for roughing the passer. That gave the Falcons a first down, and they followed up with a touchdown pass from
Matt Ryan
to
Jacquizz Rodgers
.
Stock rising:
Rookie running back
Mike James
got extensive playing time after starter
Doug Martin
left with a shoulder injury. James looked fairly solid, which could lead to more playing time, even if Martin is all right. The Bucs have been using Martin too much and need to reduce his workload.
Missing in action:
Tampa Bay's pass rush was pretty much nonexistent. That's why Ryan, who was without starting receivers
Roddy White
and
Julio Jones
, was able to have such a productive day.
Why bother?
I don't understand Schiano's decision to kick a field goal with five minutes left in the game. Even with the three points, it still was a two-score game.
What's next:
The Bucs host the
Carolina Panthers
on Thursday night.
October, 18, 2013
10/18/13
8:00
AM ET
Three things to watch as the
Tampa Bay Buccaneers
play the
Atlanta Falcons
on Sunday:
1. Tony Gonzalez.
With
Julio Jones
out and
Roddy White
banged up, the tight end is left as the primary receiving option in Atlanta's offense. The Bucs haven't been great at slowing down tight ends this season. That's why it wouldn't surprise me if the Bucs end up using one of their cornerbacks on Gonzalez at least some of the time.
2. Mike Glennon's progress.
The rookie quarterback made strides from his first start to his second. But this game represents a challenge because it's Glennon's first on the road. The Georgia Dome is a loud and hostile environment that will test Glennon's composure.
3. The team's demeanor.
Coach Greg Schiano may be on the hot seat with the team at 0-5. But there have been no signs of his players giving up. If that does start happening, that's when ownership could decide to make a move.
September, 13, 2013
9/13/13
12:00
PM ET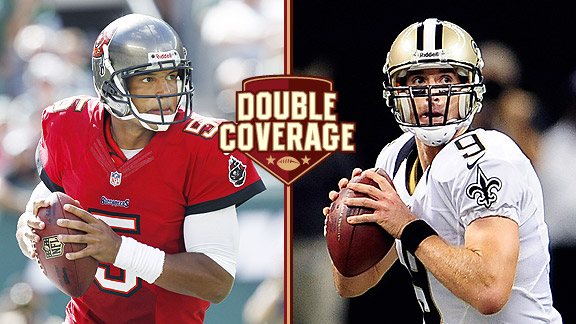 Getty ImagesBucs QB Josh Freeman faces off against Saints QB Drew Brees in a Week 2 division rivalry game.
Two of the biggest stories in the NFC South in Week 1 were that New Orleans played good defense and Tampa Bay never was able to get into an offensive rhythm.
Will that continue as the Saints and Buccaneers play one another?
ESPN's Matt Williamson and Buccaneers team reporter Pat Yasinskas discuss the matchup.
Yasinskas:
Matt, I have to admit I was stunned by the Saints holding the Falcons to just 17 points in the opener. I saw the Saints in training camp and had serious doubts about whether they had the personnel to run the 3-4 defense successfully, and they have endured several major injuries since then. Yet, the Saints kept one of the league's best offenses in check. Was this just a fluke or is the New Orleans defense actually for real?
Williamson:
If I were an optimistic Saints fan, I would take this stand: The Saints' young, talented three-man defensive line, led by
Cameron Jordan
, looks simply exceptional and fits the new scheme very well. Their secondary is also clearly improved from a year ago -- which isn't saying much. If I were taking a more pessimistic view on New Orleans' defense, I would say that
Roddy White
was a shell of himself and completely ineffectual, and the Falcons' offensive line might be among the worst in the NFL right now. The truth is probably somewhere in between, but I also believe that as long as the Saints' defense isn't among the very worst in the league, that this is the team to beat in the NFC South. So, in return, here is my question: Even if the Saints' defense isn't noticeably improved and is closer to the 2012 version than what we saw last week, is
Josh Freeman
capable of exploiting it?
Vincent Jackson
played a great game in New York, but Freeman has looked terrible throughout the preseason and now into regular-season action.
Yasinskas:
After watching Freeman in the New York game, I'm not so sure he's capable of exploiting any defense right now. He never got into any sort of rhythm in the passing game and, at times, look flustered. Over the past few years I've been steadfast in my belief Freeman has what it takes to turn into an elite quarterback. But that hasn't happened yet, and I'm starting to doubt if it ever will. He has plenty of weapons at the skill positions, but it seems like Freeman is regressing, instead of progressing. Speaking of regressing, what's your take on the Saints' running game? Coach Sean Payton has said he wants to run more, but the Saints got very little out of the running game in the opener. Now, they'll play a defense that was No. 1 against the run last season. Can
Mark Ingram
,
Darren Sproles
and
Pierre Thomas
move the ball against the Buccaneers?
Williamson:
That's a great question and I know it is extremely early, but I have forecasted Ingram to have a breakout season in 2013. But I am having second thoughts on that, as he is a volume runner who needs to be fed the ball to be most effective, and I just don't know if that will ever be the case here, as Thomas is such an effective all-around player and Sproles needs to be on the field. I do think Payton believes in balance and he wants to have a physical offense with a very good interior offensive line paving the way, but running against Tampa Bay doesn't seem to be the prudent move. Of course, the Tampa secondary is also vastly improved, but
Drew Brees
is the type of elite passer who just produces no matter the competition ... and can the Buccaneers match up to Sproles and
Jimmy Graham
? I have my doubts they can. Therefore, I say this is a game Payton puts on Brees' shoulders -- which is never a terrible idea. Along those lines, the Buccaneers clearly made a concerted effort to improve their pass defense by using numerous valuable resources to improve their secondary. Mission accomplished there. But this pass rush still has to be a concern, and if Brees is given time, he is going to find someone to his liking to eventually distribute the ball to. Brees is a tough guy to sack, but can the Bucs at least disrupt him in the pocket with some consistency?
Yasinskas:
One of the few encouraging things to come out of the loss to the Jets was that the Bucs recorded five sacks. Four of them came from the linebackers, which shows a willingness to blitz. But the front four can be more productive and several guys have the ability to bring some heat on Brees. End
Adrian Clayborn
and defensive tackle
Gerald McCoy
both have the talent to get to the quarterback. But the real wild card could be
Da'Quan Bowers
. The team wanted him to start, but he didn't play well enough to earn the job in the preseason. For the moment, Bowers is being used as a situational player. But he has more upside as a pass-rusher than anyone on this team, and this game would be a good time for him to start showing. Brees is tough to slow down under any circumstances, but you absolutely have to have a strong pass rush to have any chance. Speaking of Tampa Bay's pass rush, that brings up another question. The Saints let left tackle
Jermon Bushrod
depart as a free agent and they've replaced him with
Charles Brown
. Can Brown be an effective left tackle?
Williamson:
Because of their strengths on the interior and the need for the shorter Brees to have a clean pocket up the middle, the Saints construct their protections schemes from the inside out, which makes life for their offensive tackles easier. And, of course, Brees has a great feel for the rush to go along with underrated, but highly effective pocket movement and athletic ability to elude the rush, particularly from the edges. Bushrod never impressed me much, considering some viewed him as a Pro Bowl caliber left tackle. In fact, I think Brown has more natural ability when it comes to movement skills and length for the position. Brown played quite well in the preseason and that carried over to Week 1. It appears the Saints just might have found their starting left tackle for the foreseeable future.
August, 26, 2013
8/26/13
1:17
PM ET
The latest installment of #NFLRank is out, and it includes Nos. 41-50 for
offense
and
defense
. This segment is filled with NFC South players. Let's take a look.
Offense
43. Tampa Bay guard Carl Nicks
Stats & Info:
Nicks missed nine games last season, his first with the Buccaneers after signing a five-year, $47.5 million deal as a free agent last offseason. Nicks earned more than $24 million last season, which ranked fourth in the NFL behind only
Drew Brees
,
Vincent Jackson
and
Mario Williams
, according to the Roster Management System.
Yasinskas comment:
There is obvious concern about his health, because he has a staph infection and is coming off a major foot injury. But, when he's healthy, Nicks might be the best guard in the league.
44. New Orleans guard Jahri Evans
Stats & Info:
Evans has played 5,242 offensive snaps since 2008, ranking second in the NFL behind only
Justin Blalock
. A first-team All-Pro each of the past four seasons, Evans has started every game for the Saints in the Drew Brees era (since 2006).
Yasinskas comment:
Evans is the anchor of an offensive line that has been good for a long time. Other players have come and gone, but Evans has been the constant.
45. Tampa Bay receiver Vincent Jackson
Stats & Info:
Jackson was Tampa Bay's safety valve on third down last season, ranking fourth in the NFL in third-down targets behind only
Brandon Marshall
,
Wes Welker
and
Calvin Johnson
. On third down, Jackson had 20 catches resulting in a first down, ranking behind only
Roddy White
.
Yasinskas comment:
He joined Tampa Bay last season and instantly became quarterback
Josh Freeman
's favorite target. He and Freeman should be even more comfortable after a year together.
Defense
41. Tampa Bay safety Dashon Goldson
Stats & Info:
Goldson defended the most passes (10) when lined up as a safety in 2012. Eight of them were thrown less than 20 yards downfield, which also led all safeties.
Yasinskas comment:
The Bucs knew they were getting a talented player when they signed Goldson away from San Francisco. They also have discovered Goldson brings even more to the table. He already has emerged as a defensive leader.
NFC South to date:
Offense
43. Nicks
44. Evans
45. Jackson
51. Tampa Bay running back
Doug Martin
65. New Orleans wide receiver
Marques Colston
70. Carolina center
Ryan Kalil
71. Carolina wide receiver
Steve Smith
86. New Orleans guard
Ben Grubbs
87. Atlanta running back
Steven Jackson
98. Carolina offensive tackle
Jordan Gross
100. Carolina quarterback
Cam Newton
Defense
41. Goldson
51. Tampa Bay defensive tackle
Gerald McCoy
55. Carolina defensive end
Charles Johnson
80. Atlanta cornerback
Asante Samuel
86. Atlanta linebacker
Sean Weatherspoon
93. Atlanta safety
William Moore
96. Atlanta defensive end
Osi Umenyiora
97. Tampa Bay safety
Mark Barron
98. Tampa Bay linebacker
Lavonte David