Tampa Bay Buccaneers:

Ron Rivera
September, 5, 2014
Sep 5
12:00
PM ET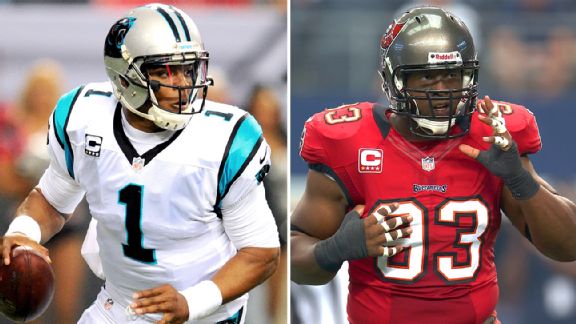 Dale Zanine/USA TODAY SportsCam Newton's sore ribs would prefer not to have any close encounters with Gerald McCoy.
If there's anything certain about the NFC South, it's uncertainty.
Since the division came into existence in 2002, no team has claimed the championship in back-to-back years. Worst-to-first finishes have been common, and no team has been able to consistently dominate.
That's why Sunday's season opener between the
Carolina Panthers
and
Tampa Bay Buccaneers
is so significant. The Panthers won the division last year, and the Bucs finished last at 4-12. But this is a new year, and history has shown that anything is possible in the NFC South.
Panthers reporter David Newton and Buccaneers reporter Pat Yasinskas take a look at the matchup.
Yasinskas:
David, much has been made of the release of wide receiver
Steve Smith
, who I think was the best player in franchise history. I know Smith's age was a concern. But can any of the new wide receivers step up and match his production?
Newton:
You
think
Smith was the best player in franchise history? I truly believe he is, although he probably would have a hard time believing me after what I'm about to say: The Panthers are better at wide receiver today than they were this time a year ago.
It's nothing against Smith, but he's 35 and admittedly not a true No. 1 receiver anymore. First-round draft pick
Kelvin Benjamin
is. At 6-foot-5 and 240 pounds, he is the big target quarterback
Cam Newton
hasn't had. Benjamin is deceptively fast, too. But the biggest thing is he makes plays, whether it's over the middle in traffic or on the outside. If teams double-cover him, that will open things up for tight ends
Greg Olsen
and
Ed Dickson
in the middle. It also will open coverage on
Jerricho Cotchery
and
Jason Avant
, a pair of veterans I believe to be more dependable than
Brandon LaFell
and
Ted Ginn Jr.
were last year. If the Bucs choose to single-cover Benjamin, Newton will look for him often. I know rookie receivers tend to struggle, but this one has a special feel.
The bigger worry for Carolina is its rebuilt offensive line. The Bucs added some talent around defensive tackle
Gerald McCoy
. How big of a problem will that be for the Panthers?
Yasinskas:
That should be a big concern for the Panthers. McCoy might be the best defensive tackle in the game, and the Bucs have worked hard to improve his supporting cast. They went out and signed tackle
Clinton McDonald
and end
Michael Johnson
to surround McCoy with some other players who can get after the quarterback. The guy who isn't getting a lot of attention but is worth keeping an eye on is
Adrian Clayborn
. He's a 2011 first-round draft pick who hasn't shown a lot so far, but the Bucs believe the new scheme will help them get more out of Clayborn.
Jordan Gross
' retirement had to hurt Carolina. How good is this offensive line without him?
Newton:
Athletically, it might be better. And in time, it might be better in terms of productivity. What it lacks is time together -- and Gross' leadership.
Byron Bell
was considered average to perhaps slightly better than average at right tackle, but the Panthers believe because he is naturally left-handed he's better off on the left side. He's still susceptible to the bull rush from what I saw in the preseason, but he's every bit as strong and athletic as Gross.
Amini Silatolu
began last season as the starting left guard before suffering a season-ending knee injury. So he's solid.
It's the right side the Bucs -- particularly McCoy -- might be able to take advantage of. As good as rookie
Trai Turner
has looked at right guard, he just turned 21 and he missed the last two preseason games with a groin injury. The good news is he has Pro Bowl center
Ryan Kalil
next to him.
Nate Chandler
, a former defensive lineman who wound up the starter at right guard last season, has moved out to right tackle after losing the left tackle battle. Again, he has great athleticism. He just needs time at the position.
How much different will the Bucs look under Lovie Smith than they did a year ago?
Yasinskas:
The Bucs will look dramatically different -- and that's a good thing from their perspective. Many players were miserable under former coach Greg Schiano, and they tired of his rigid ways. Smith brings a fresh start, and the players are delighted with him and his schemes. The Bucs are going back to the Tampa 2 defense that was famous in the Tony Dungy years, and their offense will have a faster tempo. More importantly, Smith has brought a new culture to the Bucs. Players are having fun again.
Everyone in Tampa is curious about Newton's rib injury. Is he healthy enough to be the athletic quarterback we've all come to know?
Newton:
The ribs are sore, and that isn't likely to change by Sunday. But Newton has thrown the ball well in practice, and his range of motion is good. He's tougher than most give him credit for being. To never have missed a start despite being hit twice as many times as any other quarterback over the past three seasons really is remarkable.
Coach Ron Rivera says he doesn't plan to change the game plan because of the injury, and that includes the read-option. But do I expect Newton to run 11 times, as he did at Tampa last season? I'd be stunned. The Panthers don't need Newton taking unnecessary hits. Having said that, if there is a play to be made, Newton won't hesitate to use his legs. He insists that he'll continue to dive headfirst instead of sliding, too. But I expect Newton to stay in the pocket as much as possible and throw the ball to Benjamin as often as he's open. Those two have quickly developed a bond.
What about
Josh McCown
, who spent two years on the Carolina bench? Is he really the answer at quarterback to make the Bucs a playoff contender?
Yasinskas:
McCown is a great story. He has spent most of his career as a backup, but the Bucs are giving him the chance to be a starter. McCown played extremely well last season when Bears starter
Jay Cutler
was hurt, and he has history with Smith from their time together in Chicago. But is McCown capable of leading a team to the playoffs? I honestly don't know. I think he needs a lot of help from the defense and the running game. If he gets that, McCown could be effective as a passer.
September, 3, 2014
Sep 3
8:00
AM ET
TAMPA, Fla. -- Since his arrival in January,
Tampa Bay Buccaneers
coach Lovie Smith has been a media darling.
He's been charming, funny and open. But Smith made it clear Monday that's about to change.
The regular season is upon us and Smith is going to start playing things closer to the vest. On Monday, Smith said he's only going to talk about injuries when he's required to. He also said he's not going to reveal his starting lineup, specifically at right guard.
Smith suddenly becoming tight lipped isn't good news for the media or the fans. Generic answers are going to be the norm.
But the sudden change in direction shouldn't come as a surprise. Smith had a reputation for being guarded with the media when he was the coach in Chicago.
That's a common approach among NFL head coaches. For context, predecessor Greg Schiano was extremely guarded. In the NFC South, Atlanta's Mike Smith is a master at being polite, but not telling the media anything. New Orleans' Sean Payton doesn't tell the media anything and doesn't even try to be polite. Carolina's Ron Rivera is the division's most open coach, but even he won't do anything that borders on revealing strategy.
Smith has pulled a big change. But his new style isn't that much different from any other coach in the league.
October, 24, 2013
10/24/13
12:00
PM ET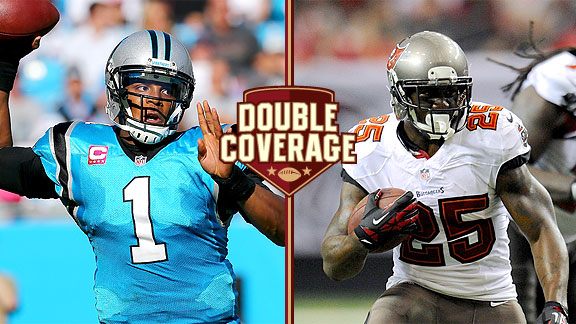 Getty Images, USA Today SportsCam Newton and Mike James will compete in a Week 8 NFC South matchup on Thursday.
The
Carolina Panthers
and
Tampa Bay Buccaneers
haven't been relevant on a national basis in a long time.
But, at least for one night, that will change. The winless Bucs host the Panthers (3-3) in a Thursday night prime-time game.
ESPN.com Buccaneers writer Pat Yasinskas and Panthers writer David Newton review the matchup:
Yasinskas:
David, Carolina coach Ron Rivera got off to 2-8 starts in each of his first two seasons before finishing strong. The Panthers have strung together a couple of wins. Are they coming together faster this year and do they have what it takes to make a playoff run?
Newton:
Not sure if it has to do with coming together faster as much as having more pieces to put it all together, combined with the understanding of what it takes. The addition of first- and second-round picks
Star Lotulelei
and
Kawann Short
at tackle has improved the defense substantially. The Rams tried to keep middle linebacker
Luke Kuechly
from being a factor last week with a special scheme, and the two rookies responded with a combined four tackles for loss and nine tackles overall.
Offensively, quarterback
Cam Newton
finally has gotten comfortable spreading the ball around to players such as
Ted Ginn Jr.
and
Brandon LaFell
, instead of relying heavily on wide receiver
Steve Smith
and tight end
Greg Olsen
. And Newton is playing at a level of consistency and confidence he hasn't had since his days playing at Auburn. The Panthers finally seem to have an identity on both sides of the ball, whereas the past two years they've been searching for one. That has raised confidence and created an attitude -- a belief -- that they can compete with anyone. It was there after they lost 12-7 to Seattle in the opener, but it took getting a few wins in a row for it to completely take hold.
Speaking of confidence, it can't be very high for the Bucs, who released franchise quarterback
Josh Freeman
a few weeks ago, and now apparently are without running back
Doug Martin
. Is this team in danger of besting -- if that's the way to put it -- the 1976 Bucs that went 0-14?
Yasinskas:
That's not out of the realm of possibility. It's tough to go winless. But, right now, I have a hard time envisioning the Bucs getting a win, because they appear to be in such disarray -- on and off the field. The Freeman saga and the repeated cases of MRSA have been a distraction; it seems like something new and weird is popping up every day. On the field, the Bucs are doing things such as committing 11 penalties in Sunday's loss to Atlanta. I've covered some bad football and some craziness through the years. But the Bucs are combining bad football with strange, off-the-field stuff more than I've ever seen, and there's no end in sight with speculation running rampant about the future of coach Greg Schiano.
The injury to Martin is just the latest stroke of bad luck, and it forces rookie
Mike James
into the starting lineup. Martin had been one of the few bright spots, and had the ability to take some of the pressure off rookie quarterback
Mike Glennon
.
Speaking of Glennon and pressure, I think Carolina's front seven is as good as any in the league. Do the Panthers even need to blitz or can they generate enough pressure with their front four?
Newton:
They'll blitz occasionally, but it'll be in strategic spots as you saw on the first play against St. Louis. Strong safety
Quintin Mikell
came in and tipped the pass as it left the arm of
Sam Bradford
, resulting in a pick-six for cornerback
Captain Munnerlyn
. The week before, linebacker
Thomas Davis
blitzed twice and went in basically untouched for sacks. They're aggressive, but smart with it.
You're right, though, the front four is playing extremely well. They're stuffing the run and forcing quarterbacks to throw faster than they want, which is allowing a secondary that was suspect two games into the season to make big plays.
Greg Hardy
has been a big part of that playing tackle, as well as his natural end position. He's way off the 50-sack goal he mentioned to you this summer, but opposing quarterbacks know he's there.
While we're on this topic, the Panthers have been particularly strong against quarterbacks who aren't mobile. That seems to be the case this week with Glennon. Is this a nightmare matchup for him, and how has he handled the pressure of starting so far?
Yasinskas:
Glennon has handled the pressure as well as you could hope for, under the circumstances. He has shown improvement each week, and he's a composed guy. But I think the matchup with Carolina could be his biggest test yet. He hasn't seen a pass rush such as Carolina's, and it doesn't help that the Bucs likely will be without injured guard
Carl Nicks
. Tampa Bay's offensive line hasn't played very well this season and that's a concern. Although Glennon has shown a bit more mobility than I thought he had, he still is pretty slow. That makes Carolina's pass rush scary.
Speaking of offensive lines, when I was still covering the whole NFC South back in the preseason, Carolina's offensive line was one of the team's biggest question marks. How has that unit performed?
Newton:
Amazingly, the O-line has held together pretty well, considering the loss of starting left guard
Amini Silatolu
. Sure, they've had their bad moments. The seven sacks surrendered against Arizona was the low point, but several of those you can blame on Newton for holding the ball too long. And they played well enough in the first half for Carolina to be up by two touchdowns, were it not for the dropped passes before everything fell apart.
If I'm the Panthers, I would be concerned with Tampa tackle
Gerald McCoy
. The Panthers have struggled against a couple of premier pass-rushers. Buffalo's
Mario Williams
and his 4.5 sacks in Week 2 come to mind. But it's hard to be too tough on this group since the running game has been one of the best in the league.
.