Tampa Bay Buccaneers:

Russell Wilson
February, 25, 2014
Feb 25
12:00
PM ET
The
Tampa Bay Buccaneers
recently sent out their season-in-review package and one thing stood out to me.
There was a section in which quarterback
Mike Glennon
's numbers from his first 13 starts were compared to those of quarterbacks drafted between 2010 and 2013. Glennon came out of this one looking very good.
Glennon's 83.9 passer rating trailed only
Robert Griffin III
(104.2) and
Russell Wilson
(94.9). Glennon was well ahead of players such as
Cam Newton
,
Andrew Luck
and
Sam Bradford
in passer rating.
Glennon's other stats compared favorably to Griffin and Wilson. Glennon completed 247 of 416 passes for 2,608 yards with 19 touchdowns and nine interceptions.
In his first 13 starts, Griffin completed 233 of 351 passes for 2,902 yards with 18 touchdowns and four interceptions. Wilson completed 201 of 317 passes for 2,492 yards with 20 touchdowns and nine interceptions.
Glennon's stats might have gone unnoticed largely because the Bucs went 4-12. But the fact is his rookie year was comparable to some of the best rookie showings in recent years.
February, 17, 2014
Feb 17
11:00
AM ET
I'm making my annual pilgrimage down to Bradenton, Fla., on Monday. That's the home of IMG Academy, where some of this year's top draft prospects are doing their preparation for the scouting combine.
IMG's football operation is run by former NFL quarterback Chris Weinke and the academy has helped players like
Cam Newton
,
Russell Wilson
and
Luke Kuechly
get ready for the combine in recent years.
I'll be interviewing some players who could be possibilities for the Buccaneers and writing about them in the coming days.
Here's the list of players participating, according to IMG: Louisville quarterback
Teddy Bridgewater
, Notre Dame offensive tackle
Zack Martin
, Alabama linebacker
C.J. Mosley
, Michigan offensive tackle
Taylor Lewan
, Oklahoma State cornerback
Justin Gilbert
, Ohio State linebacker
Ryan Shazier
, Notre Dame defensive lineman
Stephon Tuitt
, Stanford linebacker
Trent Murphy
, Oregon running back
De'Anthony Thomas
, LSU running back
Jeremy Hill
, LSU guard
Trai Turner
, Arkansas defensive end
Chris Smith
, Georgia tight end
Arthur Lynch
, Alabama linebacker
Adrian Hubbard
, Princeton defensive tackle
Caraun Reid
, Notre Dame guard
Chris Watt
, Miami guard
Brandon Linder
, Northwestern wide receiver
Kain Colter
, Tennessee defensive tackle Daniel McCullers, Ohio State offensive lineman Jake Mewhort, Kansas State offensive lineman
Cornelius Lucas
, Georgia Tech defensive end Jeremiah Attaochu, Towson running back
Terrance West
, Kansas State defensive tackle Chaquil Reed, Memphis quarterback Jacob Karam, Michigan State safety Isiah Lewis and Florida A&M defensive end
Frances Mays
.
November, 2, 2013
11/02/13
8:00
AM ET
Three things to watch in Sunday's game between the
Tampa Bay Buccaneers
and
Seattle Seahawks
:

Mike Glennon against the "12th Man":
Seattle is known as one of the toughest venues in the NFL, and it won't be any easy place for a rookie quarterback making just his fifth career start. Coach Greg Schiano said he wants to cut down the number of pass attempts by Glennon, who has been averaging 45 per game. The Seahawks rank third in the league in pass defense, so it might be wise to not have Glennon throw very much.
Mike James and the running game:
Doug Martin
is likely to be out for the second straight game with a shoulder injury. That means an increased workload for rookie Mike James. In the previous game against Carolina, James never really got on track. Like the Panthers, the Seahawks are likely to try to stack the box. James needs more help from his offensive line than he received against Carolina.
The slumping defense:
The Bucs have given up 31 points in each of their past three games. The secondary has been giving up some big plays, and the Bucs had a tough time containing Carolina quarterback
Cam Newton
. Seattle's
Russell Wilson
also is a very mobile quarterback, and he's complemented by running back
Marshawn Lynch
. Tampa Bay's run defense is ranked No. 7 in the league. But Seattle might be the best running team the Bucs have faced this season.
November, 1, 2013
11/01/13
12:00
PM ET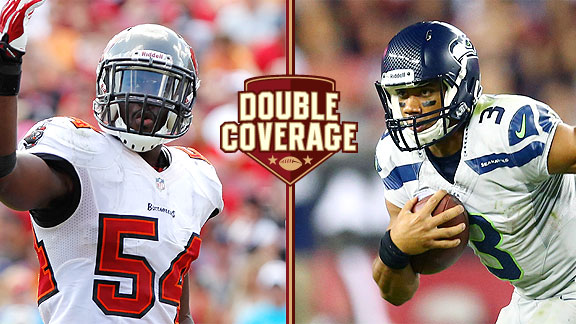 USA Today SportsThe key for Lavonte David and the Bucs is to try to pressure Russell Wilson and to attack a line that gave up seven sacks on Monday.
Despite getting outplayed in almost every statistical category Monday night at St. Louis, the
Seattle Seahawks
defeated the Rams 14-9 and reached the midpoint of the season at 7-1 after a rough stretch of four road games in five weeks.
Now Seattle returns to CenturyLink Field against the winless
Tampa Bay Buccaneers
, hoping to win at home for the 12
th
consecutive time. It looks like a mismatch, but so did the Rams game.
The Seahawks still have backups starting at both offensive tackle spots and now are missing receiver
Sidney Rice
, who tore an ACL on Monday night. Rice is in the last year of his contract with the team and probably has played his last game with Seattle.
Receiver
Percy Harvin
should return soon after undergoing hip surgery three months ago, but it probably won't be this weekend. Nevertheless, the Seahawks should win this game.
Blount:
Pat, a lot of people thought the Bucs would have a new head coach by the time the team got to Seattle, but Greg Schiano is hanging on. If Tampa Bay comes here and loses by a big margin, is that the end for him?
Yasinskas:
Terry, I've been pointing to the Seattle game for several weeks as a possible end for Schiano. I think he's still employed in large part because the Bucs are putting forth an effort. But I could see that changing on a long road trip against a good team and in a hostile environment. The interim route rarely works out well. But if this team lies down in Seattle, I can see ownership pulling the plug on Schiano.
Aside from the loss to Indianapolis, Seattle seems to have been nearly perfect. But there's no such thing as perfect in the NFL. What are the Seahawks' biggest weaknesses?
Blount:
Without question, it's the offensive line. It's not just weak right now. It's awful. Obviously, missing
Russell Okung
and
Breno Giacomini
is a big part of it, but having to go with backups at the tackle spots is not the only issue. Neither starting guard has played well, and center
Max Unger
, who had an arm injury earlier this season, hasn't played up to his Pro Bowl level of last year. It will improve when Okung and Giacomini get back in a few weeks, which will enable the Seahawks to move
Paul McQuistan
back to one of the guard spots instead of being out of position at left tackle. But it has to improve dramatically if Seattle hopes to live up to the Super Bowl expectations.
Pat, speaking of the Seattle line, it's obvious right now that the way to stop the Seattle offense is to load the box and blitz like crazy against the backup tackles, along with the rest of the offensive line that hasn't played well.
Russell Wilson
didn't have time to breathe at St. Louis. Do you see this as Tampa Bay's strategy on Sunday?
Yasinskas:
I think the Bucs will try a similar approach, but I'm not sure they'll have as much success as St. Louis did. The defensive line hasn't been generating much of a pass rush. Linebackers
Lavonte David
and
Mason Foster
have been effective as blitzers, and I think you'll see the Bucs use them as pass-rushers.
Terry, how much does losing Rice hurt the receiving corps?
Blount:
When Harvin gets on the field, assuming he's healthy, the Seahawks won't miss Rice. In fact, they'll be much better with Harvin's speed and versatility. Rice never has lived up to expectations here. He hasn't played nearly as well this season as receivers
Golden Tate
and
Doug Baldwin
. But if Harvin still isn't ready to come back, it hurts Seattle's depth at the receiver spot and enables any defense to use more double coverage on Tate and/or Baldwin. But this also could be an opportunity for
Jermaine Kearse
to shine. He's been a big surprise this season in limited play.
Pat, obviously, the Bucs aren't going anywhere this season. They spent a ton of money to bring in some top players on defense like
Darrelle Revis
and
Dashon Goldson
. What do you see as the team's goal for the rest of the season, and what do the Bucs hope to accomplish going forward in 2013?
Yasinskas:
It's been a hugely disappointing year for a team with eight players on the roster who have been to the Pro Bowl. This team's struggles aren't entirely due to a lack of talent. Schiano prides himself on being a disciplinarian, but this team has struggled with mental mistakes and penalties. The thinking is that playing smarter will translate into some wins. But those might be coming too late to save Schiano's job. There is a segment of the fan base that wouldn't mind seeing the Bucs go winless so that they get the first overall pick in the 2014 draft.
Terry, the Seahawks are third in the league in pass defense, and we've heard a lot about their secondary. Is rookie quarterback
Mike Glennon
walking into the ultimate ambush?
Blount:
That's what everyone thought Monday night for Rams backup quarterback
Kellen Clemens
, but he played pretty well most of the game. Clemens made two overthrows that became interceptions but came within one goal-line play of upsetting the Seahawks at the end of the game. The Seahawks do a great job of mixing things up and disguising coverages, but they do take chances to come up with turnovers. If Glennon doesn't recognize things quickly, they will make him pay.
October, 31, 2013
10/31/13
11:48
AM ET
TAMPA, Fla. -- When
Russell Wilson
was the starting quarterback at North Carolina State a few years back, he had a consistent message for backup
Mike Glennon
.
Glennon
Wilson
"He used to say, 'I want you to push me, because that makes me a better player'," Glennon said. "I think we both felt that way. When he was out there, it was making me a better player because I saw what he could do, and then I was right on his feet right there, trying to get that job from him. I think, ultimately, it made us both better players."
Both ended up in the NFL. Glennon is a rookie playing for Tampa Bay and Wilson is a second-year player with Seattle. Their teams will meet on Sunday.
Glennon said he and Wilson stay in touch. Although Glennon had to bide his time at NC State, he wound up starting for two seasons. Wilson left NC State for Wisconsin with one year of eligibility remaining, which allowed Glennon to move into the starting role.
"He went on to [the University of] Wisconsin, had a great senior year, led them to the Rose Bowl," Glennon said. "Last year, [he] had a remarkable rookie year and is playing extremely well now. Then, for me, it gave me the chance to start for two years and give myself an opportunity to get drafted. So, it worked out for both of us."
October, 31, 2013
10/31/13
8:00
AM ET
TAMPA, Fla. – According to defensive tackle
Gerald McCoy
, the
Tampa Bay Buccaneers
will face the NFL's top two quarterbacks when it comes to escape ability in back-to-back weeks.

They already faced Carolina's
Cam Newton
and lost. They'll face Seattle's
Russell Wilson
on Sunday. McCoy had high praise (and a lighthearted low blow) for Wilson.
"I think he's second to Cam Newton as an escape artist,'' McCoy said. "Cam is just because of his size and athletic ability. But Russell, he has this move where he gets you two steps to the right, spins back and go back to his left. It's ridiculous. That pump fake. He's a great escape artist. We lost contain this last game with Cam. We can't do it with this guy. Cam, at least you can see him. Russell is 4-foot-10.''
For the record, Wilson is listed at 5-11. But I get McCoy's picture. I stood next to Wilson at the IMG Academy when he was preparing for the 2012 scouting combine, and I think 5-11 might be a little generous.
October, 30, 2013
10/30/13
4:33
PM ET
TAMPA, Fla. – Defensive tackle
Gerald McCoy
might be the most gregarious member of the
Tampa Bay Buccaneers
. So it's no surprise that came up with a wild comparison while holding court with the media on Wednesday afternoon.
McCoy was asked what it would be like to go out to Seattle and get a win against the Seahawks on Sunday.
"I've never done it. But it will be like walking in someone else's house, punching them in the face and then turning to watch "Family Matters.'' They wanted to watch "The Voice.''. You want to watch "Breaking Bad.'' So you go in and punch them in the face and you're like "We're watching "Breaking Bad.'' I've never physically done that but going into somebody's stadium, especially like this, that's what it's going to be like.''
It's nice to know that McCoy never has done the act he described above. But, just in case McCoy's imaginary scenario didn't give you the full picture, here's a little more straight-forward description.
"Think about this: You're going into a stadium that's supposed to be the hardest place in the NFL to play in,'' McCoy said. "They're setting all these sound-barrier records. They've got this dominant defense. They've got this up-and-coming star at quarterback (
Russell Wilson
), an established star (
Marshawn Lynch
) at running back. They're hot right now. They're angry off of the performance they just put up on "Monday Night Football.'' So everybody's expecting them to beat us down. We love it. You love to go into an environment like that because when you go in there and you withstand that punch and you fight back, then everybody's like, 'Woa, this team might have something.'''