Tampa Bay Buccaneers:

Sam Wyche
October, 27, 2014
10/27/14
8:00
AM ET
TAMPA, Fla. –
Tampa Bay Buccaneers
coach Lovie Smith frequently gets compared to Tony Dungy.
That's understandable because Dungy was the coach when Smith first joined the Bucs as linebackers coach back in 1996. They share similar personalities and philosophies.

Smith
But maybe we've been comparing Smith to the wrong former Tampa Bay coach. What I keep hearing reminds me a lot more of Sam Wyche than Dungy.
Take what Smith had to say after Sunday's 19-13 overtime loss to the
Minnesota Vikings
.
"If you look at the big picture, right now we're in the same position we were before we started the game," Smith said.
Smith's point was that the
Atlanta Falcons
and
Carolina Panthers
lost Sunday and nobody's running away with the NFC South. But, seriously, does anyone believe the 1-6 Bucs are going to suddenly turn things around and win the division?
Wyche used to make statements like that – and this:
"As a young team, we're seeing small improvements," Smith said.
Really? I didn't see any improvement from an offense that didn't do anything until the fourth quarter. I wasn't that impressed by a defense that was decent, but far from great, against rookie quarterback
Teddy Bridgewater
.
Dungy had a successful run with the Bucs. Wyche did not. Dungy also got off to a rough start in his first season. He stood by his convictions and things eventually turned. Things never turned for Wyche.
Whether Smith turns out to be more like Dungy or Wyche will be determined in time. But Smith doesn't need to talk about improvement anymore.
He needs some wins.
November, 17, 2013
11/17/13
6:51
PM ET
TAMPA, Fla. -- For weeks now, coach Greg Schiano steadfastly has said that once the
Tampa Bay Buccaneers
started winning football games, they wouldn't stop.
We all laughed.
As it turns out, maybe the man had a point. Maybe, just maybe, Schiano will have a job next year that many expected him to lose.
The Buccaneers defeated the
Atlanta Falcons
, 41-28, on Sunday at Raymond James Stadium. That came six days after the Bucs got a Monday night win against the
Miami Dolphins
for their first victory of the season.
"It's something that we can build on, for sure," Schiano said.
[+] Enlarge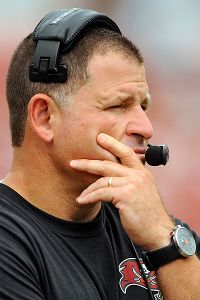 AP Photo/Brian BlancoGreg Schiano had the Buccaneers playing hard despite an 0-8 start. The result? Two straight victories.
Let's make no mistake: The Bucs are 2-8 and Schiano remains very much on the hot seat. But that seat is a little cooler than it was a few weeks ago. It might seem hard to imagine, but maybe the billboards calling for Schiano's firing will come down, maybe fans will jump off his back and onto his bandwagon, and maybe he still will be the coach in 2014.
"We've got a lot of pride," left tackle
Donald Penn
said. "We've got to play for our coach. Everybody's doubting our coach. We're behind him 120 percent."
That's the very reason I've held off on joining the masses in calling for Schiano's job. I'm not saying Schiano is a great coach, and I still don't know if his ways will work in the NFL. But the fact is, he never lost the locker room during an 0-8 start. His players never stopped playing hard.
I saw Tampa Bay teams totally pack it in at the end of the Raheem Morris and Sam Wyche eras. That, along with dismal records, is why Morris and Wyche were fired.
"A lot of people could have just folded," Penn said. "We're still fighting. Hopefully, we can keep building. I'm happy. For once, I can say I'm happy."
Let's not get too carried away with the sudden happiness. Schiano's record (9-17 overall) is dismal. Schiano has lost a lot of games, but he hasn't lost his players.
That counts for a lot, in my eyes.
Schiano is still facing an uphill battle. But I can see a scenario in which he could end up sticking around. I don't know if the Glazer family, which owns the team, has some magic number of wins in mind for Schiano to keep his job. Maybe Schiano needs to run the table, win the next six games and finish 8-8. Or maybe something like winning six of the final eight games will be enough to bring Schiano back.
He does have three more years left on his contract, and ownership likely won't be eager to pay the salaries for two head coaches at once. Or maybe the Bucs lose their next six and Schiano follows the route of Bobby Petrino, Steve Spurrier and Nick Saban and goes back to coaching a college program.
But the point is Schiano still has a shot in the NFL, if he can win some more games down the stretch. That no longer seems as unfathomable as it did a few weeks ago.
If the Bucs can play the rest of the way like they did Sunday, they could win more than they lose in their remaining games. It could happen.
It could happen because
Gerald McCoy
(three sacks on Sunday) suddenly is playing as well as any defensive tackle in the league. It could happen because the Bucs appear to have found a hidden gem in running back
Bobby Rainey
(163 rushing yards). It could happen because rookie quarterback
Mike Glennon
(only three incompletions against the Falcons) continues to get better each week.
And let's not overlook the possibility that Schiano might be starting to catch onto what the NFL is all about. Did you see the onside kick, the tailback pass and Glennon's two deep throws to
Vincent Jackson
? This team isn't playing nearly as conservatively as it did early in the season. Maybe Schiano is changing -- for the better.
In recent weeks, it hasn't taken too much observation to see a difference in Schiano. On the practice field, he has been joking around more with his players. When talking to the media, Schiano has seemed more relaxed, even approaching humor at times.
Maybe Schiano realized he needed to be less stubborn and stern. Maybe changing his personality and his play calling is Schiano's way of fighting for his job.
And, as long has his team keeps fighting, maybe he'll get to keep it.
October, 20, 2013
10/20/13
6:35
PM ET
ATLANTA -- The evidence and a lot of Tampa Bay fans say coach Greg Schiano should be fired immediately.
I say it's not that time. At least not yet.
Yes, Sunday's
31-23 loss
to the
Atlanta Falcons
was the same story it's been all season. Schiano's Bucs were inept. They squandered opportunities and committed 11 penalties for 103 yards.
"It's been a long time since a team I coached had that same issue," Schiano said. "Put it on me to get that fixed. We had 11 penalties, six of them in Atlanta territory and four in the red zone. I think we do all the right things and it's worked over the years, yet it's not working right now. We've got to re-examine that."
There's a lot the Bucs need to re-examine and there's no doubt Schiano is running short on time. The Bucs are 0-6 and they've lost 11 of their last 12 games, dating back to last season.
[+] Enlarge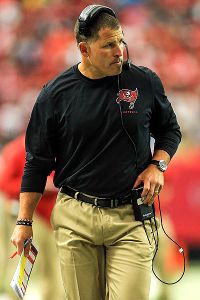 Daniel Shirey/USA TODAY SportsGreg Schiano's Tampa Bay Buccaneers have lost 11 of their past 12 games.
"When teams are having penalties, that's a collective coaching and playing issue," Schiano said. "We've got to get it fixed. I'm frustrated because I've said that standing at this [microphone] before."
The Bucs are making the same mistakes over and over. That doesn't bode well for any coach and this season is on the verge of spiraling out of control. Quarterback
Josh Freeman
is gone, so Schiano is left to take all of the blame.
And he deserves every bit of it. I'm not giving Schiano a ringing endorsement, because that simply is not possible at this time.
But the alternative that so many fans want -- an interim coach -- isn't the answer. Sure, the Bucs could make special teams coordinator Dave Wannstedt their interim coach. He has been an NFL head coach before. Or the Bucs could turn to Butch Davis, who is a special adviser to Schiano. Davis also has been an NFL head coach.
What good would either of those moves do the Bucs, who have to turn around and play a Thursday night game against Carolina? Firing Schiano and replacing him with Wannstedt or Davis would only throw this team into more disarray -- and, yes, that is possible.
Going the interim route never is the answer. You only do that when things are totally out of control and you're only prolonging the inevitable -- the arrival of a new coach.
Things are dangerously close to being totally out of control for the Bucs, but they're not completely there yet.
Give Schiano, who ironically had a reputation as a builder and perfectionist at Rutgers, just a little more time to try to get things straightened out. He's had only three games with
his
quarterback, rookie
Mike Glennon
. Amid the rubble of three losses, Glennon has shown some improvement.
Get the penalties to stop and get the defensive backfield to stop watching balls go over its head. Maybe the Bucs can win five or six games down the stretch. If that happens, maybe Schiano, who has three more years on his contract, sticks around and maybe the Bucs turn the corner next season.
Yeah, all that's a long shot. But there really is one reason why I don't think the time has come to fire Schiano.
The Bucs aren't playing well, but they still are playing hard. Tampa Bay has seen teams quit before. (Remember 2011 under Raheem Morris or the end of the Sam Wyche days?)
From the time Schiano first arrived, there have been rumblings that the players don't like his methods. I think there's some truth to that, but the fact is the Bucs haven't packed it in -- yet.
Maybe that happens in Thursday night's nationally televised game. Or maybe it happens the following week when the Bucs go across the country to play Seattle.
If there ever are signs that this team has quit, then go ahead and fire Schiano immediately. But, as long as there is effort, don't make any moves this season.
Things aren't good under Schiano, but he still has the attention of his team. If you fire him and go with an interim coach, that's the equivalent of bringing in a substitute teacher, who will get plowed over by a class that's out of control.
October, 16, 2013
10/16/13
8:00
AM ET
TAMPA, Fla. -- Between the
Josh Freeman
saga and the MRSA infection soap opera, there have been a lot of times lately where I've been reminded of the days when Sam Wyche was coaching the
Tampa Bay Buccaneers
.

Those days were crazy as the Wyche-led Bucs never seemed to have a dull day. Those days also were largely unproductive, but maybe there's a lesson to be learned. Back in the Wyche days, the Bucs were having trouble right after halftime and that was contributing to a lot of losses.
One day, Wyche pulled his team off the field right in the middle of practice. He put the players through their halftime routine -- speech and all -- and brought them back out for another hour of practice. The stunt didn't end up helping the Bucs, but maybe current coach Greg Schiano might want to try this again.
The current Bucs have yet to score a point in the third quarter this season. They've totaled only 13 points in the second half through five games.
Wyche's off-the-wall tactics never worked with the Bucs. But maybe they're worth another try.
October, 13, 2013
10/13/13
6:40
PM ET
TAMPA, Fla. -- They cheered, ever so slightly, as running back
Doug Martin
and wide receiver
Vincent Jackson
walked off the field at Raymond James Stadium on Sunday. They did the same as defensive tackle
Gerald McCoy
walked into the tunnel to the locker room.
And, then, there was coach Greg Schiano.
The venom directed at him by a large group of fans in the southeast corner of the stadium was loud. The language was so vicious, the only way to summarize it was that the crowd was telling Schiano he needs to go back to being a college coach.
[+] Enlarge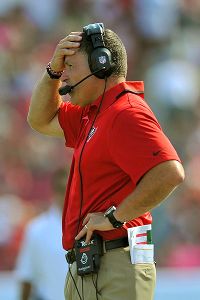 Steve Mitchell/USA TODAY SportsGreg Schiano's Buccaneers have lost 10 of their past 11 games going back to last season.
"I didn't hear anything," Schiano said a few moments after his team lost, 31-20, to the
Philadelphia Eagles
.
It's a good thing Schiano has thick skin because patience is running thing among the fans. And it's time to start wondering whether ownership's patience is wearing thin as well.
The Bucs have lost their first five games of this season and 10 of 11 dating back to last year. There were no real signs of progress against the Eagles. In fact, you could make a case that the Bucs' revamped defensive secondary regressed. Rookie quarterback
Mike Glennon
played well enough to lead the Bucs to a 17-14 halftime lead, but didn't do much of anything positive in the second half.
Glennon wasn't alone. Instead of blowing a late lead as they've done several times already this season, the Bucs took a shortcut and simply got blown out.
"We need to get it figured out quickly," Schiano said.
That's a huge understatement. On top of the losing, the Bucs seem to be in disarray in every way. Former franchise quarterback
Josh Freeman
was run out of town after a public feud with the team. According to a USA Today report, the NFL Players Association pointed to Schiano as the culprit for leaking a story that Freeman was in the league's drug program.
Then, there's the whole MRSA situation. Three players (guard
Carl Nicks
, kicker
Lawrence Tynes
and cornerback
Johnthan Banks
) have been diagnosed with MRSA since the preseason started. Nicks recovered enough to play in two games before he was diagnosed with a recurrence last week.
Has there ever been a crazier time for this franchise? The expansion days of John McKay come to mind. So do the Sam Wyche days and the final days of Raheem Morris.
But I'll make the case that what's happening now deserves more of a big top than anything in franchise history. Unlike McKay, Wyche and Morris, Schiano has plenty of talent with which to work. (The Bucs have eight guys who have been to the Pro Bowl.)
Unlike McKay, Wyche and Morris, circus acts weren't expected from Schiano. The guy came from Rutgers, where he had a reputation as a builder and disciplinarian.
Yet, even with all that discipline, the Bucs seem to be running amok. How does Schiano reverse the fortunes of this team?
"You stand to your convictions without being stubborn and you move forward," Schiano said. "We've got a good group of people in that locker room and coaches and they're going to stick together and we're going to get it turned. As long as you know that, you're going to do it."
The part about sticking to your convictions makes me think of that scene in "Hoosiers" when Gene Hackman's character, coach Norman Dale, says "My team is on the court" as a way of sending a message to his team. That stuff works in movies.
Real life can be another story. I'm not sure that continuing to play cornerback
Darrelle Revis
in zone coverage is going to lead to a turnaround for the Bucs.
The next three weeks or so are critical for Schiano and the Bucs. They play division rivals Atlanta and Carolina and travel to Seattle. An 0-8 start is looking possible.
Again, I have no idea if ownership is growing as impatient as the fans. But I do know that the Glazer family, which owns the team, does not like to be embarrassed.
The Bucs have been an embarrassment recently. If that doesn't change, the Glazers also might have some unkind words for Schiano.