Tampa Bay Buccaneers:

Steve Smith
September, 5, 2014
Sep 5
12:00
PM ET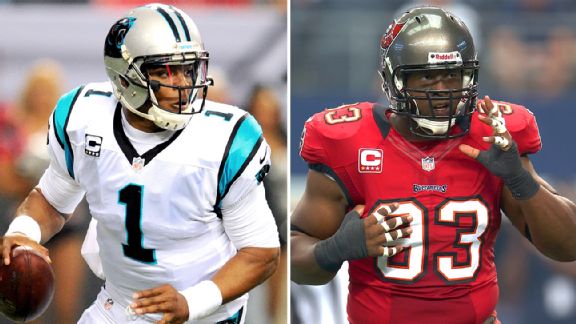 Dale Zanine/USA TODAY SportsCam Newton's sore ribs would prefer not to have any close encounters with Gerald McCoy.
If there's anything certain about the NFC South, it's uncertainty.
Since the division came into existence in 2002, no team has claimed the championship in back-to-back years. Worst-to-first finishes have been common, and no team has been able to consistently dominate.
That's why Sunday's season opener between the
Carolina Panthers
and
Tampa Bay Buccaneers
is so significant. The Panthers won the division last year, and the Bucs finished last at 4-12. But this is a new year, and history has shown that anything is possible in the NFC South.
Panthers reporter David Newton and Buccaneers reporter Pat Yasinskas take a look at the matchup.
Yasinskas:
David, much has been made of the release of wide receiver
Steve Smith
, who I think was the best player in franchise history. I know Smith's age was a concern. But can any of the new wide receivers step up and match his production?
Newton:
You
think
Smith was the best player in franchise history? I truly believe he is, although he probably would have a hard time believing me after what I'm about to say: The Panthers are better at wide receiver today than they were this time a year ago.
It's nothing against Smith, but he's 35 and admittedly not a true No. 1 receiver anymore. First-round draft pick
Kelvin Benjamin
is. At 6-foot-5 and 240 pounds, he is the big target quarterback
Cam Newton
hasn't had. Benjamin is deceptively fast, too. But the biggest thing is he makes plays, whether it's over the middle in traffic or on the outside. If teams double-cover him, that will open things up for tight ends
Greg Olsen
and
Ed Dickson
in the middle. It also will open coverage on
Jerricho Cotchery
and
Jason Avant
, a pair of veterans I believe to be more dependable than
Brandon LaFell
and
Ted Ginn Jr.
were last year. If the Bucs choose to single-cover Benjamin, Newton will look for him often. I know rookie receivers tend to struggle, but this one has a special feel.
The bigger worry for Carolina is its rebuilt offensive line. The Bucs added some talent around defensive tackle
Gerald McCoy
. How big of a problem will that be for the Panthers?
Yasinskas:
That should be a big concern for the Panthers. McCoy might be the best defensive tackle in the game, and the Bucs have worked hard to improve his supporting cast. They went out and signed tackle
Clinton McDonald
and end
Michael Johnson
to surround McCoy with some other players who can get after the quarterback. The guy who isn't getting a lot of attention but is worth keeping an eye on is
Adrian Clayborn
. He's a 2011 first-round draft pick who hasn't shown a lot so far, but the Bucs believe the new scheme will help them get more out of Clayborn.
Jordan Gross
' retirement had to hurt Carolina. How good is this offensive line without him?
Newton:
Athletically, it might be better. And in time, it might be better in terms of productivity. What it lacks is time together -- and Gross' leadership.
Byron Bell
was considered average to perhaps slightly better than average at right tackle, but the Panthers believe because he is naturally left-handed he's better off on the left side. He's still susceptible to the bull rush from what I saw in the preseason, but he's every bit as strong and athletic as Gross.
Amini Silatolu
began last season as the starting left guard before suffering a season-ending knee injury. So he's solid.
It's the right side the Bucs -- particularly McCoy -- might be able to take advantage of. As good as rookie
Trai Turner
has looked at right guard, he just turned 21 and he missed the last two preseason games with a groin injury. The good news is he has Pro Bowl center
Ryan Kalil
next to him.
Nate Chandler
, a former defensive lineman who wound up the starter at right guard last season, has moved out to right tackle after losing the left tackle battle. Again, he has great athleticism. He just needs time at the position.
How much different will the Bucs look under Lovie Smith than they did a year ago?
Yasinskas:
The Bucs will look dramatically different -- and that's a good thing from their perspective. Many players were miserable under former coach Greg Schiano, and they tired of his rigid ways. Smith brings a fresh start, and the players are delighted with him and his schemes. The Bucs are going back to the Tampa 2 defense that was famous in the Tony Dungy years, and their offense will have a faster tempo. More importantly, Smith has brought a new culture to the Bucs. Players are having fun again.
Everyone in Tampa is curious about Newton's rib injury. Is he healthy enough to be the athletic quarterback we've all come to know?
Newton:
The ribs are sore, and that isn't likely to change by Sunday. But Newton has thrown the ball well in practice, and his range of motion is good. He's tougher than most give him credit for being. To never have missed a start despite being hit twice as many times as any other quarterback over the past three seasons really is remarkable.
Coach Ron Rivera says he doesn't plan to change the game plan because of the injury, and that includes the read-option. But do I expect Newton to run 11 times, as he did at Tampa last season? I'd be stunned. The Panthers don't need Newton taking unnecessary hits. Having said that, if there is a play to be made, Newton won't hesitate to use his legs. He insists that he'll continue to dive headfirst instead of sliding, too. But I expect Newton to stay in the pocket as much as possible and throw the ball to Benjamin as often as he's open. Those two have quickly developed a bond.
What about
Josh McCown
, who spent two years on the Carolina bench? Is he really the answer at quarterback to make the Bucs a playoff contender?
Yasinskas:
McCown is a great story. He has spent most of his career as a backup, but the Bucs are giving him the chance to be a starter. McCown played extremely well last season when Bears starter
Jay Cutler
was hurt, and he has history with Smith from their time together in Chicago. But is McCown capable of leading a team to the playoffs? I honestly don't know. I think he needs a lot of help from the defense and the running game. If he gets that, McCown could be effective as a passer.
May, 17, 2014
May 17
4:36
PM ET
TAMPA, Fla. -- Buccaneers rookie
Robert Herron
said he's patterning himself after veteran NFL receiver
Steve Smith
. He's off to a good start.
Like Smith, Herron is an undersized receiver with the potential to contribute to the return game. But the similarities don't end there, and Smith and Herron might have something more in common.
Anyone who has followed Smith's career with the
Carolina Panthers
and now with the
Baltimore Ravens
knows the receiver plays with a chip on his shoulder.
"I definitely have a chip on my shoulder because I feel like I should have went before,'' Herron said.
Herron, a Wyoming product, was referring to the fact that he wasn't drafted until the sixth round.
"I'm definitely motivated,'' Herron said. "I thought I was going to go before that. But you never know how the draft is going to go. I wasn't expecting that but I knew it could happen. I'm definitely going to try to go hard on every team that either I took a visit with or a workout with.''
If Herron uses that fuel to be even half as productive as Smith, the Bucs will be very happy.
The Bucs see Herron as someone that has a chance to be their slot receiver. They have plenty of size with starters
Vincent Jackson
and
Mike Evans
, but they can use someone with speed to stretch the field. Herron said he spent much of his college career in the slot and is comfortable in the position.
But the Bucs also are looking at Herron in another spot. During this weekend's rookie camp, Herron has gotten some work as a punt returner.
"He didn't do a lot in college, but he has been working on it,'' coach Lovie Smith said. "He caught the ball better today than he did yesterday. I was a little concerned to say the least yesterday. But today was better. It was windy. But, as I told them, there's going to be a couple of windy games that we'll be playing this year.''
Herron said he hasn't returned punts since high school. But Herron said he's spent the last few months working on punt returns because it would make him more marketable in the NFL.
February, 11, 2014
Feb 11
2:19
PM ET
There's nothing like following a little offseason taunting between NFC South rivals over weather.
Unless, that is, your furnace has been broken since Thursday in the NFC South city that is being bombarded by Winter Storm Pax that at this moment has no rival.
It all began in Charlotte, three miles from my freezing abode. The person in charge of the
Carolina Panthers
' official Twitter site tweeted a picture of snow blanketing Bank of America Stadium.
Winter is coming. pic.twitter.com/2MdfyAme6i

— Carolina Panthers (@Panthers) February 11, 2014
Then the
Tampa Bay Buccaneers
, who perhaps are stinging from a couple of losses to the NFC South champion Panthers this past season, tweeted a picture of the entrance to One Buc Place.
We hear you @Panthers...here at One Buc Place, a cloud blocked the sun for a few minutes. It was AWFUL! #itsabucslife pic.twitter.com/fi9demTLeJ

— Tampa Bay Buccaneers (@TBBuccaneers) February 11, 2014
According to my trusty weather app, it is 72 degrees and sunny in Tampa. It is 30 and snowing in Charlotte.
And if anybody cares, it is 49 and dry in my house.
Not to be outdone, the
Atlanta Falcons
got into the mix by tweeting a picture of quarterback
Matt Ryan
, known as "Matty Ice."
.@TBBuccaneers @Panthers It's pretty icy here, guys. #RiseUp pic.twitter.com/wVVH9ZBzdC

— Atlanta_Falcons (@Atlanta_Falcons) February 11, 2014
Ryan did indeed have rather cold performances against Carolina and Tampa, going 1-3 against his rivals, including six interceptions in the three losses.
The Bucs apparently thought that was the message, reminding us in a tweet including a picture of cornerback
Darrelle Revis
.
Well played @Atlanta_Falcons - But it's always sunny here on #RevisIsland @Panthers @Revis24 #NFCSouth pic.twitter.com/9WxobOGCvM

— Tampa Bay Buccaneers (@TBBuccaneers) February 11, 2014
Revis, by the way, had no interceptions against Atlanta or Carolina this season. But don't let facts get in the way of a good tweet.
The Panthers retaliated in this now Twitter weatherfare by challenging the Bucs and Falcons to a snowball fight. They even brought New Orleans into the mix, suggesting the Saints and Falcons might have to carpool.
That could take a while if Atlanta becomes gridlocked for 24 hours like it was a few weeks ago when Winter Storm Leon passed through.
Sorry, that was cold.
.@TBBuccaneers Want to come over for a snowball fight? The @Atlanta_Falcons and @Saints might have to carpool. pic.twitter.com/vlIJw6isyo

— Carolina Panthers (@Panthers) February 11, 2014
Atlanta, in an attempt to forget a 4-12 injury-plagued season, began looking ahead to 2014 with a forecast tweet.
.@TBBuccaneers @Panthers 2014 Forecast: 100% chance of Julio Jones with accumulations exceeding 1,000 yards. #RiseUp pic.twitter.com/pUYw5Ei5gx

— Atlanta_Falcons (@Atlanta_Falcons) February 11, 2014
The Falcons forgot to mention their not-so-hot defense.
Sorry, cold again.
Not to be left out, the Tampa Bay mascot that refers to himself as @TheCaptainFear joined in.
I wanna join @Atlanta_Falcons & @Panthers' snowball fight.. but it hasn't snowed in Tampa since 1977. I could maybe get ice from the fridge?

— Captain Fear (@THECaptainFear) February 11, 2014
To which the Panthers tweeted -- and this may have been the best of all -- "Ice Up Son!"
In case you hadn't heard, this was the message Carolina wide receiver
Steve Smith
gave to New England cornerback
Aqib Talib
during a Monday night victory when Bank of America Stadium wasn't covered in snow.
Ice Up Son! RT @THECaptainFear I wanna join the snowball fight but it hasn't snowed in Tampa since '77. I could get ice from the fridge?

— Carolina Panthers (@Panthers) February 11, 2014
Yeah, baby, it's cold outside.
And if you're writing this blog, it's cold inside, too.
December, 5, 2013
12/05/13
2:31
PM ET
TAMPA, Fla. -- Cornerback
Darrelle Revis
revealed Thursday that he briefly was knocked out during Sunday's loss at Carolina.
Revis
Revis, who practiced Wednesday and Thursday, said he had to go through the league's protocol for concussions. Revis said he passed the test.
"They were saying that I got knocked out for a second,'' Revis said. "I'm fine, though.''
Revis also bruised his chest and shoulder on the same play where he bumped his head. That came as he tried to intercept a pass intended for
Steve Smith
. Revis left the game after that and did not return.
Revis said he still has some soreness in his shoulder and chest, but said he expects to be able to play in Sunday's game with Buffalo.
In other injury news, wide receiver
Vincent Jackson
(hamstring) took part in practice on a limited basis. Coach Greg Schiano said he's optimistic Jackson will be able to play Sunday, but nothing is certain.
"You never know,'' Schiano said. "When you have a leg injury and you're a receiver, your legs are your life and you've got to be able to run. We'll see when we give it a go, which I don't know when that will be – if it will be tomorrow, or Saturday or Sunday. Vince is a pro. He'll know if he can do it or not, so it will be up to him.''
Defensive tackle
Gary Gibson
(calf) and wide receiver
Chris Owusu
(leg) also were limited in Thursday's practice.
November, 30, 2013
11/30/13
8:00
AM ET
TAMPA, Fla. -- Three things to watch in Sunday's game between the
Tampa Bay Buccaneers
and
Carolina Panthers
.
Containing Cam.
The last time these two teams met, the Tampa Bay defense continually lost contain on quarterback
Cam Newton
. That resulted in a big rushing day for the Panthers quarterback, who ran for 50 yards and a touchdown. Tampa Bay's defensive ends and linebackers have to do a much better job against Newton to have a chance this time around.
The Revis Watch.
Tampa Bay cornerback
Darrelle Revis
(groin) will be a game-time decision. If Revis can't play, the Bucs likely will ask rookie
Johnthan Banks
to cover Carolina receiver
Steve Smith
. Banks did a nice job on Detroit's
Calvin Johnson
last week. But it's a lot to ask a rookie corner to shut down elite receivers in back-to-back weeks.
Tampa Bay's running game.
It will be crucial for the Bucs to make an impact with their running game against one of the league's top front sevens. Running back
Bobby Rainey
was bottled up against Detroit. The Bucs need to open up the way for Rainey by letting quarterback
Mike Glennon
take some shots down the field.
November, 29, 2013
11/29/13
2:28
PM ET
TAMPA, Fla. -- Cornerback
Darrelle Revis
said Friday it's likely his status for Sunday's contest at Carolina won't be decided until shortly before the game.
Revis
Revis is listed as questionable with a groin injury that was suffered in last week's victory against Detroit.
"It'll probably be a game-time decision,'' Revis said. "I'll probably have to get out there a little earlier and try to run and see how I feel when I'm cutting and how I move.''
Revis practiced for the first time this week Friday, but did so on a limited basis.
"Darrelle was limited as far as tempo and those kind of things,'' coach Greg Schiano said. "Since he's been out the previous two days, that's a step in the right direction. We'll see come Sunday.''
Revis said the injury has responded well to treatment and he's hoping to see continued progress.
"It is what it is, I can't control my injury,'' Revis said. "When I feel ready to go that's when it's time for me to get out there and play.''
If Revis is healthy enough to play, he's likely to be matched up against Carolina's top receiver,
Steve Smith
.
"They have a great passing attack,'' Revis said. "We feel that he's the key guy. He gets them going. He has a lot of emotion after catches sometimes. We want to take that away from him.''
If Revis can't play, the Bucs are likely to put rookie
Johnthan Banks
on Smith. Banks did a solid job against Detroit's
Calvin Johnson
after Revis went out.
November, 27, 2013
11/27/13
3:11
PM ET
TAMPA, Fla. -- The health status of Tampa Bay cornerback
Darrelle Revis
is very much up in the air for Sunday's game with Carolina.
Revis
Revis suffered a groin injury against Detroit. Revis, who did not practice Wednesday, declined to discuss the injury with the media. Coach Greg Schiano wouldn't divulge details about an MRI that was performed on Revis on Monday.
"He'll be day to day, so that should tell you it's not real bad,'' Schiano said. "Will he play Sunday? I don't know. We've got to figure that out.''
After Revis was injured against Detroit, rookie
Johnthan Banks
spent most of the rest of the game covering
Calvin Johnson
and did an adequate job. Schiano said the Bucs considered several options before deciding to put Banks on Johnson.
"It wasn't an easy decision,'' Schiano said. "As a matter of fact, we took the field thinking that we might just play right and left and whoever got him got him. Then, we got on the field and it was just a gut feeling, let's get Johnthan on him. Johnthan, you've got to remember was coming off an injury [shoulder]. Johnthan had gotten banged, so it wasn't like he had a full week of practice, either. Sometimes you get a feeling.''
But Schiano's not ready to say if Banks will defend
Steve Smith
if Revis isn't ready to play against Carolina. Schiano said Revis' situation complicates how the Bucs will game plan for the Panthers.
"There are certain matchups we'll do with him,'' Schiano said. "Will we do them without him? I don't know. That's a decision we'll have to make.''
In other injury news, linebacker
Mason Foster
, who missed the Detroit game with a concussion, returned to practice Wednesday. Linebacker
Adam Hayward
(leg) did not practice.
October, 24, 2013
10/24/13
8:00
AM ET
TAMPA, Fla. -- Five things to watch in the
Tampa Bay Buccaneers
' Thursday night game against the
Carolina Panthers
:

The pass rush.
It's gone from being pretty good to almost nonexistent in recent weeks. The Bucs need to get more out of a defensive front that features some big-time talent in
Gerald McCoy
and
Adrian Clayborn
. Carolina quarterback
Cam Newton
may be elusive, but he's not immune to making some mistakes if he's pressured.
The defensive backfield
. In the past two games, this unit has given up too many plays over its head. Carolina's
Steve Smith
still can stretch a defense. Hint to coach Greg Schiano: Put cornerback
Darrelle Revis
in one-on-one coverage on Smith all game and let them battle it out.
Mike James as the feature back.
With
Doug Martin
dealing with a shoulder injury, the Bucs will turn to the rookie James as their feature back. James has looked pretty good in limited action. He's going to get plenty of chances because Tampa Bay's not going to go away from its run-first philosophy.
Mike Glennon's progress.
Speaking of rookies with big roles, Glennon will make his fourth start and his first on national television. The quarterback has shown slight improvement with each start. But he has to hold up against a Carolina pass rush that will be the best he will have seen so far.
The crowd.
The natives are restless because the Bucs are winless. Schiano was booed as he came off the field at the end of the last home game. There likely will be a lot of Carolina fans in the stands. If the Bucs don't make use of the home-field advantage, things could get ugly.
August, 26, 2013
8/26/13
1:17
PM ET
The latest installment of #NFLRank is out, and it includes Nos. 41-50 for
offense
and
defense
. This segment is filled with NFC South players. Let's take a look.
Offense
43. Tampa Bay guard Carl Nicks
Stats & Info:
Nicks missed nine games last season, his first with the Buccaneers after signing a five-year, $47.5 million deal as a free agent last offseason. Nicks earned more than $24 million last season, which ranked fourth in the NFL behind only
Drew Brees
,
Vincent Jackson
and
Mario Williams
, according to the Roster Management System.
Yasinskas comment:
There is obvious concern about his health, because he has a staph infection and is coming off a major foot injury. But, when he's healthy, Nicks might be the best guard in the league.
44. New Orleans guard Jahri Evans
Stats & Info:
Evans has played 5,242 offensive snaps since 2008, ranking second in the NFL behind only
Justin Blalock
. A first-team All-Pro each of the past four seasons, Evans has started every game for the Saints in the Drew Brees era (since 2006).
Yasinskas comment:
Evans is the anchor of an offensive line that has been good for a long time. Other players have come and gone, but Evans has been the constant.
45. Tampa Bay receiver Vincent Jackson
Stats & Info:
Jackson was Tampa Bay's safety valve on third down last season, ranking fourth in the NFL in third-down targets behind only
Brandon Marshall
,
Wes Welker
and
Calvin Johnson
. On third down, Jackson had 20 catches resulting in a first down, ranking behind only
Roddy White
.
Yasinskas comment:
He joined Tampa Bay last season and instantly became quarterback
Josh Freeman
's favorite target. He and Freeman should be even more comfortable after a year together.
Defense
41. Tampa Bay safety Dashon Goldson
Stats & Info:
Goldson defended the most passes (10) when lined up as a safety in 2012. Eight of them were thrown less than 20 yards downfield, which also led all safeties.
Yasinskas comment:
The Bucs knew they were getting a talented player when they signed Goldson away from San Francisco. They also have discovered Goldson brings even more to the table. He already has emerged as a defensive leader.
NFC South to date:
Offense
43. Nicks
44. Evans
45. Jackson
51. Tampa Bay running back
Doug Martin
65. New Orleans wide receiver
Marques Colston
70. Carolina center
Ryan Kalil
71. Carolina wide receiver
Steve Smith
86. New Orleans guard
Ben Grubbs
87. Atlanta running back
Steven Jackson
98. Carolina offensive tackle
Jordan Gross
100. Carolina quarterback
Cam Newton
Defense
41. Goldson
51. Tampa Bay defensive tackle
Gerald McCoy
55. Carolina defensive end
Charles Johnson
80. Atlanta cornerback
Asante Samuel
86. Atlanta linebacker
Sean Weatherspoon
93. Atlanta safety
William Moore
96. Atlanta defensive end
Osi Umenyiora
97. Tampa Bay safety
Mark Barron
98. Tampa Bay linebacker
Lavonte David
August, 23, 2013
8/23/13
12:49
PM ET
The latest installment of #NFLRank (Nos. 51-60) is out and the NFC South has one player on
the offense
and two players on
the defense
. Let's take a look.
Offense
Martin
51. Tampa Bay running back Doug Martin
Stats & Info:
Martin had 1,926 yards from scrimmage last season, the third-most by a rookie in NFL history behind
Eric Dickerson
and
Edgerrin James
. In Week 9, Martin became the first player in NFL history with three rushing TDs of 45-plus yards in single game
Yasinskas comment:
This ranking might be a little too low for Martin. He had a great rookie season and is only going to get better.
Defense
McCoy
51. Tampa Bay defensive tackle Gerald McCoy
Stats & Info:
Since drafting McCoy in 2010, the Buccaneers defense has allowed 4 yards per rush with him on the field and 5 yards per rush when he is off the field.
Yasinskas comment:
McCoy stayed healthy last year and ended up making the Pro Bowl. As long as he stays healthy, McCoy is one of the league's best defensive tackles.
Johnson
55. Carolina defensive end Charles Johnson
Stats & Info:
Johnson led all defensive linemen in the league with seven forced fumbles last season. He also had 12.5 sacks, third among defensive linemen behind
J.J. Watt
(20.5) and
Cameron Wake
(15.0).
Yasinskas comment:
Johnson has made Carolina fans forget all about
Julius Peppers
.
NFC South showing to date:
Offense
51. Martin
65. New Orleans wide receiver
Marques Colston
70. Carolina center
Ryan Kalil
71. Carolina wide receiver
Steve Smith
86. New Orleans guard
Ben Grubbs
87. Atlanta running back
Steven Jackson
98. Carolina offensive tackle
Jordan Gross
100. Carolina quarterback
Cam Newton
Defense
51. McCoy
55. Johnson
80. Atlanta cornerback
Asante Samuel
86. Atlanta linebacker
Sean Weatherspoon
93. Atlanta safety
William Moore
96. Atlanta defensive end
Osi Umenyiora
97. Tampa Bay safety
Mark Barron
98. Tampa Bay linebacker
Lavonte David