Tampa Bay Buccaneers:

Tom Brady
September, 22, 2013
Sep 22
6:10
PM ET
FOXBOROUGH, Mass. -- This time, it was not some last-second loss. This time, the bulk of the blame cannot fall on
Josh Freeman
.
This time, the
Tampa Bay Buccaneers
simply played a horrible game and showed that, contrary to popular belief, Freeman isn't the root of all their troubles.
[+] Enlarge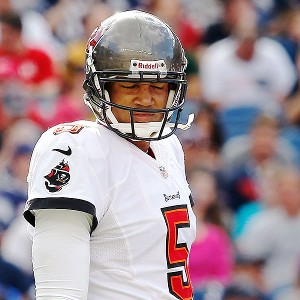 Jim Rogash/Getty ImagesJosh Freeman and the Buccaneers are now 0-3 after falling to the Patriots 23-3.
Sunday's 23-3 loss to the
New England Patriots
at Gillette Stadium showed the 0-3 Bucs have major problems in many areas. Their season already has been a soap opera with reports that Freeman and coach Greg Schiano don't get along and that some prominent players don't like Schiano's militaristic approach.
Now, there's material for many more episodes of the soap opera.
Start with kicker
Rian Lindell
, who set the tone for the day by missing a 38-yard field goal on Tampa Bay's first drive. Lindell also missed a field goal in last week's loss to the
New Orleans Saints
and you have to wonder if his shakiness was why Schiano decided not to go for it, rather than attempt a long field goal, twice in the first half.
Don't be surprised if the Bucs have a new kicker next week. Some new receivers also might be a good idea. There receivers failed to catch four very catchable balls. The biggest drop came on Tampa Bay's second drive -- when Freeman had the team moving better than it has all season -- as a pass in the end zone went off tight end Tim Wright's hands and the Bucs had to settle for a field goal.
"The plays you have control over, you have to make," Schiano said. "When you have a situation that you're in control of and you don't make it, then you're living on borrowed time.''
Tampa Bay's time to win the game disappeared in the second quarter. That's when
Tom Brady
and his young receivers started clicking and that's when Tampa Bay's defense showed some holes.
"You can't pinpoint any one thing,'' defensive tackle
Gerald McCoy
said. "The defense, we gave up 23 points. If we hold them to zero, we win, 3-0. We didn't do what we were supposed to do.''
Holding the Patriots to zero points would be a major accomplishment for any defense. You cannot pin this one on the defense, just like you cannot pin it all on Freeman, who completed 19-of-41 passes for 236 yards.
Freeman is not completely blameless. He did throw an interception to former Buccaneer
Aqib Talib
late in the second quarter to set up a field goal that helped the Patriots to a 17-3 halftime lead.
Throw in an offensive game plan, some play calling that was questionable, and a rib injury that kept top receiver
Vincent Jackson
out of the game for most of the second half and the Bucs seem to have all the elements of disarray.
"We've got to get better,'' Schiano said. "There's no magic pill."
It's hard to look at the Bucs and see this season suddenly turning around. The first two losses were close. This one wasn't and it looks like things are only getting worse for the Buccaneers.
September, 16, 2013
Sep 16
6:48
PM ET
TAMPA, Fla. -- As it turns out,
Dashon Goldson
's greatest strength might be his biggest weakness.
The
Tampa Bay Buccaneers
signed Goldson as a free agent largely because of his reputation as a big hitter. There's no doubt Tampa Bay needed to be a little more physical in the defensive backfield after ranking last in the league in pass defense last year.
But Goldson went a little too far. Goldson has been
suspended without pay
(that comes to $265,000) for one game for his helmet-to-helmet hit on New Orleans running back
Darren Sproles
, according to Adam Schefter.
There's no doubt that the fact that this is Goldson's 15
th
personal foul since 2010 had a lot to do with the severity of his discipline. Goldson was fined $30,000 for a similar hit in the season opener against the
New York Jets
.
There's a very fine line between being aggressive and going overboard with hits. This hit and the one against the Jets didn't seem intentional. But Goldson needs to realize the NFL is enforcing different rules in an era when concussions have been a major issue. Five or 10 years ago, Goldson wouldn't have been suspended or even fined. But times have changed and Goldson has to change.
His suspension is a big blow to the Bucs as they go up against New England quarterback
Tom Brady
.
Ahmad Black
is a competent backup, but he's not nearly on Goldson's level. When Goldson comes back, he needs to tone things down a bit because any more big hits could cost him a lot more than one game.
September, 12, 2013
Sep 12
8:00
AM ET
TAMPA, Fla. –
Gerald McCoy
gave the usual high praise when asked for his scouting report on
New Orleans Saints
quarterback
Drew Brees
on Wednesday.
McCoy
"It's the same scouting any first-ballot Hall-of-Famer that's still playing,'' the
Tampa Bay Buccaneers
defensive tackle said Wednesday. "We've got him, and then we've got another one right after him [in New England quarterback
Tom Brady
]. You scout them the best you can, you know what they can do, then you just try to figure out a way to contain them, not really stop them. There's really no way to stop them, but you figure out a way to slow them down."
But McCoy, who might be the most candid player in Tampa Bay's locker room, continued to give one of the best assessments of Brees that I've ever heard.
"I think you've just got to disrupt him,'' McCoy said. "Everybody has a weak point, and the weak point, for him, is his height -- he's a short guy. If you can get in his face, you can slow him down a little bit. That's why they put so much into their center and two guards, so much emphasis on those guys being good, because if you can protect his middle, he'll kill you. So that puts a lot on me and the guys in the middle to get in his face."
That's all very true. That's why the play of McCoy and rookie defensive tackle
Akeem Spence
will be so important Sunday when the Bucs host the Saints. Unlike most teams, the Saints build their line from the inside out.
Guards
Jahri Evans
and
Ben Grubbs
are the strength of the offensive line. The Saints are very good at keeping the middle of the pocket wide open and giving Brees room to throw.
McCoy and Spence will have to come up with big games if the Bucs are going to have any shot at slowing Brees.