Tennessee Titans:

Houston Texans
December, 29, 2013
12/29/13
10:00
AM ET
By
ESPN.com staff
| ESPN.com
Join our ESPN.com NFL experts as they break down the Houston Texans' visit to the Tennessee Titans. Contribute your thoughts and questions beginning at 1:00 p.m. ET. And, be sure to visit our
NFL Nation Blitz page
for commentary from every game, as well as fan photos and the latest buzz from Twitter. See you there.
October, 19, 2013
10/19/13
10:06
AM ET
Bum Phillips was one of those people who transcended his job and came to symbolize and characterize a time and a place.
"Luv Ya Blue" in Houston with the Oilers was, in many ways, loving Phillips -- his drawl, his style, his hat and the team he coached.
Now the city mourns his passing.
His son,
Houston Texans
defensive coordinator Wade Phillips tweeted: "Bum is gone to Heaven-loved and will be missed by all -great Dad,Coach, and Christian."
As famous sports quotations go, I rank his comment on Don Shula as one of the all-time greats: "He can take his'n and beat your'n and take your'n and beat his'n."
The Oilers lost consecutive AFC Championship games to Pittsburgh to close out the 1970s. In 1980, after a first-round playoff loss, Oilers owner Bud Adams fired Phillips in what he later called one of his most regrettable moves.
This is from
David Barron's obituary
of Phillips in the Houston Chronicle:
Former KHOU (Channel 11) sports director Gifford Nielsen, who played quarterback for Phillips in the late 1970s, then worked with him on Oilers radio broadcasts in the 1990s, said Phillips built winning teams by knocking down barriers between players.

"He could take a conservative kid out of Utah, put him with a kid who grew up in the projects in Pittsburgh, a guy from Southern California and a guy from the Deep South, and it didn't matter what color was their skin, how big they were and what their talent level was," Nielsen said. "He would bring them together as a team.

"The reason people liked Bum so much is because he was real. He always said, 'Trust me, and we'll do things my way and great things will happen.' When we did trust him, we were successful, and it carried over not only to the team but the fans.

"Whenever we went on the road, people wanted to see Bum Phillips, and it was because of the genuine person he is. That is his legacy."
Update:
The Titans sent out this statement today on Phillips' passing:
We are very sad to hear of the passing of Bum Phillips. He meant a great deal to this franchise, the NFL and the city of Houston, and he was instrumental to the Oilers during the 'Luv Ya Blue' era. Growing up in Texas and working his way up through the Texas football ranks, he was a natural match for our team. Those were such magical years, and his leadership and personality helped our team rise to the top. He became an iconic figure on our sideline. Our thoughts are with his family, and we know he will be missed.
October, 17, 2013
10/17/13
12:00
PM ET
Our weekly chat is on a streak, and I need your help to keep it going.
Please come here
and join into the conversation, which centers around the Titans but delves into the rest of the AFC South and NFL and drifts off into TV, music and whatever else you might want to discuss.
We've got a good group of regulars, and a nice mix of people who pop in.
If you aren't part of either list. You can be. Just come on over.
September, 13, 2013
9/13/13
12:00
PM ET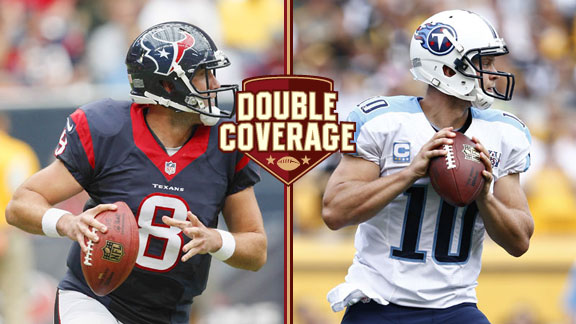 Getty Images, AP PhotoQuarterbacks Matt Schaub and Jake Locker look to lead their respective teams to a 2-0 start.
Titans owner Bud Adams is vilified in Houston because he took the Oilers out of town. The aging, eccentric Adams still lives in Houston, and he's expected to attend Sunday's Titans-Texans game.
The Texans are coming off a wonderful 31-28 comeback win in San Diego. The Titans took care of the Steelers in Pittsburgh.
Inevitably, an opening-day win gives a team some reassurance about its plan and course. The Titans' buy-in is certainly high.
Had the Texans lost to the Chargers, I imagine this week's themes would revolve around the carryover of issues that killed them late last season.
The comeback from a 28-7 deficit changed that. They're the two time-defending division champions. Even so, Tania Ganguli, how much of a boost did that comeback give them?
Tania Ganguli:
It gave them a big one. Coming back from big deficits was something they struggled with last year. That led to the Texans being labeled as a team that wasn't built to come from behind because their running game is such a big part of their offense. They showed an ability to pass their way out of a big hole. Quarterback
Matt Schaub
was excellent in the third quarter, spearheading the recovery. Defensively, they showed the ability to adjust. After the Chargers' third-quarter-opening touchdown, San Diego had 10 yards of total offense the rest of the half. Incredible.
How has Gregg Williams changed the Titans' defense?
Paul Kuharsky:
He's not the coordinator, and Jerry Gray continues to call the plays. But Tennessee really mixed up its fronts against the Steelers. They didn't blitz an immense amount but they were more unpredictable and more aggressive than they had been last year.
I certainly felt like we were seeing Williams' influence in those areas. Williams has certainly had a positive bearing on their aggressive approach to the game and on the team's attitude. If guys like tackle
Jurrell Casey
and linebacker
Zach Brown
play like they did in the opener, they've developed some playmakers. If guys like end
Ropati Pitoitua
and linebacker
Moise Fokou
keep up their play from the opener, they've added some quality new pieces.
What's Wade Phillips doing with his new pieces, and will we see all of them?
Ganguli:
Ed Reed
is getting healthier, but we won't know his status until Friday afternoon. He will have a lot of free rein to dictate what he does, just like he did in Baltimore. He's helped other players and helped his coaches by offering suggestions on things he's seen. I asked Phillips if he is more inclined to listen to Reed than other players and Phillips said Reed's suggestions are better than most players.
When the Texans drafted safety
D.J. Swearinger
, they knew they were in dime so often that even as the third safety he'd see the field a lot. Swearinger was on the field for 55 percent of the Texans' defensive snaps Monday in San Diego.
Joe Mays
was solid starting at inside linebacker on Sunday. Given
Darryl Sharpton
's injury history, he's a very important piece the Texans added during training camp.
We could include
Whitney Mercilus
and
Earl Mitchell
as somewhat new pieces -- full-time starters at outside linebacker and nose tackle. Both had big nights in San Diego. Mercilus hit
Philip Rivers
on the pass that
Brian Cushing
intercepted. Mercilus also had an early sack, giving Phillips the outside pass rush he needs. Mitchell's most important play came when he chased down running back
Ryan Mathews
as he ran with a pass. Mitchell stopped Mathews two yards short of a first down. Rivers' next pass fell incomplete, and that was the last time the Chargers had the ball.
You mentioned Casey earlier. He's been
fairly talkative lately
, and apparently has played well, too. Will he cause problems for the Texans?
Kuharsky:
If the Titans have a chance at a second consecutive upset, Casey will have to be disruptive. The 2011 third-round pick out of USC had a very solid rookie season, but last season he hurt an elbow in the preseason and had a couple of other injuries slow down his growth. He's healthy now and could be on course to be a
Geno Atkins
type of player. I know some Texans fans bristled that he dared talk confidently. But I'm guessing those same fans were OK with someone like
Antonio Smith
talking before he'd done much, either.
If Casey draws double-teams from the Texans' offensive line, then others need to apply pressure. End
Derrick Morgan
and strongside linebacker/nickel end
Akeem Ayers
are the top candidates there, though Brown is the one who charged out the strongest last week.
The Titans usually think if they can rattle Schaub they'll be in good shape, but last week Schaub was rattled in the first half and bounced back quite well against the Chargers. Do you expect him to be the first-half guy, the second-half guy, or something in between?
Ganguli:
The defense he'll play is a little bit better this week, and their aggressiveness will present a challenge for Schaub. His QBR was much better against four or fewer pass-rushers than it was against five or more, though he did throw all three touchdowns against extra pressure. On the other hand, I think Schaub will be more comfortable with receivers like
DeAndre Hopkins
, who caught five passes in his NFL debut. I expect something in between first- and second-half Schaub. Schaub has more career touchdown passes against the Titans (17) than he does against any other opponent, according to ESPN Stats & Info.
Worth noting, though: I don't think he'll be put in the same position he was in last week. The Titans don't have the offensive firepower to bury another team early, do they?
Kuharsky:
I wouldn't think so. The offensive line is way better and they should find some runs. But the passing offense is unproven. They have a group of quality receivers and a nice new tight end in
Delanie Walker
. The next step would be for them to show they can make consistent plays in the passing game with some big-chunk plays.
A lot of that comes down to what
Jake Locker
can do. The third-year quarterback has made steady improvements recently. But one of their objectives is to shape a game where too much doesn't land on his shoulders. They want to throw it when they want to, not when they have to. I expect the Texans will make them have to.
Also, the last time Locker played at Reliant, he failed to make an adjustment at the line and got crushed by a blitzing
Glover Quin
. The resulting shoulder injury cost him time and slowed his progress. He'll need to do better on the fly.
Pressure's on him. Pressure's on you. First home game with ESPN.com since taking over the Texans. What happened to the guy who used to monitor that team for us?
Ganguli:
I heard he got run off due to his refusal to pronounce the H in Houston.
August, 29, 2013
8/29/13
11:50
AM ET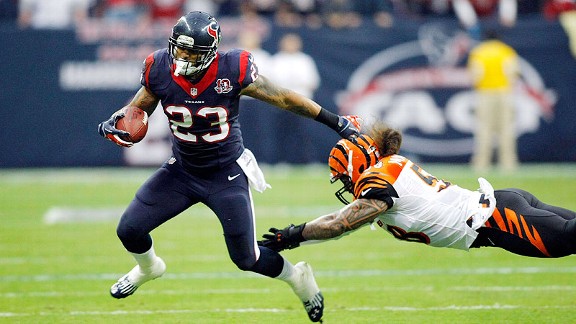 Brett Davis/USA TODAY SportsThe AFC South has three of the 15 running backs in the #NFLRank top 100, including Arian Foster.
The AFC South is the lone division in the NFL with three running backs rated in the top 100 players on offense in #NFLRank, ESPN.com's widespread player-ranking poll.
Fifteen running backs made the top 100, so the AFC South accounts for one-fifth of them, with Houston's
Arian Foster
14th, Jacksonville's
Maurice Jones-Drew
50th and Tennessee's
Chris Johnson
68th.
Indianapolis, the only team in the division whose quarterback is on the list --
Andrew Luck
is 41st -- is also the only team from the division without a running back on it.
But the Colts came close.
Vick Ballard
finished 110th.
Having a top running back doesn't automatically make a team run-centric, though Tennessee and Jacksonville certainly will be. Houston's passing game with quarterback
Matt Schaub
(No. 108) is equipped to make big plays, but is also most effective when it's built off play-action that is triggered by Foster's success. (See sidebar.)
While running effectively and playing good defense remain things good football teams typically need to do to win, it's rare for a team without a good passer to have a great deal of success. And that has changed the way running backs are regarded.
Foster, Jones-Drew and Johnson are all playing under lucrative second contracts in a league where a back is highly unlikely to get big dollars or years the third time his agent sits down for negotiations.
Increasingly, teams are wary of drafting a running back high, as the Titans did with the 24th pick overall in 2008. Instead, they seek to find a back in the middle or late rounds. Some even hit a home run in the undrafted rookie pool, as the Texans did with Foster in 2009.
"A lot of things we do start with the run," Texans coach Gary Kubiak said. "I think you've got to do what your team does best. You can't worry about what everybody else does or what everybody else thinks is the formula. Last year, our formula, we played great defense, we ran the ball well, we held onto the ball longer than anybody in football. It was an excellent formula for our football team. This year, I don't know. We've got to go see."
Foster gives the Texans a great combination of speed and power, running with a gliding, effortless style and catching the ball well. Those qualities have earned him 1,115 regular-season touches over the past three seasons.
"He's a real good running back," Johnson said. "He's a bigger guy. He can run the ball and catch the ball out of the backfield. Just seeing him run the ball is interesting, because he is a very smooth runner. They've got a great scheme with him, they like to run that stretch with him, he's got a great feel for his linemen and they've got a great thing going where they know when to cut the backside down. The offense he's in is a very good offense."
Jones-Drew was knocked out of action last season after just six games. He's back from a foot injury now, and while he's on a team with better receivers than they've had in some time, the Jaguars still have a giant question mark with
Blaine Gabbert
at quarterback as well as a susceptible defense.
The Jaguars will hand the ball to him against loaded boxes and when trailing. He could face those situations more than any of the league's top backs.
He came into the league as a second-round pick just seven years ago but has seen a dramatic change in perception about the position in that span.
"I think money-wise they tried to change it, but there are certain players and every team understands that you need a balanced attack," he said. "So
Aaron Rodgers
, they threw the ball so many times. I remember last year he was like, 'We need a running game, we need a running back.' And they went out and drafted two.
"Teams want to portray it as if running backs aren't valuable or are interchangeable. No, everybody has a piece. Your piece [as a quarterback] may be bigger than the other positions. But in order for the whole offense to work …"
Jones-Drew points to the 2010 Packers who won Super Bowl XLV. Come the playoffs, pass-happy Green Bay got quality play from
James Starks
, who ran well and created a new option. Last season's Super Bowl teams, San Francisco and Baltimore, had hot quarterbacks who were supplemented by good runners.
Balance and co-existing skill players -- it's an easy formula to want, and often a difficult one to execute.
Things won't work if they are too pass-centered, Jones-Drew said. And it's the same if his team is over-reliant on him.
"I've been screaming for balance ever since I've been here," he said. "People can't say I've been like, 'Oh, let's run the ball.' 'Cause I know what balance brings. It opens it up for everybody."