Survey says: A look at important steps
September, 4, 2013
9/04/13
2:52
PM ET
NASHVILLE, Tenn. -- What's the most important step you take on any given play.
I recently toured the Titans locker room asking that question. A lot of guys said it's the first step, and that didn't surprise me. But in getting the same answer from guys at different positions, I got different rationale.
Let's run through the replies.
Running back Chris Johnson:
"The step is once you see the hole, you've got to hit it. You can't really hesitate. In the whole game you might have two maybe three big home run plays where it's going to open up for you and you can't hesitate, you have to hit it. Once you see the hole, that step, you've got to hit it. Your mind is making a decision with your feet."
[+] Enlarge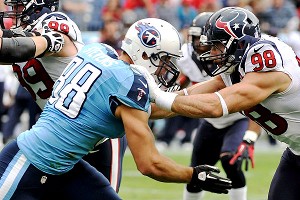 Frederick Breedon/Getty ImagesTight End Craig Stevens says he has to be set by his second step to be ready to make contact.
Cornerback Coty Sensabaugh:
"Your eyes tell you which step to take, the first step. It's having your eyes on the receiver and going off of the right thing. It really just depends on what the receiver does. I mean we're basing everything on the receiver. Your eyes tell you everything."
Receiver Kenny Britt:
"It depends on what route it is. Most of it is being precise all the time with the quarterback. Depending on whether they are blitzing and what the coverage is, you've to be in the right place at the right time. You're starting point is everything to your route, you have to get off the line of scrimmage. You've got to know if he's going to press you, if he's going to ball on you. It's about getting off the line clean."
Safety George Wilson:
"A lot of time it's that first one. You're trying to get that run-pass key. If it's pass and you step up in the hard play action sometime that'll take you out of position for where you are supposed to be to defend the pass. It's important that you have your eyes in the right place every place so that your first step is the right step."
Defensive tackle Sammie Hill:
"The first step. Get off the ball first. If I beat my man, nine times out of 10 I'll cause disruption in the backfield. …Now my man is back to defense and I'm on offense, he's got to figure out what we're doing. If he's first, you've got to work like hell to get back in position."
Left tackle Michael Roos:
"The first one. It's the one that starts all your other steps. If your first one is too wide, you're going to compensate, try to make up for it. It might be wider, you might cross over. On a pass set if your foot's not square, perpendicular to the line of scrimmage, that means your body is turned, now you get an inside move, you can't turn, correct yourself as fast. You've got to gain the right amount of ground otherwise everything falls apart after that."
Fullback Quinn Johnson:
"It's pretty much the same thing as the offensive line, it's the first step. It's like Coach [Sylvester] Croom tells me, if I take the wrong first step, everything else moves downhill. I'm off course and everything goes off timing. I watch it on film. When I take the wrong first step, everything else goes bad. When I take the right step, everything else goes good."
Middle linebacker Colin McCarthy:
"First step. Obviously, downhill. As a linebacker you're playing run first, pass second. Getting your run-pass key and reacting as fast as you can off of that."
Tight end Craig Stevens:
"You've got to get off the ball as quick as you can and make that first play-side step. But then really my most important step is my second step, because it brings your whole body with it and that's where your power is. Whenever I'm run blocking, I'm always making contact on my second step. Short, quick step. Get your two feet on the ground as quick as you can."
Kicker Rob Bironas:
"Has to be the first step, yeah. If the first step's wrong, the next step's wrong, the whole thing's wrong. If you step off the wrong direction or over-stride, then you are trying to make up for that the whole way. In my case, it's a jab step and then two steps to the ball. I just roll into or fall into my jab step. It's just five, six inches with my left foot."