Tennessee Titans:

2013 Week 14 TEN at DEN
December, 8, 2013
12/08/13
11:02
PM ET
DENVER -- Three times this year, the
Tennessee Titans
have taken a surprising lead to the locker room at halftime.
Like they did in Seattle and against Indianapolis, the Titans blew Sunday's halftime lead over the Broncos with a poor second half, losing 51-28 after leading 21-20 at the half.
While the Colts are struggling, they have won the AFC South. Seattle and Denver are Super Bowl favorites.
The Titans have shown they can get out of the gate and play 30 good minutes against such teams. They have shown they can then fall apart.
Collective first halves: Titans 48, Opponents 33.
Collective second halves: Opponents 68, Titans 20.
It begs the question as to whether Titans coach Mike Munchak and his staff have done as well with halftime adjustments as Pete Carroll, Chuck Pagano and John Fox and their staffs have.
Of course it's the trailing team that has to make the biggest alterations at intermission. Then the team that had the lead has to respond to those adjustments.
Three times the Titans have failed in a big way at that.
"No way in the world we came in this locker room expecting that second half to pan out like that," receiver
Nate Washington
said of Denver's 31-7 second half.
"As a player, I can't worry about the adjustments being made or not," defensive tackle
Jurrell Casey
said. "All I can do is go out there and play football and rely on the coaching staff to make the adjustments they feel are necessary or not. Not looking at film, I don't know what happened in that second half."
Maybe I am gerrymandering to pick out these three games. But in a season where the Titans lost to Houston and Jacksonville they needed to find at least one game they were expected to lose and win it to offset the bad loss.
They had chances to do so at the halfway mark in Seattle, against the Colts and at Denver.
"I don't know if it's game-planning, I don't know if they are finding ways to do things that we're not," cornerback
Alterraun Verner
. "At this rate with us being 5-8 you have to say we just haven't been good enough."
December, 8, 2013
12/08/13
9:33
PM ET
DENVER --
Bernard Pollard
is hardly afraid to pop off. The
Tennessee Titans
strong safety is one of the NFL's most outspoken players. And he's got no issue raising the volume.
Sunday, after the Titans fell to 5-8 with a
51-28 loss
to the
Denver Broncos
, he was reserved and resigned.
He didn't raise his voice and he didn't really talk in specifics. He merely spoke of the NFL as a higher power and pointed out the limits he felt that power put on the Titans as they tried to slow
Peyton Manning
.
[+] Enlarge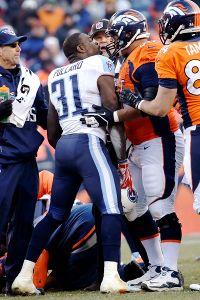 AP Photo/Jack DempseyBernard Pollard was penalized twice in the loss to the Broncos.
"It's a shame the way, you know, power is held," he said. "It's hard for us to play the way we want to play. We understand what Peyton has done, we understand all of it, man. It's just difficult for us as a secondary, as a defense, to get things done."
Cornerback
Alterraun Verner
has had a Pro Bowl-caliber season, but he got flagged three times in this game, once for pass interference and twice for defensive holding. One of the holding calls was wiped away because Denver had a bigger penalty to accept, a personal foul against Pollard who delivered a hard shot to receiver
Eric Decker
on an incomplete pass up the left side.
It was a hard hit, delivered with a shoulder to a shoulder. But referee Scott Green and his crew viewed it as a dangerous hit to a defenseless player and gave the Broncos 15 yards and helped fuel the drive that put Denver ahead for good.
"It was a foul in their eyes," Pollard said softly. "I hit a defenseless player."
I thought Verner was a little more handsy than usual and didn't have a big issues with the call on him. The call against Pollard was botched. It's another call coach Mike Munchak should get an apology from the league for if he dials league headquarters on Monday. It's a phone call the coach doesn't like to make, but one that yielded three admissions of mistakes against Tennessee in the Titans' last loss.
Pollard also got an unsportsmanlike conduct for talking to an official. He said he told him "that play stinks," Green got involved and made the call.
Free safety
Michael Griffin
was out for last week's loss to the Colts -- suspended for an accumulation of four hits to defenseless receivers that the NFL judged illegal and fined him for.
He was not nearly as calm about the personal foul call against Pollard or the calls overall.
"What do I think about it? It was [expletive] clear as day," he said. "It was the same hit I had against [Doug] Baldwin from damn Seattle, hit him in the shoulder pad. The official said it was a defenseless receiver. I said that's bull----. He hit him in the [expletive] shoulder. Notice he didn't hold his head, he held his shoulder."
"I feel like they got game tape, they already look and say, 'He just got suspended, the other guys has had some flags thrown on him also.' Anything close that even looks bad, these refs are throwing the flags quick."
Verner said he thought he was playing "good, tough coverage."
"But the Broncos found a rhythm and took off like a rocket," he said.
Bad calls didn't ultimately account for the 23-point gap in this game. Manning completed a Broncos' record 39 passes for 397 yards and four touchdowns.
No, players cannot adjust their strike zone in a split second when their target is moving. They should be able to deliver a shoulder hit with a shoulder without being penalized. Other adjustments are possible, it's just the Titans seem unwilling or unable to make them.
The Titans have to be good enough and smart enough to realize how a game is being called and to adjust to it. And they simply aren't, whether it's holding calls in Oakland or pass interference/defensive holding calls in Denver.
Or when they play superior talent they have no choice but to make plays that are being regarded as fouls and accept the consequences.
They'll be accused by some of whining or crying. I think they are reasonably frustrated and, when considering the 5-8 record, not as talented as they believe.
"I think we need to have a referee meeting," Griffin said. "To me, it's not called consistent around the league. Some places it's called, some places it's not called. When you see the replay [of the Pollard play], everybody across America can see that it was shoulder to shoulder."
Late in the second quarter, a Broncos trainer put his hands on Pollard to move him when he knelt to pray for
Wes Welker
after the receiver suffered a concussion. Pollard didn't react well to being touched that way.
But after the game he wasn't talking about the higher power he asked to heal Welker.
"When you see certain things happen in the game, that's not how we played it all year, that's not how we wanted to play it," Pollard said. "But the higher power wants to play it like that."
December, 8, 2013
12/08/13
7:23
PM ET
DENVER -- Rapid reaction from the
Tennessee Titans
'
51-28 loss
to the
Denver Broncos
at Sports Authority Field at Mile High:

What it means:
The Titans can't have a winning season after dropping their eighth game of the season. At 5-8 they'll have to win three in a row to avoid a losing season. Again the Titans played well for a segment of the game Sunday but showed an inability to maintain it and finish. Tennessee is hardly the only team to struggle against the Broncos. But the Titans had put themselves in position where they needed to pull an upset, and they could not. They've lost seven of their past nine.
Stock watch:
Alterraun Verner
has been excellent at cornerback this season, but against
Peyton Manning
and a quality stable of receivers, Verner got called for three penalties. One was declined. It was far from his best day in coverage.
Gutsy call:
I really liked the fourth-and-1 play call in the second quarter.
Ryan Fitzpatrick
faked a handoff to
Chris Johnson
, rolled with Johnson and hit him with a little pass that CJ turned into a 28-yard gain. The Titans went on to score a touchdown that put them up 21-10. Things went south after that.
Bad flag:
I don't think the officiating went strongly against the Titans. But the personal foul against
Bernard Pollard
in the third quarter was for a hit to the shoulder of
Eric Decker
, and it simply did not warrant a flag. It was a key play on the opening drive of the third quarter when Denver marched to a go-ahead TD that made it 27-21. The Titans never got the lead back.
What's next:
The Titans host the
Arizona Cardinals
in a late-afternoon kickoff at LP Field for their final NFC West matchup of the season. They are 1-2 against the division so far.