Tennessee Titans:

2013 Week 4 NYJ at TEN
September, 29, 2013
9/29/13
10:22
PM ET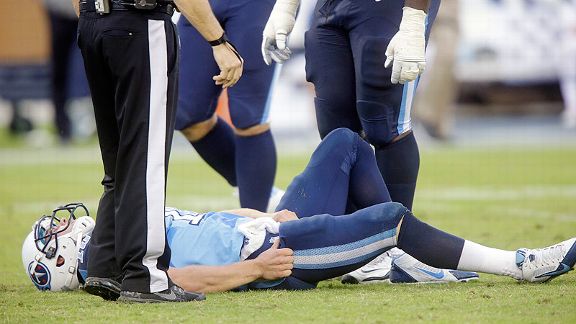 AP Photo/Wade PayneTitans QB Jake Locker had shown steady improvement before suffering a hip injury against the Jets.
NASHVILLE, Tenn. --
Jake Locker
was on his back and his hand was on his right hip. A shot from Jets defensive tackle
Muhammad Wilkerson
put the
Tennessee Titans
' young quarterback in that spot. Something awkward happened as Locker went to the ground, something bad enough that he would be quickly carted off the field.
But as receiver
Kendall Wright
and offensive coordinator Dowell Loggains arrived to check in, a grimacing Locker asked them: "Did Nate catch the pass?"
No,
Nate Washington
did not catch the pass.
It was the least of the Titans' worries on a day when they moved to 3-1 with a
38-13
stomping of the Jets. Locker threw three touchdown passes in two quarters and continues an impressive improvement curve.
The Titans still have not turned the ball over this season.
But Sunday night they didn't know Locker's status. X-rays at the stadium were negative. After those, he was taken by ambulance to St. Thomas Hospital for an MRI and further testing. The Titans had no idea what was wrong and when, or if, they will have him back.
"No turnovers for the offense is a direct correlation to his play," Loggains said. "I was really excited where he was going. Hopefully this thing isn't long for us. In the game, it deflated us, it took the energy out of us, it took the energy out of me. I need to do a better job, but when you lose your guy, lose the leader of your offense, it's tough."
The game was in hand when Locker went out, with the Titans ahead 24-6.
The Titans were flat for a good stretch after the injury, but still managed to build the blowout.
Defensive lineman
Karl Klug
forced a
Geno Smith
fumble -- as the rookie quarterback inexplicably tried to pass the ball from one hand to another behind his back -- and recovered it in the end zone for additional cushion. Washington caught a deep ball from No. 2 quarterback
Ryan Fitzpatrick
over cornerback
Antonio Cromartie
, bounced off back judge Billy Smith and went 77 yards for his second touchdown.
The Titans are confident they can be effective if they need to rely on Fitzpatrick.
It will not be the same, however, if he's the quarterback. We've seen his ceiling, and he stopped reaching it often enough that the Bills gave up on him not long after giving him a giant contract. Locker's ascent is ongoing.
"Jake's grown a lot," said Washington, who caught two touchdown passes. "He's able to do a lot of things now that he wasn't able to do in the past. He understands the offense, he understands the game, it's kind of slowed down for him."
The postgame locker room featured a mixture of emotions. The Titans were happy with a win that boosted their record to 3-1 and established them as one of the league's surprises through the first quarter of the season. But they were clearly concerned, too, about the way Locker left the field and the potential to be without him.
"You lose your general, you lose your captain, it's going to hit you a little bit," receiver
Damian Williams
said. "At the same time, we're a team. Not one person does it for us. That one person is a very important piece of this puzzle, but we've got to keep going. We can't let the season stop if one person gets hurt."
Said tight end
Delanie Walker
, "Jake was playing awesome. ... He got the feel, he got that buzz, he was moving. It's just sad for something like that to happen to him while he was having a great game."
When Locker was hurt, center
Rob Turner
hustled over to Fitzpatrick to fire off some snaps to help him get ready.
Turner didn't mean to sound harsh, but hit on the cold realities of the business. If the Titans are without Locker, they won't have time to really mourn it.
"That's what we have to do, that's part of being a team, it's not a one-man show," he said. "Absolutely Jake's improved each and every week. But it's one of those things we have to do, just like we have a 24-hour rule with wins and losses. It's not like we're going to forget about Jake, cause we're not. But we really have to step up and focus, refocus, and whoever is in there executes."
While Locker and the Titans have yet to turn the ball over, the Titans took the ball away from the Jets four times and scored touchdowns off of each. Tennessee hit Smith 11 times with five sacks. Locker had much better protection, taking two sacks and a third hit, the one from Wilkerson that ended his afternoon.
"I knew as soon as he was down [that it was serious]," Loggains said. "This kid is as tough a kid as there is. When he stayed on the ground, I knew he was in a lot of pain. It's an act of God to get him to come off the field"
Loggains left Locker a voice mail as soon as the game was over and talked to Locker's father, Scott, who was at the game and accompanied him to the hospital.
"He said Jake was doing good, waiting to see, at the hospital getting an MRI," Loggains said.
Now things might fall on Fitzpatrick. The Titans parted ways with
Matt Hasselbeck
in March, partly over price, partly over performance, and quickly brought in Fitzpatrick. They considered it an upgraded insurance plan.
When he got in the huddle against the Jets, he brought dry humor to the huddle that helped defuse a tough situation and was important for a team trying to get back to work, Williams said.
Fitzpatrick said given the circumstances his job amounted to, "just go in there and don't screw it up." It's a mindset that obviously changes if Fitzpatrick is the guy next week.
"We signed him for a reason, he's a good player, he's thrown for a lot of yards," Loggains said. "He's been a big part of this offense. We're going to have to tweak some things and tailor some things to his strengths, obviously. ... Once we get the word that Jake's not available this week, we'll start that part of the process."
September, 29, 2013
9/29/13
7:13
PM ET
NASHVILLE -- Rapid Reaction from the
Tennessee Titans
' 38-13
win
against the
New York Jets
at LP Field.

What it means:
The Titans rank as one of the NFL's surprise teams at 3-1 a quarter of the way into the season. But they are likely going to be moving forward without their quarterback, at least for a while.
Jake Locker
left the game with a right hip injury. He needed to be carted off the field and was eventually taken to the hospital, according to Titans Radio.
Ryan Fitzpatrick
replaced him. Locker threw three touchdowns and posted a 130.0 passer rating.
Stock watch, defense:
Cornerback
Alterraun Verner
is on fire. He collected two interceptions in the first half and scooped up a fumble that he would have returned for a touchdown if he had not tripped. The Titans wanted
Tommie Campbell
to win Verner's job in the preseason, but Verner raised his game and Campbell wasn't up for the challenge. Now Verner has four interceptions in four games. (Campbell got charity snaps late in the game.)
Stock watch, offense:
Nate Washington
is now over 5,000 receiving yards in his career. He pulled in four catches for 105 yards and two touchdowns, one from Locker and one from Fitzpatrick. He slowed down and went over
Antonio Cromartie
to collect Fitzpatrick's deep ball, then bounced off back judge Billy Smith and headed for the end zone on a 77-yard score.
Abusing the rookie:
Two
Geno Smith
interceptions and two Smith fumbles led to 28 points by the Titans. Once upon a time, defenses with a heavy Gregg Williams influence had a tendency to give up plays to rookies. Not on this day or with this rookie.
Tough sledding:
The Jets are very hard to run against, and
Chris Johnson
couldn't find any room. He wound up with 15 carries for 21 yards. In the second half, while trying to milk some clock and while they were stalling without Locker, they turned more to
Jackie Battle
, not that he had much more success. He finished with 11 carries for 42 yards.
What's next:
The Titans complete a three-game homestand with a game against another of the NFL's most improved teams -- the
Kansas City Chiefs
. Will Fitzpatrick be starting at quarterback for Tennessee?