Tennessee Titans:

2013 Week 9 TEN at STL
November, 3, 2013
11/03/13
8:17
PM ET
ST. LOUIS -- So where's that been?
The
Tennessee Titans
have been talking about the necessity of an effective run game and the components they have to make it happen for an awfully long time.
Sunday against the Rams, for the first time all season, the Titans got the sort of combination of carries and yards they've envisioned. Thanks to 35 runs for 198 yards,
they beat St. Louis 28-21
and moved to 4-4 overall.
[+] Enlarge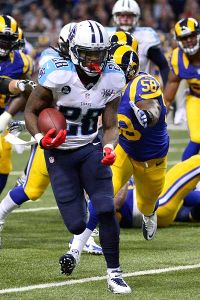 Scott Rovak/USA TODAY SportsChris Johnson rushed for 150 yards against the St. Louis Rams in the Titans' win on Sunday.
All four touchdowns came on the ground, two from
Chris Johnson
, one from
Shonn Greene
and one from
Jake Locker
.
"We stayed with it," left tackle
Michael Roos
said. "...I think we knew we could run the ball on them and impose our will on them. I wish there was something different we could pin point. I think it's just a matter of we were doing well enough early and we were able to stay with it. We were getting 4, 5, 6 yards at a time.
"A lot of it's rhythm, it gives the running backs rhythm, it gives us rhythm and the quarterback."
Johnson came into the game with a long run of 23 yards and upped it to 24. He had runs of 24, 23, 19, 18 and 15 yards while Greene mixed in some drive-extending short-yardage conversions.
The Titans started with stretch plays that forced St. Louis to cover the width of the field, then sprinkled in counters that were effective against the aggressive front.
"We got those guys flowing on stretches hard," offensive coordinator Dowell Loggains said.
"We lost the edges," Rams coach Jeff Fisher said. "CJ, obviously when he gets on the edge, he goes. We edged it up all week and we emphasized it and so I haven't looked at it, but I'm sure we had a number of guys who made mistakes."
Johnson said he went to coach Mike Munchak early in the week and asked if the Titans could go back to what was a tradition early in his career: A coach-less Thursday meeting where the running backs and offensive line discussed their perspectives on plays and gained an increased understanding of each other's perspective.
Johnson said the Titans had such meetings early in his career. Veteran
Kevin Mawae
organized and ran them until the team went a different direction at center after the 2009 season.
Munchak gave his blessing to Johnson's request. Instead of a running backs-only meeting and an O-line-only meeting, the two were combined. Roos ran it and Johnson felt like it was part of the reason for Sunday's success.
"Our offensive line, they covered those guys up and pushed them back and re-established the line of scrimmage," Johnson said. "And there were more opportunities, I had 23 carries and Shonn had nine carries."
The Titans came in averaging 25 carries since Week 1 and ran the ball 35 times at the Edward Jones Dome.
Of course there is a major chicken and egg argument about running success and its link to running opportunity. Did the Titans run well because they ran a lot, or did they run a lot because they ran well? There are other factors, but I am in the camp that says good play produces the opportunity to run, not vice versa.
Per ESPN Stats and Info: Johnson gained 108 of his 150 rushing yards before first contact. Before his first rushing score of the season, he has a league-high 17 red-zone runs without a rushing TD.
Locker threw two interceptions and didn't play very well, but thanks to the run game, he didn't have to.
Loggains said in a game like this, the quarterback should be judged on how he did on third down (four-for-five for 62 yards and three first downs as well as a five–yard TD run) and how he did in the red zone (guided the team to four touchdowns in four chances.)
"We said at the beginning of the year we wanted to set things up off of the run, so we wanted to be able to play action and take shots down the field using the run as a threat," Locker said. "I think when you have a rushing performance like this, it allows you to do that, so we are excited about it."
Another factor that helped here is the structure of the Rams' defense.
Johnson downplayed it, but with Greene out after an injury in the opener, the Titans faced a steady string of 3-4 defenses. (Only Seattle broke that streak.)
Johnson's better on the edge, but Loggains doesn't believe in forcing the ball there against 3-4 fronts that ask for the ball to go inside.
Johnson gained 6.5 yards per rush outside the tackles Sunday, his highest average in a game this season and more than double his season average of 2.9 yards per rush.
In this game, the Titans had both running backs and could send Johnson to the weak spot of a 4-3 which lines up to his strength.
A team that wrote a mission statement that it would run it way back in the summer finally got the sort of game it has long expected.
"When you are not running the ball it is a drag and a drain on your team," Munchak said. "There is no way around that, no matter who it is. You still want to be winning; you want to be a physical team.
"CJ is a special runner and we think we have a good offensive line, but we just weren't having results. To watch it finally come together, I didn't think it was going to take this long, but I am glad it happened."
The questions from here are, can it happen more regularly and can they win when it doesn't?
November, 3, 2013
11/03/13
6:50
PM ET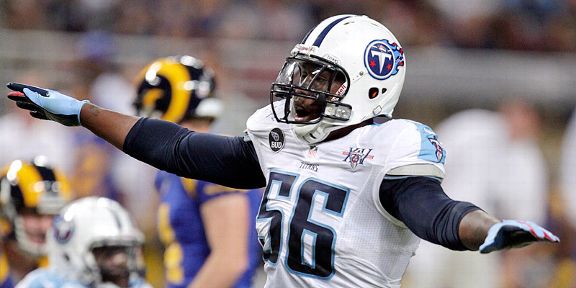 AP Photo/Tom GannamAkeem Ayers Ayers had three tackles and a pass defensed in the Titans' win against the Rams.
ST. LOUIS -- For six games, middle linebacker
Moise Fokou
ran the
Tennessee Titans
' defense, wearing the coach-to-player speaker in his green-dotted helmet.
After Fokou hurt a knee in Seattle on Oct. 13, his replacement,
Colin McCarthy
, did the job against San Francisco.
But the Titans came out of the bye with a new player charged with the job.
Strongside linebacker
Akeem Ayers
called the plays and didn't leave the field, playing as the middle linebacker in nickel during Tennessee's 28-21 win against the Rams.
"Coach (Jerry) Gray and coach (Gregg) Williams wanted to try something different," Ayers said. "Last year we had a lot of success in our nickel package when we had me and
Zach Brown
as the two nickel linebackers late in the season. They just thought it would be good for us after doing a lot of self-scouting in the bye week to come out and do something different."
He played every snap at strongside linebacker in base and at "Mike" in nickel, the most he's played all season.
I don't know that his increased presence and role had any great bearing on the team, but it did mark a notable change.
Ayers finished with three tackles and a pass defensed. McCarthy, even playing less, led the team with nine tackles on a day when the Titans played poor run defense, allowing rookie running back
Zac Stacy
127 yards on 27 carries, and the Rams 5.0 yards per rush attempt.
Turning to Ayers as the defensive play-caller and with a full-time role might have been just a one-game thing. The Rams are run-first team, and Ayers is better as a run-defender than in coverage.
With Greg Williams added to the defensive staff and the Titans still unsure of how to deploy their second-round pick from 2011, they set out this season to use Ayers as a base linebacker and a nickel defensive end, but he's not stood out much in either role.
It still needs sorting out, and once Fokou is healthy I expect he'll be back in the middle as the every-down linebacker and play-caller.
In the meantime, it might have given Ayers a bit of a confidence boost that the team factored him into this plan in a bigger way.
"It was a different position for Akeem to be in," safety
George Wilson
said. "He did an outstanding job getting us the calls, getting us lined up. Anytime you have a guy who hasn't played it, you're going to have a few plays where you get some calls mixed up or we don't get a call. But that didn't happen much at all. We were able to get lined up and keep the ball in front of us. That was the goal."
It wasn't a good defensive day, overall. The Titans did have some good moments, however. St. Louis got the ball twice on turnovers, and Tennessee put on the brakes after the sudden changes, allowing the Rams to convert them into zero points.
And after
Jake Locker
's second interception looked like it would position the Rams for a clock-milking, game-winning drive, the Titans' defense got the ball back.
Jurrell Casey
stripped
Kellen Clemens
at the Rams' 17-yard line,
Derrick Morgan
recovered it at the 19, and
Chris Johnson
took the next play into the end zone for a 28-21 lead that held up as the final score.
"In sudden-change situations, we won on both sides of the ball," Casey said.
The Titans' defense has been reliable and consistent. But they've now allowed touchdowns the past six times opponents have crossed their 20 yard line, they've allowed more than 150 rushing yards three games in a row, and they've given up a 45 percent third-down conversion rate the past two weeks when it was 27 percent before that.
"For some reason, the last two games that we played, we've been slipping," Casey said. "So we've got to get back to what we were doing the first couple weeks and turn the game back around."
November, 3, 2013
11/03/13
5:46
PM ET
ST. LOUIS -- Observed and heard in the locker room after the
Tennessee Titans
' 28-21
win
over the
St. Louis Rams
at the Edward Jones Dome:

Munchak
Drive by:
The handshake between Titans coach Mike Munchak and Rams coach Jeff Fisher after the game was a very quick one with no extended conversation. There is no bad blood between the two. The game clearly meant a bunch to both. But Fisher didn't linger as he swallowed a loss in a game he surely felt he could have -- and should have -- won. "He has things to do and so do I," Munchak said.
Smart adjustment:
Jake Locker
's 5-yard touchdown run in the fourth quarter gave the Titans a 21-14 lead and came on a crucial third down. Coordinator Dowell Loggains said Locker checked from one pass to another, the Rams countered with exactly the right defense and Locker recognized there was no one to account for him, so he took off pretty quickly knowing he could get to the end zone.
Ended streak:
Receiver
Nate Washington
said he was disappointed that his streak of 85 games with a catch ended, but he was satisfied because the Titans won. Loggains credited Washington with an RBI for a block on
Cortland Finnegan
during
Chris Johnson
's second touchdown run, a 19-yard burst that provided the winning margin.
Check
pkuharsky
at Instagram for a few postgame pictures.
November, 3, 2013
11/03/13
4:04
PM ET
ST. LOUIS -- A few thoughts on the
Tennessee Titans
'
28-21 win
over the
St. Louis Rams
:

What it means:
The Titans are .500 halfway through the season and can be a big factor in the race for the AFC's final playoff spot. They found room to get
Chris Johnson
going, finally, and he finished with 150 yards on 23 carries with two touchdowns. The defense got a giant play with
Jurrell Casey
forcing a fumble by
Kellen Clemens
that
Derrick Morgan
recovered. Johnson's second touchdown came on the next play and provided the winning margin.
Stock watch:
Nate Washington
was
Jake Locker
's go-to guy during the first four games of the season. But since Locker returned from injury, Washington has been far less prominent. He saw a streak of 85 games with at least one catch come to an end, dropping one low ball on a comeback along the right sideline against
Cortland Finnegan
.
One or the other:
The offensive line remains an issue, but in this game it was for a different reason.
Mike Otto
was at right tackle for the injured
David Stewart
. The Titans struggled to keep the Rams off Locker in the first half. But against a 4-3 front they did far better run blocking than they've done against a lot of 3-4s. Johnson topped 100 yards and got his first two rushing TDs of the year and
Shonn Greene
found the end zone, too.
What's next:
The Titans host the winless
Jacksonville Jaguars
at LP Field. The Jaguars had a bye this week and just lost receiver
Justin Blackmon
to a suspension.