Tennessee Titans:

Aaron Kromer
January, 4, 2014
Jan 4
8:37
PM ET
NASHVILLE, Tenn. -- So who's next in line to be coach of the
Tennessee Titans
?
My first choice would be Stanford coach David Shaw, but I don't think the Titans could lure him away from Palo Alto.
General manager Ruston Webster is connected to a lot of coaches who could be candidates from his time in the front offices in Tampa Bay and Seattle.
[+] Enlarge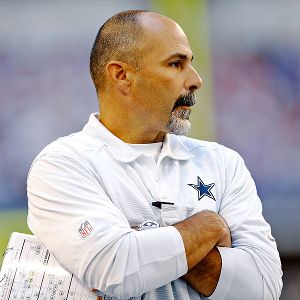 AP Photo/James D. SmithCowboys special teams coordinator Rich Bisaccia is a possible candidate for the Titans' head job.
I pondered many of
those connections
on Christmas Eve. Lovie Smith is off the board, hired by the
Tampa Bay Buccaneers
. His ties to ownership there would have made it tough for the Titans to get involved even if they had fired Munchak earlier and liked him. Jim Mora appears set on staying at UCLA.
But a few other coaches Webster knows could surface.
Dallas Cowboys
special teams coach Rich Bisaccia is a name I've already heard Webster will consider.
Cincinnati Bengals
offensive coordinator Jay Gruden or
Chicago Bears
offensive coordinator and line coach Aaron Kromer might be of interest.
Vanderbilt coach James Franklin, whose current office is only a couple miles from LP Field, is a high-energy coach who's very popular in Nashville. He has a bit of NFL experience. Adam Schefter says Franklin interviewed with the
Houston Texans
before they hired Bill O'Brien.
A Pennsylvania native, Franklin is reportedly in line to talk to Penn State about its opening. I feel he's a better fit with college kids than the NFL, but Webster certainly could feel differently.
Like Jim Wyatt of The Tennessean before me, I've heard Bisaccia and Seattle Seawhawks defensive coordinator Dan Quinn are guys Webster is likely to interview.
Before the Titans hired Munchak in 2011, I wrote about why I thought Bisaccia would be
a good candidate
for the job. It included a rave review from Jon Gruden and
Derrick Brooks
. (And a bad assessment by me of Raheem Morris.)
From what I've heard about Bisaccia, I think he might be a Franklin-type in the energy department. He'd bring far more experience coaching guys in the pro ranks. Already on Twitter some are crushing the idea. I'm asking them if John Harbaugh was a bad hire for the
Baltimore Ravens
. He won the Super Bowl with Baltimore last year and was hired by the Ravens with a resume that was predominantly overseeing special teams with the
Philadelphia Eagles
. A top special teams coordinators should have head coaching qualities, and it's an outside-the-box idea worthy of consideration.
Arizona Cardinals
defensive coordinator
Todd Bowles
and
Cleveland Browns
defensive coordinator Ray Horton have been popular names with regard to remaining openings and it would be no surprise if Webster considered them.
Greg Roman of the San Francisco 49ers is among the most popular offensive coordinators in the NFL right now.
One guy I do not think will draw Webster's attention:
San Diego Chargers
offensive coordinator Ken Whisenhunt, the former coach of the Cardinals. I don't think Webster is a big fan.
Mike Mularkey (not working this season) and
New York Giants
defensive coordinator Perry Fewell interviewed with the Titans when Munchak was hired in 2011. Mularkey got the
Jacksonville Jaguars
job in 2012 and was a one-year disaster.
December, 24, 2013
12/24/13
5:10
PM ET
NASHVILLE, Tenn. --
Tennessee Titans
coach Mike Munchak said on Monday he hopes for the support of general manager Ruston Webster going forward.
We know the two have a good working relationship.
We know Webster has not offered any indication he doesn't support Munchak, but he also has not been out front banging the drum that the coach will or should be back for his fourth season in 2014.
[+] Enlarge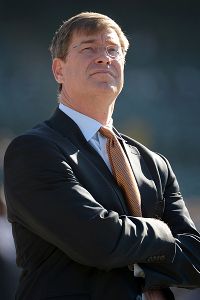 Kirby Lee/USA TODAY SportsTitans general manager Ruston Webster will have some hefty team and personnel decisions to make once the 2013 season ends.
It's not his drum to bang.
Webster will have input, but the final decision belongs to the head of the new ownership group, team president and CEO Tommy Smith.
Webster may tell Smith he believes completely in Munchak and thinks he should be back. He also may say otherwise.
Munchak was the hire of late owner Bud Adams, and Mike Reinfeldt was general manager at the time. Reinfeldt moved up a notch in the front office to senior executive vice president and chief operating officer in 2012, and Webster was then promoted to GM.
Then Adams fired Reinfeldt after the 2012 season, largely for his failure to chase
Peyton Manning
as aggressively as the owner wanted him to.
Smith made it clear when he recently spoke to Nashville media that Webster is well liked and completely safe as the team's top football executive in Nashville.
Webster is low key and hardly a power-hungry guy. But his reputation is on the line when he gives Smith his assessment. He may never have a position of more strength, and if he believes the Titans would be better served by a new coach, he will say so. And he would have a big hand in putting candidates in front of Smith.
If Webster backs Munchak, the coach stays and things don't get better, Webster's rep gets dented, too.
I don't know what his answer will be when Smith says, "What should we do?" But I don't think it's a certainty that he feels married to Munchak in the way many seem to assume.
Webster worked for the Buccaneers from 1988-05 and for the Seahawks from 2006-09.
I looked at the staffs of those teams to create a list of guys he could look to if he's asked to provide candidates to take over for Munchak. A front-office guy isn't always in position to get to know coaching staffs well, but Webster certainly knew many of these guys on a level where he gained some insight. Maybe no one with a previous connection would be a candidate, but usually there would be at least one guy with some prior connection in the mix.
Webster has worked with head coaches Ray Perkins, Richard Williamson, Sam Wyche, Tony Dungy, Jon Gruden and Mike Holmgren in addition to Jeff Fisher and Munchak.
It's rather amazing some of the coaches he has worked with when they were assistants with the Buccaneers and Seahawks. Eleven of them went on to be head coaches: Mike Mularkey, Herm Edwards, Rod Marinelli, Lovie Smith, Jim Caldwell, Mike Tomlin, Raheem Morris, Ray Rhodes, Jim Zorn, Jim Mora and Gus Bradley.
And he's been with the same organization as some well known, quality assistants: Sylvester Croom (again now with the Titans), Mike Shula, David Culley, Monte Kiffin, Clyde Christensen, Rich Bisaccia, Kyle Shanahan, Bruce DeHaven and Greg Knapp.
Mularkey was one of the guys the Titans looked at when Adams wound up promoting Munchak. Mularkey flamed out in one season in Jacksonville in his second stint as a head coach, and I doubt his overbearing, controlling style would be attractive at this point.
Smith, Caldwell and Jay Gruden are on the NFL's Career Advisory Development Panel's
list of head coaching candidates
, per Peter King of The MMQB.
I've not talked to Webster about any of these guys. If he's creating a list, it wouldn't surprise me if one or more of these names are on it based on his previous experience with them.
•
Lovie Smith
had a good run with the Bears before being fired after a 10-6 season in 2012. He's a cool and collected coach from the Dungy tree. The issue is that he's a defensive coach who consistently failed to develop a quarterback with the Bears and could never find the people or formula to build an offensive line that offered sufficient protection. Smith was linebackers coach in Tampa from 1996 through 2000. The Titans have severe linebacker issues.
• Current Cincinnati offensive coordinator
Jay Gruden
was an offensive assistant with the Buccaneers in 2004-05 while Webster was also in Tampa. Gruden has passed on some head coaching interview opportunities in the recent past, but might feel ready for them now. My one big concern based of what I saw of him on "Hard Knocks" is the super complicated play calls in his offense. I like him as a candidate if he promised to scale back and simplify.
•
Aaron Kromer
was a senior assistant with the 2005 Bucs and is now offensive coordinator and offensive line coach of the
Chicago Bears
. Things have gotten a lot better with the Bears offense this season, but how much of that has been because of him and how much is because of his boss, Marc Trestman? Kromer worked as an interim head coach during one stage of Sean Payton's suspension with the Saints in 2012. That was hardly a raging success. They started 0-4 and finished his six games 2-4. I'm told he's dry publicly, but confident.
• UCLA coach
Jim Mora
coached defensive backs for the Seahawks in 2007 and bumped up to assistant head coach and defensive backs coach in 2008. I have no idea if he's interested in a return to the NFL. But in three seasons as Atlanta's head coach (2004-06) he compiled a 27-23 record. Perhaps he'll be regarded as a guy whose second turn as a head coach after time away from working as an NFL head coach could be a lot better. It worked that way for Pete Carroll and Bill Belichick.