Tennessee Titans:

Alan Lowry
November, 15, 2013
11/15/13
12:28
PM ET
A review of four hot issues from the
Tennessee Titans
' 30-27
loss
to the
Indianapolis Colts
at LP Field:
Foku
Missing Fokou:
When linebacker
Moise Fokou
hurt his knee Oct. 13 at Seattle, some of us believed the Titans might be better off with
Colin McCarthy
plugged in at middle linebacker. It's not as though McCarthy's been terrible, but three of the four games without Fokou have been run-defense disasters -- 153 yards to San Francisco, 160 to St. Louis and 137 to Indianapolis. (There was a 54-yard game against Jacksonville, too.) Getting Fokou back might not be the answer, but this was a better defense when he was running it.
Special teams:
Of all the moves Mike Munchak made, firing Alan Lowry might have been the biggest. Current special teams coach Nate Kaczor isn't making the mistakes, and his units have been hard-hit by the injuries, but the Titans have been far more likely to commit a gaffe on special teams than produce a play. Every team in the league should have a guy they can call up from the practice squad who can field kicks and punts and secure the ball.
Devon Wylie
's kick return fumble -- which was the result of him bumping into a teammate -- was an absolute killer.
Fitzpatrick
Third and short:
I'm fine with the Titans' willingness to throw in an unconventional situation. They converted an early third-and-1 with a 12-yard pass to
Delanie Walker
. But the second time they faced third-and-1, when they were running the ball well,
Ryan Fitzpatrick
threw incomplete for
Kendall Wright
to stall a drive after just three plays. Shouldn't a team trying to create a we-can-run-when-we-want MO at least allow for the possibility of running it by not going with the empty backfield? They went empty on a third-and-2 a bit later, and converted thanks to a roughing call against
Robert Mathis
.
Covering Coby Fleener:
The tight end wound up with eight catches for 107 yards and was a key to the Colts' win. The Titans have been far better against tight ends this season than the past couple years, mostly because safety
George Wilson
's been part of the dime and three-safety nickel packages. Wilson played one snap on defense, and the Titans defended Fleener with base and regular nickel personnel. The three top cornerbacks, free safety
Michael Griffin
and strongside linebacker
Akeem Ayers
were all involved in tackling him.
October, 16, 2013
10/16/13
2:16
PM ET
NASHVILLE, Tenn. -- My 20-20 hindsight is the only good vision I have.
So it's time for a big round of second-guessing. Six games into the 2013 season, the Titans are a lot better team than they were a year ago, but they don't have a ton to show for it at 3-3.
Five things worth some consideration after the fact, if not a full second-guess:
[+] Enlarge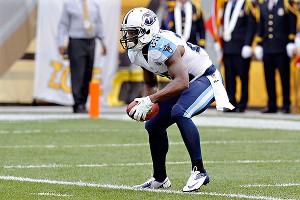 AP Photo/Keith SrakocicTitans return man Darius Reynaud isn't impressing anyone on special teams.
Special teams:
Mike Munchak fired long-time special teams coach Alan Lowry, moving up assistant Nate Kaczor. The result through six games has been largely bad. The team got a great, long touchdown return from special teams in Seattle. But the group makes the same mistakes on a regular basis, highlighted by return man Darius Reynaud's willingness to let punts bounce and his determination to bring kickoffs out from deep in the end zone. (I won't even mention he took the first kickoff of the season back into the end zone for a safety. Actually, I just did.) Munchak thought the team was starting to tune out Lowry. But he was pretty good at having his group ready for anything. It's a far bigger adventure now.
Which begs the question:
Was firing Lowry a mistake?
Marc Mariani:
While we're on the subject of Reynaud... At cut down day, the Titans put Mariani on injured-reserve with a shoulder injury that would have only cost him a few more weeks. Their roster wasn't so drenched with talent that they couldn't have found space for him until he was healthy. Defensive end Keyunta Dawson stuck, but was cut weeks later when Jake Locker got hurt and they needed space to add Rusty Smith. It turns out Mariani is a way better decision-maker than Reynaud.
Which begs the question:
Do they privately regret that they didn't create a way to have access to Mariani this year?
Sorting out center:
Rob Turner won the center completion in the preseason, that was pretty clear. But did the Titans project what he could do correctly? They don't want to single him out and he's hardly the only guy having trouble. But they are invested in the other four in a big way and they all have higher ceilings. Turner brings a nastiness, but the attitude doesn't matter if people are regularly getting past him.
Which begs the questions:
Should they have stuck with Fernando Velasco, who's now with the Steelers? Should they be turning to rookie Brian Schwenke now?
The tackles:
All the focus has been on the interior offensive line. But the issues aren't only with the middle three. Right guard David Stewart has a calf/leg issue having broken that leg less than a year ago. On a good week he practices twice, on a bad week just once. And Michael Roos isn't run-blocking as well as he has in the past, particularly near the goal line.
Which begs the question:
Did they err in taking it for granted that they were fine on the edges?
Paying Chris Johnson:
The extension he got in 2011 included a provision that if he was on the roster five days after the Super Bowl in 2013, $9 million of his $10 million salary for this year would be guaranteed. I endorsed the $55 million extension when he got it. The Titans had long lacked an explosive playmaker, and at that point he definitely was one. But since he got it, he's certainly not proved worth it. Only a knee injury to Shonn Greene has prevented a role reduction so far this season.
They could have found a primary back who could do better than CJ's 3.1-yard average for far less money.
Which begs the question:
Is this going to be his final season with the Titans? He's due $23 million more over the next three years. Unless his production spikes, it will be hard to justify it if they measure cost per yard.
September, 8, 2013
9/08/13
6:46
PM ET
PITTSBURGH -- Every theme the
Tennessee Titans
hit, and hit, and hit again through the offseason and the preseason was on display in their season-opening win at Heinz field Sunday.
Let's run through their core beliefs and how they translated into the
16-9 victory
.

Brown
Be physical on both sides of the ball:
The Titans didn't run the ball great, but they ran it well enough to hand it off 37 times.
Jake Locker
's runs, including two kneel-downs made for a total of 42 rush attempts for 112 yards. Sure they'd like more than 2.7 yards a carry. But against a
Pittsburgh Steelers
team that is typically stout against the run, being able to run it that much is a win.
The defense managed to sack
Ben Roethlisberger
, who's a tough guy to drag down, five times. Defensive tackle
Jurrell Casey
and weakside linebacker
Zach Brown
had two sacks apiece. A couple new players -- end
Ropati Pitoitua
and middle linebacker
Moise Fokou
-- made significant contributions to the effort.
The Steelers suffered several injuries. Center
Maurkice Pouncey
's wasn't from anything Tennessee did, he got hit by linemate
David DeCastro
. But the physical game certainly had a role in injuries to
LaRod Stephens-Howling
(knee), cornerback
Cortez Allen
(ankle) and inside linebacker
Larry Foote
(biceps). The Titans weren't nearly as banged up.
Withstand adversity:
Things couldn't have started any worse. Return man
Darius Reynaud
inexplicably decided that despite some room, he wanted to turn a bouncing kickoff into a touchback. The trouble was he picked up the ball just across the goal line and pulled it back in to take a knee.
He's got to make a better decision in such circumstances, and his failure to do so is on him. He was able to have a sense of humor about it since the Titans overcame it.
An aside. One thing he said postgame bothered me a bit.
Asked what sort of rules he's to follow in such circumstances, he said. "I set back seven deep, if the ball is kicked five yards deep I can run up on it. But on that type of play, we never practiced that play. I'm going to get that in practice this week just to get a good look on it. … Next time we'll get that right."
Mike Munchak fired Alan Lowry, a coach who had a reputation for his special teams being prepared for anything and everything, after last season.
Don't put Locker in bad situations:
Locker was sacked only once. He ran the offense efficiently, and his teammates said he was confidently in command in the huddle. He ran for a nice 5-yard gain on one option play with
Chris Johnson
. He was 11 for 20 for 125 yards with no touchdowns, no interceptions and a long of 25 yards.
He threw a couple off-target passes, but never appeared flustered by a defense that's got the capacity to make young quarterbacks panicky.
A key to putting him in good spots was productive first downs. In the first half, the Titans averaged second-and-5.2. For the game, nine of 21 second downs were second-and-6 or less.
Stop the run to make opponents one-dimensional:
The Steelers turned 15 carries into 32 yards. And their long run was eight yards by
Isaac Redman
, who also coughed up a fumble as the Steelers were about to score to go up 9-0.
***
All in all, it was a great day for creating a feeling that work and points of emphasis have paid off.
"Overall, we were exactly what we were trying to work towards in the preseason," left tackle
Michael Roos
said. "I think that one drive we had 13 straight run plays or something like that. (Actually 12 of 13 plays.) That's what we've been trying to get to. Impose our will on them and keep drives alive."