Tennessee Titans:

Anthony Barr
May, 8, 2014
May 8
9:11
PM ET
Blow up the majority mock.
The
Tennessee Titans
are not getting UCLA outside linebacker
Anthony Barr
with the No. 11 pick in the draft. He just went to Minnesota at No. 9.
The Titans are shifting to a 3-4 front and their pass rush was nothing special a year ago, with interior lineman
Jurrell Casey
producing the most push and a team-high 10.5 sacks. The edge rush needed upgrading.
With
Kamerion Wimbley
back at linebacker and
Shaun Phillips
added, they should be better.
Akeem Ayers
and
Derrick Morgan
, moving from end, are also at outside linebacker.
That's a potentially nice four pack.
But Ayers and Morgan are in contract years while Wimbley will be 31 in October and Phillips will be 33 on Tuesday.
May, 7, 2014
May 7
3:04
PM ET
A year ago, Alabama guard
Chance Warmack
made it clear he wanted to be drafted by the
Tennessee Titans
and set up shop in Nashville.
And that's just what happened with the 10th pick.
UCLA outside linebacker
Anthony Barr
sounded a similar note Wednesday afternoon
on The Midday 180
in Nashville on 104.5 The Zone.
[+] Enlarge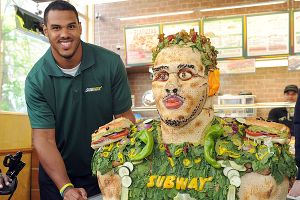 Photo by Diane Bondareff/Invision for SUBWAYDraft prospect Anthony Barr of UCLA unveils a life-size food statue in New York.
If he makes it to 11 and is the Titans' choice, he's all for it. It would put him back working with Lou Spanos, who was his defensive coordinator with the Bruins and is now the Titans' linebacker coach.
"That'd be awesome," he said. "It would be awesome being reunited with coach, I know
Akeem Ayers
very well, I knew (
Alterraun Verner
) before he left for Tampa. And it would be a real honor to play for Tennessee."
While Barr has only been on defense for two seasons after starting out as a H-back, he's viewed as an incredible athlete who will be an impact edge rusher in the NFL. But, Barr is a raw player who needs to gain strength, polish his skills and get a better understanding of the position.
He said during those two years he knocked out seven or eight quarterbacks. One of them was former USC QB
Matt Barkley
, who suffered a broken collarbone. Barr said he's not too concerned if injuries happen to be the result of his work, as it's just part of the game.
"I'm just the ultimate competitor," he said. "I don't want to lose. I want to win at all costs and I just love the game of football. Everything out there up to this point has been based off the game, whether it's consciously or subconsciously, every decision I've made over the past 10 seasons -- what I wear, what I dress, what I eat, where I go, when I go to sleep, when I wake up -- it revolves around the game.
"I respect the game, I respect the process, I'm going to help you win games right away. It's kind of what we are in this business for, what have you done for me lately, and that's what I am all about."
Barr is in New York Wednesday for a Subway promotion -- they built a large bust of him out of vegetables while anointing him one of the restaurant's Famous Fans and encouraging people to "pile on the veggies." He talked with us on the radio just before that event in NYC.
But he won't stay there for the draft, declining an invitation to Radio City and returning to California to be with his family while he awaits his fate.
Some 4-3 teams are considering Barr as an end, and he said whether it's that more dramatic change or simply the shift from college to pro 3-4, nothing is going to be simple about the transition.
"Nothing is going to be easy when I make this jump," he said. "Anywhere I go, any position I play in, any scheme I am in, it's going to be an adjustment, it's going to be real different. It's going to be a challenge. I'm looking forward to that."
April, 28, 2014
Apr 28
3:06
PM ET
The
Tennessee Titans
are one of the great mysteries of the first half of the first round of the NFL draft.
Picking at No. 11, they aren't going to address their one clear-cut need -- running back.
They could go virtually any other direction, though three years after spending the No. 8 pick on quarterback
Jake Locker
, I do not envision them taking a quarterback.
So this week we'll look at five possibilities for the Titans at No. 11, in no particular order.
Barr
UCLA outside linebacker Anthony Barr
The good:
He's an extremely athletic player with great potential. I've heard and read raves about his agility, balance and speed. While the Titans are now reasonably well stocked at outside linebacker for their new defensive front, they can use a young force. He's connected to Titans linebacker coach Lou Spanos, who was defensive coordinator at UCLA.
The bad:
He may not be physically equipped to be an every-down player from the start and will need some time to develop strength. Despite that athleticism, he will enter the league with questions about his abilities as a run defender and dropping into coverage. He has only played defense for a couple years.
Room for him:
The Titans have veterans
Shaun Phillips
and
Kamerion Wimbley
as pass-rushing outside linebackers in their 3-4 and
Derrick Morgan
is expected to work as the position as well.
Akeem Ayers
is in line to be the primary presence on the strong side. So while the Titans could use a young guy and Barr would have potential to be a long-term force, there is not a huge current need. But OLB in a 3-4 is a position where teams like to have significant numbers.
How ESPN.com's resident scout, Matt Williamson, sees him fitting with the Titans:
"Barr has some similarities to
Barkevious Mingo
, who Titans defensive coordinator Ray Horton was associated with this time last year with the Browns. I am not a huge Barr believer and think he is far too much of a finesse player with limited defensive experience, which shows up in his recognition skills presently. But he does have upside, especially as a 3-4 OLB."
Positives from our scouting report:
Rates as exceptional in height-weight-speed, intangibles and above average in instincts/recognition, range versus the run and third-down capabilities. "Ideal length and initial burst to gain edge. Flashes quick hands and can dip inside shoulder to turn the corner."
Negatives from our scouting reports:
Rates as average in production, durability, tackling and take-on skills, "Tends to throttle down prior to contact, rather than exploding through. Leaves his feet too often and misses too many attempted arm tackles."
Likelihood in my eyes he's available at No. 11:
Very high.
March, 27, 2014
Mar 27
8:54
AM ET
Reading the coverage of the Tennessee Titans ...

What was the Titans' best re-signing? Who's the best newcomer? Jim Wyatt of The Tennessean considers these and other
important questions
.
UCLA linebacker Anthony Barr remains the most popular
mock draft pick
for the Titans at No. 11. That's the pick of Jim Wyatt of The Tennessean, who rounds up a lot of other opinions.
A Nashville group is trying to put together "an annual, high-profile, early-season college football game
for LP Field
beginning as early as 2016," according to John Glennon of The Tennessean.
The Titans were slated to have veteran offensive lineman Mike McGlynn
in to visit
Wednesday and Thursday, per Wyatt.
To which I say:
The Colts beat out the Titans for D'Qwell Jackson and Arthur Jones. It's not much of a countermeasure if the Titans take away a lineman who's been part of a group that's been Indianapolis' biggest problem. Though as a swing backup interior guy, McGlynn would have less of a role for the Titans than he's had for the Colts. Re-signing Chris Spencer is a better option.
A transcript of the NFL competition committee
press conference
.
March, 19, 2014
Mar 19
9:50
AM ET
Reading the coverage of the Tennessee Titans…

The
pros and cons
of the five outside free agents the Titans have brought in, from John Glennon of The Tennessean.
The Titans
re-signed
interior defensive lineman Antonio Johnson, says Glennon.
Anthony Barr is
the default pick
for the Titans in mock drafts, and Barr is the choice by Charles Davis of NFL Media in this mock.
Bernard Pollard talked more about
how aggressive
he expects the Titans to be on defense, says Craig Peters of the team's website.
"All I can say to our fans, to opposing teams is we're going to come get you. We're not going to shy away from it," Pollard said. "I know last year we kind of set back and did some things and didn't pressure, but this is going to be a defense where we're going to go get them, and I'm excited for that."
Michael Oher talked with the team's website after he signed his contract. (
Video
.)
Tennessee's Super Bowl odds have actually
gotten longer
since free agency opened, says David Boclair of the Nashville Post.
The Titans
haven't fared great
in free agency in the eyes of Jordan Churchill of Music City Miracles.
March, 13, 2014
Mar 13
2:00
PM ET
Michigan offensive tackle
Taylor Lewan
, ESPN draft analyst Mel Kiper Jr.'s pick for the
Tennessee Titans
in two earlier mock drafts, moves up
two spots in version 3.0
.

This time around Kiper projects UCLA outside linebacker
Anthony Barr
to Tennessee. Barr has become the standard default pick for the Titans.

I like this pick better that Lewan for Tennessee.
The Titans are going to be a hybrid defense, shifting toward a 3-4.
Akeem Ayers
translates as does
Kamerion Wimbley
, but Wimbley is expensive with a $7.8 million cap charge and a $6 million base. He may need to take a pay reduction to stick around. Cutting him would save $2.4 million.
Barr projects as a 3-4 outside linebacker and has a connection to the Titans.
New linebackers coach Lou Spanos was Barr's defensive coordinator at UCLA.
Barr is agile and fast and has excellent pass-rushing attributes that include long arms and great athleticism.
If he's on the board at No. 11, I think he's a guy the Titans will seriously consider in the spot.
Kiper has Pittsburgh defensive tackle
Aaron Donald
and Alabama linebacker
C.J. Mosley
still on the board when the Titans pick, and I see them as possibilities as well.
February, 7, 2014
Feb 7
12:47
PM ET
Reading the coverage of the Tennessee Titans…

Reviewing the Titans
receivers
from 2013 with Tom Gower of Total Titans.
UCLA linebacker Anthony Barr
is the pick
for the Titans at No. 11 by Doug Farrar of Sports Illustrated in his new mock draft.
Grading the Titans'
2010 draft
with Jordan Churchill of Music City Miracles.
Are there any Patriots coming free who would be
good fits
in Tennessee, asks Will Lomas of the Yahoo! contributors network.
February, 6, 2014
Feb 6
3:00
PM ET
Mock draft season is cranking up, and we've got new ones from Mel Kiper and Todd McShay to review.

Kiper

sticks with his pick for the Titans from his first mock: Michigan offensive tackle
Taylor Lewan
.
Lewan could replace outgoing right tackle
David Stewart
in 2014 and be poised to move to left tackle to replace
Michael Roos
down the road. Lewan would certainly upgrade the position, but it would be a second consecutive first-round choice on an offensive lineman.
Given the reshaping of the defensive front and scheme changes on both sides of the ball, my gut at this stage is that the Titans will be heading in a different direction with the 11th pick.
McShay

goes with UCLA outside linebacker
Anthony Barr
, a player the Titans will gain some insight on from new linebackers coach Lou Spanos. Spanos came to Tennessee after serving as the Bruins' defensive coordinator.
Says McShay: "Michigan OT Taylor Lewan and Alabama safety
Ha Ha Clinton-Dix
would also fill needs here, but I think Barr would be a fit for new defensive coordinator Ray Horton's hybrid scheme, given Barr's experience working on the line and standing up as a 3-4 outside linebacker."
I'll lean toward McShay over Kiper here at this early stage.
January, 20, 2014
Jan 20
4:52
PM ET
NASHVILLE, Tenn. -- Scouts Inc. ranks UCLA linebacker
Anthony Barr
third on its big board of collegiate players coming out in the 2014 draft.
It's hard to predict in January where a guy's getting drafted in May.
But the draft doesn't align with a January big board, and the Titans could wind up with a shot at Barr 11th overall.
As John Glennon of The Tennessean pointed out to me Friday night when we took in a hockey game, the Titans now have a solid track to inside info on Barr. New Tennessee linebackers coach Lou Spanos has spent the past two years as UCLA's defensive coordinator.
Here's ESPN.com's
player card
for Barr, which includes this with an "exceptional" rating in "third-down capabilities."
"Possesses the tools to develop into an impact pass rusher. Excellent length, above-average initial get-off and explosiveness. Has a rare closing burst. Just average torso flexibility to bend the edge and needs to continue development with hands as counter puncher. Good range in underneath zone coverage and flashes the athleticism to match up with tight ends in man coverage when his technique improves."