Tennessee Titans:

Brett Kern
August, 13, 2014
Aug 13
7:46
PM ET
NASHVILLE, Tenn. -- A daily review of the hot topics coming out of
Tennessee Titans
training camp:


Receiver Justin Hunter continued to make things difficult on cornerbacks on jump balls. He went up and got one over Coty Sensabaugh from Jake Locker. He jumped over rookie Marqueston Huff for another. He skied to the crossbar in the back of the end zone to pluck another with Sensabaugh nearby.
Charlie Whitehurst had to call "ball" on one throw up the right side for Michael Preston, who turned but wasn't ready and watched it sail through his hands, though he had some room on Micah Pellerin.
Locker threw a duck that found the ground quickly when it looked like he was aiming for Nate Washington with Blidi Wreh-Wilson in coverage. Locker seemed to be trying to stop himself from throwing it, but the motion was well underway and it came out of his hand. Wound up harmless.
Other red-zone TD catches besides Hunter's: Marc Mariani from Whitehurst and Chase Coffman stretching at the back line from Zach Mettenberger.
Linebacker Zaviar Gooden didn't get his head around on a Whitehurst throw for Taylor Thompson, but Gooden got his arm up to hit the ball for a breakup.
While the Titans have been very reserved with their kickers, Brett Kern punted for the second day in a row.
Whitehurst was "sacked" when the he dashed left and ended up swallowing the ball. It looked like the play was supposed to be a handoff to Bishop Sankey but was unclear who made the mistake. Sankey made some nifty moves on a couple of carries.
Whitehurst threw an interception to Huff in a ball intended for Isaiah Williams.
DaQuan Jones is working as the second nose tackle, and Al Woods is also in the loop there behind starter Sammie Hill. Antonio Johnson has been out for a while in recovering from a knee scope. Jones and Woods can play inside or out, while Johnson doesn't bring the same versatility. He's likely in trouble.
Travis Coons hit field goals of 38 and 44 yards at the conclusion of two-minute drill work by the offense. Whisenhunt said Maikon Bonani's groin was bothering him a little bit. Coons hit both field goals on a better trajectory with room to spare. He told me he was hitting the ball a bit lower than usual as he worked with snapper Beau Brinkley and holder Kern to speed up the snap, hold, kick process. Now that they've made progress on that he's getting his natural swing back and getting more height on his kicks.
Whisenhunt said he will allow players to go home after they return from their trip to New Orleans for Friday night's game. That ends camp in one way. But Whisenhunt said while the Titans will structure next week like a normal practice week, that they will still work ones against ones and rotate people in competitions. For him, camp really ends when the first round of cuts come and as the team focuses on planning for an opponent.
That likely means the practice rules change next week and you won't be seeing any more of these practice reports. Hope you enjoyed them and they gave you some insight.
July, 31, 2014
Jul 31
4:41
PM ET
NASHVILLE, Tenn. -- As
Maikon Bonani
approached a ball held for him by a tripod,
Brett Kern
snuck in for a close up.
Kern wasn't snapping something on his iPad to post on Facebook at
Tennessee Titans
practice. He was taping a Bonani kick from close range on a new app the Titans' special teams just started playing with called,
Ubersense Coach
: Slow Motion Video.
An iPad would record fewer than 30 frames per second. Ubersense allows you to record 120 frames per second.
At this point it's mere experimenting, but Bonani said he was looking forward to seeing super close-ups in slow motion from front, side and back angles to help him examine his technique.
"It's a lot closer than it is when you have the camera from up top," Bonani said. "You can really see at contact and before what your body is doing, what your approach is like -- it's going to help us both out, the kickers and the punters."
The Titans haven't put a big emphasis on their kicking competition between Bonani and undrafted rookie
Travis Coons
yet. Ken Whisenhunt has talked about a progression.
Thursday in a full special teams period, each kicker hit from 33 and 38 yards and missed from 46.
Whisenhunt isn't too concerned about practice performance.
"I'm only worried about when we get to games and seeing where we are in those when it's a kick at the end of a game or a critical situation before a half," he said. "Then we'll really get a chance to see it, hopefully."
Bonani said his coaches know what they are doing with the buildup toward games with field goals and kickoffs, and that he and Coons will be ready for the things that will determine who wins the job.
As for his miss from 46, he said it was an aiming mistake in a breeze and he missed by a foot.
"It's aggravating to miss, it's my first time missing in front of the team, in front of the staff," he said. "I have 100 percent confidence in myself that if I had another kick today I would have made it."
May, 30, 2014
May 30
11:57
AM ET
Reading the coverage of the Tennessee Titans ...

After being blind for six years, Albert Sankey will be able to
watch his grandson
Bishop play for the Titans this year, writes John Glennon of The Tennessean.
Brett Kern didn't arm-wrestle Charlie Whitehurst. But it's not at all preposterous to think a punter
could win
in such a scenario, says Mike Tanier of Sports on Earth.
Looking at some numbers from 2013, assessing what direction those numbers
will move
in 2014 and pointing to teams that will be better and worse, from Bill Barnwell of Grantland.
A scouting report
of DaQuan Jones from Music City Miracles.
Sifting through
the undrafted rookie class
with Tom Gower of Total Titans.
Multiple looks
are challenging the Titans on offense and defense at this stage, says Craig Peters of the team's website.
May, 29, 2014
May 29
9:32
AM ET
Reading the coverage of the Tennessee Titans ...

Maikon Bonani says he's gotten far
more accurate
while maintaining his big leg, says Lauren Moore of The Tennessean. The Titans are hoping Bonani or rookie Travis Coons emerge to replace Rob Bironas. Coons isn't at OTAs as he is finishing school at Washington.
Derrick Morgan talked to The Wake Up Zone in Nashville about OTAs and more. (
Audio
.)
Titans defensive lineman Jurrell Casey ranked
27th
in the NFL, according to Khaled Elsayed of Pro Football Focus.
It was a funny story that Brett Kern held onto his No. 6 when he beat Charlie Whitehurst at arm-wrestling. But it became clear it was a hoax when Kern visited the Midday 180 and I asked him if it was a gag. "
We'll see
," he said. Later Jim Wyatt of The Tennessean told us via Twitter that it was a funny story but
didn't happen
.
October, 14, 2013
10/14/13
12:10
PM ET
A review of four hot issues from the
Tennessee Titans
' 20-13
loss
to the
Seattle Seahawks
:
One change coming:
I don't expect the Titans to make a big shakeup, though they should be considering
Brian Schwenke
at center when the bye week arrives. But one change that should arrive this week is the re-emergence of No. 2 running back
Shonn Greene
. He hurt his knee in the opener and had it scoped. He should practice on Wednesday. The Titans will be equipped to run better against San Francisco with a one-two punch of
Chris Johnson
and Greene, and if Greene gets on any kind of roll they won't hesitate to go with the hot hand. They are desperate for a hot hand.
[+] Enlarge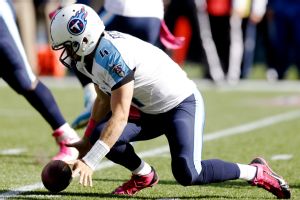 AP Photo/Elaine ThompsonTitans quarterback Ryan Fitzpatrick has been struggling lately.
Doling out consequences:
While I am ready for Schwenke, there aren't viable alternatives at most of the Titans' trouble spots.
Ryan Fitzpatrick
is struggling, but he has always been streaky. There is a far better chance he plays better next week than there is that
Rusty Smith
would play well. And the Titans won't even consider turning to their No. 3 QB. But that
Kenny Britt
played, by my count, two snaps, shows that Mike Munchak will take playing time away from a bad performer when he has an alternative.
Repeat mistakes:
Brett Kern
dropped a second punt snap in a month, which is hard to fathom.
Darius Reynaud
had a 40-yard kickoff return, but let yet another punt bounce and was lucky to get away with it when it turned into a touchback.
Rob Turner
sailed a couple more shotgun snaps. Guys making mistakes are the No. 1 people who have to be accountable for those mistakes. But when they make the same mistakes repeatedly, I have to wonder about the message of Munchak and his staff, and about how good they are at correcting things. Do they have guys who don't get what they are being told, guys who aren't capable of fixing those things or guys who are just mistake-makers? Whatever the answer, it's a problem.
Look across the field:
The Titans aspire to be a physical team that controls both lines of scrimmage and can impose its will as it runs and stops the run. Well, they just lost to two teams, the Chiefs and Seahawks, who follow that blueprint far better than Tennessee does. And the 49ers are of the same ilk and will be in Nashville on Sunday. The Titans pledged what they were going to be, and we've seen it a little bit, particularly in the wins in Pittsburgh and over the Chargers. But we haven't seen it enough. Never mind fans who heard the identity promises. I wonder what owner Bud Adams thinks about the Titans failure to be who they pledged they'd be when he spent more than $100 million on free agents to help them be it?
August, 30, 2013
8/30/13
3:14
PM ET
NASHVILLE, Tenn. -- Rather than tell you this is what's going to happen, I'll tell you this is what would happen if I had influence in the
Tennessee Titans
meeting room when final cuts will be decided.

Some cuts are already trickling out from Jim Wyatt of The Tennessean, so check
his Twitter feed
.
Quarterbacks:
Jake Locker
,
Ryan Fitzpatrick
There just is no room for
Rusty Smith
and there
isn't a need
for a third quarterback unless things go incredibly wrong. The difference between a random third guy and Smith isn't giant.
Running backs:
Chris Johnson
,
Shonn Greene
,
Jackie Battle
,
Quinn Johnson
(FB)
Battle has to contribute on special teams, but he was better than
Jalen Parmele
through the preseason. Wyatt says Parmele is already gone. Johnson's been hurt and could lose out to
Collin Mooney
.
Wide receivers:
Kenny Britt
,
Nate Washington
,
Kendall Wright
,
Damian Williams
,
Justin Hunter
,
Michael Preston
,
Marc Mariani
(return specialist)
Preston is one of the best 53 players on the team. Even though he won't be active on Sundays if everyone's healthy, you keep extra quality depth at one spot if it's better than weaker depth at another spot. Once he's healthy, Mariani isn't as explosive as a punt returner as
Darius Reynaud
, but will more regularly get 10 yards.
Tight ends:
Delanie Walker
,
Craig Stevens
,
Taylor Thompson
No need for a fourth on the 53. Sign
Jack Doyle
to the practice squad
Offensive linemen:
Tackles
Michael Roos
,
David Stewart
,
Mike Otto
,
Byron Stingily
. Interior:
Andy Levitre
,
Chance Warmack
,
Rob Turner
,
Brian Schwenke
,
Fernando Velasco
Velasco is guaranteed $2.02 million under his tender contract out of restricted free agency. I'm not sure he should stick over
Scott Solomon
at linebacker or
Stefan Charles
at defensive tackle. But the big push for revamping the line and the desire for depth after last year's slew of injuries makes me feel like they will stay loaded.
Defensive ends:
Derrick Morgan
,
Ropati Pitoitua
,
Kamerion Wimbley
,
Lavar Edwards
,
Keyunta Dawson
.
Dawson is a good guy to have. I can see him staying and the Titans going five ends as opposed to six tackles. But linebacker
Akeem Ayers
is a nickel end so he factors in here as well.
Defensive tackles:
Jurrell Casey
,
Sammie Hill
,
Mike Martin
,
Antonio Johnson
,
Karl Klug
(swing)
I've got Stefan Charles over
DaJohn Harris
but neither making it. If one of them sticks, it's the last defensive line spot probably over Dawson. I see Charles on the practice squad.
Linebackers:
Akeem Ayers,
Moise Fokou
,
Zach Brown
,
Zaviar Gooden
,
Colin McCarthy
,
Patrick Bailey
Scott Solomon is one of my last two cuts. I want to keep seven 'backers. The seventh guy would be a trade-off for Velasco, I think. Solomon is versatile, seems to be catching on to the position change and can still play end if needed. He's not practice squad eligible. I just can't fit him here. I might keep him over Bailey but I don't think they rank him that way.
Safeties:
Michael Griffin
,
Bernard Pollard
,
George Wilson
,
Daimion Stafford
The fourth spot isn't strong and Stafford could probably go to the practice squad. But if they choose a veteran --
Al Afalava
or
Corey Lynch
-- as the fourth I could see them trying to upgrade it with an outsider.
Cornerbacks:
Jason McCourty
,
Alterraun Verner
,
Tommie Campbell
,
Coty Sensabaugh
,
Blidi Wreh-Wilson
I'd expect
Khalid Wooten
on the practice squad.
Kicker:
Rob Bironas
Punter:
Brett Kern
Long-snapper:
Beau Brinkley