Tennessee Titans:

Bud Adams dies
October, 21, 2013
10/21/13
7:11
PM ET
NASHVILLE, Tenn. -- After Mike Munchak was the first-round draft pick of the Houston Oilers in 1982, he visited with owner Bud Adams. Adams was the first Texan he'd met, and had the biggest desk Munchak had ever seen.

It was the start of a 31-year-long relationship between a player, assistant coach and head coach and the owner of his franchise.
On Monday, after Adams passed away, the Titans shuffled their schedule. Munchak told players the news and made a suggestion. If they'd not read much of the team history that's written on a giant timeline on the walls of team headquarters, it would be a good time to peruse it.
In 2011, when Adams was still in reasonably good health, he'd bring friends to Nashville for games. On Saturday afternoons, Munchak would walk with his boss and the guests through the halls, looking at pictures and telling the stories behind them.
"People think he wasn't here, so maybe he wasn't an active owner being here all the time" Munchak said. "But he was. For me, I walked these halls, he was always here. I had those stories with him, I had that history, I knew what was important to him. … He was here all the time, you could see him, you could feel him, it's just his body, he wasn't here. I think he'll always be here."
Munchak said he can't remember an unpleasant conversation with Adams, who always sought to understand the rationale behind the team's moves.
After last season's disappointing 6-10, Adams wanted to know how the team was going to help quarterback
Jake Locker
.
"He got excited about it," Munchak said. "Maybe I sold it good, maybe he liked the way I told the story. It was optimistic. Here's how we're going to do this and here's how it's going to work. He'd have a few questions …
"I thought that was my job, to excite him over what the plan was. Because he didn't know the details of it. He didn't know a lot of these guys' names. He didn't know
Andy Levitre
. It was our job to find the right guys. He just wanted to know how the puzzle was going to come together."
October, 21, 2013
10/21/13
5:30
PM ET
NASHVILLE, Tenn. -- Bud Adams often got tagged with an unfair label of being cheap.
In a guest appearance talking about his old boss,
St. Louis Rams
coach Jeff Fisher told The Midday 180 radio show about Adams always saying yes to requests for player salaries.

Fisher
"You could call him and ask for $10 million to sign a key free agent because that's the player that you need to get over the hump and he would not bat an eye," Fisher said. "Then you could come back 20 minutes later and ask for him to sign a purchase order for laser pointers and he'll take two months. That's how he was. As long as you know that going in and understand that, things are OK."
Fisher said he's eternally grateful to Adams, his late wife Nancy and the entire Adams family for the opportunity it gave him as a head coach. He called the Oilers and Titans owner
who died Monday morning
"just a fascinating man."
Adams had the foresight to see Nashville as a viable NFL market, and stuck with it even as the initial stages of the team's relocation were shaky.
"He just basically said, 'Go move,'" Fisher said. "And so it wasn't easy. I've declined numerous opportunities to do a book on those years. It was not an easy thing. ...
"He had this vision. He said, 'Once we get the stadium in place, the team should be in position where we can make a run. And he was right."
Fisher recalled a time when they were discussing the third pick in the 1995 draft. The team had already decided on
Steve McNair
and the Friday night before the draft Adams was distracted.
He was a huge art collector with an emphasis on Native American art.
"He was telling me about this doll," Fisher said. "I was trying to tell him about the first and second pick and who we thought was going to go, he was more interested in this collectible doll that he got from Chief Sitting Bull some place after Custer's last stand."
When Houston hosted the Super Bowl in February 2004, Fisher visited Adams in his box at the game between New England and Carolina.
"I got to go into this suite with Bud, Lamar Hunt and Ralph Wilson, they were all in there together watching the Super Bowl," Fisher recalled. "The three original founders of the American Football Conference. If you love the game, and you studied the game and everything that took place leading to where we are now, Bud had such a heavy hand in everything."
Hear our whole interview with Fisher,
right here

.
October, 21, 2013
10/21/13
5:10
PM ET
ORCHARD PARK, N.Y. -- The
Buffalo Bills
released the following statement Monday afternoon from owner Ralph Wilson on the death of
Tennessee Titans
owner Bud Adams:
I am saddened to hear the news of the passing of Bud Adams. As original AFL team owners, we all shared a common bond and a deep sense of pride in where we started in 1960 to where the NFL is today and how much our fans enjoy the game of professional football. Bud certainly played an important role in the growth and development of our game and today I am remembering with great fondness all the laughs we shared with the special memories over the years. Through it all, our teams played some of the most memorable games in AFL and NFL history. I want to extend my deepest sympathies and condolences to Bud's daughters Susan and Amy, and family, and to all of his many friends.
Wilson is now the final surviving AFL team owner, and having owned the Bills since their inception in 1960, is the longest-tenured owner in the NFL. He turned 95 last week.
October, 21, 2013
10/21/13
3:20
PM ET
NASHVILLE, Tenn. -- As Bud Adams got older, with no clear-cut successor in place, the question was asked more frequently: What will happen to the franchise when he passes away?
Many of us were told that a strong plan was in place that would help the franchise to avoid the sort of tax issues that have forced some descendent of other owners to sell. The details of said plan have never been made public.
David Climer of The Tennessean has written about
what happens next
.
Adams had the foresight — and wealth — to establish a succession plan that keeps the NFL team in the family. Adams took that action after seeing other franchises sold due to the burden of estate taxes.

With that in mind, Adams set aside funds that would cover estate taxes on the franchise, which was valued at approximately $1.01 billion by Forbes magazine last year. Adams originally paid $25,000 for the franchise rights when he and former Kansas City Chiefs owner Lamar Hunt founded the American Football League in 1959.

While details are sketchy because Adams preferred to keep personal business matters private, it is believed that the families of his three children — daughters Susie Smith and Amy Strunk and his late son Kenneth Adams III — will share ownership of the franchise equally.
Kenneth Adams IV, who you
can see here
, is just seven years out of the University of the South. He's a likeable young man who's taken a smart approach to learning his grandfather's business. He's an administrative assistant to the senior EVP and general counsel for the Titans, Elza Bullock.
Susie Smith's husband, Tommy Smith, was once very involved in the organization, then had some level of falling out with Bud Adams and lost his place with the football business. He could re-emerge in some capacity eventually if the two sisters decide they want him to handle the team.
John McClain of the Houston Chronicle said today on my radio show in Nashville that he believes the two daughters and Kenneth Adams IV will each have a vote in what happens with majority rule.
October, 21, 2013
10/21/13
1:44
PM ET
NASHVILLE, Tenn. -- While he may always rank as a villain in Houston for moving the beloved Oilers, Tennessee Titans owner Bud Adams is the man most responsible for transforming Music City into a major league city and, in turn, an "It" city.
Adams died Monday morning
at the age of 90.
[+] Enlarge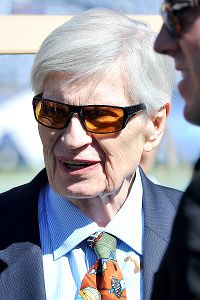 Frederick Breedon/Getty ImagesBud Adams, who died Monday at age 90, helped make Nashville a destination.
The NFL is immensely popular. Only 31 cities are part of the fraternity. Nashville didn't necessarily aspire to be part of the club. When Adams was unable to reach a deal with Houston for a new stadium he turned to Nashville, a city that was surprised to hear from him.
He never moved away from Houston, and in recent years as his health began to fail, he was an infrequent visitor to Nashville.
Nashville has grown extensively since the franchise came here in 1997, playing a season as a commuter to Memphis and then a year at Vanderbilt Stadium before what is now known as LP Field was ready for occupancy.
While covering the team for The Tennessean, I visited with Adams at his Houston office more than once, where he proudly showed off a small Native American museum he kept as part of his office and offered a club sandwich during an extensive conversation.
He reluctantly gave up the Oilers name, and the franchise was reborn in the new stadium in 1999. He gave me a "playoffs or pink slips" headline before that season with regard to the job security of coach Jeff Fisher and general manager Floyd Reese. And the Tennessee Titans responded by performing a Music City Miracle and advancing to the one and only Super Bowl in the franchise's history.
Perhaps I overstate it because I became a Nashvillian as a result of Adams' move, but I don't know how different Nashville would be today from Louisville or Birmingham without Adams and the NFL.
The city is booming. There are a lot of reasons. Adams is probably the biggest.