Tennessee Titans:

Candidate profiling
January, 10, 2014
1/10/14
1:11
PM ET
NASHVILLE, Tenn. -- We continue to examine candidates to replace Mike Munchak as head coach of The
Tennessee Titans
.
Ken Whisenhunt, offensive coordinator, San Diego Chargers
Age:
51
College:
Tight end/H-back, Georgia Tech, 1980-84
Pro playing experience:
Tight end,
Atlanta Falcons
, 1985-88;
Washington Redskins
, 1989-1990;
New York Jets
, 1991-93.
College coaching resume:
Vanderbilt, special teams and tight ends, 1995-96.
Pro coaching resume:
Baltimore, tight ends, 1997-98; Cleveland, special teams, 1999; New York Jets, tight ends, 2000; Pittsburgh, three years tight ends and three as offensive coordinator, 2001-06; Arizona, head coach, 2007-12; San Diego, offensive coordinator, 2013-present.
Titans' connection:
None known.
Influences:
Has worked for Brian Billick, Al Groh, Bill Cowher,
Mike McCoy
.
See him talk:
Here's Whisenhunt talking to local media on Jan. 2, when he said "it comes down to
cutting it loose
."
Also a candidate for:
Detroit, Cleveland.
Fun fact:
Whisenhunt is an avid golfer and a native of Augusta, Ga. As a teenager, he worked the 18th hole manual scoreboard at the Masters.
Chargers coach Mike McCoy says:
"His No. 1 goal right now is to find a way to win this game (in Denver). I'll say this though, whatever does come up, he deserves it. He's done an outstanding job here. And he's been a huge help to me. I owe him a lot for what he's done this first year with me."
Josh Weinfuss, ESPN Cardinals reporter:
"I think Ken Whisenhunt learned what it takes to be a head coach in the NFL more so during his last three years in Arizona than his first three. Whisenhunt was blessed with a top-notch quarterback in Pittsburgh and then again with
Kurt Warner
in Arizona, but when Warner retired, Whisenhunt learned about the brutal reality of the NFL: If you don't have a capable signal-caller, life can get rough. Real rough. During his last season with the Cardinals, he began to lose the locker room because of the way he treated the players. He lost control of meetings and discipline became an issue. One would think Whisenhunt learned a lot about being a head coach in Arizona and he'd do things differently, but the question comes, can he admit his mistakes and go into his next job humble and hungry?
"As far as his coaching style, Whisenhunt was a players' coach to a fault. For example, with the 2012 quarterback competition, Whisenhunt didn't decide on a starting quarterback until after the final preseason game, letting the players dictate who would win the competition instead of naming a starter. The one issue with Whisenhunt is he holds grudges and it becomes obvious, such as he did with
Beanie Wells
. He does adapt to the offense he has, which, in Tennessee, means he'll commit to the run, but he'll also work a few wonders with a good quarterback."
Eric D. Williams, ESPN Chargers reporter:
"Whisenhunt is a good communicator focused on getting his team to execute at a high level and play with confidence. He's detail-oriented, but also adaptable in the sense that he can build offensive and defensive philosophies that best fit a player's skill set. I think he's learned from his mistakes in Arizona and is ready for another bite at the apple as a head coach.
"Specifically, I think Whisenhunt would be great for
Jake Locker
. He has a proven track record of taking quarterbacks to the next level, including
Ben Roethlisberger
in Pittsburgh, Kurt Warner in Arizona and now
Philip Rivers
here in San Diego. Whisenhunt's emphasis on the short passing game should fit Locker's skill set. San Diego also runs a zone-based running scheme, which would allow Locker to use his strength as a runner to get outside the pocket on bootleg play action and throw on the run.
"Finally, there's some familiarity with Tennessee's personnel department. Titans general manager Ruston Webster faced Whisenhunt twice a year when he worked as Seattle's vice president of player personnel, and he served as head coach of the
Arizona Cardinals
. So Webster likely has an intimate understanding of Whisenhunt's weekly preparation and overall coaching philosophies."
January, 9, 2014
1/09/14
8:23
AM ET
NASHVILLE, Tenn. -- We continue to examine candidates to replace Mike Munchak as head coach of The
Tennessee Titans
.

Caldwell
Jim Caldwell, offensive coordinator, Baltimore Ravens
Age:
57
College:
Defensive back, Iowa, 1973-76
Pro playing experience:
None
College coaching resume:
Iowa, graduate assistant, 1977; Southern Illinois, two years as defensive backs coach, one as defensive coordinator, 1978-80; Northwestern, defensive backs coach, 1981; Colorado, one year as outside linebackers coach, two as quarterback and receivers coach, 1982-84; Louisville, defensive backs, 1985; Penn State, first wide receivers coach then quarterback coach and passing game coordinator, 1986-92; Wake Forest, head coach, 1993-2000.
Pro coaching resume:
Tampa Bay Buccaneers
, quarterbacks coach, 2001;
Indianapolis Colts
, seven years as quarterbacks coach, three as head coach, 2002-11; Baltimore Ravens, started as quarterback coach, elevated to offensive coordinator in first year, 2012-present.
Titans' connection:
None known.
Influences:
Has worked for Joe Paterno, Tony Dungy.
See him talk:
Here's Caldwell
in advance of last year's Baltimore-Denver playoff game.
Also a candidate for:
Detroit, Washington.
Jamison Hensley, ESPN Ravens reporter:
"With his low-key demeanor and Super Bowl credentials, Caldwell is unlike most of the NFL head coaching candidates out there. He takes a big-picture approach and is open to take input from players and coaches without feeling threatened. Caldwell would be a good hire for a team looking to restore a locker room and want someone who will do so without a heavy hand.
"The question with Caldwell is his track record. He essentially took over Tony Dungy's team in Indianapolis -- or should we say,
Peyton Manning
's team -- and guided the Colts to a 14-2 record his first season and helped them to a Super Bowl the next season. When Manning was out in 2011, the Colts fell apart and finished 2-14. That could be a red flag. There's no question that Caldwell is a good leader. What teams have to figure out is whether he's a good head coach."
My thoughts:
Earlier this week, I wrote about
my feel for Caldwell
in the three years I covered the Colts when he was head coach.
January, 8, 2014
1/08/14
12:02
PM ET
NASHVILLE, Tenn. -- We continue to examine candidates to replace Mike Munchak as head coach of the
Tennessee Titans
.
Mike Zimmer, defensive coordinator, Cincinnati Bengals
Age:
57
[+] Enlarge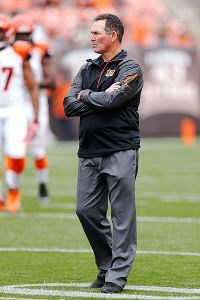 AP Photo/Joe RobbinsShould Mike Zimmer take over as the Titans' head coach, he would aim to boost Tennessee to be the league's No. 1 defense, much like he has in Cincinnati.
College:
Quarterback/linebacker, Illinois State, 1974-76
Pro playing experience:
None
College coaching resume:
Missouri, Assistant coach, 1979-1980; Weber State, assistant coach for two years, defensive coordinator for six, 1981-1988; Washington State, defensive coordinator, 1989-93.
Pro coaching resume:
Dallas Cowboys
, assistant coach for five years, defensive coordinator for seven, 1994-2006;
Atlanta Falcons
, defensive coordinator, 2007; Cincinnati Bengals, defensive coordinator, 2008-present.
Titans' connection:
None.
Influences:
Has worked for Barry Switzer, Chan Gailey, Dave Campo, Bill Parcells, Bobby Petrino, Emmitt Thomas and Marvin Lewis.
See him talk:
Here's Zimmer as the Bengals got
set for the kickoff
of training camp in 2013.
Also a candidate for:
Minnesota, Washington, Cleveland, Detroit.
Coley Harvey, ESPN Bengals reporter:
"Of Cincinnati's potentially three soon-to-be departing assistants -- running backs coach Hue Jackson's name has popped up for possible vacancies, too -- defensive coordinator Mike Zimmer probably stands the best chance of taking a head-coaching job. It would be well-deserved. He has spent the past five years or so as the odd man out when it came to filling spots in the offseason. Every year when the coaching carousel kicks up, his name surfaces as a probable target. But each year, for whatever reason, the teams that bring him in decide to go in different directions. What ought to help Zimmer this time around is that he sported the NFL's No. 3 total defense and the AFC's best unit this year. Specifically the group was great in sudden-change possessions, those that come due to offensive turnovers. It seemed like at least once a week the defense was bailing the offense out by holding opposing teams to a field goal or less after starting a sudden-change situation that came with poor field position.
"When it comes to Zimmer's coaching style, he's an aggressive, defense-oriented coach who loves to blitz. He'll bring pressure every third down from the safeties, the corners and the linebackers. He feels his unit thrives when it has offensive lines on its heels, unsure exactly who to block. He also clearly has a knack for being a talent evaluator, taking a chance on players like
Michael Johnson
and
Geno Atkins
when few teams would. Atkins was a fifth-round draft pick who went to the Pro Bowl last season. Johnson was labeled a non-finisher coming out of college. In his five years, Johnson has gone from a little-known edge rusher to arguably one of the best in the game. This offseason, he'll fetch a large pay increase that the Bengals may not be able to afford.
"Zimmer will need two to three years to get his system in place. He can't end up taking a job in a city with ownership that has a quick trigger. As long as the Titans -- or whichever team lands him -- would be willing to remain patient with him in the short-term, you have to figure the long-term payout will be well worth it."
January, 7, 2014
1/07/14
1:03
PM ET
NASHVILLE, Tenn. -- We continue to examine candidates to replace
Mike Munchak
as head coach of the
Tennessee Titans
.
Jay Gruden, offensive coordinator, Cincinnati Bengals
Age:
46
[+] Enlarge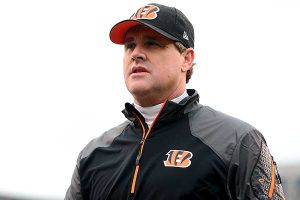 Andrew Weber/USA TODAY SportsIf the Titans are wanting a head coach who knows how to work with the offense and especially quarterbacks, Jay Gruden is their man.
College:
Quarterback, Louisville, 1985-88
Pro playing experience:
Quarterback Barcelona Dragons (World League of American Football), 1990; Sacramento Surge (WLAF), 1990; Tampa Bay Storm (Arena Football League), 1991-96; Orlando Predators (AFL), 2002-03.
Pro coaching resume:
Orlando Predators (AFL), head coach, 2002-08;
Tampa Bay Buccaneers
, offensive assistant, 2002-08; Florida Tuskers (United Football League), offensive coordinator, 2009; Florida Tuskers, head coach, 2010; Cincinnati Bengals, offensive coordinator, 2011-present.
Titans' connection:
Overlapped with Ruston Webster from 2003-05 in Tampa Bay, when Webster was the Buccaneers' director of college scouting.
Influences:
Has worked for Jon Gruden and Marvin Lewis.
See him talk:
Here's Gruden on Monday talking to the press about
his head coaching prospects
.
Also a candidate for:
Minnesota, Washington, Detroit.
Coley Harvey, ESPN Bengals reporter:
"If Sunday was indeed Jay Gruden's last as the Cincinnati Bengals' offensive coordinator, then his legacy here will begin and end with two words:
Andy Dalton
. That's both a blessing and a curse. We'll start with the blessing aspect of it. Since selecting Dalton in the second round of the 2011 draft, Gruden has proven he knows how to appropriately massage a young quarterback's ego and put him in position to win regular-season games. Few can dispute the fact that as bad as Dalton has been at times during his career, he's mostly been good ... in the regular season. He and
Peyton Manning
are the only quarterbacks in NFL history to pass for 3,000 yards in each of their first three seasons. He's been to the playoffs three times. When Dalton has looked good, he's looked really good. If Gruden comes to Tennessee, he will definitely have an opportunity to groom
Jake Locker
-- or a newly-drafted quarterback if the Titans go that way -- in much the same way.
"On the flip side, Dalton has been a bit of a curse for Gruden, specifically because of games like Sunday's. In the Bengals' recent wild-card round playoff game at home, Dalton threw two interceptions and fumbled on a dive at the end of a scramble to all but give the game to the Chargers. Take out his miscues and chances are, the Bengals end up rallying for the win. This was Dalton's third straight playoff defeat and marked the third straight time Gruden did something that chaffed a few of his offensive players: he got away from running the ball. In the three playoff games the Bengals have been in under Gruden, they have run the ball a combined 60 times. That's a 20-carry-per-game average. That wasn't enough for running back
BenJarvus Green-Ellis
in particular, who got just eight carries Sunday despite averaging 5.25 yards per carry. If Gruden has one thing to learn from Cincinnati, it's this: run the football in the playoffs.
"Otherwise, he's a friendly guy. If fans here had a chance to see him on camera more often, they might like him a little more than it appears they do. He's very accessible, very available. If Gruden acts as a head coach the way he has as an assistant, he'll be a reporter's dream."
January, 6, 2014
1/06/14
2:23
PM ET
NASHVILLE, Tenn. -- We start to examine candidates to replace Mike Munchak as head coach of The
Tennessee Titans
.
Dan Quinn, defensive coordinator, Seattle Seahawks
Age:
43
College:
Defensive lineman, Salisbury State, 1990-93
Pro:
No playing experience
[+] Enlarge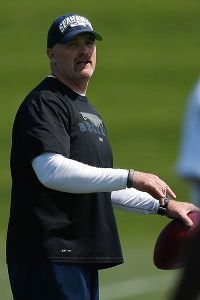 Ted S. Warren/AP PhotoWith a few "wildly successful" years as a coordinator under his belt, is Seattle DC Dan Quinn ready to make the leap to Titans head coach?
College coaching résumé:
William & Mary, 1994; Virginia Military Institute, 1995; Hofstra, 1997-2000; Florida, 2010-11;
NFL coaching résumé:
San Francisco, defensive quality control coach, 2001, San Francisco defensive line, 2003-04; Miami defensive line, 2005-06;
New York Jets
defensive line, 2007-08; Seattle assistant head coach/defensive line, 2009-10; Seattle defensive coordinator, 2013.
Titans' connection:
Overlapped with Ruston Webster in 2009, when Webster was Seattle's vice president of player personnel.
Influences:
Has worked for head coaches Steve Mariucci, Dennis Erickson, Nick Saban, Eric Mangini, Jim Mora, Will Muschamp and Pete Carroll.
See him talk:
Here's
a news conference
from before the Seahawk's final regular season game.
Also a candidate for:
Minnesota Vikings
,
Cleveland Browns
Carroll says:
"Dan is a terrific football coach, he's got tremendous background in the game, he's got great character about the game, he's a great communicator, he's tough, he knows what he wants. Look how well he transitioned to take this thing over so quickly and like I said, 'Seamlessly.' Getting along with people, working with people, and also managing the talent, all of that. He's really well-equipped...
"[The playoffs are] first and foremost and all of our guys understand, but also I'll help our guys any way that I can to fulfill the dreams that they have for themselves and proudly go about that. So we'll deal with this normally also."
Terry Bount, ESPN Seahawks reporter:
"The players loved Gus Bradley, so they were a little skeptical when Quinn came back to take over the defense. They liked Dan and knew him, but he isn't the big talker/big personality guy that Bradley is.
"However,
Earl Thomas
said they've have grown to love Dan because he allows them to do that they do best. The Seahawks play even more man coverage now than they did under Bradley. Thomas says Dan listens to them and trusts them, which they love. Quinn allows the players to use their talent without over-scheming on things.
"He has made the defense better than we they arrived, and they didn't miss a beat without Browner and Thurmond.
"Dan's a very cordial guy and will answer any question, but he keeps his answers pretty close to the vest. There's no doubt he will be a head coach soon.
Mike Sando, ESPN.com Insider columnist:
"The assumption around the league was that Seattle's defense would take a hit when coordinator Gus Bradley left to take the Jacksonville job. Instead, the defense got better. Personnel upgrades on the line and at nickel corner helped, but Quinn deserves credit as well. I suspect his background coaching the line helped complete a defense that was already coordinated extremely well on the back end thanks to Pete Carroll's expertise there.
"The question is whether a few wildly successful years as a coordinator, two at Florida and another with Seattle, is enough to go on. To this point, Quinn has only exceeded expectations that were already high to begin with."