Tennessee Titans:

Cortland Finnegan
February, 17, 2014
Feb 17
3:06
PM ET
NASHVILLE, Tenn. -- If the Titans lose
Alterraun Verner
as a free agent, it shouldn't set off a panic attack.
As much difficulty as the team has had solving personnel problems at quarterback and on the offensive line, at pass rusher and linebacker, it's a franchise that's shown a quality ability to scout, draft and develop cornerbacks.
ESPN.com Patriots reporter Mike Reiss pointed out
the Titans' success
in this department on Sunday.
Since major headache Pacman Jones was drafted sixth overall in 2005, the Titans have drafted nine cornerbacks.
Five of them are solid NFL players, two of them still have the jury out and two of them busted.
If the team had a similar record at more positions, they'd be in a lot better shape.
And if Verner leaves, which I suspect he will, fans should have a reasonable amount of hope the Titans will be able to replace him.
Ask yourself, were you upset when Finnegan left for St. Louis? Because it was his departure that created room and opportunity for Verner.
November, 4, 2013
11/04/13
5:13
PM ET
NASHVILLE, Tenn. --
Tennessee Titans
quarterback
Jake Locker
had one interception all season before the Titans went to St. Louis.
Locker
He threw two against the Rams.
His ability to protect the ball has been one of the best things about his improving game, but Sunday was a slip. Still, the Titans found their way to a 28-21 win.
Locker got away with one interception to
Cortland Finnegan
with 47 seconds left before halftime at the Titans 26-yard line. The throw for
Kenny Britt
was not well placed and Finnegan made easy work of it. But the Rams stalled and missed a field goal.
"We took a little risk there before half," coach Mike Munchak said. "We could have just tried to run the ball and punt and all that other stuff, but we have confidence in him and the offense. We threw a screen which got a first down. We threw another high-percentage pass, [and the interception] was a high percentage call. He ran it wrong which surprised us, and it ended up an interception. Luckily, the defense held them, and it didn't cost us points there. But, that was unlike him on that play."
Nate Washington
got slowed down by Finnegan on the second interception, in the middle of the fourth quarter. The Titans just got a 45-yard gain on a nice catch-and-run from
Kendall Wright
.
Washington said there should have been a holding penalty on his play against Finnegan when safety
Rodney McLeod
caught Locker's pass.
Finnegan's role in the play happened early enough, however, that Locker should have seen that Washington was not going to get where the throw was going. And it might have been high even had Washington arrived on time.
"I don't know if that was a penalty or not there, but [Washington] got caught up," Munchak said. "It looked worse than it was, but we didn't think he would make that throw. It probably should have went to the back especially at that time in the game where we just had a big play there I think with Kendall."
That the Titans won on a poor day from Locker is significant.
He was sacked four times in the first half when the Rams applied relentless pressure. The Titans settled down in the second half and got the ball out of Locker's hand more quickly.
November, 4, 2013
11/04/13
8:00
AM ET
A review of four hot issues from the
Tennessee Titans
' 28-21
win
over the
St. Louis Rams
:
His role now:
Kenny Britt
is a run blocker and a decoy. He can be effective in the first role; defenses surely welcome him on to the field in the second. He was targeted only once by
Jake Locker
on Sunday, and while
Cortland Finnegan
's interception was the result of a bad throw more than anything Britt did, you can't help but think the percentages of something good happening when Britt is the target are low.
Kendall Wright
,
Justin Hunter
and
Damian Williams
are all more threatening.
Nate Washington
was a go-to guy for Locker before his injury and has caught only three passes in two games since Locker's return. The Titans should be focused on getting Washington going again well ahead of being concerned about Britt.
[+] Enlarge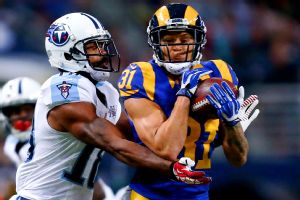 Dilip Vishwanat/Getty ImagesCortland Finnegan will likely have to restructure his contract in order to return to the Rams in 2014.
Ayers as a factor:
They've tried a bunch of different things with
Akeem Ayers
since drafting him in the second round out of UCLA in 2011. He's still not an impact guy. In St. Louis, he didn't come off the field, playing his usual strongside linebacker spot in base and as the Mike in the nickel. In such situations, his forte should be as a run stopper, but the Rams ran for 160 yards and 5.0 yards per attempt. On Sunday, they abandoned the idea of him as a situational end. It's impressive that the defense has been what it has been through eight games with
no consistent presence
from Ayers.
Um, about that missed call:
I've been critical of the Titans bemoaning the officials a bit too frequently, as if the NFL has some rationale for picking on them. But I liked Washington's approach when talking about Jake Locker's second interception in St. Louis. Washington didn't get to where Locker was throwing because he was held up by former teammate
Cortland Finnegan
. The play drew no flag and was an easy interception for safety
Rodney McLeod
. "Cortland did a great job of holding me, flat out," Washington said. "Rookie back judge [Dale Shaw], it's his first year. So I'm not going to go toO far with it, I don't want to get fined. But at the same time, let's just say Cortland did a good job of being Cortland." Nice work by Washington knowing Shaw's résumé.
Um, about that one snap:
Jurrell Casey
is one of the Titans' best defenders and the defensive tackle has a team-high six sacks. He's a problem-causer. No need to outsmart yourself and drop him into coverage on an athletic, speedy tight end like
Jared Cook
. It made for an easy 17-yard completion to Cook and didn't make a lot of sense. I believe future teams on the schedule would love to see Casey moving backward instead of forward.
October, 31, 2013
10/31/13
12:00
PM ET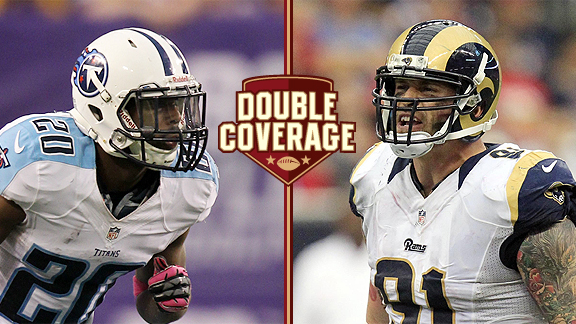 USA TODAY SportsTitans CB Alterraun Verner and Rams DE Chris Long are two of the league's best at their positions.
.
Any time the
St. Louis Rams
and
Tennessee Titans
meet, memories of Super Bowl XXXIV are sure to come to the fore. In one of the greatest Super Bowl finishes of all time, the Rams emerged with their lone championship in their time in St. Louis.
A lot has changed since then, but neither team has managed to get back to the promised land and it seems like a long shot either will this season. This week, the Rams and Titans renew acquaintances at the Edward Jones Dome in St. Louis. ESPN.com Rams reporter Nick Wagoner and Titans reporter Paul Kuharsky discuss some things worth watching in this week's edition of Double Coverage, including an interesting role reversal for one of the key figures in that Super Bowl.
Wagoner:
Well, it's pretty obvious what the big story is going to be this week. Jeff Fisher is facing his former team for the first time since taking over as the coach in St. Louis. As is to be expected, Fisher is downplaying that whole angle, but you were around him a lot in his years in Nashville. Do you expect Fisher to have a little something extra for his old team this week?
Kuharsky:
It would be so much better if it were in Nashville. Then we'd have the crowd reaction as a part of it, too. Still, it's intriguing. He will definitely have something (or some things) drawn up that he feels will uniquely exploit the schemes and styles of his former underlings Mike Munchak, Jerry Gray and Gregg Williams. If those things work, I'd expect Fisher will then talk about how one of his assistants who was once in Tennessee -- Chuck Cecil, Dave McGinnis or even Ray Sherman -- was instrumental in the design. Fisher didn't leave with hard feelings, and I believe he wishes the organization well. Still, any proud former employee in this sort of circumstance wants to outperform the former employer. He's talked about it meaning more for the guys on the roster who were once Titans.
Jared Cook
had a monster opening day but has been quiet since.
Cortland Finnegan
missed some time hurt. What's the status of those guys?
Wagoner:
Cook has really struggled dealing with teams giving him more attention and, more specifically, being physical with him at the line of scrimmage and downfield. He stopped on a route last week against Seattle, and it resulted in an interception. The Rams have gone back to more of a power running scheme that has also limited his snaps a bit more because he doesn't bring much to the table as a blocker. Finnegan won't say it, but I believe he was banged up at the beginning of the season; his first four games were downright brutal. He returned last week against Seattle, and for now he's working exclusively in the nickel as the team's third corner rather than just bumping inside in those situations. Given that he's only a little more than a year into a monster contract, it's hard to categorize him as anything but a disappointment for the price.
A lot will be made of the Fisher-Tennessee connection, but I'm more intrigued by the Gregg Williams situation. The way things went down with him and the Rams, and between Williams' son Blake and the Rams, had to have created some tension on all sides. What has Williams' impact been down there in Tennessee, and what exactly is his role?
Kuharsky:
By title, he's senior assistant/defense. In practice, he's not-quite defensive coordinator. Gray is still calling the plays, but Williams' influence is undeniable. This defense had no personality or attitude last season. Now it's the backbone of the team. It mixes it up and disguises its looks up front, it blitzes more often and it plays far more man-to-man.
Bernard Pollard
has been a great fit who has talked with swagger and backed it up. Some guys most people have never heard of -- defensive end
Ropati Pitoitua
and middle linebacker
Moise Fokou
-- have been very good additions. Williams certainly had a say in bringing those guys in. He has stayed in the background and seems comfortable there. I would imagine he and Gray are excited to put together a plan to make
Kellen Clemens
uncomfortable.
How do you think Clemens will respond in his second start since
Sam Bradford
went down?
Wagoner:
To paraphrase one of the great philosophers of our time, Mr. Dennis Green, Clemens proved last week against Seattle that he is what we thought he was. He's a tough, gritty, consummate professional who can occasionally extend plays with his legs and make something happen. He's also consistently inaccurate, a bit indecisive, and has a knack for costly turnovers (though his two interceptions Monday night weren't completely his fault). Another week to work with the starters should help, but he was a bit sore after Monday night's game against Seattle. The Rams don't need him to throw for 300 yards and five touchdowns, but they do need him to convert in the red zone and not turn the ball over.
There are something like 16 players from the Fisher era remaining in Tennessee, one of whom is running back
Chris Johnson
. The Rams have been better defending the run the past two weeks, but they need to prove they can keep doing it. It appears Johnson has struggled after the team made efforts to help him in the offseason. What's going on with Johnson, and is he (and the Titans' offensive line) capable of taking advantage of the Rams' run defense?
Kuharsky:
The Titans are built on a philosophy of throwing it when they want to, not when they have to. That's a mistake because the revamped line and Johnson are not equipped to run it they way they think they can. Jets fans get a kick out of this, but to a large degree the Titans' hope that things will get better comes from
Shonn Greene
. The bigger back was brought in as a compliment to CJ, but he got hurt in the opener and made it back only the week before the bye; he has hardly played. They need him to emerge and contribute. Based on current numbers, the Rams are the third-softest run defense the Titans will have seen this season. If they can't run Sunday, it will really speak to their issues.
Chris Long
and
Robert Quinn
looked really good against Seattle. Have they been giving everyone problems like that?
Wagoner:
Quinn certainly has. Through the first half of the season, he's really starting to realize his immense potential. I believe he's the Rams' best player right now, and indeed have felt that way since the beginning of the season. He's an athletic freak who gives slower tackles problems. He feasts on inferior players, but he can get it done against good tackles as well. Long was banged up earlier in the season but has battled through it and is starting to find his stride. Given the situation on offense right now, the Rams need this duo to take over games on a regular basis and set the tone for a defense that, before last week, had largely disappointed this season.
.
October, 30, 2013
10/30/13
12:53
PM ET
NASHVILLE, Tenn. -- Jeff Fisher coached the Titans franchise for more than 16 years. Sunday he coaches against them for the first time when the Rams host Tennessee.
A few notes from a conference call with the Nashville media he just completed.

Fisher
On Titans assistant Gregg Williams, who Fisher hired as defensive coordinator before Williams' suspension, then let go after the one year: "[We last spoke] probably sometime last fall. We were prohibited to have contact with him but we got permission from the commissioner and we had a conversation or two." Fisher said he expects he and Williams will talk on Sunday before the game.
On Tommy Smith, who's taking over as the Titans president and CEO: "Tommy, for a number of years, was very active, active on a day-to-day basis. He's a good businessman and an outstanding communicator."
On quick turnaround in places like Kansas City and Indianapolis factoring into expectations in St. Louis: "There is a sense of urgency to win a football game every week. But we've got a plan in place. I really appreciate our owner's vision for what he wants to get accomplished here. He understands where we are. ... With respect to turning this place around, probably not as easy. Very proud of the effort that we got last year, specifically in the division. Lost a couple games we could have won, but every year is different.
On former Titans cornerback
Cortland Finnegan
: "Early this year our defense struggled as a whole, then Cort had an issue with the hamstring against the 49ers. Fortunately he came back Monday night, was able to play in sub packages and he feels 100 percent. We'll see how he does this week. It'll determine the extent of his playtime Sunday.
On former Titans tight end
Jared Cook
: "What happens is he goes for 104 yards and a couple touchdowns against Arizona and then people make adjustments. We were forced to go elsewhere with the ball and then didn't play well defensively. But Jared is doing a nice job in all of our packages; we're pleased with him. ... He still has the potential, we've struggled a bit as of late offensively, the ball's gone other places. He's drawing attention, and when he draws attention the ball goes elsewhere."
September, 5, 2013
9/05/13
2:56
PM ET
NASHVILLE, Tenn. -- Not every good or great defense in the NFL has a signpost guy who's the big issue for the competition.
The best defenses for the
Tennessee Titans
have, however.

Defensive end Jevon Kearse arrived in 1999 and proved to be the missing ingredient, booting the Titans defense to a Super Bowl level with his explosive edge rush. He notched 36 sacks in his first three seasons. The 2000 team was the NFL's No. 1 defense.
Albert Haynesworth was an incredible defensive tackle for the Titans in 2007 and 2008, with 14.5 sacks from defensive tackle. Tennessee was fifth in defense the first year and seventh the second.
Like Kearse, Haynesworth created panic and forced offenses to account for him at all times.
Perhaps these Titans have upgraded and will be collectively successful. They lack a singular, dominant player who dictates double teams or constant concern.
"We'd hope that there is more than just that guy," senior assistant/defense Gregg Williams said recently. "Kearse here was that guy. But when I went other places and had top defenses in the league, we had a multitude of just really good guys. Maybe not a dominant, take-over-the-game guy, maybe not a lot of Pro Bowlers on those teams, but top-ranked defenses.
"We've got to have more than just one guy. We've got to have several guys that people have to account for and/or know because they can be threats."
The better scenario, of course, is having the one guy, and having him surrounded by the kind of really good guys Williams speaks about.
Kearse played with solid defenders like cornerback Samari Rolle, safety Blaine Bishop (for two of those years) and linebacker
Randall Godfrey
. Haynesworth had end
Kyle Vanden Bosch
, linebackers Keith Bulluck and David Thornton and cornerback
Cortland Finnegan
.
The Titans have a lot guys who can potentially be high-quality defenders: tackle
Jurrell Casey
, end
Derrick Morgan
and linebacker/end
Akeem Ayers
head my list. It's hard to imagine any of them jumping the Kearse-Haynesworth level of production.
Casey got a big compliment from
Jerricho Cotchery
, the Steelers receiver, on Wednesday.
"I'm supposed to be looking at DBs, but you can't help but see No. 99 up front, big Casey," Cotchery told my Pittsburgh colleague, Scott Brown. "He's everywhere, especially when you look at the Atlanta game in the preseason. He's just all over the place. He stands out even when you're watching the back end of it."
Maybe Casey will wind up being a singular force for the Titans.
They don't intend to worry about it as they get to work.
"I say we go to work with the guys that we have," cornerback
Jason McCourty
said. "We can't really worry about what we don't have, but we can worry about how effective we can be with what we do have."