Tennessee Titans:

Coty Sensabaugh
November, 20, 2013
Nov 20
11:10
AM ET
NASHVILLE, Tenn. -- For this installment of "Survey Says" I asked Titans, "What's the worst pain you've ever felt?"
Defensive tackle Antonio Johnson:
"My ACL injury, I would say. In 2007, my rookie year. It was excruciating. It felt like hell. Painful, very painful, I would say the first couple days coming out of surgery, when they have to bend it, fresh out of surgery, The bending of the knee trying to get the flexion back, that's the most painful thing I ever felt. I wouldn't wish it on my worst enemy. Coming out of surgery it was just that throbbing feeling, like it's got a heart in it."
Guard Chance Warmack:
"I dislocated the ring finger on my left hand in the Auburn game. I had to play with it for two games, the Georgia game and the Notre Dame game. It never had a chance to heal properly. I buddy-taped it. I remember the Georgia game, it kept popping out, we had to keep popping it back in. It felt like my finger was going to fall off. I was blocking with four fingers."
Wide receiver Nate Washington:
"I was playing basketball and I got hit in the eye and my eye was open so the guy actually moved my eyeball a little bit. I had a patch on my eye for about two weeks. I was 20, 21 years old. It was excruciating pain. I did not know it would hurt like that, I couldn't open my eye for about two weeks. Black eye, eyeball was red. Worst football injury was a hip pointer, because you can do absolutely nothing. No loud talking, no sudden movements, no sneezing, no coughing. I've broken bones before but hip pointer is the most immobilizing nagging thing. But the eye was worse."
Linebacker Akeem Ayers:
"My appendix, this year, right before the season started. That s--- was terrible. It was kind of like a sharp, endless pain type of deal. This was there for about 12 hours, just non-stop until it was taken out. It was like a knife and some punches at the same time.
[+] Enlarge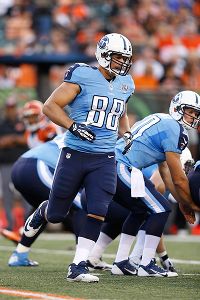 AP Photo/Joe RobbinsCraig Stevens said his broken rib was "the most excruciating pain I've ever felt."
Guard Andy Levitre:
Getting pleurisy. It's an inflamed lung, so every time you breath, it feels like you are getting stabbed in your chest, but it's your lung rubbing up against your rib cage. I feel like that's the most painful thing I ever had, it was in college. I had it for a few days and it bough me to tears, it was that bad. It was insane. I couldn't take full breaths. That was bad. I ended up going to the ER. I tried to tough it out for a few days and then I just couldn't take it anymore."
Tight end Craig Stevens:
"When I broke my rib, by far the most pain ever. Two years ago we were playing Cleveland and
Eugene Amano
came and landed with his knee right here (points to left side of his torso.) I couldn't get up or anything and then it kind of clicked back in and I was like, 'Yeah, it's not so bad.' Then I ran down there and I actually made a tackle and fell on the ground. I couldn't get up. For about a week, it was the most excruciating pain I've ever felt. I couldn't move. I would lay down and I couldn't get up, I needed help to get up, that's how bad it was. It eventually healed. It would heal and I would play with it and re-break it before it had a chance to really heal up. Every time I re-broke it, it was like I'd go back to square one with that pain. After about four weeks of re-breaking it, I took a game off, then I started feeling better."
Tight end Delanie Walker:
"Probably when I broke my jaw two years ago against Seattle. Dec. 24. After the morphine wore off, that's when it was worse. The flight was two hours, and that's about when it wore off. That's when I felt it. It just felt like someone was kicking me in the mouth nonstop, over and over. Took me three weeks to recover. I played in the NFC Championship Game."
Cornerback Coty Sensabaugh:
"Probably when I broke my leg in high school. I broke my fibula, I had to have surgery. It was a 10 on a scale of 1-10."
Defensive tackle Mike Martin:
"When my shoulder came out. Kind of came in, came out, slipped a little bit in college, my senior year against Illinois. I was going to tackle Juice Williams, get a sack and my linebacker came and hit the back of my shoulder, slipped it out, it was horrible. It reverberated all through my body, it felt like it was going through all my limbs, that's how bad it was initially."
October, 25, 2013
Oct 25
2:04
PM ET
NASHVILLE, Tenn. -- In the second of two bye week reports, we review the good and the bad of the defense through seven games:
MVP:
Cornerback
Alterraun Verner
. Even as the interception rate has slowed, he's continued to make plays. He's got four picks and regularly breaks up plays and kills momentum for offenses and quarterbacks. This is a defense built around having a bunch of good guys and some guys who are good at a couple things and are put in good situations to succeed. It lacks a real star. But Verner has been really good.
[+] Enlarge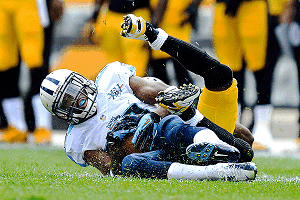 AP Photo/Don WrightCornerback Alterraun Verner has been a steady playmaker for the Titans this season.
Most disappointing:
Sammie Hill
's ankle. The big defensive tackle hurt his right ankle early in the Titans' second game, missed three after that and didn't play a whole lot in Seattle or against San Francisco. The Titans have been a solid run-stopping team even without Hill involved. And maybe he's someone who can make things even better as he feels better and increases the interior depth.
Biggest surprise:
Defensive end
Ropati Pitoitua
. The giant defensive end was brought in as an edge-setting run stopper. He's been good at that job, but he's done a lot more. He's a disruptive pass-rusher as well, and is tied for the team lead with four sacks. He symbolizes the success the Titans have had with some lesser profile veteran additions.
Style points:
The Titans are varying their fronts and blitzing more and excelling at the man-to-man coverage they wanted to employ more of this season. Senior assistant/defense Gregg Williams has been a big influence in those areas, and the changes on defense have all helped produce better results.
Not seeing it:
The Titans talked a lot about what a crucial piece
Akeem Ayers
would be as the strong-side linebacker and a nickel defensive end. He's been fine, but he's not been the breakout, standout player I was expecting. And for how much nickel and dime they are playing and for the quality play they are getting from other options at end, he's not playing as much as I expected he would.
AWOL:
Defensive end
Kamerion Wimbley
. The Titans keep saying Wimbley's lack of playing time is about packages. But if they really liked his ability to rush the passer, he'd be getting more chances to rush the passer. He's a good guy and a pro, but he doesn't fit in what they want to do now. They grabbed him as a free agent when he was cut by Oakland in 2011 after the failed pursuit of
Peyton Manning
slowed them down and meant they missed out on other options, like
Mario Williams
. Wimbley's too expensive to have around beyond this season.
I applaud:
The packaging. The nickel and dime sets haven't only featured quality work from
Coty Sensabaugh
and
George Wilson
in the defensive backfield. The pieces up front change as well. A guy like
Karl Klug
is getting maximum chances to work in advantageous roles. There are a lot of situations where guys are being used to their strengths and using them that way is keeping most people fresh in the process.
Biggest beef:
Zach Brown
's playing time. When healthy,
Moise Fokou
is the every-down linebacker. The Titans like the way Fokou
gets the defense lined up
. But, for a time, at least, offenses were faring better in third-and-long than in third-and-short against Tennessee. Part of the reason for that could be that they are playing a run-stopping linebacker ahead of Brown, a more explosive player who's better in pass coverage. I have a hard time watching him leave the field.
Looking forward to:
Seeing how this defense deals with two games against
Andrew Luck
and the Colts and two games against a Jacksonville offense that has the league's worst rushing offense.
Get well:
The linebackers have been a mess health-wise, but only Fokou's knee issue has cost them a game for a starter. They need healthy backups and special teamers and are optimistic that special teams captain
Patrick Bailey
and rookie
Zaviar Gooden
will be ready to return to action after the bye.
October, 11, 2013
Oct 11
12:00
PM ET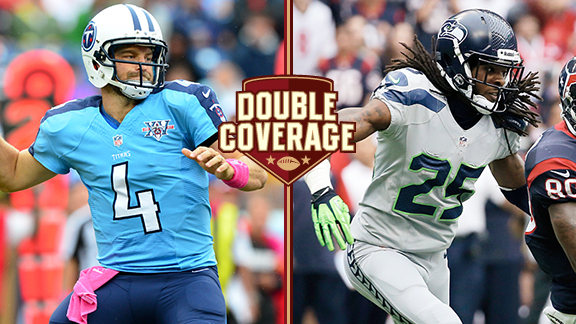 USA TODAY Sports, Getty ImagesBackup quarterback Ryan Fitzpatrick will have to face a stifling Seattle secondary and the league's best corner in Richard Sherman.
Sunday's game between the
Tennessee Titans
and
Seattle Seahawks
is a matchup between two winning teams coming off losses, and both are missing key players on offense.
Quarterback
Jake Locker
is out for the Titans. Both starting tackles --
Russell Okung
and
Breno Giacomini
-- are out for Seattle. Tight end
Zach Miller
could also sit.
The Seahawks have a 10-game home winning streak on the line, hoping to rebound after their first defeat of the season, 34-28 to the
Indianapolis Colts
.
The Titans hope to get a stagnant running game going and find some consistency with backup quarterback
Ryan Fitzpatrick
.
Paul, it looked like Fitzpatrick had a rough first outing for the Titans subbing for an injured Locker. Do you think Fitzpatrick will improve, and how difficult will it be for Tennessee to have success on offense while Locker is out?
Kuharsky:
Fitzpatrick is certainly capable of playing better than he did in the loss to Kansas City, when he had three very bad quarters and one good one. I'm not sure what the Titans can do to help him if they are unable to run the ball. If they can bring some balance with
Chris Johnson
(and maybe
Shonn Greene
, who's still trying to get back after knee surgery), it could be a lot less difficult. Fitzpatrick hardly has Locker's excellent speed, but he scrambled around pretty well against the Chiefs. With Locker in the first four games, the Titans didn't turn the ball over and overcame their deficiencies running the ball. Without him, they need Fitzpatrick to imitate the mistake-free youngster. But Fitzpatrick is more of a gunslinger than Locker and is streakier, and that's probably too much to ask.
Terry, the Titans pledged to be a great running team. It hasn't really panned out that way. Last time Johnson was in Seattle, he had a 2,000-yard season. What's the run defense going to be like?
Blount:
It's been all but impossible to run up the middle on the Seahawks. Defensive tackle
Brandon Mebane
is as strong a run stopper as there is the NFL, and it takes two blockers to handle 325-pound
Red Bryant
. If that fails, it's tough to get past middle linebacker
Bobby Wagner
. But Wagner probably won't play Sunday because of a high ankle sprain. Nevertheless, it's difficult to establish a running game on the Seahawks. Seattle is an aggressive outside pass-rushing team, so occasionally a back can get yardage outside, but not often.
Paul, Locker told us on the conference call Wednesday what a disappointment it is that he won't get to play this weekend in front of family, friends and University of Washington alumni who love him for all he did to help turn around the Huskies football program. He is a beloved guy here and a huge hero in this community. How is he viewed in Nashville?
Kuharsky:
Nothing close to that yet. People who have given him a chance know he's an eminently likable guy, a hard worker and a well-respected leader, but plenty of fans called talk radio over the offseason talking about why Fitzpatrick would be a better choice or how it should at least be a camp competition. Even after Week 2's overtime loss in Houston, when he overthrew a wide-open
Kenny Britt
on a crucial third-and-1 late in the game, there were calls for change. (It's a throw he's got to make.) The game-winning drive against San Diego showed people what he can do. Locker also had a fantastic two-plus quarters against the Jets, which seems to have done a lot to win more people over. In playing style and development arc, I think he is a lot like
Steve McNair
so far. If that holds true, impatient fans will wind up happy.
Terry, home field is viewed as such a giant advantage for the Seahawks. Can you give us a tangible feel for just how loud and crazy the atmosphere is there?
Blount:
In the San Francisco game, where the outdoor stadium decibel record was set at 131.9, it was so loud that it was difficult at times to even hear people talk in the enclosed press box. I know every team believes its stadium is one of the loudest, and I've been to most of them, but trust me, there is nothing like CenturyLink Field. It's deafening.
Paul, cornerback
Alterraun Verner
is off to an outstanding start this season with four interceptions and 11 passes defensed. Seattle cornerback
Richard Sherman
is viewed by some as the best corner in the NFL, but is Verner the most underrated?
Kuharsky:
He could have had another two picks last week on balls he didn't manage to haul in. Verner has been really good. The team wasn't sure what it had in him. The Titans knew they got a good football player out of UCLA three years ago. But as they revamped this offseason, with Gregg Williams joining the coaching staff and the Titans determined to get more aggressive, they figured a big increase in press-man coverage would move them away from Verner's strengths. They wanted
Tommie Campbell
, a faster and bigger guy to win the job. (Some wrote about how Campbell has some of what makes Sherman so good.) But Campbell didn't catch on and bombed in training camp, and Verner proved to be better. If
Coty Sensabaugh
hasn't recovered from his concussion for Sunday, Verner will start in base and move into the slot in nickel, with Campbell replacing him outside.
The Titans rush pretty well, and Verner is getting his hands on balls all over the field. Who has had the best success slowing
Russell Wilson
and how?
Blount:
Even though Seattle came back and won the game, the Texans had the most success because of their talented defensive front and all-everything defensive lineman
J.J. Watt
. Both Houston and Indianapolis took advantage of Seattle missing starters on the offensive line and teed off on Wilson on third down. Nevertheless, Wilson is the best I've ever seen making the most of a bad situation and finding the opening the defense gives him. Anticipating when Wilson will roll out and cutting off his running lanes is the key, but it is far easier said than done.
September, 26, 2013
Sep 26
2:06
PM ET
NASHVILLE, Tenn. -- Coaches want to instill habits.
In many ways, that's what coaching is. Most coaches don't want players thinking too much during a play, they want them reacting to things according to a plan, using techniques that have become habit.
But most things involving habits also include bad habits.
I asked
Tennessee Titans
middle linebacker
Moise Fokou
what bad habit he's had to overcome in his football life, and how overcoming it and retraining himself has paid off.
"Even in college I was guilty of moving too fast," the fifth-year pro said. "A lot of times you want to react fast and diagnose the play quickly, and get to it before the play gets there, almost. I've always been one of those guys who's pretty quick. And when I diagnose, I kind of get to the play before.
"Sometimes that habit will get me in trouble, because what I thought I saw wasn't exactly what was happening. I've learned to use my quickness as an asset, but also kind of to play it slower. Diagnose a play, then react as quickly as possible -- instead of reacting as soon as you see it. You still get there, but make sure it is what you are seeing."
[+] Enlarge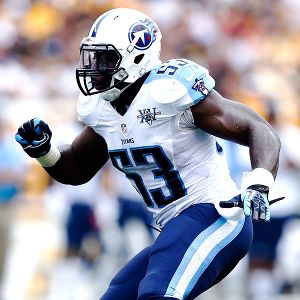 AP Photo/Joe RobbinsTitans linebacker Moise Fokou said learning to slow himself down has paid huge dividends.
Fokou is in the middle for the Titans, but came to Nashville with NFL experience at the Will and Sam linebacker spots. According to Fokou, at those positions, seeing what's happening and getting there immediately is more pressing.
"At the Mike, you kind of have to be the top-off, make sure everything is safe," he said. "So I'm doing more reading and reacting than reacting and reading right now."
I toured the Titans locker room to talk bad habits with many others, trying to get an answer from someone at every position. I like doing surveys like this because I always get unexpected answers. I figured most answers would relate to technique, but many didn't.
Here's what I learned:
Jurrell Casey, defensive tackle:
"I would say finishing. A lot of times you get into a situation where you get beat, pinned at the line of scrimmage or whatnot and you think there is no way out of it. You'll kind of just sit there and let the quarterback move around. On your first move, you have to learn how to convert into that second move. Now my biggest thing is converting into that second move and not letting a guy win after the first move."
Craig Stevens, tight end:
"Not getting off on the snap count. It's an advantage that offensive players have. I try to focus on that. Sometime I didn't pay attention to it like I should. You've got to focus on it. It helps a lot. You can get off before [defensive players] can."
Jason McCourty, cornerback:
"I don't know what to say, I don't want to put anything out there and people go, 'That's his habit, let's attack him doing that.' [Then 30 seconds about how reps at press coverage have helped the secondary play it better, followed by me asking if he was going to give me a habit.] I'm not going to give you a habit, I'm going to talk around the question."
Shonn Greene, running back:
"Maybe in pass pro(tection). Grabbing a guy outside his shoulder pads instead of keeping my hands in. If you do it, it's a lot easier to get called for a hold, and it's not the right technique to use. You've got to keep them inside. … That's a habit I've had that I've been trying to correct. I'm better at it now, but it's just one of those things that sometimes it slips."
Derrick Morgan, defensive end:
"Not sticking to my rush plan. Sometimes I would kind of abandon it and start trying new stuff. Now I don't get discouraged, I just stay with the plan. You can't get discouraged if something doesn't work the first time. Stay with it, with what I've been practicing."
Nate Washington, wide receiver:
"Making a move before I get the ball, taking my eye off the ball, not looking it all the way in. Especially now with coach (Shawn) Jefferson here, that's his main thing -- eyes, eyes, eyes. Making sure you're looking the ball all the way in. A lot of times, if you look at a receiver if he drops the ball, nine times out of 10 it's going to be because he turned his head too fast, looking to make a move without the ball."
Rob Turner, center:
"I think as an offensive lineman, you're always working on your hands. You get caught in positions, defensive linemen move, they are running a game, they are working to get off a block, arm-over. And it's something you constantly fight, to improve your hand placement. You may have them in a good spot to begin with, and a guy makes a move and you have to replace it or pull it out. That's something I've constantly worked at, is getting better with my hands. You get away with stuff in college -- not to speak bad of every college player, but not every college player is an elite player. So I think you get away with more stuff because a guy isn't as strong or doesn't take great footwork. There is more room for mistakes at that level. Once you make a move to the next level, every one of those attention-to-detail things becomes more important."
Darius Reynaud, return man:
"For me, it would be on punt returns. Judging the ball and judging those guys, for me as a punt returner, I tend to stop to see where everyone is at before I go. That's my bad habit. Against Pittsburgh, when I caught it, I just hit it and ran and got a 27-yard average on it. I need to catch the ball and go forward with it."
Coty Sensabaugh, nickelback:
"Eyes looking at the wrong thing. Say you're in man-to-man coverage, you're guarding the receiver really well. Then instead of looking at him when he breaks, you're looking at the quarterback. He can separate from you. I've gotten a whole lot better at it. I had a bad habit of it in college. My college coach used to correct me on that and really get on me about that, so I got out of the habit pretty well."
September, 22, 2013
Sep 22
7:39
PM ET
NASHVILLE, Tenn. -- Mike Munchak likes to talk about guys being professionals and doing their job.
Enough of them did their job for the
Tennessee Titans
to beat the
San Diego Chargers
and get to 2-1.
But there should be some serious shakeout for all the penalties in the game. Not every call is going to be right, but 11 penalties for 116 yards by nine different players certainly does not fit under the heading of being a professionals and doing your job.
Tennessee fans were up in arms about the officiating and had a couple of legitimate complaints.
Eric Weddle
got away with pass interference against
Justin Hunter
.
Kenny Britt
was flagged for an illegal block above the waist that looked like a hand on the back.
Still, the Titans amassed 10 penalties for 110 yards in the first half before settling down. San Diego got four first downs from penalties while the Chargers committed five for 45 yards and gave up first downs from infractions.
"It's frustrating because when you see them on tape I think a lot of them are touch fouls," coach Munchak said. "I think a lot of them seem unnecessary."
I wasn't in the room and in talking to a few people who were, it's unclear if he meant they were unnecessary to commit or unnecessary to call.
I sure hope he's not making excuses.
Many of his players and his offensive coordinator and were not.
"As a team we definitely have to be smarter, because those penalties are going to come back and bite us," cornerback
Jason McCourty
said.
"It's discipline," left guard
Andy Levitre
said. "That's something we have addressed as a team and obviously it's yet to be fixed. I don't know how we're going to go about it. Obviously it's up to the coaches. But we have to do a better job with that, that's going to cost us big-time down the road."
"That's unacceptable and we've talked about it three weeks in a row," offensive coordinator Dowell Loggains said. "We need to find a way to fix that because it's not smart football."
A rundown of Sunday's offenders:
September, 13, 2013
Sep 13
4:32
PM ET
Three matchup questions I have as I consider the
Tennessee Titans
game Sunday at the
Houston Texans
.


1.
Jason McCourty
,
Alterraun Verner
and
Coty Sensabaugh
will all have a role in trying to slow down receiver
Andre Johnson
, who looked excellent against the Chargers on Monday night. Most of the time, a defensive back wants to get his hands on the receiver early to throw things off. But McCourty said there are times when Johnson wants a corner to jam him, because it sets him up for short routes. "Sometimes it works as an advantage and sometimes, with his strength, he uses it against you," McCourty said. "Sometimes you have to lay off. You have to mix it up. He can be running a slant and let you get your hands on you and grab you and throw you by."
2. As a member of the Bills, Titans left guard
Andy Levitre
played against Houston lineman
Antonio Smith
a year ago. Smith didn't play in the opener after a suspension for a preseason incident with
Richie Incognito
. Smith will spend a lot of time trying to get past Levitre, but the Texans move people around up front, in part to prevent blockers from gaining any sort of consistent rhythm. "He's strong enough to play inside but has still got that quickness of an end," Smith said. "He's an active guy, he plays all over the field."
J.J. Watt
is the guy everyone is talking about and he's a big issue for
David Stewart
,
Chance Warmack
and the whole line, but let's not forget about Smith.
3.
Bernard Pollard
was close to the line of scrimmage most of the time in Pittsburgh. The Titans often played
Michael Griffin
deep in the middle of the field alone. The combination of the Tennessee pass rush, solid coverage by the cornerbacks and minimal downfield threats from the Steelers allowed for that personnel distribution in the secondary. Can the Texans, who know Pollard well as he once played for them, force the Titans to back Pollard off and be more involved in coverage? Play-action passing is a giant piece of the Texans' offense, and Pollard is likely to be tested more.
September, 9, 2013
Sep 9
5:13
PM ET
A look at the snap report from the NFL for the Titans in their win over Pittsburgh.

Offense, 67 total snaps
LT Michael Roos, 67
LG Andy Levitre, 67
C Rob Turner, 67
RG Chance Warmack, 67
RT David Stewart, 67
QB Jake Locker, 67

TE Delanie Walker, 51
TE Craig Stevens, 49
RB Chris Johnson, 43
WR Kenny Britt, 43
WR Nate Washington, 38
WR Damian Williams, 27
TE Taylor Thompson, 25
RB Jackie Battle, 19
WR Kendall Wright, 19
FB Collin Mooney, 17
RB Shonn Greene, 4
Greene got hurt early or would likely have had most of Battle's snaps. The team said Wright's preseason knee injury wasn't going to be an issue, but he should get more than that if he's fine -- especially when Britt is ineffective.
Defense, 53 total snaps
CB Jason McCourty, 53
LB Moise Fokou, 53
LB Zach Brown, 53
FS Michael Griffin, 53

CB Alterraun Verner, 52
SS Bernard Pollard. 51
DE Derrick Morgan, 49
DT Jurrell Casey, 45
CB Coty Sensabaugh, 36
LB-DE Akeem Ayers, 29
DE Kamerion Wimbley, 27
DL Karl Klug, 23
DE Ropati Pitoitua, 19
DT Mike Martin, 17
DT Sammie Hill, 17
S George Wilson, 3
DT Antonio Johnson, 3
The Titans are supposed to be reducing Morgan's snaps, but Ayers is coming off an ankle injury and they were clearly measuring his work. He wasn't very effective. Pitoitua showed well. Hill was a big free-agent addition. He had an elbow injury in the preseason and I would expect more action from him.
Four Titans played 18 special-teams snaps:
Patrick Bailey
,
Tommie Campbell
,
Blidi Wreh-Wilson
and
Daimion Stafford
.
Backup quarterback
Ryan Fitzpatrick
was the only active player who didn't take the field.
September, 4, 2013
Sep 4
5:40
PM ET
NASHVILLE, Tenn. --
Tommie Campbell
didn't have an issue losing out to
Alterraun Verner
for the Titans second starting cornerback spot.
He did have an issue when he was told he's fifth out of the Titans five cornerbacks.
"I wasn't surprised at the fact that I didn't get it," he said. "I was surprised at the fact that I got moved to the fifth corner, that I'm the last corner on the depth chart. That's what I am more surprised about. They said my role would be just a special teams player."
That means he ranks behind
Jason McCourty
, Verner, nickelback
Coty Sensabaugh
and rookie
Blidi Wreh-Wilson
.
Wreh-Wilson's is a promising player, but has done little to stand out since he joined the Titans.
If the Titans lost one of their top three Sunday in Pittsburgh, I'm not so sure they would turn to Wreh-Wilson ahead of Campbell.
Clearly though, they wanted to send a message after Campbell didn't meet their expectations. They might have helped him on the front-end by not
over-selling the promise
of a 2011 seventh-rounder or by having more realistic expectations.
Campbell said he'll focus on being the NFL's best special teams player.
September, 4, 2013
Sep 4
2:52
PM ET
NASHVILLE, Tenn. -- What's the most important step you take on any given play.
I recently toured the Titans locker room asking that question. A lot of guys said it's the first step, and that didn't surprise me. But in getting the same answer from guys at different positions, I got different rationale.
Let's run through the replies.
Running back Chris Johnson:
"The step is once you see the hole, you've got to hit it. You can't really hesitate. In the whole game you might have two maybe three big home run plays where it's going to open up for you and you can't hesitate, you have to hit it. Once you see the hole, that step, you've got to hit it. Your mind is making a decision with your feet."
[+] Enlarge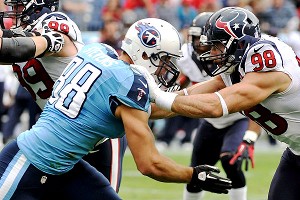 Frederick Breedon/Getty ImagesTight End Craig Stevens says he has to be set by his second step to be ready to make contact.
Cornerback Coty Sensabaugh:
"Your eyes tell you which step to take, the first step. It's having your eyes on the receiver and going off of the right thing. It really just depends on what the receiver does. I mean we're basing everything on the receiver. Your eyes tell you everything."
Receiver Kenny Britt:
"It depends on what route it is. Most of it is being precise all the time with the quarterback. Depending on whether they are blitzing and what the coverage is, you've to be in the right place at the right time. You're starting point is everything to your route, you have to get off the line of scrimmage. You've got to know if he's going to press you, if he's going to ball on you. It's about getting off the line clean."
Safety George Wilson:
"A lot of time it's that first one. You're trying to get that run-pass key. If it's pass and you step up in the hard play action sometime that'll take you out of position for where you are supposed to be to defend the pass. It's important that you have your eyes in the right place every place so that your first step is the right step."
Defensive tackle Sammie Hill:
"The first step. Get off the ball first. If I beat my man, nine times out of 10 I'll cause disruption in the backfield. …Now my man is back to defense and I'm on offense, he's got to figure out what we're doing. If he's first, you've got to work like hell to get back in position."
Left tackle Michael Roos:
"The first one. It's the one that starts all your other steps. If your first one is too wide, you're going to compensate, try to make up for it. It might be wider, you might cross over. On a pass set if your foot's not square, perpendicular to the line of scrimmage, that means your body is turned, now you get an inside move, you can't turn, correct yourself as fast. You've got to gain the right amount of ground otherwise everything falls apart after that."
Fullback Quinn Johnson:
"It's pretty much the same thing as the offensive line, it's the first step. It's like Coach [Sylvester] Croom tells me, if I take the wrong first step, everything else moves downhill. I'm off course and everything goes off timing. I watch it on film. When I take the wrong first step, everything else goes bad. When I take the right step, everything else goes good."
Middle linebacker Colin McCarthy:
"First step. Obviously, downhill. As a linebacker you're playing run first, pass second. Getting your run-pass key and reacting as fast as you can off of that."
Tight end Craig Stevens:
"You've got to get off the ball as quick as you can and make that first play-side step. But then really my most important step is my second step, because it brings your whole body with it and that's where your power is. Whenever I'm run blocking, I'm always making contact on my second step. Short, quick step. Get your two feet on the ground as quick as you can."
Kicker Rob Bironas:
"Has to be the first step, yeah. If the first step's wrong, the next step's wrong, the whole thing's wrong. If you step off the wrong direction or over-stride, then you are trying to make up for that the whole way. In my case, it's a jab step and then two steps to the ball. I just roll into or fall into my jab step. It's just five, six inches with my left foot."
September, 2, 2013
Sep 2
5:20
PM ET
NASHVILLE, Tenn. -- The Titans made the right choice in going with
Alterraun Verner
over
Tommie Campbell
as their starting cornerback opposite
Jason McCourty
.
Campbell is bigger, stronger and faster, which prompted the Titans to over-tout him in training camp in 2012 and again this year.
Defensive coordinator Jerry Gray was a physically gifted cornerback, too, when he played for the Rams, Oilers and Buccaneers. Gray earned four Pro Bowl appearances from 1985-93.
A year ago, the Titans were looking for Campbell to either win an outside job as a starter or prove capable of taking over an outside job in the nickel package, allowing Verner to shift inside. After a camp full of hype about Campbell, the Titans then pulled an opening-day surprise with
Ryan Mouton
playing nickel.
[+] Enlarge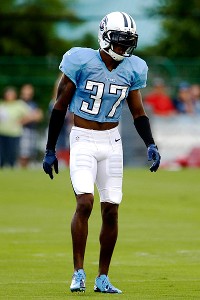 AP Photo/Mark HumphreyTommie Campbell was not able to beat out Alterraun Verner as the starting cornerback.
Gray has talked about how important it is for a corner to be smart, and that is one of Verner's top qualities. At another point the coordinator spoke of how, given a raw player with great speed, he would be able to shape him into an effective player. Campbell fits in that category.
Today's development is mostly about Campbell. He failed to seize a massive opportunity heading into his third year. The Titans wanted him to win the job and he couldn't navigate the road they paved for him.
But it's an indictment of Gray and the defensive coaches, too. They've either overestimated Campbell, failed to develop him or both.
Here's Mike Munchak's positive spin when I asked about Gray's failure to mold the Campbell clay into what he indicated he could:
"Well it's not over yet, Tommie's still here, Tommie's still part of our team. I guess the timing for everyone is always different, how quickly they come on, how they can contribute, how quickly they can take over a position. It's still a work in progress and like I said, give Vern some credit too for playing well and doing a good job. We still have both of them on our football team and this conversation can change quickly depending on what happens. He's still in it, he's still able to keep getting better, as far as who's first, it's going to be Vern.
Getting limited second team reps in practice and working on the scout team does not provide the same opportunity to get better that Campbell had through the summer, camp and the preseason.
Campbell was not in the Titans' locker room during a lengthy period during which it was open to the media Monday. A team official said he didn't know where Campbell was.
Free safety
Michael Griffin
said Campbell is still learning some of the nuances of playing cornerback in games.
"In practice, Tommie does a good job, he plays physical," Griffin said. "When it comes to the games, I guess the hardest part is trying to understand what's legal, what's not legal. Because he gets away with a lot of things at practice. But I wouldn't count Tommie out, you never know when his name may be called."
Verner was gracious, saying he and Campbell are friends who were rooting for each other and wanted it to come down to who made more plays and not be about either of them failing.
I like Verner and think he's a heady football player. His training camp body of work was better.
But the 2012 Titans gave up the most points in the NFL and the most points in franchise history. The team ranked 26th in pass defense.
And so the solution in the secondary was to sub out a subpar strong safety,
Jordan Babineaux
, with
Bernard Pollard
. Pollard is a better player, but he's not an ace in coverage, though, he doesn't care for people to say so.
Of the Titans first five defensive backs, four of them -- McCourty, Verner, Griffin and nickel back
Coty Sensabaugh
-- are the same as they were last year.
Perhaps that group matures and plays better and has a better pass rush in front of it.
But the Titans strategy with regard to the pass rush wasn't to add a premier pass-rusher. It was to bring in run defenders to reduce the workload of the rushers already in place.
Derrick Morgan
and
Akeem Ayers
will be the primary edge pass-rushers with
Kamerion Wimbley
getting work too. Those three, too, were part of the defense that let teams score an average of 29.4 points a game.
With Gregg Williams' influence, they will surely blitz more.
My big lingering question is, "Did the Titans change enough on defense?"
The Pittsburgh game will begin to tell the story.
But the offense might want to aim to score 30.
August, 30, 2013
Aug 30
3:14
PM ET
NASHVILLE, Tenn. -- Rather than tell you this is what's going to happen, I'll tell you this is what would happen if I had influence in the
Tennessee Titans
meeting room when final cuts will be decided.

Some cuts are already trickling out from Jim Wyatt of The Tennessean, so check
his Twitter feed
.
Quarterbacks:
Jake Locker
,
Ryan Fitzpatrick
There just is no room for
Rusty Smith
and there
isn't a need
for a third quarterback unless things go incredibly wrong. The difference between a random third guy and Smith isn't giant.
Running backs:
Chris Johnson
,
Shonn Greene
,
Jackie Battle
,
Quinn Johnson
(FB)
Battle has to contribute on special teams, but he was better than
Jalen Parmele
through the preseason. Wyatt says Parmele is already gone. Johnson's been hurt and could lose out to
Collin Mooney
.
Wide receivers:
Kenny Britt
,
Nate Washington
,
Kendall Wright
,
Damian Williams
,
Justin Hunter
,
Michael Preston
,
Marc Mariani
(return specialist)
Preston is one of the best 53 players on the team. Even though he won't be active on Sundays if everyone's healthy, you keep extra quality depth at one spot if it's better than weaker depth at another spot. Once he's healthy, Mariani isn't as explosive as a punt returner as
Darius Reynaud
, but will more regularly get 10 yards.
Tight ends:
Delanie Walker
,
Craig Stevens
,
Taylor Thompson
No need for a fourth on the 53. Sign
Jack Doyle
to the practice squad
Offensive linemen:
Tackles
Michael Roos
,
David Stewart
,
Mike Otto
,
Byron Stingily
. Interior:
Andy Levitre
,
Chance Warmack
,
Rob Turner
,
Brian Schwenke
,
Fernando Velasco
Velasco is guaranteed $2.02 million under his tender contract out of restricted free agency. I'm not sure he should stick over
Scott Solomon
at linebacker or
Stefan Charles
at defensive tackle. But the big push for revamping the line and the desire for depth after last year's slew of injuries makes me feel like they will stay loaded.
Defensive ends:
Derrick Morgan
,
Ropati Pitoitua
,
Kamerion Wimbley
,
Lavar Edwards
,
Keyunta Dawson
.
Dawson is a good guy to have. I can see him staying and the Titans going five ends as opposed to six tackles. But linebacker
Akeem Ayers
is a nickel end so he factors in here as well.
Defensive tackles:
Jurrell Casey
,
Sammie Hill
,
Mike Martin
,
Antonio Johnson
,
Karl Klug
(swing)
I've got Stefan Charles over
DaJohn Harris
but neither making it. If one of them sticks, it's the last defensive line spot probably over Dawson. I see Charles on the practice squad.
Linebackers:
Akeem Ayers,
Moise Fokou
,
Zach Brown
,
Zaviar Gooden
,
Colin McCarthy
,
Patrick Bailey
Scott Solomon is one of my last two cuts. I want to keep seven 'backers. The seventh guy would be a trade-off for Velasco, I think. Solomon is versatile, seems to be catching on to the position change and can still play end if needed. He's not practice squad eligible. I just can't fit him here. I might keep him over Bailey but I don't think they rank him that way.
Safeties:
Michael Griffin
,
Bernard Pollard
,
George Wilson
,
Daimion Stafford
The fourth spot isn't strong and Stafford could probably go to the practice squad. But if they choose a veteran --
Al Afalava
or
Corey Lynch
-- as the fourth I could see them trying to upgrade it with an outsider.
Cornerbacks:
Jason McCourty
,
Alterraun Verner
,
Tommie Campbell
,
Coty Sensabaugh
,
Blidi Wreh-Wilson
I'd expect
Khalid Wooten
on the practice squad.
Kicker:
Rob Bironas
Punter:
Brett Kern
Long-snapper:
Beau Brinkley