Tennessee Titans:

Derek Carr
May, 8, 2014
May 8
10:21
AM ET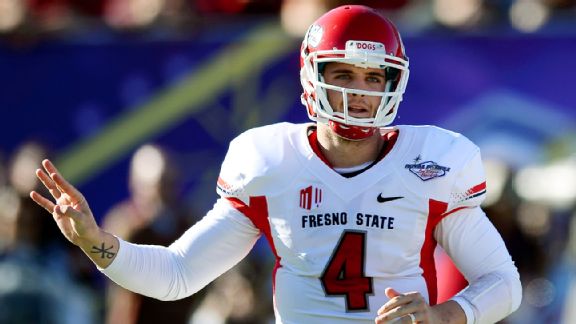 Ethan Miller/Getty ImagesDrafting a QB like Derek Carr in the first round would have far-reaching implications for the Titans.
There are several reasons for the
Tennessee Titans
not to draft a quarterback at No. 11 or even after a trade down in the first round:
The top guys don't look to be sure things, and the Titans are only three years removed from over-drafting

Jake Locker

eighth overall.

The Titans, and GM Ruston Webster in particular, feel Locker is deserving of one big final shot at proving he can be a quality NFL starter and want to facilitate that chance. A highly drafted quarterback wouldn't help in that.

A first-round quarterback would be expected to start, if not from the beginning, somewhere along the way during the season. A team shouldn't avoid a pick because of the questions it will bring. But if Tennessee drafts a quarterback first, the major theme from the outside all season will be about which quarterback plays.

As those top quarterback prospects come with question marks and/or holes, taking one would mean passing on a better player at another position.

Though every team and situation is different, the AFC South rival Jaguars had a new regime in place last season. GM Dave Caldwell and coach Gus Bradley sort of received a redshirt year in their first season, because in a lot of ways the clock doesn't start ticking on guys in those posts until they choose their quarterback.
The Titans have provided no indication that they will spend their top pick on a quarterback, but they have offered no real indication of anything. Jim Wyatt of The Tennessean allows for the possibility of a trade down and the choice of
Derek Carr
. Subsequently, I've also heard that Webster is a giant fan of Carr.
"He's a very bright quarterback," Webster said Tuesday. "He's played in multiple systems. He's had to learn systems and learn them quickly, got a good arm, got a quick release and is pretty good at throwing the ball on time and is pretty accurate."
While the Titans are loyal and patient and committed with regard to Locker, they also aren't operating with blinders on.
They know he remains a question mark, they know he tends to get hurt, they must know
Charlie Whitehurst
isn't equipped to carry the team to success if asked to start for a long stretch.
Setting Carr aside, we don't know how they feel about
Teddy Bridgewater
, who could be there at No. 11. We also don't know how they rate
Johnny Manziel
or
Blake Bortles
, and they could have a crack at one or more of those guys.
When Webster fielded a question about Bortles on Tuesday, he brightened up in a way that I read to mean, I can speak freely about this guy because he's someone who is not in our range.
"You know what I like about Bortles, is he's big, he's got a strong arm and he's consistently brought his team from behind," Webster said. "Last year, I think in multiple games, the Louisville game being one, they were down and he brought his team back. That's something that we always look for, and sometimes you don't get that with a quarterback if their team is so good they're usually ahead so they don't have to do it, but in his case, that's been something that he's done really well."
The Titans have looked closely at Carr,
Zach Mettenberger
and
Aaron Murray
, and also have reportedly worked out
Jimmy Garoppolo
. They might have seen others and been able to keep it quiet.
If they draft a first-round quarterback, I'll expect him to start, quickly, and mark the end of Locker's tenure as the guy.
It's one thing to draft a kid and have him sit for a while behind a veteran -- the Titans had success with that when Locker sat behind
Matt Hasselbeck
.
Whitehurst doesn't provide the same veteran quality. Young quarterbacks get plugged in and play all around the league now.
I still think the Titans wait and draft a quarterback. Ideally he would arrive before the end of the third round, and ideally the Titans would make a deal that would get them more than the two picks they currently have in that span.
Quarterbacks drafted later than that who pan out in a big way are exceedingly rare. Maybe Mettenberger or Murray slides some as they are coming off ACL injuries.
A first-round quarterback will surprise me, and many others who follow the team closely.
Should it?
May, 3, 2014
May 3
11:03
AM ET
Do the Titans like
Derek Carr
as much as any quarterback in the draft?
Carr
We don't know if they'll draft one, and if they do how high, but Jim Wyatt of The Tennessean has reported they
appear to like
Fresno State's Carr. I've since heard the same.
I can't envision them taking Carr or any quarterback at No. 11, but it's possible they'd move back for him or that they'd grab him in the second round, 42nd overall, if he was still on the board when their second-round pick comes around.
Much has been written about Carr recently, and I wanted to plug you into it.
First, Seth Wickersham has a great piece on
Carr's connection to his brother David
, the first pick in the 2002 draft by the
Houston Texans
.
The older brother has been helping get Derek Carr ready for NFL life.
"…[T]here's an ineffable tension between David's desire to control the future and Derek's willingness to overcome the unknowable," Wickersham writes.
Derek Carr's power as a prospect is hindered, at least to some, by his DNA. Even as his brother had so little protection with the Texans and was sacked so much he never had a chance.
"On one hand, [Derek Carr's] 50 touchdown passes and only eight interceptions last season suggests that he has all the tools to be a franchise quarterback; Browns coach Mike Pettine calls him the "best natural thrower in the draft." But then there are the issues: Below-average poise and toughness within the pocket; will anticipate pressure and look to protect his frame instead of sitting in and delivering the ball."
Kevin Seifert of ESPN.com looked at all sort of
key college numbers
on the top quarterback prospects. Carr's quick throws could lead to great red zone success – inside the 20-yard line he hit on 62.3 percent of his throws for 31 touchdowns and just two picks.
But…
"Carr did not react well when under pressure, completing just 30.9 percent of his passes in those situations, the lowest among all 10 quarterbacks in this group. He also had this group's worst completion percentage (43.9) when outside the pocket."
KC Joyner looked at
red flags
on some prospects and also took issue with Carr's completion percentage when under duress.
"Last year, the leaguewide completion percentage when under duress was 41.5 percent, and only three quarterbacks had a duress completion percentage lower than Carr's collegiate total. If Carr wasn't able to hold up well against a strong pass rush against a lower level of competition, it stands to reason he might not fare well in that metric at the pro level."
His college play under duress and his ability to get to a second or third read are issues to several people whose scouting opinions I trust. Maybe coach Ken Whisenhunt and quarterback coach John McNulty can help Carr develop in those areas if he lands in Tennessee.
I'm wary.