Tennessee Titans:

Derek Hagan
August, 16, 2014
Aug 16
12:13
AM ET
The
Tennessee Titans
turned the ball over five times at the Mercedes-Benz Superdome and didn't do close to enough to offset the giveaways against the
New Orleans Saints
.
Tennessee lost 31-24 Friday night in New Orleans,
despite the hosts' handing away 184 yards on 22 accepted penalties, including eight of the Titans' 28 first downs.
Penalties were the biggest story of a lengthy game, and the Titans made their own large contribution in that department, with 10 for 111 yards. The Titans didn't have a takeaway on defense or special teams to make up for their turnover troubles.
Here are some other thoughts on the Titans' second preseason game:
August, 12, 2014
Aug 12
7:16
PM ET
NASHVILLE, Tenn. -- A daily review of the hot topics coming out of
Tennessee Titans
training camp:
August, 12, 2014
Aug 12
8:18
AM ET
Reading the coverage of the Tennessee Titans ...

Veteran receivers
Derek Hagan
and
Brian Robiskie
are looking to
revive their careers
, but it appears there is only one spot -- at most -- available, says John Glennon of The Tennessean.
To which I say:
They've both been better than I expected, but I'd give Hagan the edge.
The Titans have gone from trying to boost
Justin Hunter
's confidence as a rookie to trying to keep him from
getting a big head
as he begins his second season, says Wyatt.
To which I say:
Hunter seems to have a good handle on it all and understands the messages his coaches are sending.
Bernard Pollard
and the defense were
disgusted by their work
early in the game against the Packers, says Jim Wyatt of The Tennessean.
Glennon's
practice review
from Monday.
Taylor Lewan
played
three-quarters
of the game against Green Bay and got a good review, says David Boclair of the Nashville Post. With a look at snap counts from the game.
Tuesday marks
the final open practice
for fans.
August, 11, 2014
Aug 11
7:21
PM ET
NASHVILLE, Tenn. -- A daily review of the hot topics coming out of
Tennessee Titans
training camp:
It was a horrific day for the offense, which came out flat and had mistakes in every area you can think of. There were multiple drops, fumbles, interceptions and bad snaps. Ken Whisenhunt downplayed it as one bad day, and of course it was, but the degree of badness was alarming. Said receiver Derek Hagan, who dropped a pass near the end of practice "It was bad, we didn't get anything going at all. It was a crazy day. Nobody was catching the ball, bad blocking, missed assignments. Just an overall bad day."
Shonn Greene had a fumble that Zach Brown recovered. Bishop Sankey fumbled twice, the first recovered by Brandon Copeland and the second bounced back to Sankey.
Kendall Wright streaked across the middle to collect a Locker pass, beating Jason McCourty. Michael Preston made a nice catch over Coty Sensabaugh up the left side from Charlie Whitehurst. Taylor Thompson had a couple more nice plays.
Jake Locker made a bad throw for Nate Washington in the right side of the end zone in red zone work. Tommie Campbell may have pushed off, but he easily collected the bad throw.
Whitehurst threw a terrible pick as he looked for Marc Mariani to his right. The line drive throw was easily caught by Blidi Wreh-Wilson who was practically halfway between quarterback and his target. Perhaps the worst play of all on a terrible day.
Daimion Stafford had a nice breakup of a throw for Mariani, whose helmet popped off in the process. Ri'Shard Anderson broke up a Zach Mettenberger dart for Hagan. Wreh-Wilson had a too-easy breakup of a Locker pass for Dexter McCluster. The defense made some plays, for sure. But more of the offensive failures were self-inflicted.
Justin Hunter wore a jersey that said "J A G" across the back instead of "Hunter." He said Whisenhunt and receivers coach Shawn Jefferson talked to him after he forgot to convert a route Saturday night. Hunter didn't know they'd follow through with the jersey, but they did. He said he'll continue to work to be more than "just a guy."
Hunter made a nice play in the middle of the field, winning a contested ball from Locker by taking it away from safety Michael Griffin.
Among the targets with drops: Delanie Walker, Preston, Washington (who had a chance to recollect the ball on the sideline but bobbled it until his feet were out), Thompson, Hagan.
Guard Andy Levitre said he played one game at center for the Bills against Miami and was bad at it. Whisenhunt reminded a questioner that he'd said in the past he intended to work Levitre a little at center to prepare a contingency. Now with Chris Spencer (ankle) out, it was the right time. Levitre said he lost focus and snapped as if the quarterback was under center a couple times when he wound up rolling balls past Zach Mettenberger. Ultimately, they put starting center Brian Schwenke in with the third team to settle things down.
Kickoffs: Maikon Bonani put one 9 yards deep and another 4 yards deep into the end zone. With less hang time, Travis Coons put one kickoff 4 yards deep. Coons also punted some.
August, 6, 2014
Aug 6
11:00
AM ET
NASHVILLE, Tenn. -- Every team in every training camp talks optimistically. Every team with a new coaching staff talks about how things are different for the better.
The
Tennessee Titans
are lowly regarded by plenty of fans and media nationally. But they have a lot going on that they feel those people have not paid attention to.
With Ken Whisenhunt and his staff at the helm, new schemes on both sides of the ball, a schedule that doesn't include some of the powers they faced a year ago and a division with two other rebuilding franchises, they might have a chance to surprise.
.
"You say each and every year, 'Feels different, feels different, feels different,'" safety
Michael Griffin
said. "Just, you can see every day, people out there talking, we always have guys picking people up. Each and every day there is competition. There are little side bets here and there -- who's going to win this period and things of that nature. The whole time we're all trying to get each other better.
"Again, it just feels so much different in this locker room, and everybody has the same goals in mind, and that's a positive around here."
THREE REASONS FOR OPTIMISM
[+] Enlarge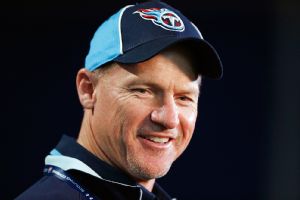 Brian Spurlock/USA TODAY SportsNew coach Ken Whisenhunt brings a solid résumé and a strong coaching staff to the Titans.
1.
Whisenhunt isn't Vince Lombardi or Don Shula, but the Titans' new coach is a significant upgrade from Mike Munchak, who was unsteady in his first three years as an NFL head coach. Whisenhunt had success in the role during his six seasons in Arizona, and he is a well-regarded offensive mind who will do more with what the Titans have than his predecessors.
Whisenhunt had the connections and the interviewing skills to hire a staff that appears to be filled with strong teachers, including a few quality holdovers. Defensive coordinator Ray Horton is turning the Titans into a less predictable 3-4 and comfortably works his way into different sections of practice when position work is unfolding. I've watched these coaches teach and I've seen them connect with players.
Whisenhunt may field a complex offense that's hard to defend, but he's good at keeping things simple. I don't see any changes in how the Titans function that aren't for the better at this point.
2.
The Titans don't have players the fans are going to pick to captain their fantasy squads, but Tennessee should have a good array of quality weapons on offense.
Kendall Wright
topped 1,000 yards in his second season, and now the team's best receiver will be sent on a wider variety of routes, not just inside slot stuff. He's been excellent so far in camp.
Justin Hunter
is doing better getting his legs under him and is catching the ball more comfortably. He got behind Atlanta's defense a few times in the recent joint practice and should be a constant deep threat.
Nate Washington
is showing he remains a versatile, productive guy.
Beyond the receivers, tight end
Delanie Walker
and running backs
Dexter McCluster
and
Bishop Sankey
will be good pass-catching options. When the Falcons gave the Titans a lot of room underneath,
Jake Locker
hit McCluster with a pass over the middle, and he had a ton of space to take. The Titans have invested a great deal in their offensive line over the past two seasons. They have one more tackle than they need after signing
Michael Oher
and drafting
Taylor Lewan
. There should be better protection for the quarterback and better holes for the running backs.
3.
The 4-3 defense in recent years lacked a star pass-rusher on the edge who an offense had to fear every snap. The Titans still don't seem to have that guy. They have to find him, but even if he doesn't emerge from this group, the overall production out of the pass rush should be better. Who is rushing and who is dropping into coverage? In the 4-3, opponents pretty much knew. In this 3-4, it won't be nearly as clear on a regular basis.
Jurrell Casey
, who notched 10.5 sacks as a tackle last season, will work as an end now. He's worked on speed rushes off the edge as well as his bread-and-butter quick power stuff in camp.
Sure, some good quarterbacks can diagnose who is rushing and who isn't, no matter the front. But outside of
Ben Roethlisberger
and
Andrew Luck
(twice), the Titans don't face any A-list quarterbacks coming off big 2013 seasons this time around. They don't see Seattle and San Francisco this season either.
THREE REASONS FOR PESSIMISM
1.
Locker is a really likable guy who works hard, says the right things and desperately wants to prove he is the long-term answer for the Titans at quarterback. But in two seasons as the starter, he's missed 14 games while dealing with shoulder, hip, knee and foot injuries. He's practiced pretty well, but there are plays splashed in that can be killers on a Sunday afternoon.
Getting 16 games out of him is hardly a certainty for the Titans. Even if they do and he fits well with what Whisenhunt is asking him to do, he has not been accurate or poised enough when he has played. He sometimes tries to do too much and isn't poised under pressure. Though he moves well and is very fast, putting him on the move puts him at more risk of another injury. Behind him are more question marks.
Charlie Whitehurst
has had no real success in just 13 games in eight seasons and often fails to step into his throws. Rookie
Zach Mettenberger
has a great arm but slipped to the sixth round for several reasons and is rotating with
Tyler Wilson
as the third-team QB. (Update: Wilson was released Wednesday.)
2.
The offensive weaponry looks good, but for those five pass-catchers to give the Titans the nice smorgasbord of options, they need to stay healthy. Also, guys like Hunter (second year), Sankey (a rookie) and McCluster (first year with the Titans and Whisenhunt) need to show that their potential and practice play translate into NFL Sundays in a Tennessee uniform. Wright was the best player on offense last season and should grow more. Can the others become known quantities?
Who is the star of the defense? DT-turned-DE Casey is a strong, quick rusher who was healthy and productive in 2013. He is going to land a big-money contract -- either soon from Tennessee or on the market next spring. There are some nice pieces around him, but the Titans need veterans to have their best seasons and youngsters to emerge, all simultaneously. In Georgia, no defender stood out and regularly gave the Falcons more than they could handle.
3.
Forty-seven percent of the current 90-man roster has been in the league for two years or less. Youth is generally good, but it needs to be quality youth and it needs to be surrounded by quality veterans. The Titans lack experience in a lot of spots. There aren't kids in camp who weren't high picks but have forced their way up the depth chart to this point.
Maybe it's a great mix of players and a good share of the inexperienced people can blossom together. But with new coaches and new schemes, it could be asking a lot for all that to happen in the first season.
OBSERVATION DECK
[+] Enlarge

Don McPeak/USA TODAY SportsJake Locker needs a healthy season if he hopes to become the long-term answer at QB for the Titans.

Locker said he feels more comfortable speaking up and being vocal, and he has shown himself to be more confident in how he carries himself. After one throw that looked to be too long for an undrafted rookie, Locker pointed to tell Julian Horton where he should have gone. He still has bad moments in practice, but the preseason has not started, and he is progressing.

The Titans have moved running back Jackie Battle to fullback, where he can offer some needed versatility. He appears to have a sizable lead on incumbent Collin Mooney, who has had, at most, a handful of first-team snaps.

Among long-shot late additions, veteran receiver Derek Hagan has been consistently good and Brian Robiskie is also gaining notice. He's competing for the fourth and fifth wide receiver spots with Marc Mariani and Michael Preston. Maybe they'll keep six.

Sankey is learning quickly how to be a pro, and he has shown a bit of everything the Titans said they expected when they made him the first running back selected in the draft. His first day in pads he looked like an experienced NFL-caliber pass protector. He has good vision and makes good decisions on when to go and when to cut. He also catches the ball well, can run inside and outside.

Weakside outside linebacker Shaun Phillips has not worked at all with the first team when Kamerion Wimbley has been practicing.

Tommie Campbell was politely mentioned with Coty Sensabaugh and Blidi Wreh-Wilson as a contender for the starting right cornerback spot that opened when Alterraun Verner signed with Tampa Bay. But it's a two-man competition, and Campbell has struggled horribly.
August, 4, 2014
Aug 4
7:17
PM ET
FLOWERY BRANCH, Ga. -- A daily review of the hot topics coming out of
Tennessee Titans
training camp:
The Titans got no one injured Monday in a joint practice with the Falcons at their facility, always the best development to come out of a preseason practice. Defensive linemen Antonio Johnson and Mike Martin and tight end Dorin Dickerson came in with injuries and didn't practice.
The first fight turned out to be the only big fight. It came as the Titans and Falcons worked on punt returns and Coty Sensabaugh swiped a helmet off Robert McClain and a lot of players from both teams came onto the scene to get involved. It may have settled itself down, but Tommie Campbell came flying in to shove two Falcons, Bernard Pollard got involved and Ri'Shard Anderson came in with helmet in hand and swung it into Atlanta's Ricardo Allen "We got it over and out of the way and moved on," coach Ken Whisenhunt said. "We thought it might come, it came early and we settled down." Whisenhunt doesn't fine players for practice fights, but Anderson should be fined for a foolhardy and dangerous move.
Later, Falcons center Joe Hawley got tossed by officials for his role in a smaller scrap with Michael Griffin.
Whisenhunt was audibly upset when Falcons defensive end Osi Umenyiora hit Jake Locker's arm on a pass. "He grabbed his arm, he hit his hand," Whisenhunt said. "Osi apologized. He knows he can't do that."
Marqueston Huff looked like he's got the potential to be a quality gunner on punt returns. I saw him quickly burst between Kimario McFadden and Jordan Mabin to get en route in a hurry.
On a very early snap in one-on-ones matching Titans defensive backs against Falcons receivers, Jason McCourty was right with Roddy White on a quick throw from Matt Ryan, got an arm in and watched the ball pop loose. Another pass for White with McCourty on him was overthrown. McCourty was very solid in that period. The rest of the defensive backs were not as good. Griffin drew two flags for contact. (Khalid Wooten made a nice play and had a near pick of a Jeff Matthews pass for Tramaine Thompson. I think Wooten is steadily improving though he's not playing against the high-caliber guys.)
In one-on-ones, the Titans' offense connected on a big play early as Justin Hunter ran away from corner Robert McClain, collecting a throw from Charlie Whitehurst. Hunter caught another deep one from Zach Mettenberger.
Locker didn't throw deep much, as the Falcons seemed to be offering open stuff underneath far more often. Some plays worked great against it. Locker hit Kendall Wright out of the slot and Wright ran away from Josh Wilson for what would have been a touchdown. On another play, Dexter McCluster worked into open space in the short middle and had a ton of space from there. Whitehurst found room for some shots. One of them connected up the right side with Derek Hagan over corner Javier Arenas and safety Sean Baker.
In many practices Locker still seems to have one moment that could be deadly. He held the ball and shuffled left as the pocket began to collapse and threw for Delanie Walker. But Desmond Trufant got to it and dropped what should have been a pick. "For any quarterback, there is always at least one you wish you could have back," he said when I asked him about that specific play.
Both of the Titans' kickers attempted field goals against the Falcons field goal defense from 33, 36, 39, 42 and 46 yards. Travis Coons made them all, Maikon Bonani missed his attempt from 46 wide right.
Andy Levitre took three snaps in each team period before rookie Taylor Lewan replaced him. Levitre had his appendix removed on July 24. He still didn't participate in the high contact one-on-one pass-rush drills.
In one team period, the offense worked exclusively in "penny," its three-cornerback, one-safety package.
Falcons receiver Harry Douglas made a catch over Sensabaugh after the Falcons had the Titans jumping around before the snap. Derrick Morgan started with his hand down at left end, stood up and backed out, then returned to his initial position while multiple defenders shouted out multiple signals and waved each other around in what appeared to be confusion.
Akeem Ayers made a couple plays, including batting down a pass from Sean Renfree. In one-on-ones he made a great spin move against tackle Lamar Holmes that got him to the quarterback. But in a seven-on-seven period, T.J. Yates threw to running back Devonta Freeman and Ayers had no chance against him in space.
Avery Williamson impressively ran step for step with running back Josh Vaughan on a deep route and the pass glanced on the rookie linebacker's helmet.
Moise Fokou worked as high in the linebacker rotation as I can remember, pairing with Zaviar Gooden as the inside tandem with the second team at least some.
On a snap where DaQuan Jones and Al Woods were the two defensive linemen, neither put a hand on the ground. The Titans played that one with everyone starting off standing up.
On one snap of nickel where nose tackle Sammie Hill came off the field, the standing up, off-the-line outside linebacker Kamerion Wimbley actually lined up inside of right end Jurrell Casey.
There were a bunch of penalty flags on both sides. The most popular offense was illegal contact by defensive backs. The second biggest was offside. More to come on that
It's always amazing to see how many guys know each other when two rosters of 90 and their coaching staffs combine. Titans linebacker Zach Brown saw Yates and exclaimed, "T.J, what's up buddy?" Atlanta offensive coordinator Dirk Koetter chatted with Hagan. Falcons owner Arthur Blank got off his cart to hug Titans tight ends coach Mike Mularkey, who used to be Atlanta's offensive coordinator. A lot of it was pre-practice, a lot was during the kicking period when non-special teamers had time to chat. I watched Chris Spencer and Griffin talk with Devin Hester as Pollard shouted to the Titans, "Y'all be careful with making friends right now."
Find pictures at pkuharsky on Instagram.
The Titans are off Tuesday, then have an open practice at 9:20 a.m. CT Wednesday.
July, 29, 2014
Jul 29
8:47
PM ET
NASHVILLE, Tenn. -- Tennessee Titans wide receivers coach Shawn Jefferson had talked about doing it for sometime. Tuesday was the day he put on pads and helmet to go against his players in a drill.
Wearing a Titans light blue No. 1 practice jersey and holding a big blocking pad, he had players come at him through a garbage can gap. Then he banged into them to demonstrate the passion he wants to see in their blocking.
[+] Enlarge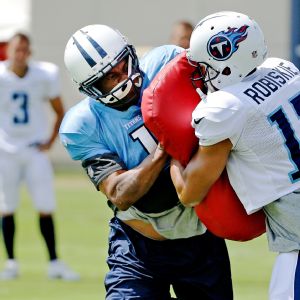 AP Photo/Mark HumphreyTitans wide receivers coach Shawn Jefferson, left, put on a helmet, pads and a jersey during a drill with his players on Tuesday.
Nate Washington
went first, and spent the rest of the period howling in laughter.
Marc Mariani
and
Derek Hagan
put Jefferson
on the ground
on back-to-back snaps.
"He's been threatening that for months and years," Mariani said. "We saw him kind of going over and getting everything rounded up and we were like, 'What's going on over there?' Then he comes out with shoulder pads and a jersey and we're doing a downhill drill. It was unbelievable man. I love that dude.
"We all thought it was going to be a little thud drill, but when he came downhill the first time and got Nate a little bit, we were like 'OK, there is going to be a little more contact than we thought, he's still got a little gas in the tank.'"
And what about knocking him to the ground?
"I think he just lost hit footing, I don't think I really crushed him or anything. We definitely had to come in there a little harder once we saw what he was working with."
Jefferson wasn't happy when Mariani tried to help him up.
"He didn't want any part of it, he's pretty competitive, he wanted to be up and into the next guy," Mariani said. "He was pretty intense during that thing. I think afterwards he laughed about it."
Jefferson didn't care to chat about it after and Whisenhunt downplayed it, suggesting it was just another drill.
Sorry coach, but I've never seen an assistant put himself in position to get hit by his players before. It could wind up being the highlight of camp.
I bet players won't be able to watch it enough.
"It's going to be in our iPads probably within the next 30 minutes," Hagan said. "So we'll be able to check it out."
@PaulKuharskyNFL Here is the full version of the #titans WR vs. Shawn Jefferson http://t.co/p6VgQen5n5

— Cal Baxter (@CalBaxter) July 30, 2014
July, 27, 2014
Jul 27
8:32
PM ET
NASHVILLE, Tenn. -- At least twice in
Tennessee Titans
practice on Sunday,
Justin Hunter
hit the ground when he could have been making his break or making a catch.
Hunter
The second-year wide receiver had a lot of unsteady moments on his feet in 2013. While he's far more comfortable catching the ball now, he's still having instances where he's too quick for his own good.
"I see him being overeager at times, and that's part of being out of control and being young," Ken Whisenhunt said. "We're going to continue to work on that. Make no mistake about it, the guy's a talented young player."
Hunter said that was a fair assessment.
"I was just trying to be a little bit too fast," Hunter said. "They want me to focus on being patient sometimes. That's going to help me get out of the routes a lot faster. I just try to rush it sometimes because I was open, you try to get out real fast to get the ball. I understand where he's coming from.
"I see like
Derek Hagan
, his routes, he's being patient and just going with the route and getting the ball. I need to slow myself up a little bit."
June, 18, 2014
Jun 18
12:36
PM ET
NASHVILLE, Tenn. --
Derek Hagan
wasn't in the league last year.
Now he's part of a group set to battle for the
Tennessee Titans
' fourth wide receiver job.
Mariani
The Titans' first three are clear:
Kendall Wright
,
Justin Hunter
and
Nate Washington
.
After that, it's going to be a scramble.
Michael Preston
is an impressive worker and an impressive guy, and he made some plays in limited chances last season.
Marc Mariani
has missed the past two seasons hurt, but the new staff seems to like him on offense.
Brian Robiskie
and Hagan rank as veteran journeyman, each on his fifth team. (Hagan says
he has stayed ready
.)
My prediction: I think Preston and Mariani will be the prime contenders, but I think the better of the two winds up the fifth guy and the other is the sixth, though the team could decide to keep only five.
So who will be No. 4?
An outsider who is cut when rosters around the league are trimmed to 53 on August 31.