Tennessee Titans:

Devon Wylie
November, 29, 2013
11/29/13
12:00
PM ET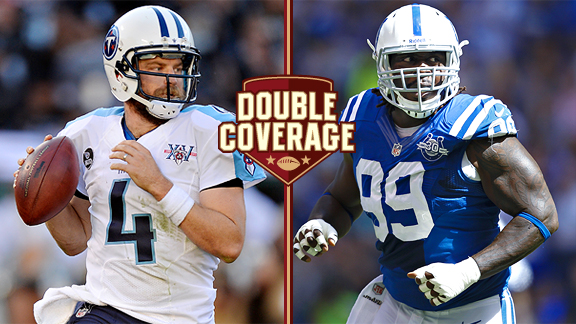 Getty ImagesRyan Fitzpatrick, left, and the Titans can tighten the AFC South race vs. Ricky Jean Francois' Colts.
INDIANAPOLIS -- The
Indianapolis Colts
want to remove the bad taste in their mouths from their 29-point loss to the
Arizona Cardinals
. The
Tennessee Titans
want to make the AFC South race intriguing.
Something will have to give when the teams meet Sunday at Lucas Oil Stadium.
The Colts can basically lock up their first division title since 2010 with a victory, because they would have a three-game lead on the Titans with four remaining. A win by the Titans would cut Indianapolis' lead to one game.
ESPN.com Colts reporter Mike Wells and Titans reporter Paul Kuharsky break down the matchup.
Wells:
The Titans made things in the division a little more interesting when they came from behind to beat Oakland last weekend. But they will be without a key player this weekend. How much will losing safety
Michael Griffin
impact the Titans' defense this weekend?
Kuharsky:
They are OK without him, as
George Wilson
is a capable veteran safety who will start in his spot. Wilson played for an injured Griffin in St. Louis, which was a bad game for Tennessee, but not because of that switch. Wilson has covered tight ends in a heavy nickel set and the dime package for much of the season, and the Titans have been better against tight ends after having huge problems in 2012. The Titans didn't use Wilson against
Coby Fleener
two weeks ago. Wilson played only one defensive snap in that game, and the Titans let their base defenders deal with Fleener. They didn't fare well, as he caught eight passes for a game-high 107 yards. Using Wilson as they have against other teams is not an option now, since he's in line to start.
Let's stay in the secondary. Has
Vontae Davis
been consistent? And how is his health now?
Wells:
Inconsistent is a better word to describe Davis. He looked like he was on his way to earning a nice offseason payday earlier this season. But he hasn't been the same since
Greg Toler
, who starts opposite of him at cornerback, went down with a groin injury four games ago. It's like Davis feeds off of Toler's presence on the field. Houston's
Andre Johnson
, St. Louis'
Tavon Austin
, and Arizona's
Larry Fitzgerald
all took turns getting the best of Davis at times in three of the past four weeks. Davis' groin injury isn't severe, so he should be in the lineup this weekend. There is a chance that Toler could be back, too.
Running back
Chris Johnson
had a monster first half in the previous meeting against the Colts. But the Titans stopped handing the ball to him in the second half. Do you think the same thing will happen this weekend if Johnson has another strong first half?
Kuharsky:
Well, the Colts came out and scored, collected Devon Wylie's kickoff fumble, and scored again, erasing the Titans' lead. I'm thinking
Leon Washington
, who was just signed to replace Wylie, will be more reliable, and the Titans won't go so long without having the ball on offense. With
Ryan Fitzpatrick
finding a rhythm at quarterback, they are more likely to throw some short passes that function as runs. The Titans will certainly want to run it. But they don't sustain it very well when they do manage to get it going some.
The Titans jumped out to that lead last time after the Colts were coming off getting blown out by 29. Now they draw the Colts after the Colts were blown out by Arizona. The Colts usually bounce back well, but I sense that the faith of those close to the team is waning. Is the team starting to doubt itself?
Wells:
Faith better not start waning after owner Jim Irsay was, well, Jim Irsay and voiced his frustration Tuesday on Twitter about the team's performance the past few weeks. The Colts have yet to lose back-to-back games with
Andrew Luck
as quarterback, but this was a different Colts' team inside the locker room after the Arizona game. They normally talk among each other win or lose after the game. There was very little of that this time. Players showered and dressed rather quickly and headed toward the bus. The Colts are very vulnerable right now. The Titans have an excellent opportunity to come to Lucas Oil Stadium and win the game. All the pressure in the division race would shift to the Colts if that happens.
You mentioned that Fitzpatrick is finding his rhythm. Do you think this could lead to a quarterback controversy next season with him and
Jake Locker
?
Kuharsky:
Well, we aren't sure yet that the same coaching staff or regime will be in place. Presuming it is, and presuming Locker recovers fully and on schedule from his Lisfranc surgery, he'll begin next year at the front of the line. The question isn't so much about the possibility that Fitzpatrick surpasses him -- he's very much a backup -- it's about whether the Titans are compelled to deem Locker injury-prone and draft an alternative/possible replacement. Based on what they have seen so far, they can't execute a very expensive option in May for the 2015 season, so they also have to be looking ahead.
The Colts have had some serious injuries, too.
Reggie Wayne
was a terrible guy to lose. Would tight end
Dwayne Allen
rank a close second?
Wells:
Don't get me wrong, not having Allen is a significant blow to the Colts, but I'd say losing guard
Donald Thomas
is second on the list. The offensive line was abysmal last season, and the Colts went out and spent money to upgrade it during the offseason, with Thomas and tackle Gosdar Cherilus being the main pieces. The Colts went from starting Thomas, a veteran, to starting rookie
Hugh Thornton
. That's a drastic drop-off, especially since Thornton shifted to left guard on the fly because he played right guard in college. The entire offensive line has been inconsistent with its run and pass protection this season.
.
November, 26, 2013
11/26/13
7:45
PM ET
NASHVILLE, Tenn. -- Thigh and ankle injuries meant
Leon Washington
played just two games for New England this season.
Washington
When they needed to create a roster spot last week for an extra cornerback to face the Broncos, the Patriots released the veteran return man.
The
Tennessee Titans
are hoping he can help them settle down on special teams, and he should be on the field with them Wednesday when they begin preparations for Sunday's game in Indianapolis.
He tweeted his excitement.
ThankYou Lord for an #Titanic Opportunity #TitanUp

— Leon Washington (@Leon_Washington) November 26, 2013
Mike Reiss who covers the Patriots for ESPN recently traced Washington's
football journey
.
Reiss said the Patriots gave Washington $360,000 to sign during the offseason.
"I think he is a great signing for return-needy team," Reiss said. "Bad luck this year. He's a professional guy who has played in some big games."
ESPN's resident scout, Matt Williamson, doesn't watch special teams tape.
"Washington's reputation is still quite strong," Williamson said. "Top 10 type returner. I would say."
There is little doubt a healthy Washington will be a better option than the guy he's replacing was.
Devon Wylie
was cut to make room for Washington.
November, 15, 2013
11/15/13
12:28
PM ET
A review of four hot issues from the
Tennessee Titans
' 30-27
loss
to the
Indianapolis Colts
at LP Field:
Foku
Missing Fokou:
When linebacker
Moise Fokou
hurt his knee Oct. 13 at Seattle, some of us believed the Titans might be better off with
Colin McCarthy
plugged in at middle linebacker. It's not as though McCarthy's been terrible, but three of the four games without Fokou have been run-defense disasters -- 153 yards to San Francisco, 160 to St. Louis and 137 to Indianapolis. (There was a 54-yard game against Jacksonville, too.) Getting Fokou back might not be the answer, but this was a better defense when he was running it.
Special teams:
Of all the moves Mike Munchak made, firing Alan Lowry might have been the biggest. Current special teams coach Nate Kaczor isn't making the mistakes, and his units have been hard-hit by the injuries, but the Titans have been far more likely to commit a gaffe on special teams than produce a play. Every team in the league should have a guy they can call up from the practice squad who can field kicks and punts and secure the ball.
Devon Wylie
's kick return fumble -- which was the result of him bumping into a teammate -- was an absolute killer.
Fitzpatrick
Third and short:
I'm fine with the Titans' willingness to throw in an unconventional situation. They converted an early third-and-1 with a 12-yard pass to
Delanie Walker
. But the second time they faced third-and-1, when they were running the ball well,
Ryan Fitzpatrick
threw incomplete for
Kendall Wright
to stall a drive after just three plays. Shouldn't a team trying to create a we-can-run-when-we-want MO at least allow for the possibility of running it by not going with the empty backfield? They went empty on a third-and-2 a bit later, and converted thanks to a roughing call against
Robert Mathis
.
Covering Coby Fleener:
The tight end wound up with eight catches for 107 yards and was a key to the Colts' win. The Titans have been far better against tight ends this season than the past couple years, mostly because safety
George Wilson
's been part of the dime and three-safety nickel packages. Wilson played one snap on defense, and the Titans defended Fleener with base and regular nickel personnel. The three top cornerbacks, free safety
Michael Griffin
and strongside linebacker
Akeem Ayers
were all involved in tackling him.
November, 15, 2013
11/15/13
2:30
AM ET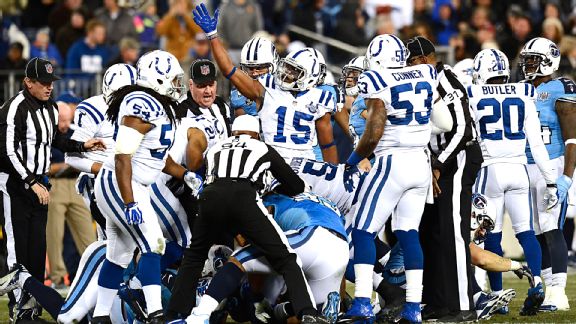 AP Photo/Mark ZaleskiThe game pivoted the Colts' way when they fell on a third-quarter fumble by the Titans' Devon Wylie.
.
NASHVILLE, Tenn. -- Every team in the NFL has regular conversations about withstanding adversity. Good teams fight through down moments and have a clear understanding that those bad stretches are not the same as zeros on the game clock.
Thursday night at LP Field, the
Indianapolis Colts
gave up four first downs and 41 penalty yards during a second-quarter defensive series. They were a crumbling, undisciplined mess.
Yet they ultimately gathered themselves, recovered and beat the
Tennessee Titans
by a
30-27
score.
The Titans, meanwhile, saw their new return man run a kickoff into the back of one of his teammates and fumble. And after
Devon Wylie
bumped into
Craig Stevens
and gave away the turnover early in the third quarter, the hosts fell apart and never regained their balance.
That's pretty much the story of the Titans, who have lost five of their past six games. They don't really know how to recover from mistakes, and they are party to the other team doing it pretty regularly.
"We see what we're doing," strong safety
Bernard Pollard
said. "These teams are not better than us. They might handle certain things better than us, but they are not better than us."
With apologies to Pollard, the fact that opponents handle certain things better than the Titans is precisely what makes those opponents better.
This is a downtrodden bunch that once had a 3-1 record to validate the in-house expectations built with an offseason of free-agent activity, coaching-staff alterations and promises from coach Mike Munchak that they wouldn't disappoint.
Now, at 4-6, they are three games and a tiebreaker out of the lead in the AFC South with six games to play. They remain alive for the sixth seed in the AFC playoffs only because there are so many other bad teams bunched together. But some of them can start pulling away Sunday.
"We've still got six games to pull something together and do something," cornerback
Alterraun Verner
said. "A lot of it's probably out of our hands now. I don't know what's going to happen this weekend or whatnot."
The Titans were practically apathetic at the start of last weekend's loss to the previously winless Jaguars. Thursday night they started off far better, unveiling a hurry-up, no-huddle offense that played to the strengths of
Ryan Fitzpatrick
, their quarterback the rest of the way after
Jake Locker
's season-ending foot injury.
They built leads of 14-0 and 17-3 in the first half, but then they watched the Colts march 74 yards in 11 plays to open the second half with a touchdown. Wylie's gaffe followed, and it took only two plays for Indianapolis to get to the end zone again and take its first lead, 20-17. The Titans didn't roll over, but they never got the lead back.
Maybe the Titans could have won if they had held the Colts to a field goal on big fourth-quarter drive. Instead, linebacker
Akeem Ayers
hit
Andrew Luck
late after a handoff -- not even on a pass play -- for an unnecessary-roughness penalty that positioned Indianapolis for a touchdown that built the late lead to 30-20.
[+] Enlarge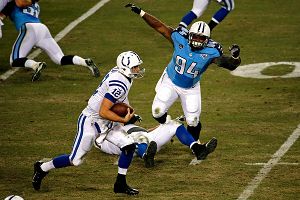 AP Photo/Mark ZaleskiTwo plays after the Titans fumbled away a kickoff, Andrew Luck's TD run put the Colts ahead for good.
All of which set up the same postgame questions: What's wrong? Why is this happening? Why can't you fix it?
"We are who we are," defensive end
Derrick Morgan
said. "There are no excuses; there's no explanation. We can sit here and talk for an hour, but we are what we put on that field. ... You can only talk so much. We've been talking the last several weeks, and we haven't been getting the results that we want. We didn't go do it.
"We keep having the same conversation. We just went downhill from a good start. We've got all the talent in the world, but it's not showing up on game day. ... Obviously we don't [know how to win]. We've been losing close games, games that we think we should have won. We're not finishing."
The Titans don't do much dictating; instead, they're always trying to respond.
And then they wind up in position to look at something like the Colts' 32 carries for 137 yards and hear Munchak say, "They ran the ball much better than they should have been able to."
The Colts are an incredibly annoying and frustrating team for the Titans. When the AFC South was formed in 2002,
Peyton Manning
and Indy were kings of the division forever. When he got hurt and then was released, the division door opened, but it was Houston that walked through. Now Luck is in place and seems poised to begin a reign similar to Manning's.
The Colts and their quarterback seem to have DNA that means they can withstand tough stuff and find ways to win.
The Titans, to put it simply, don't.
November, 14, 2013
11/14/13
11:30
PM ET
NASHVILLE, Tenn. -- Reaction from the
Tennessee Titans
' 30-27
loss
to the
Indianapolis Colts
at LP Field:
What it means:
The Titans fell to 4-6 and have now lost to all three teams in the AFC South. The Colts boosted their record to 7-3 and 3-0 in the AFC South, where they have a three-game lead plus the head-to-head tiebreaker over Tennessee. The teams play in Indianapolis on Dec. 1.

Stock watch:
Devon Wylie
is the third return man the Titans have used this season. They cut
Darius Reynaud
after seven mistake-filled games and saw
Damian Williams
get hurt in his second game in the role. Wylie cost them big-time in his first game as the return man, running a kick return into teammate
Craig Stevens
and losing a fumble early in the third quarter that set the Colts up for a go-ahead touchdown. Goat with a capital G.
Revamped offense:
The Titans surprised the Colts early with a hurry-up, spread-out offense and they moved the ball well early while building 14-0 and 17-3 leads. But gradually things slowed down and the Colts gained a sense of what the Titans were doing and did a better job of slowing it. It wasn't good enough this night, and what happens from here may not matter in terms of earning a playoff bid. If the Titans go with this style of offense the rest of the way with
Ryan Fitzpatrick
at quarterback, it'd probably be smart.
What I don't understand:
The determination to spin the onside kick without a tee. It had no chance last week against the Jaguars. It had no chance at the end of this game either.
What's next:
The Titans have a nice break before a Nov. 24 game at Oakland.
November, 13, 2013
11/13/13
8:45
AM ET
Reading the coverage of the Tennessee Titans…

While we don't know the degree of Jake Locker's Lisfranc injury, it could require months without physical activity after his expected surgery. John Glennon of The Tennessean
details the injury
and looks at others who've dealt with it, including Houston quarterback Matt Schaub and Jacksonville running back Maurice Jones-Drew. (Apologies to Glennon for misidentifying the author earlier.)
The Titans' new kick and punt returner is Devon Wylie
aka Wiggles
, says Jim Wyatt.
To which I say:
I hope he's good enough that people stop tweeting crazy suggestions about who should be returning. Their suggestions have included the team's best players or anyone who's fast.
The Titans have
another new starting center
, but Ryan Fitzpatrick has worked quite a bit with Chris Spencer, says Davie Boclair of the Nashville Post.
Offensive coordinator Dowell Loggains
remains committed
to Jake Locker, says Boclair. "He's a guy I believe in," Loggains said. "I do think Jake Locker's a good football player and I hope that he's at Titan for a long time and I hope to have the opportunity to coach him for a long time."
I visited with the Dan Dakich Show on 1070 The Fan in Indianapolis to talk Titans. (
Audio
.)
November, 6, 2013
11/06/13
10:41
AM ET
Reading the coverage of the Tennessee Titans ...

Four things the Titans can do to enhance
their playoff push
, from John Glennon of The Tennessean.
To which I say:
There was a time that we thought solid run defense was something they could count on.
The short handshake between Mike Munchak and Jeff Fisher
wasn't a big deal
and too much has been made of it, says David Climer of The Tennessean.
Wide receiver Devon Wylie is a new member of
the practice squad
and linebacker Brandon Copeland is gone, says Glennon.
Why
the 28-yard screen pass
to Shonn Greene worked in St. Louis. Coordinator Dowell Loggains talks Craig Peters of the team website through the play.