Tennessee Titans:

Eddie George
February, 6, 2014
Feb 6
11:11
AM ET
NASHVILLE, Tenn. -–
Chris Johnson
's future with the Titans is question No. 1 as the new league year approaches.
Indications are the
Tennessee Titans
will part with the back, who has been productive and durable but has not produced the effort or yards commensurate with the giant salaries he's been collecting. He is due an $8 million base salary in 2014.
When he was the feature back of the Oilers and Titans, Eddie George wasn't a breakaway guy, but the odds of him earning a tough yard were good, and his desire was unquestionable.
[+] Enlarge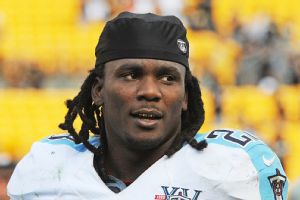 George Gojkovich/Getty ImagesFormer Tennessee Titans running back Eddie George on Chris Johnson: "I think Tennessee is better with CJ. I think CJ is better with Tennessee."
I spoke to George this week about
his own story
.
We also had a chance to chat about Johnson.
"I had a chance to talk to CJ right before Christmas, and he was at the same point that I was at in my career in terms of the dollar amount and where he is. Personally, I think he's still an effective running back, I think he's one of the best backs in this league, maybe not the best. But certainly if you give him the right opportunities, he can do great things. Does he deserve $8 million? I can't say. I'm always going to tell a player, 'Go get your money. Do what you have to do.'
"But from an organizational standpoint I can see where they have to go, because this league is no longer about a running back. It's a quarterback-centric league. The teams that are winning, they have an effective quarterback they can build around, and a running game that's sufficient enough. I look at CJ, the games that he did have 100 yards, how many wins can you account for with those? (Johnson had two, the Titans won both.) Is he truly impacting these games? From an organizational standpoint, is it worth $8 million a year? Probably not.
"But is he still able to play this game at a high level? I believe so. So maybe there's a middle ground where they can meet on both sides. I think Tennessee is better with CJ. I think CJ is better with Tennessee. That's just my personal opinion, and CJ has to make that decision from a business perspective he feels comfortable with."
Johnson is on the record saying he won't accept a pay cut.
George was a super-accountable player. Johnson has spoken far more in recent years about blocking problems and about the way coaches have used him than he has about his own deficiencies or shortcomings. In fact, I'm not certain beyond talking about a fumble that he has ever said "My bad."
"I was one to look at myself and say 'what can I do better, can I be a better teammate, can I be a better leader, can I be a better running back, what do I have to work on?'" George said. "But I do understand his frustrations. There were times he was taken out of games when he would be in it -- in the goal-line situations. Those are the type of things that happened with me toward the end of my career. And I know I am not crazy, but it is what it is. That's a part of the deal.
"I think he needs to be held more accountable, but I can understand his frustrations, because he wasn't able to do the things he wanted to do because of the lack of opportunities he was accustomed to getting. He's never missed a game, which is remarkable for a guy his size."
February, 5, 2014
Feb 5
12:00
PM ET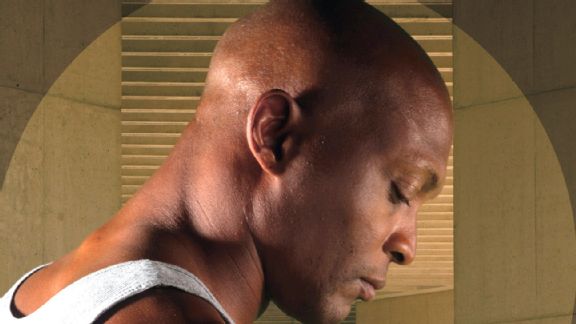 Courtesy Jeff FrazierEddie George just finished a run as Othello in Nashville theater, part of a complicated post-football life for the former Heisman Trophy winner.
NASHVILLE, Tenn. --
Eddie George
is an actor, an analyst, a landscape architect and still, very much, a recovering football player.
Fresh off a month performing as Othello in the Nashville Shakespeare Festival at Belmont University's Trout Theater, he'll be featured in a piece on "60 Minute Sports" at 10 ET Wednesday night on Showtime.
The striking revelation here is that George had a lengthy struggle adapting to life after football, and it's going to lead him to an Ohio State classroom where he will try to give students interested in athletics a blueprint for what can happen after the games end.
I talked with him about it at length this week.
"My life was very sporadic, very unfocused, very undisciplined, and that was very unlike me, because I never prepared that way on a football field," he said. "There was a point in time where I would wake up and just say, 'OK, what should I do today?' And that's OK. But for a long time having this unfocused thought leads to unfocused behaviors. So it's a story of maturity, or growth, of evolution and redefining myself."
Such a post-career struggle is, unfortunately, standard fare for a high population of players coming to terms with the end of football. But as the Tennessee Oilers/Titans feature back from 1996-03 and in a final year with the
Dallas Cowboys
in 2004, I don't believe you could have found a player in the league you would have judged to have been more prepared for his second act.
He already had opened the EDGE Group, a landscape architecture firm that picked up on his major from Ohio State. Always thoughtful and measured, he was poised enough to work in TV talking football. Most significantly, he appeared to always have a handle on things, and a perspective a lot of his peers lacked.
But he was not immune from the transitional struggle that haunts so many players when football comes to a close. He held out hope for a call that never came, thinking he would be able to end his career on his terms, a scenario that doesn't play out for many players, no matter how high-quality a professional they are.
He took real estate classes, then got an MBA from Northwestern. It was all unfulfilling.
"It was just a very tough time, and I fell into a bit of a depression because of it," he said. "I was a little bitter about how things ended, I didn't quite know what I was passionate about. It wasn't about having a job or talking about the game of football, but finding something I was passionate about, that I loved doing like I loved playing the game of football. Something that could bring that same job, fulfill that void ..."
For about eight years, he struggled with what would be next. And a Heisman Trophy winner, a first-round draft pick, a player who was a foundational piece for his franchise, turned self-centered while he searched.
[+] Enlarge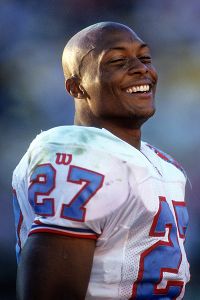 AP Photo/Greg TrottEddie George rushed for 10,441 yards and scored 78 touchdowns in nine NFL seasons.
"Often times I would neglect my priorities, in terms of being a father and a husband, and really be selfish," he said. "By trying to find things that made me feel good, going out still, traveling around and going around courting women and so forth. Doing things that were a downward spiral for me that I thought were going to make me feel better about myself and where I was ..."
"I am no saint. I'm not sitting here saying I am. My wife and I have gone through it, and I think we're in a better place right now."
Ultimately he recognized what he was doing, spent time soul-searching, and dug out with help from counseling, energy healing and church.
There was no "ah-ha moment," he said. But about 18 months ago he started waking up in the morning feeling good about what he was doing, and that felt new and exciting again.
He took up football and strived for excellence because he wanted to transform the family name, he said. His dad didn't have a chance to play, he got caught up in drugs and trouble. The son was teased about it.
"We share the same name, and what I wanted to do was change that name from a name that was associated with drugs, bad behavior and failure, to one that was of greatness," he said. "After rounds and rounds of really delving deep into my psyche, that's what was at the core of it. I've accomplished that through having my father see me accomplish great things."
The second act hasn't come with the same kind of clear goals football provided.
So a renaissance man bounces from Nashville, to Los Angeles to Columbus, Ohio, where he is part of the EDGE group, where he is acting, where he will be a judge on NBC's upcoming "American Dream Builder" reality competition, where he's a college football analyst on Fox Sports 1, and where he's working on a curriculum for that class at Ohio State.
I imagine him propping his Heisman Trophy and AFC Championship ring on a desk in front of the room on the first day, telling a class he was on top of the world when he earned those things and still fell hard when the games were over.
Maybe that's a little overdramatic. He's the actor, not I.
Sympathetic to others who might not have achieved all George did in college and the NFL and go through withdrawal in a different way, he reached an agreement with his alma mater to craft a curriculum for a class he hopes will be available next semester at Ohio State.
It will cover life, skills, finances, business development, contract law and more. He will teach parts of it in conjunction with the Fisher School of Business in a 12-week case-study method class.
"It's not going to prevent them from making their mistakes, because they are going to make them," he said. "But at least you have a blueprint of how you can get out of it, where you can find the help."
"It's just a job, it's not a life purpose. So really, my whole course is designed as personal development. It's nothing where you've ever reached this landscape where you've made it. It's a constant daily grind. You're going to have successes throughout. But it's nothing where you can take your foot off the gas pedal and just cruise for the rest of your life. It is constant work. It never ends."
January, 21, 2014
Jan 21
10:36
AM ET
Reading the coverage of the Tennessee Titans…

The Titans
officially hired
Ray Horton as defensive coordinator and added Sigismondo "Louie" Cioffi as secondary coach, says John Glennon of The Tennessean.
Eddie George will show off his knowledge of
home building and design
in a new reality show, says Beth Harris of the Associated Press.
Horton and Cioffi worked for Whisenhunt
in Arizona
, says David Boclair of the Nashville Post.
A look at different
defensive fronts
and what Ray Horton might do from Bill Ott of Music City Miracles.
To which I say:
Ott mentions both elements in here. The two most important things regarding what Horton will do: He won't run a straight, 2-gap 3-4 and he will try to maximize the guys he has to work with.
December, 31, 2013
12/31/13
11:29
AM ET
NASHVILLE, Tenn. -- Prevailing wisdom says investing big dollars or a high pick in a running back is folly.
I tend to latch on to that, and that's part of the strong case against the
Tennessee Titans
' keeping
Chris Johnson
at an $8 million salary in 2014.
Shonn Greene
hardly impressed in his first year, but I've been one of many who has said that if you paired him with a mid-round draft pick, the team should be just fine at the position.
But Johnson hasn't missed a game and has rarely missed a practice in his six seasons in Tennessee. That durability is a very valuable trait. And Johnson's team has a poor record drafting running backs.
Just two of those guys other than Johnson produced in a significant way:
LenDale White
(who always had fitness issues) and Chris Brown (who always had health issues).
The others were all guys who didn't pan out into a viable option for a role on offense. The Titans will need to do far, far better than Chris Henry or
Jamie Harper
if they are drafting a guy who's expected to work in tandem with Greene in a post-CJ backfield. (Though Henry, an absolute bust, averaged 3.8 yards per carry on 32 handoffs that went his way. Johnson averaged 3.9 this season.)
Another significant point to consider in this conversation: The teams in the playoff field are not centered on low-round backs or undrafted free agents in their backfield.
Of the 12 post-season entries, half have at least one first round running back.
Ten of the dozen teams have a first- or second-round back.
And all the playoff teams have at least a third rounder in the backfield.
Indianapolis and Carolina really emphasize the position, with two first-round running backs. Kansas City and San Francisco have spent the least draft capital on backs. The Chiefs have two third-round backs, and the 49ers have a third-rounder and a fourth-rounder.
Yes, there are a lot of good backs in the NFL without tremendous pedigrees. For this year, teams with those guys are finished playing.
September, 12, 2013
9/12/13
9:38
AM ET
Reading the coverage of the Tennessee Titans…

Defensive tackle Jurrell Casey and linebacker Zach Brown were playmakers in the opener and have the potential to be
standout players
for a defense that has lacked them, says John Glennon of The Tennessean.
Guard Chance Warmack
made some mistakes
and saw some new things in his regular-season debut, says Jim Wyatt of The Tennessean.
Bud Adams, Eddie George and Steve McNair are on the list of 126 modern-era
nominees
for the Pro Football Hall of Fame.
To which I say:
It's a very thorough initial list. I don't regard any of the three as Hall of Famers.
For Titans fullback Collin Mooney, Sept. 11 was
a big factor
in deciding to go to West Point, says David Boclair of the Nashville Post.
With Jackie Battle the Titans have their best three-man
running back depth
since 2007, says Boclair.
Warmack is preparing for
his first chance
against reigning defensive player of the year J.J. Watt, says Teresa Walker of the AP.
To which I say:
It will be very interesting to see how he does, but let's remember on base downs it will be more about right tackle David Stewart.