Tennessee Titans:

Fernando Velasco
October, 16, 2013
10/16/13
2:16
PM ET
NASHVILLE, Tenn. -- My 20-20 hindsight is the only good vision I have.
So it's time for a big round of second-guessing. Six games into the 2013 season, the Titans are a lot better team than they were a year ago, but they don't have a ton to show for it at 3-3.
Five things worth some consideration after the fact, if not a full second-guess:
[+] Enlarge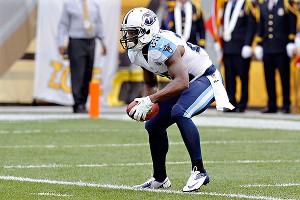 AP Photo/Keith SrakocicTitans return man Darius Reynaud isn't impressing anyone on special teams.
Special teams:
Mike Munchak fired long-time special teams coach Alan Lowry, moving up assistant Nate Kaczor. The result through six games has been largely bad. The team got a great, long touchdown return from special teams in Seattle. But the group makes the same mistakes on a regular basis, highlighted by return man Darius Reynaud's willingness to let punts bounce and his determination to bring kickoffs out from deep in the end zone. (I won't even mention he took the first kickoff of the season back into the end zone for a safety. Actually, I just did.) Munchak thought the team was starting to tune out Lowry. But he was pretty good at having his group ready for anything. It's a far bigger adventure now.
Which begs the question:
Was firing Lowry a mistake?
Marc Mariani:
While we're on the subject of Reynaud... At cut down day, the Titans put Mariani on injured-reserve with a shoulder injury that would have only cost him a few more weeks. Their roster wasn't so drenched with talent that they couldn't have found space for him until he was healthy. Defensive end Keyunta Dawson stuck, but was cut weeks later when Jake Locker got hurt and they needed space to add Rusty Smith. It turns out Mariani is a way better decision-maker than Reynaud.
Which begs the question:
Do they privately regret that they didn't create a way to have access to Mariani this year?
Sorting out center:
Rob Turner won the center completion in the preseason, that was pretty clear. But did the Titans project what he could do correctly? They don't want to single him out and he's hardly the only guy having trouble. But they are invested in the other four in a big way and they all have higher ceilings. Turner brings a nastiness, but the attitude doesn't matter if people are regularly getting past him.
Which begs the questions:
Should they have stuck with Fernando Velasco, who's now with the Steelers? Should they be turning to rookie Brian Schwenke now?
The tackles:
All the focus has been on the interior offensive line. But the issues aren't only with the middle three. Right guard David Stewart has a calf/leg issue having broken that leg less than a year ago. On a good week he practices twice, on a bad week just once. And Michael Roos isn't run-blocking as well as he has in the past, particularly near the goal line.
Which begs the question:
Did they err in taking it for granted that they were fine on the edges?
Paying Chris Johnson:
The extension he got in 2011 included a provision that if he was on the roster five days after the Super Bowl in 2013, $9 million of his $10 million salary for this year would be guaranteed. I endorsed the $55 million extension when he got it. The Titans had long lacked an explosive playmaker, and at that point he definitely was one. But since he got it, he's certainly not proved worth it. Only a knee injury to Shonn Greene has prevented a role reduction so far this season.
They could have found a primary back who could do better than CJ's 3.1-yard average for far less money.
Which begs the question:
Is this going to be his final season with the Titans? He's due $23 million more over the next three years. Unless his production spikes, it will be hard to justify it if they measure cost per yard.
September, 23, 2013
9/23/13
12:30
PM ET
A review of four hot issues from the
Tennessee Titans
' 20-17 win over the
San Diego Chargers
:
[+] Enlarge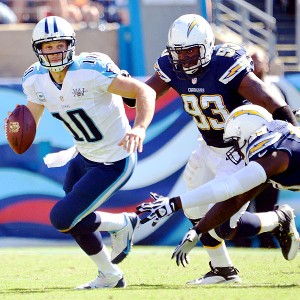 Don McPeak/USA TODAY SportsTennessee's offensive line needs to buy Jake Locker more time in the pocket.
Protection issues:
The Titans have not protected
Jake Locker
as well as most of us expected considering the interior line rebuild. Left guard
Andy Levitre
and right guard
Chance Warmack
aren't going anywhere. Center Rob Turner beat out
Fernando Velasco
in the preseason, while fourth-rounder
Brian Schwenke
fell behind while hurt. Velasco is with the Steelers now.
If Schwenke is up to speed, the Titans ought to consider making the change in the middle. It will not be easy, but Turner has not been good enough. Locker reacted to pressure pretty well against San Diego. But he's been sacked seven times so far and under pressure too often.
Slow starts:
The Titans have not been great out of the gate this season. In Pittsburgh they gave up a safety and a long drive at the start, but took the ball away with a goal-line fumble. The offense punted away its first possession. In Houston they traded first-drive touchdowns. Against San Diego, the Titans went three-and-out, then gave up a touchdown drive. Combined first possession scoring: Opponents 16, Titans 7. That's not resounding, but Tennessee can start better.
Locker hurrying up:
Two weeks in a row we've seen a very well-executed drive by Locker and the offense when they picked up the pace. In Houston they went 99 yards in nine plays for a fourth-quarter touchdown. Against San Diego they went 94 yards in 10 plays for a game-winning touchdown.
The Titans aren't going to be a no-huddle, hurry-up offense all the time. But they ought to incorporate it more often based on how well Locker and the offense have been doing with it. It can still be a changeup if they do it a bit more often.
Get smarter:
The penalty issue Sunday -- 11 for 116 yards and four first downs -- was something the Titans had to fight hard to survive. The Titans talk about being smart, but that is different than actually being smart.
Offensive coordinator Dowell Loggains and Locker raved about the heady play
Delanie Walker
made on a drop during the game-winning drive. The tight end realized his mistake, kept playing and broke up an interception by
Marcus Gilchrist
.
"Smart players do smart things, dumb players do dumb things," Loggains said.
Right now
Kenny Britt
fits into the second category. Others have flashed in to join him.
The Titans have to show they have more smart players and fewer dumb players.
September, 10, 2013
9/10/13
8:29
AM ET
Reading the coverage of the Tennessee Titans ...

Jake Locker didn't put up big numbers, but he made plays at significant moments and
showed poise
in Pittsburgh, says Jim Wyatt of The Tennessean.
To which I say:
Locker's confidence is growing. The question is can he produce in a different sort of game where there is far more demanded of the passing element?
Tight end Delanie Walker
showed some rust
in the opener after missing much of the preseason following knee surgery, but the Titans are confident he will get better, says John Glennon of The Tennessean.
Mike Munchak
is happy
for Fernando Velasco, who signed with the Steelers, says Wyatt.
The Titans ran it to win in Pittsburgh, but Munchak is confident they can produce in
a different looking game
too, says Teresa Walker of the AP.
September, 3, 2013
9/03/13
11:13
AM ET
Reading the coverage of the Tennessee Titans ...

Credit Alterraun Verner for
altering his approach
and holding on to his job as a starting cornerback despite a challenge from Tommie Campbell, says Jim Wyatt of The Tennessean.
To which I say:
Verner did everything you'd want a challenged incumbent to do. But the Titans aren't going to be able to play as much man coverage as they've talked about if he's in the base defense.
The Titans made tough decisions as they cut down the roster, and David Climer of The Tennessean appreciated
the lack of sentiment
involved in a crucial year.
Running through the initial 53 with
John Glennon
of The Tennessean and with
David Boclair
of the Nashville Post.
Mike Munchak talked through
the rationale
behind decisions on Marc Mariani and Fernando Velasco, says Glennon.
September, 1, 2013
9/01/13
8:51
AM ET
Reading the coverage of the Tennessee Titans …

Marc Mariani took the Titans' decision to put him on IR pretty well, says Jim Wyatt of The Tennessean. "…[They] felt like this was best and I don't think they are trying to pull any fast ones. I think they are doing
what's best for the team
and for me. So it's tough to argue."
To which I say: I think the Titans actually preferred him to Darius Reynaud as their return man, but even a couple weeks of uncertainty made it too hard for them to keep him. I think they could have managed.
Cutting
Fernando Velasco saved the Titans money and gave the starting job to Rob Turner, a nastier player, says Wyatt.
Quick breakdowns on
four cut Titans
: Rusty Smith, Jalen Parmele, Collin Mooney and Dontel Watkins, from Pro Football Focus.
The defensive tackle depth is excellent. But
drops and missed tackles
are two things the Titans need to improve on from last year, says Michael Renner of Pro Football Focus.
August, 31, 2013
8/31/13
8:23
PM ET
NASHVILLE, Tenn. -- The first version of the
Tennessee Titans
' 53-man roster is hardly filled with surprises.
There was some mystery about what sort of numbers they'd keep at some position groups.
But there were only three shocking moves: center-guard
Fernando Velasco
getting cut, linebacker
Tim Shaw
getting cut and returner
Marc Mariani
getting put on season-ending IR.
When I sat down Friday, with the roster already at 75, to write a post
predicting the roster
, I cut Shaw but kept Velasco and Mariani. Mariani, who's also a receiver, losing the return job to running back
Darius Reynaud
has a bearing on the number of receivers and running backs the team wound up with. At every other position, we shaped the roster correctly in terms of how many.
Velasco wound up out, with
Chris Spencer
sticking as the second interior offensive line backup. Spencer got a $65,000 signing bonus and is scheduled for an $840,000 base salary this season. Velasco didn't take long to sign his restricted free-agent tender of $2.023 million, which was not guaranteed before he played in a game, as I initially thought it was.
Fifty-one of 53 was better than I figured I could do. But if you follow a team closely, it provides a largely accurate depth chart and it doesn't pull a bunch of major surprises, you should be able to provide a largely accurate prediction.
Feel free to remember I did when I butcher it next year.
August, 31, 2013
8/31/13
6:16
PM ET

Most significant move:
Marc Mariani
came back from a vicious broken leg suffered in the preseason in 2012. A shoulder injury suffered in the preseason opener cost him the rest of camp and the preseason, and the Titans put him in injured-reserve Saturday, ending his season. He might have been ready as soon as Week 3, but the Titans clearly didn't like the uncertainty. They could have waived him injured, exposing him to a claim. In that scenario,
St. Louis Rams
coach Jeff Fisher, who was instrumental in the Titans drafting the receiver/returner out of Montana in 2010, might have wanted him. But the Rams or anyone else would have had to have added him without getting to examine the injury, and Mariani's not under contract beyond this year so a new team could have been at risk for picking up a year's salary and getting nothing out of him. If he wasn't claimed, he would have reverted to Tennessee's IR. By putting Mariani directly on IR, he is assured of his $575,000 base salary this season but won't play anywhere. The move means
Darius Reynaud
is the returner. He showed himself to be only the team's fifth-best running back during camp, but sticks to handle punts and kickoffs.
Wildcard:
If
Rusty Smith
clears waivers, the Titans will want the fourth-year quarterback back on their practice squad. He's not been on the active roster for nine games in any of his first three seasons, so he retains his practice squad eligibility. If Smith is claimed, the Titans will need to find a young quarterback for the spot, who they can work to develop as insurance and who will be able to offer an option as the No. 2 if
Jake Locker
or
Ryan Fitzpatrick
suffers an injury that results in any missed time. One team that won't claim Smith -- his hometown
Jacksonville Jaguars
.
What's next:
I could see the Titans shopping for a veteran safety as they sift through cuts. Seventh-round pick
Daimion Stafford
is on the roster now, but the Titans are heavy with strong safeties and light at free safety. They'd probably like better balance and Stafford could ultimately land on the practice squad. With 10 defensive linemen plus strongside linebacker
Akeem Ayers
in line to play a good share of end, the last pure end --
Keyunta Dawson
-- is hardly a lock at this point. Only one injured Titan, rookie linebacker
Zaviar Gooden
, is likely to miss the season opener at Pittsburgh.
Tennessee Titans cuts:
S
Al Afalava
, T
Daniel Baldridge
, TE
Brandon Barden
(injured), DT
Stefan Charles
, DT
Zach Clayton
, TE
Jack Doyle
, LB
Gary Guyton
, DT
DaJohn Harris
, S
Corey Lynch
, FB
Collin Mooney
, DE
Nigel Nicholas
, RB
Jalen Parmele
, WR
Rashad Ross
, LB
Tim Shaw
, QB
Rusty Smith
, LB-DE
Scott Solomon
, G
Kasey Studdard
, WR
Dontel Watkins
, LB
Jonathan Willard
, CB
Khalid Wooten
, C-G
Fernando Velasco
Placed on Injured-reserve:
WR/returner Marc Mariani.
August, 30, 2013
8/30/13
3:14
PM ET
NASHVILLE, Tenn. -- Rather than tell you this is what's going to happen, I'll tell you this is what would happen if I had influence in the
Tennessee Titans
meeting room when final cuts will be decided.

Some cuts are already trickling out from Jim Wyatt of The Tennessean, so check
his Twitter feed
.
Quarterbacks:
Jake Locker
,
Ryan Fitzpatrick
There just is no room for
Rusty Smith
and there
isn't a need
for a third quarterback unless things go incredibly wrong. The difference between a random third guy and Smith isn't giant.
Running backs:
Chris Johnson
,
Shonn Greene
,
Jackie Battle
,
Quinn Johnson
(FB)
Battle has to contribute on special teams, but he was better than
Jalen Parmele
through the preseason. Wyatt says Parmele is already gone. Johnson's been hurt and could lose out to
Collin Mooney
.
Wide receivers:
Kenny Britt
,
Nate Washington
,
Kendall Wright
,
Damian Williams
,
Justin Hunter
,
Michael Preston
,
Marc Mariani
(return specialist)
Preston is one of the best 53 players on the team. Even though he won't be active on Sundays if everyone's healthy, you keep extra quality depth at one spot if it's better than weaker depth at another spot. Once he's healthy, Mariani isn't as explosive as a punt returner as
Darius Reynaud
, but will more regularly get 10 yards.
Tight ends:
Delanie Walker
,
Craig Stevens
,
Taylor Thompson
No need for a fourth on the 53. Sign
Jack Doyle
to the practice squad
Offensive linemen:
Tackles
Michael Roos
,
David Stewart
,
Mike Otto
,
Byron Stingily
. Interior:
Andy Levitre
,
Chance Warmack
,
Rob Turner
,
Brian Schwenke
,
Fernando Velasco
Velasco is guaranteed $2.02 million under his tender contract out of restricted free agency. I'm not sure he should stick over
Scott Solomon
at linebacker or
Stefan Charles
at defensive tackle. But the big push for revamping the line and the desire for depth after last year's slew of injuries makes me feel like they will stay loaded.
Defensive ends:
Derrick Morgan
,
Ropati Pitoitua
,
Kamerion Wimbley
,
Lavar Edwards
,
Keyunta Dawson
.
Dawson is a good guy to have. I can see him staying and the Titans going five ends as opposed to six tackles. But linebacker
Akeem Ayers
is a nickel end so he factors in here as well.
Defensive tackles:
Jurrell Casey
,
Sammie Hill
,
Mike Martin
,
Antonio Johnson
,
Karl Klug
(swing)
I've got Stefan Charles over
DaJohn Harris
but neither making it. If one of them sticks, it's the last defensive line spot probably over Dawson. I see Charles on the practice squad.
Linebackers:
Akeem Ayers,
Moise Fokou
,
Zach Brown
,
Zaviar Gooden
,
Colin McCarthy
,
Patrick Bailey
Scott Solomon is one of my last two cuts. I want to keep seven 'backers. The seventh guy would be a trade-off for Velasco, I think. Solomon is versatile, seems to be catching on to the position change and can still play end if needed. He's not practice squad eligible. I just can't fit him here. I might keep him over Bailey but I don't think they rank him that way.
Safeties:
Michael Griffin
,
Bernard Pollard
,
George Wilson
,
Daimion Stafford
The fourth spot isn't strong and Stafford could probably go to the practice squad. But if they choose a veteran --
Al Afalava
or
Corey Lynch
-- as the fourth I could see them trying to upgrade it with an outsider.
Cornerbacks:
Jason McCourty
,
Alterraun Verner
,
Tommie Campbell
,
Coty Sensabaugh
,
Blidi Wreh-Wilson
I'd expect
Khalid Wooten
on the practice squad.
Kicker:
Rob Bironas
Punter:
Brett Kern
Long-snapper:
Beau Brinkley
August, 24, 2013
8/24/13
10:52
AM ET
NASHVILLE, Tenn. -- Three things I'll be watching closely tonight as the Titans host the
Atlanta Falcons
in a game Tennessee treats as its dress rehearsal for the regular season.

Verner and Turner:
The competitions at cornerback and center aren't over. But unless the wheels come off for
Alterraun Verner
and/or
Rob Turner
they should hold on to their lead and be the guys to start on opening day in Pittsburgh on Sept. 18. Verner doesn't have the physical gifts of
Tommie Campbell
, but he's simply a better, more instinctive and smarter football player. Turner will add more of a nasty edge than
Fernando Velasco
.
Win more head to head on defense:
Through two games the Titans' front-line defenders have repeatedly failed to get off blocks and attack the way this team intends to. Senior assistant/defense Gregg Williams said this week that a lot of those guys who stayed blocked are guys who don't wind up making teams. But the guys who are certain to be around need to change the tone, be the aggressors and make more plays. There is no real scheming going on, so right now, it's far more about what you can do against the guy trying to stop you.
Sticky fingers:
The Titans' starting receivers,
Kenny Britt
and
Nate Washington
, had costly drops in last week's loss in Cincinnati. So did undrafted rookie tight end
Jack Doyle
. They all messed up the rhythm, flow and pace of the offense. If quarterback
Jake Locker
plays as well as he did a week ago and his targets can hold on to what he throws to them, we should see some additional progress for the passing game.
August, 23, 2013
8/23/13
12:49
PM ET
NASHVILLE, Tenn. -- Pieces of the offensive line are jelling right on the schedule the
Tennessee Titans
hoped for.

Coach Mike Munchak likes the way relationships have formed between left tackle
Michael Roos
and left guard
Andy Levitre
and between right tackle
David Stewart
and right guard
Chance Warmack
.
Those guards and the center aren't at the same place, because they haven't been working with the same center during a battle between incumbent
Fernando Velasco
and Rob Turner. Turner is leading, but it's still not settled.
I talked this week with Levitre and Warmack about those relationships. Levitre said Roos is a great guy, easy to talk to and super-helpful with details of the system. Warmack spoke in much the same terms about Stewart, who's lovingly known as "Big Country" in the Titans' locker room.
Then Warmack, who played at Alabama, revealed a shocking detail about Stewart.
"He played at Mississippi State, so I mess with him sometime," Warmack said. "I sing the Alabama song. We had a time when I sang the Alabama song, he got mad at me because he started singing it in the next period. It just got stuck in his head. He got mad at me for that."
Stewart is the quietest guy on the team, but I managed to get him on camera with his reply to the accusation.
And here is where I send you to my Instagram account --
@pkuharsky
-- to see Stewart's response.