Tennessee Titans:

Geno SMith
September, 29, 2013
9/29/13
10:22
PM ET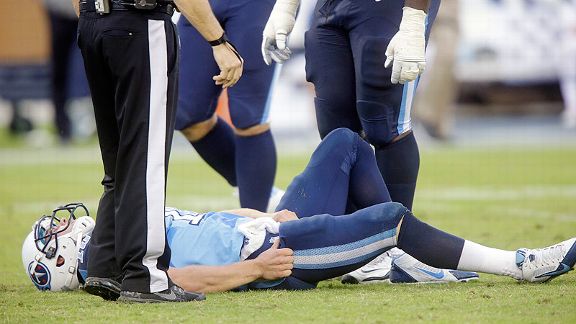 AP Photo/Wade PayneTitans QB Jake Locker had shown steady improvement before suffering a hip injury against the Jets.
NASHVILLE, Tenn. --
Jake Locker
was on his back and his hand was on his right hip. A shot from Jets defensive tackle
Muhammad Wilkerson
put the
Tennessee Titans
' young quarterback in that spot. Something awkward happened as Locker went to the ground, something bad enough that he would be quickly carted off the field.
But as receiver
Kendall Wright
and offensive coordinator Dowell Loggains arrived to check in, a grimacing Locker asked them: "Did Nate catch the pass?"
No,
Nate Washington
did not catch the pass.
It was the least of the Titans' worries on a day when they moved to 3-1 with a
38-13
stomping of the Jets. Locker threw three touchdown passes in two quarters and continues an impressive improvement curve.
The Titans still have not turned the ball over this season.
But Sunday night they didn't know Locker's status. X-rays at the stadium were negative. After those, he was taken by ambulance to St. Thomas Hospital for an MRI and further testing. The Titans had no idea what was wrong and when, or if, they will have him back.
"No turnovers for the offense is a direct correlation to his play," Loggains said. "I was really excited where he was going. Hopefully this thing isn't long for us. In the game, it deflated us, it took the energy out of us, it took the energy out of me. I need to do a better job, but when you lose your guy, lose the leader of your offense, it's tough."
The game was in hand when Locker went out, with the Titans ahead 24-6.
The Titans were flat for a good stretch after the injury, but still managed to build the blowout.
Defensive lineman
Karl Klug
forced a
Geno Smith
fumble -- as the rookie quarterback inexplicably tried to pass the ball from one hand to another behind his back -- and recovered it in the end zone for additional cushion. Washington caught a deep ball from No. 2 quarterback
Ryan Fitzpatrick
over cornerback
Antonio Cromartie
, bounced off back judge Billy Smith and went 77 yards for his second touchdown.
The Titans are confident they can be effective if they need to rely on Fitzpatrick.
It will not be the same, however, if he's the quarterback. We've seen his ceiling, and he stopped reaching it often enough that the Bills gave up on him not long after giving him a giant contract. Locker's ascent is ongoing.
"Jake's grown a lot," said Washington, who caught two touchdown passes. "He's able to do a lot of things now that he wasn't able to do in the past. He understands the offense, he understands the game, it's kind of slowed down for him."
The postgame locker room featured a mixture of emotions. The Titans were happy with a win that boosted their record to 3-1 and established them as one of the league's surprises through the first quarter of the season. But they were clearly concerned, too, about the way Locker left the field and the potential to be without him.
"You lose your general, you lose your captain, it's going to hit you a little bit," receiver
Damian Williams
said. "At the same time, we're a team. Not one person does it for us. That one person is a very important piece of this puzzle, but we've got to keep going. We can't let the season stop if one person gets hurt."
Said tight end
Delanie Walker
, "Jake was playing awesome. ... He got the feel, he got that buzz, he was moving. It's just sad for something like that to happen to him while he was having a great game."
When Locker was hurt, center
Rob Turner
hustled over to Fitzpatrick to fire off some snaps to help him get ready.
Turner didn't mean to sound harsh, but hit on the cold realities of the business. If the Titans are without Locker, they won't have time to really mourn it.
"That's what we have to do, that's part of being a team, it's not a one-man show," he said. "Absolutely Jake's improved each and every week. But it's one of those things we have to do, just like we have a 24-hour rule with wins and losses. It's not like we're going to forget about Jake, cause we're not. But we really have to step up and focus, refocus, and whoever is in there executes."
While Locker and the Titans have yet to turn the ball over, the Titans took the ball away from the Jets four times and scored touchdowns off of each. Tennessee hit Smith 11 times with five sacks. Locker had much better protection, taking two sacks and a third hit, the one from Wilkerson that ended his afternoon.
"I knew as soon as he was down [that it was serious]," Loggains said. "This kid is as tough a kid as there is. When he stayed on the ground, I knew he was in a lot of pain. It's an act of God to get him to come off the field"
Loggains left Locker a voice mail as soon as the game was over and talked to Locker's father, Scott, who was at the game and accompanied him to the hospital.
"He said Jake was doing good, waiting to see, at the hospital getting an MRI," Loggains said.
Now things might fall on Fitzpatrick. The Titans parted ways with
Matt Hasselbeck
in March, partly over price, partly over performance, and quickly brought in Fitzpatrick. They considered it an upgraded insurance plan.
When he got in the huddle against the Jets, he brought dry humor to the huddle that helped defuse a tough situation and was important for a team trying to get back to work, Williams said.
Fitzpatrick said given the circumstances his job amounted to, "just go in there and don't screw it up." It's a mindset that obviously changes if Fitzpatrick is the guy next week.
"We signed him for a reason, he's a good player, he's thrown for a lot of yards," Loggains said. "He's been a big part of this offense. We're going to have to tweak some things and tailor some things to his strengths, obviously. ... Once we get the word that Jake's not available this week, we'll start that part of the process."
September, 29, 2013
9/29/13
7:13
PM ET
NASHVILLE -- Rapid Reaction from the
Tennessee Titans
' 38-13
win
against the
New York Jets
at LP Field.

What it means:
The Titans rank as one of the NFL's surprise teams at 3-1 a quarter of the way into the season. But they are likely going to be moving forward without their quarterback, at least for a while.
Jake Locker
left the game with a right hip injury. He needed to be carted off the field and was eventually taken to the hospital, according to Titans Radio.
Ryan Fitzpatrick
replaced him. Locker threw three touchdowns and posted a 130.0 passer rating.
Stock watch, defense:
Cornerback
Alterraun Verner
is on fire. He collected two interceptions in the first half and scooped up a fumble that he would have returned for a touchdown if he had not tripped. The Titans wanted
Tommie Campbell
to win Verner's job in the preseason, but Verner raised his game and Campbell wasn't up for the challenge. Now Verner has four interceptions in four games. (Campbell got charity snaps late in the game.)
Stock watch, offense:
Nate Washington
is now over 5,000 receiving yards in his career. He pulled in four catches for 105 yards and two touchdowns, one from Locker and one from Fitzpatrick. He slowed down and went over
Antonio Cromartie
to collect Fitzpatrick's deep ball, then bounced off back judge Billy Smith and headed for the end zone on a 77-yard score.
Abusing the rookie:
Two
Geno Smith
interceptions and two Smith fumbles led to 28 points by the Titans. Once upon a time, defenses with a heavy Gregg Williams influence had a tendency to give up plays to rookies. Not on this day or with this rookie.
Tough sledding:
The Jets are very hard to run against, and
Chris Johnson
couldn't find any room. He wound up with 15 carries for 21 yards. In the second half, while trying to milk some clock and while they were stalling without Locker, they turned more to
Jackie Battle
, not that he had much more success. He finished with 11 carries for 42 yards.
What's next:
The Titans complete a three-game homestand with a game against another of the NFL's most improved teams -- the
Kansas City Chiefs
. Will Fitzpatrick be starting at quarterback for Tennessee?
September, 27, 2013
9/27/13
12:00
PM ET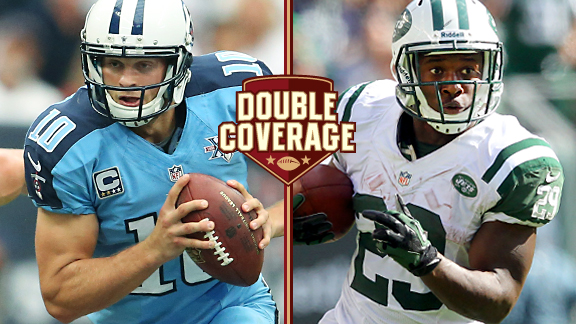 USA TODAY SportsJake Locker, left, and Bilal Powell hope to build on big games when their teams meet Sunday.
Preseason expectations for the
New York Jets
and the
Tennessee Titans
were poor, at best. Rex Ryan and Mike Munchak were at the top of the list of coaches on the hot seat. They had questions at quarterback and critics wondering about the caliber of their defensive playmakers.
Those questions still exist.
But three games into the season, entering a head-to-head matchup in Nashville, each stands at 2-1. They each won last week despite major penalty problems.
The Titans' offseason included more than $100 million spent on a big group of free agents and a revamping of the coaching staff, including the addition of senior assistant/defense Gregg Williams.
The Jets were much about turmoil, particularly with the drafting of quarterback
Geno Smith
and his competition with
Mark Sanchez
. To set up the game, ESPN.com Titans reporter Paul Kuharsky and Jets reporter Rich Cimini got together to break things down:
Paul Kuharsky:
How, Rich, have the Jets pulled off this start after such an ugly offseason?
Rich Cimini:
You're right, Paul, it was an ugly offseason. Ugly preseason, too, with a rigged quarterback competition that ended with Sanchez's shoulder injury. But to its credit, this team has stayed focused and confident. It's too early to say the Jets have arrived, but they're playing good defense. For a change, they actually have a front three/four that can put pressure on the quarterback. In the past, Ryan had to rely on exotic blitzes to generate the heat. Now he has a young, talented defensive line led by
Muhammad Wilkerson
. Seven of their eight sacks last week came on four-man rushes. The offense exploded last week, for one of the most prolific days in team history -- if you can believe it -- but I think a lot of that can be attributed to a lousy Buffalo secondary. Smith has a big arm, but he's prone to two or three big mistakes per game. He already has seven turnovers, compared to none for
Jake Locker
. What can you say about Locker's development?
Kuharsky:
He's really made nice, steady progress. I like my quarterback to do more than not make giant mistakes, and Locker showed last week that he might be capable of more. The Titans love his intangibles. In a lot of ways, they drafted him because he's the anti-
Vince Young
. Locker prepares well, works hard, understands the hard parts of being an NFL quarterback and earns the respect of his teammates and coaches. He's blazing fast and can really throw. He changed protections twice in the game-winning drive against San Diego, which is real progress. Still, it's a run-first team that wants to hand the ball to
Chris Johnson
and, when he's healthy,
Shonn Greene
. (I know Jets fans are sad he's out this week.) The Titans rebuilt their interior line to protect better, but even more so, they can establish and count on the run. How is the Jets' front as a run-stopping group, and how are the Jets running the ball to take some of the burden off the rookie quarterback?
Cimini:
Bilal Powell
is coming off a career day (149 rushing yards), but offensive coordinator Marty Mornhinweg isn't married to the idea of running the ball to take pressure off Smith. He has been pretty aggressive with his play calling, allowing Smith to attack downfield. In fact, he has nine completions on attempts that went 21 yards or longer, tied with
Aaron Rodgers
for the league lead. As for stopping the run, the front seven is doing a nice job. It's a younger, faster front seven than the one you saw last December in Nashville. Linebacker DeMario Davis, nose tackle
Damon Harrison
and rookie defensive tackle
Sheldon Richardson
have injected much-needed speed into the defense. They have held a couple of good backs in check, namely
Doug Martin
and
C.J. Spiller
. I'm really curious to see how they handle Locker and Johnson. Talk to me about the Titans' defense. Sounds like Williams has brought a different dynamic.
Kuharsky:
Yeah, Jerry Gray might still have the defensive coordinator title and might still be calling the game. But the Titans are running stuff he never thought to install or call on his own, and they've got an attitude he wasn't able to instill without Williams. The Titans are blitzing more, they are playing more press coverage, they are hitting harder, they are more assertive and their confidence and swagger is well beyond what we saw last season. Williams is completely in the background, low-keying it. If the defense plays as it has, he could re-emerge as a candidate for coordinator jobs after just one year back from his suspension. Rex seems to have backed off the crazy pronouncements and is more low-key himself. Same guy being a bit more guarded, or is there more change to it than that?
Cimini:
Ryan is in self-preservation mode. He has a new boss, general manager John Idzik, a buttoned-down guy whose objective was to send the circus out of town. He has changed the culture around the organization, and Ryan has bought into that mentality. So yes, the old bravado is gone. Selfishly, as a reporter, I liked the old Rex because he gave us plenty to write about. Another reason for the change in his approach, I think, is he realizes this is a fairly young team (three or four rookies in the starting lineup) and he doesn't want to put extra pressure on them by making outrageous statements. As a result, it's a lot quieter around here. Bummer.
Kuharsky:
It's always quiet down here, Rich. Hopefully, someone will make some sort of noise Sunday. I'm thinking it's unlikely to be a Jets receiver. I know
Stephen Hill
did some good work against the Bills. But the Titans' pass rush and coverage might be fine against Smith and his receivers. They don't rate very well, do they?
Cimini:
Astute observation, Paul. The Jets picked on a couple of backup cornerbacks for the Bills, racking up numbers you'd expect to see from
Peyton Manning
and the Broncos. It won't be that easy against the Titans. Hill is talented, yes, but he's wildly inconsistent. He'll make your heart race with a big play, but he'll also break it with an easy drop.
Santonio Holmes
remains their best receiver. Last week's big game notwithstanding, he's not the Holmes of a few years ago, still not 100 percent after foot surgery. Bottom line: This is still a receiving corps with questions.
.
September, 27, 2013
9/27/13
10:48
AM ET
Reading the coverage of the Tennessee Titans…

Hard-hitting safety Bernard Pollard listens to gospel music before a game, says the Tennessean's Jim Wyatt. Pollard's got swagger and is a quote machine. But it's too simple and just not accurate to assume the guy on the field is the same guy when he's not playing. "A lot of people think I am a thug," he said. "But
I ain't no thug
."
The Titans need to stick with Kenny Britt, says David Climer of The Tennessean. While Britt is a vexing guy, they don't have a lot of other options but to
stay the course
and hope things improve.
The Jets and Geno Smith are
regularly throwing deep
, says John Glennon of The Tennessean.
Three keys to the game from Wyatt. (
Video
.)
Three key matchups for Jets-Titans from Glennon. (
Video
.)
Jason McCourty against Stephen Hill is
one of the key matchups
that Gonzalo Estradé of Pro Football Focus looks at in his game preview.
September, 26, 2013
9/26/13
10:03
AM ET
Reading the coverage of the Tennessee Titans…

Rex Ryan sees the Titans' secondary playing
a lot more man coverage
than they did last December when the Jets lost in Nashville, says John Glennon of The Tennessean. Alterraun Verner and Jason McCourty are playing well.
Kenny Britt has
a fractured rib
and didn't practice Wednesday, says Jim Wyatt of The Tennessean. Still, Britt said he's feeling better and plans on playing through it.
To which I say:
Seem the Titans could easily give him a week off this week and have it be about the injury instead of the other issues that make him worthy of being benched.
Britt said all he needs to do is put his mind to it and
focus
, says Teresa Walker of the Associated Press.
To which I say:
Why didn't he put his mind to it and focus in the first three games?
Against a blitz or with reporters, Jets rookie quarterback Geno Smith
stands in
, unfazed, says Dennis Waszak Jr. of AP.
The Titans are committed to bringing Justin Hunter
along slowly
, says Mike Keith, the team's play-by-play man.
To which I say:
Too often this franchise commits to bringing a guy along slowly. Hunter should get more action than he's been getting. Other teams find ways to use raw, talented guys.