Tennessee Titans:

Houston Oilers
July, 11, 2014
7/11/14
10:00
AM ET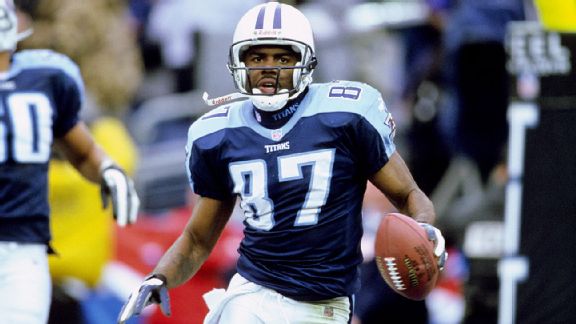 Allen Kee/Getty Images
Score:
Titans 22, Bills 16
Date:
Jan. 8, 2000
Site:
Adelphia Coliseum
ESPN.com readers rated the Music City Miracle the franchise's most memorable play in a landslide vote, and they got it right.

Mike Renfro's non-catch catch in the 1979 AFC Championship Game influenced the creation of the instant replay system and hurt the Oilers badly. Had it gone the other way, maybe the Oilers would have won the game and a Super Bowl. Maybe Bum Phillips would have coached them for more than one more year. Maybe they never would have moved.
Kevin Dyson's fruitless reach for the end zone that came up 1 yard short on the final play of Super Bowl XXXIV is an iconic NFL play, but much more for the Rams and Mike Jones, who made the tackle.
But two "negative" plays never stood a chance against a phenomenal positive play.
The Music City Miracle is a prominent fixture in lists and videos of all-time great finishes in the NFL and in sports.
It was a creative surprise. It pulled a win out of a loss. It sparked a playoff run.
It made or enhanced reputations for coach Jeff Fisher; play architect Alan Lowry; Lorenzo Neal, who fielded Steve Christie's squib kickoff; Frank Wycheck, who threw the lateral; and Kevin Dyson, who fielded the lateral and scored a 75-yard touchdown.
Although it seems clear that the throw didn't go forward, good luck convincing anyone in Buffalo of that.
The lasting controversy over that only helps to make it more memorable.
The most memorable play in the franchise's history.
July, 7, 2014
7/07/14
10:00
AM ET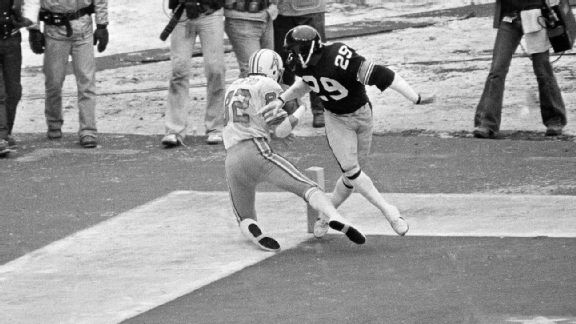 AP Photo
»
VOTE HERE
»
NFC Plays:
East
|
West
|
North
|
South
»
AFC:
East
|
West
|
North
|
South
This is one of three nominations for the most memorable play in team history. In the next two days we'll feature: the Music City Miracle trick kickoff return that won a playoff game against the Bills for the Titans in January 2000; and Kevin Dyson's desperate, unsuccessful reach for the end zone that came up a yard short of forcing overtime as time expired on Super Bowl XXXIV. Please vote for your choice as the Oilers/Titans' most memorable play.
Score:
Steelers 27, Oilers 13
Date:
Jan. 6, 1980
Site:
Three Rivers Stadium
Oh, for replay in the 1979 NFL playoffs.

The first version of replay wasn't instituted by the league until 1986, and it was far too late to help side judge Donald Orr, who ruled that Houston receiver Mike Renfro didn't get both feet down in the end zone for what would have been a game-tying third-quarter touchdown in Pittsburgh.
The Oilers went on to lose the AFC title game 27-13, failing to get to the Super Bowl with a second consecutive championship-game loss in Pittsburgh.
Houston lost in the playoffs after the 1980 season, too, to eventual champion Oakland, and Bum Phillips was fired as coach after three playoff seasons with a good team failed to produce a Super Bowl appearance.
Renfro's "catch" would have only tied the game with plenty still to play. Who knows what would have happened from there? Oilers fans would have liked to have found out. Had their team won that game and gone on to a Super Bowl title, a lot could have changed between then and 1996, when the Oilers struck a deal to leave Houston and move to Nashville, Tennessee.
The impact of the play went well beyond Houston.
"It brought about the use of instant replay a lot faster than it would've gotten here," Renfro said in a Fort Worth Star-Telegram
piece in 2008
. "I do know that."
@PaulKuharskyNFL definitely Renfro catch #NFLNTitansTopPlays #Oilers fans were convinced it cost Super Bowl berth

— Dutch VanDuzee (@vanduzee) June 12, 2014
October, 19, 2013
10/19/13
10:06
AM ET
Bum Phillips was one of those people who transcended his job and came to symbolize and characterize a time and a place.
"Luv Ya Blue" in Houston with the Oilers was, in many ways, loving Phillips -- his drawl, his style, his hat and the team he coached.
Now the city mourns his passing.
His son,
Houston Texans
defensive coordinator Wade Phillips tweeted: "Bum is gone to Heaven-loved and will be missed by all -great Dad,Coach, and Christian."
As famous sports quotations go, I rank his comment on Don Shula as one of the all-time greats: "He can take his'n and beat your'n and take your'n and beat his'n."
The Oilers lost consecutive AFC Championship games to Pittsburgh to close out the 1970s. In 1980, after a first-round playoff loss, Oilers owner Bud Adams fired Phillips in what he later called one of his most regrettable moves.
This is from
David Barron's obituary
of Phillips in the Houston Chronicle:
Former KHOU (Channel 11) sports director Gifford Nielsen, who played quarterback for Phillips in the late 1970s, then worked with him on Oilers radio broadcasts in the 1990s, said Phillips built winning teams by knocking down barriers between players.

"He could take a conservative kid out of Utah, put him with a kid who grew up in the projects in Pittsburgh, a guy from Southern California and a guy from the Deep South, and it didn't matter what color was their skin, how big they were and what their talent level was," Nielsen said. "He would bring them together as a team.

"The reason people liked Bum so much is because he was real. He always said, 'Trust me, and we'll do things my way and great things will happen.' When we did trust him, we were successful, and it carried over not only to the team but the fans.

"Whenever we went on the road, people wanted to see Bum Phillips, and it was because of the genuine person he is. That is his legacy."
Update:
The Titans sent out this statement today on Phillips' passing:
We are very sad to hear of the passing of Bum Phillips. He meant a great deal to this franchise, the NFL and the city of Houston, and he was instrumental to the Oilers during the 'Luv Ya Blue' era. Growing up in Texas and working his way up through the Texas football ranks, he was a natural match for our team. Those were such magical years, and his leadership and personality helped our team rise to the top. He became an iconic figure on our sideline. Our thoughts are with his family, and we know he will be missed.